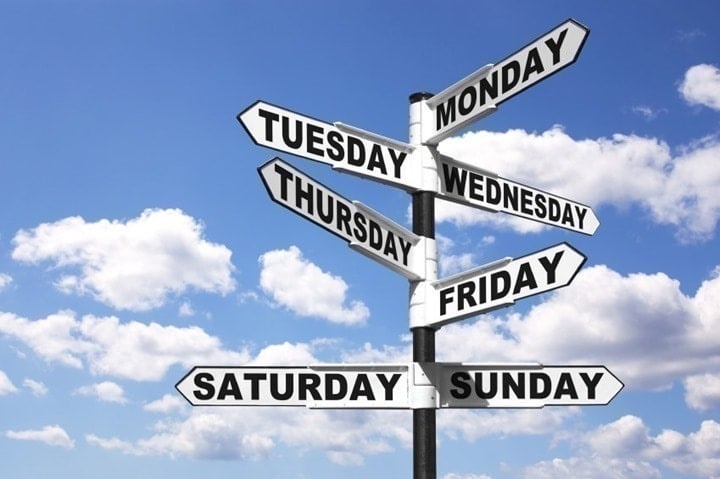 The Week in Review is a collection of both all the goodness I've written during the past week around the internet, as well as a small pile of links I found interesting – generally endurance sports related. I've often wondered what to do with all of the coolness that people write, and while I share a lot of it on Twitter and Facebook, this is a better forum for sending it on to y'all. Most times these different streams don't overlap, so be on the lookout at all these places for good stuff!
So with that, let's get into the action!
Sports Tech Deals of Note:
Some nice little savings on the latest Apple Watch Series 6 in here, as well as the new iPad. Not major, but hey, if you were gonna pick one up…this be the way to save enough for an extra couple pints of Ben & Jerry's Ice Cream.
Product

Sale Price

Amazon

Sale Notes

Apple Airpods (2nd Gen) - $25 off
$159
$125
Amazon
⚡ I use AirPods primarily when I'm travelling just to listen in airports, planes, etc... I don't tend to use these for workouts due to them falling out. Also, with the wireless charging case for $50 off. Personally, I just use the basic model.
Apple Airpods Pro - $30 off
$249
Amazon
Yup, these are the new noise-cancelling ones that don't fall out of your ears. I haven't tried them yet, but lots of people seem happy with them.
Apple Airpods Pro - $50 off
$249
$199
Amazon
⚡ This is a very strong deal - by far the lowest price the Airpods Pro have ever been. Note: Also flirting occasionally at $189 ($60 off).
Apple Watch Series 3 (38mm)
$169-$179
$169
Amazon
This is the lowest price we've ever seen for the Apple Watch Series 3. While the Series 5 is the new one, the Series 3 has almost all the same features (and still gets all the updates). It's dipped a few times to $179, but only once ever for Black Friday to $169.
Apple iPad - Latest Model 8th Gen (32GB)
$30 off (10% off)
Amazon
I use my iPad primarily for TrainerRoad as well as Zwift when not with a larger display. I also occasionally use it for other apps, namely The SufferFest - but I pretty much test every smart trainer app on it. This is the latest iPad that was just announced barely two weeks ago, so not too bad to see it on sale already (US AMAZON DEAL ONLY).
DJI OSMO Action (Action Cam) - Normally $329
$349
$249
Amazon
This is a solid price for the DJI OSMO Action, and it's a very strong first contender from DJI to compete with the Hero 7 Black (realistically, except for the dual-screen, it simply doesn't compete with the Hero 8 or Hero 9). I really like a lot of elements on the OSMO Action, but especially the dual-screen. Check out my full review for comparative thoughts. While I would have said that maybe we'd see a new OSMO Action sometime this past spring (an annual refresh cycling), I'm pretty sure COVID19 has killed any chance of that happening for a while.
Garmin Fenix 6 Pro - 10% off
$599-$1,149
$630
Amazon
The Fenix 6 Pro (not the S or X variants) is on sale by Amazon for 10% off, or basically saving $70. This is a good deal, though obviously not an incredible deal. The last time we saw Fenix 6 deals was back in May 2020, for $150 off.
Garmin HRM-DUAL (ANT+/Bluetooth Smart Strap) - $15 off
$69
$56
Amazon
⚡ This is one of my go-to straps these days (ANT+ & two concurrent BLE connections). It's floated on and off being on sale, but this is about the lowest we've seen it.
Garmin Instinct - $30 off
$299
$220
Amazon
Sure, the new Solar variants came out this summer with a few new features, but at their core the Instincts are mostly the same. This was quite a bit lower on Amazon Prime Days ($149), so $30 off isn't really a huge deal (it's normally $250ish).
Garmin Tactix Charlie - $150 off
$599
Amazon
The Tactix Charlie is essentially a Fenix geared towards military folks (Amazon Prime Days)
Jackery Portable Power Station - $50 off
$249
Amazon
This is something I use frequently when shooting out and about and I need to re-charge a crapton of drone batteries, action cameras, or just cameras and such. I also use it on trips to Eurobike and elsewhere to keep equipment charged. Technically you can even hook a solar panel up to it. Heck, I've even powered a KICKR trainer ride from it!
Lasko High Velocity Pro-Performance Fan (U15617) - 16% off
$59
Amazon
This is one of the most popular indoor trainer fans out there, which rivals the Wahoo Headwind fan but cost a fraction of the price. Of course, it lacks ANT+/Bluetooth integration, but realistically if you really want that you can add a smart outlet for $10 to toggle it on/off from your phone if need be. I've actually got this fan in the DCR Cave recently on advice of many people.
Samsung Galaxy Buds True Wireless Earbuds - $20 off
$109
Amazon
This are obviously super popular, and having them be 31% off ought to make them even more popular. Wireless Charging Case included.
SanDisk 1TB Extreme PRO Portable External SSD - 32% off
$189
Amazon
This is the high speed drive I use to store the footage I'm actively video editing, so that I can edit it on both my iMac at the office, and then my MacBook when travelling or at home.
SanDisk 256GB Extreme PRO SD Cards - 34% off
$66
Amazon
I use the SanDisk Extreme Pro SD Cards exclusively for all my video/photo shooting on my Panasonic GH5 and Nikon cameras (video and stills), including up to 6K recording with the GH5. I've mostly used 128's, but more and more lately I'm filling up cards faster with higher bitrates, so this sale is gonna have me pickup a bunch of the 256GB ones instead. The 128GB/512GB/1TB ones are also on sale too viathe same link.
Suunto 7 Wear OS Watch - $50 off
$499
$449
Amazon
The Suunto 7 floats on and off sale occasionally, but usually not more than 20% off.
Suunto 9 Baro Series - $100 off
$599 (non-baro is $499)
$449
Amazon
This isn't quite as good a deal as for Amazon Prime Day when it was 46% off (basically $200 off), but it's still a deal nonetheless.
Withings Body+ WiFi Scale - 11% off
$89
Amazon
I've long been a fan of the Withings WiFi scales, especially since they can connect/push data to so many platforms, including Zwift! Note that the Body+ simply includes more data.
DCRAINMAKER.COM Posts in the Past Week:
Here's all the goodness that ended up on the main page this past week, as noted last week, I planned for this past week to be pretty quiet as I prep for this upcoming week
Monday: Apple Watch Series SE: A Fitness First Impressions Untangled
Tuesday: Fitbit Sense In-Depth Review: All the Data Without the Clarity
Wednesday: Garmin Venu SQ In-Depth Review
Thursday: How to Get Fitbit Non-GPS Activities to Strava
Friday: It's Coming Back! Strava Begins Bluetooth Sensor Beta Test
It's been a busy last 10 days…yet hang tight, more goodness is inbound!
YouTube Videos This Past Week:
Here's what hit the tubes over on the You of Tube, definitely don't forget to subscribe there to get notified of videos the second they hit!
Stuff I Found Interesting Around The Interwebs:
Here's a not-so-small smattering of all the random things that I stumbled on while doing my civic duty to find the end of the Internet:
1) Awesome article on accuracy of SpO2 sensors in watches today: While headlined as for the Apple Watch Series 6, the reality is this also applies to Fitbit, Garmin, Withings, and others. Super well written and detailed.
2) Tidbits and highlights from Peloton's Investor & Analyst Session: Lots of interesting items in here and a few linked subsequent posts.
3) How to buy Apple Watch Faces in watchOS7…sorta: The reality is, as the article notes, the 3rd party watch face limitations on Apple Watch remain mostly a giant dumpster fire. It's also surprised me, for a company so good at having a developer ecosystem for all other aspects of their hardware, this singular piece that is usually the easiest of things to accomplish watch-platform wise (where most brands start before offering full apps), has never really happened.
4) TrainingPeaks rolls out new notes feature: Kinda handy, the ability to add notes to a calendar back and forth with a coach.
5) Strava makes 'Metro' data free to urban city planners: This is the long-standing program that helps cities figure out where to invest in bike infrastructure. Previously Strava sold this, and while the price was reportedly high, the reality is this was a small revenue source in the grand scheme of things for Strava.
6) Echelon launches Amazon Prime Bike…then Unlaunches it: As I said in a tweet, I suspect there's way more to this story than Amazon is letting on. And if nothing else, they just learned there's a @#$#-ton of interest for such a thing (even if Walmart already sells the exact same bike for $500).
7) Polar adds HRV Export Option to Site: This was a week or two ago, but it's definitely worth noting. Polar added this from their Polar Flow website. Cool stuff.
Sports Tech Device Firmware Updates This Week:
Each week I quickly highlight some of the new firmware, app, software, and website service updates that I see go out. If you're a sports technology company and release an update – shoot me a quick note (just one-liners are perfect, or Tweet it at me is even better) and I'll make mention of it here. If I don't know about it, I won't be able to post about it. Sound good?  Oh – and if you want to get a head start on things, this page is a great resource for watching Garmin, Wahoo, Polar, and a few other firmware updates.
Garmin Forerunner 245/Music BETA Firmware update: This adds new track mode, plus new recovery time.
Garmin Forerunner 945 BETA Firmware Update: This adds the new track mode, plus daily suggested workouts, and the new recovery time. Also adds Grit/Flow for MTB as well as Bouldering/Indoor Climb profiles.
Garmin Fenix 6 Series BETA Firmware Update: Same as FR945, plus new breathwork profiles (it already had Bouldering/Indoor Climb), and a bunch of other line items.
Garmin MARQ Series BETA Firmware Update: Same as Fenix 6.
Garmin Fenix 5 Series Firmware Update: Just bug fixes.
—
With that –thanks for reading!