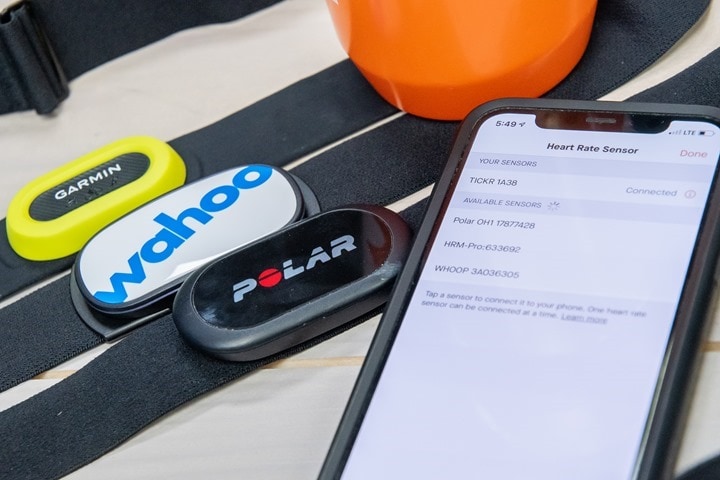 A year ago Strava killed off sensor support, earning the ire of millions…perhaps even if they rarely used the feature. As users, our collective annoyance was more about principle than anything else. It also didn't help that Strava's reasoning at the time basically threw their own development/engineering team under the bus, making them look incompetent, saying then "Supporting Bluetooth devices was causing the app to crash during recording, whether or not a sensor was connected. Disabling this feature significantly improves recording stability for all athletes."
Well, good news is here: Bluetooth sensor support is coming back.
To what extent, and when, and to whom, or even what's changed circumstance or tech-wise….is all a wee bit fuzzy.
The only statement Strava's willing to give, is saying the following:
"For a small part of the Strava community, BLE support — especially for heart rate — continues to be a high value feature and frequent feature request. We're exploring how to bring it back in a way that works for these athletes and the community at large."
Ultimately, the core thing to know is that as of today Strava is *SLOWLY* starting to roll it out in beta to random people (and, some non-random people, like me). Beginning about two hours ago, with the latest Strava app updates, you may get offered the ability to pair Bluetooth (BLE) heart rate sensors to the Strava iOS and Android apps.
Here's a super quick video on how it works:
So let's do a short tour: 'What's old is new again!' Edition:
How it works:
Assuming you get selected as one of the anointed ones (where no precise qualification criteria exists), then using it is silly easy. First, you'll load up the record screen like you're going to record a ride directly within Strava (that's pressing the 'Record' button at the bottom center). This will then show your location as usual. However, you'll notice a new 'heart' icon along the bottom row. Simply tap that.
Now it'll ask for permission to access Bluetooth, so it can find your Bluetooth Smart sensors. After you've agreed to Strava using your goods, then it'll enumerate a list of nearby and turned on Bluetooth Smart HR sensors. It won't show any other sensor types in my testing.
Now, simply tap on a sensor, and it'll add it to the list of 'your sensors'. After which, you'll also see the icon at the bottom of the record screen has changed and shows your heart rate:
Next, start your activity and do your thing. Your heart rate is displayed in real-time on the main data page (also known as…the only data page). You'll also see the HR sensor shown in the 'Settings' page as well. It'll also remember previously saved sensors, and automatically re-connect to them for the next session, so you don't have to re-pair again. You can also easily remove the sensors that are paired in the same sensors menu that you saw above. Easy stuff.
One odd quirk though of Strava's activity recording feature is you can't actually make a non-GPS activity. Meaning, you can't actually make an indoor activity. Which…yeah. Strava says you can modify it to be an indoor activity later, but really, it's bizarre (and has always been bizarre).
Once you're done, you simply save it like normal. It'll then show up on your activity feed like normal.
I'll be doing a longer workout in a short bit to see if there's any data consistency quirks to be aware of, but in my short test thus far, things seem normal.
Wrap-Up: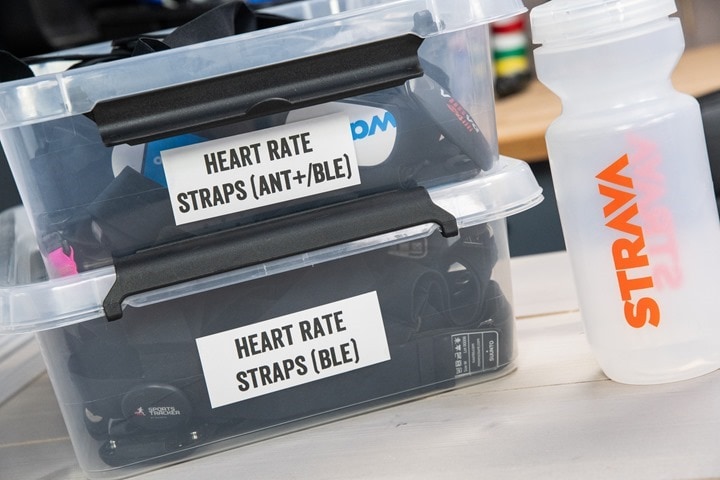 This is a good move, and I appreciate it. Do I use Bluetooth sensors with Strava frequently? No, not generally. But I'm probably not normal either. I'm currently wearing two watches and an extra sensor band. However, there are lots of people that use Strava to record their workouts and want an extra layer of data but don't want to buy a watch (my brother is one of those people actually). Sure, they could have used a 3rd party app from Wahoo or otherwise, but it's rarely a good idea to push core functionality out of your own app. This looks to start to realize that.
It also seems to be part of Strava's long efforts this year to Make Strava Great Again with new feature after new feature after new feature…following years of nothingness. I mean, unless you're not a paying subscriber – in which case this year has been mostly a disaster for you. While the Segments bits got all the media attention, the reality is that Strava has continued to slowly remove features from non-paying members each month…as many of you send me notes about.
We don't know though whether this will be a Strava Subscriber feature or not actually, Strava's not saying. So perhaps non-subscribers will get something out of this. Or, perhaps you'll lose some more features to make up for it. I don't know.
But what I do know is that this post is already too long, and being Friday night – I've got pizzas to make with the kiddos.
With that – thanks for reading!