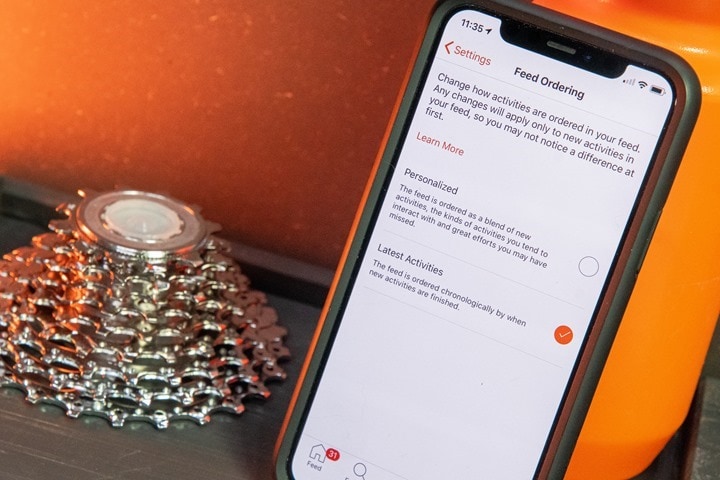 As part of Strava's apparent 'Make Strava Great Again' 2020 campaign, the company has rolled out yet another new feature to their 50 million athletes: The ability to put your feed back how it should be: Chronological order.
You might remember back in 2017 Strava switched to a 'Personalized' setup, which basically meant they tried to figure out the most interesting activities, regardless of date, and surface those to the top of your feed. Essentially what Facebook and other social media platforms were doing. You might also remember people were pretty upset about it. And, mostly still are. Today though, that changes.
Once you update your Strava app to the latest version (iOS is version 140, and 140.10 for Android), you'll be able to go into the settings and change the feed ordering. It's a quick change. Simply tap your Profile, then Settings, then tap "Feed Ordering", and after which select "Latest Activities".
At which point, the world will be right again. Order is returned, albeit only for *new activities*. Meaning basically, only this point forward. So don't expect immediate gratification, for that, go eat a cookie.
From that point forward you'll see your feed is ordered correctly. Well mostly. There is one minor caveat: It will actually double-sort chronologically into two groups. First is those activities you haven't seen yet. For example, if someone uploads later, this will group those activities into the pile at the top of unseen activities (still by date), and then after that you'll have all the ones you've already seen. It's kinda like Instagram's 'You're all caught-up' feature, except without that helpful little bit of text.
Note that neither the 'You' or 'Clubs' feed changes, those have always been chronologically ordered already.
Oh – last tip – you can do this on the Strava website too. Go to the drop-down menu under your profile picture, select Settings > Display Preferences > Feed Ordering. However, at present I'm not seeing that live yet.
In any case, you can check out this short video I put together that covers all the stuffs and a few thoughts on why Strava is making these changes at such a rapid pace:
And honestly, that's really all there is to know about this feature. It just works. Mostly, because it always used to work, and now they made people happy by stepping away from the Silicon Valley 'we know better than our users' think.
The next bit here is the ability to favorite a given athlete. This allows you to then bubble that athlete's posts to the top of your feed, that way you don't miss them. To do that, simply tap on someone to pull open their user profile. Then, tap on the 'Following' button arrow dropdowns, and you'll see a new option at the bottom to both turn on notifications, as well as favorite:
This will effectively bubble their most recent workouts to the top of your feed until you've seen them.
Once you do that, you're good to go. Oh, and in case you're not following (or favoriting) me, here's my Strava profile.
I had a good conversation with Strava, and their new CEO, about this a few weeks back. I actually think they (finally) get it. Most importantly, they were very open about what they screwed up over the last year or two. Which isn't to say they'll always get it right. We saw that with the stumbled Apple Watch integration update post-release bugs.
But, the last few months have been a steady drip of new features. We've had more tangible new consumer-focused features that people actually want in the last 6 weeks than we've had in the last year or two. And with a glimpse of the future, it's going to be much more than just drips soon.
Oh – wait, one more thing. Strava says they're interested in expanding their beta program, specifically around the feed. So, if that's your cup of orange tea, you'll find that here.
Stay tuned, and thanks for reading!