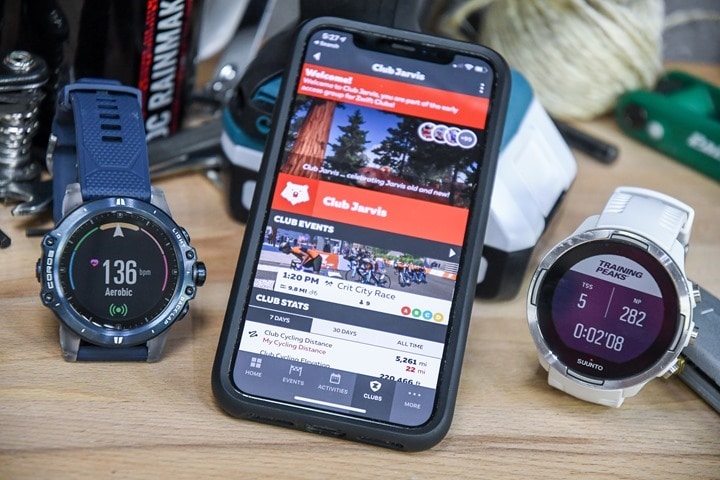 Fear not, no April Fools joke posts from me. I've had a specific idea for one for a few years now, but frankly it's not really an April Fools joke if I can pull it off (and build it). Funny yes, but actually quite functional. I know, not too helpful. Someday when I'm less bored.
In any case, these are some stories from the past week that I haven't quite had the time to dive into in more depth, but are definitely worthwhile mentioning somewhere. Despite one thinking this would be a quieter period for me, it turns out the software world has decided to make up for it! Thus, it's actually busier than I expected. With that, let's get into it.
Oh, and I've got one more tidbit of sports tech news for later. So hang tight for another non-major but notable post this evening.
Suunto adds TrainingPeaks Metrics:
Last weekend Suunto added TrainingPeaks metrics to their Suunto 9 and Suunto 5 series watches. Specifically this includes three sets of new common TrainingPeaks metrics:
Cycling with a power meter:  Normalized Power (NP), Training Stress Score (TSS), and Intensity Factor (IF)
Running metrics: Intensity Factor (IF), Running Training Stress Score (rTSS), and Normalized Graded Pace (NGP)
Heart Rate metrics: Heart Rate Training Stress Score (hrTSS)
In addition to all this, Suunto added BeiDou satellite support too (a Chinese constellation of satellites that's gaining popularity in sports tech devices).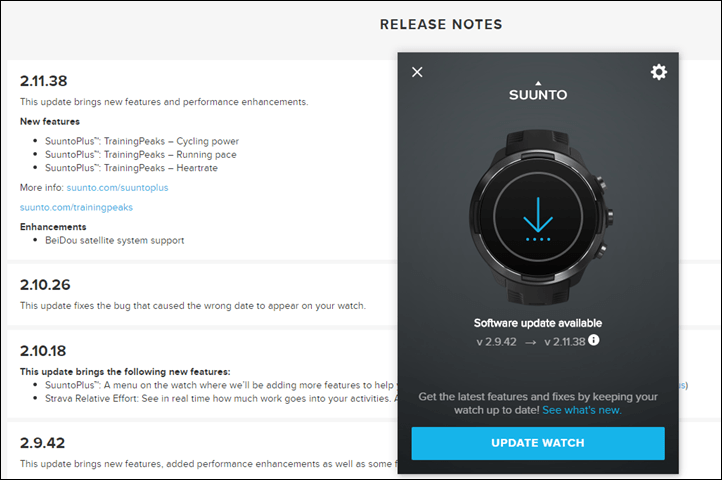 For me personally, I use Normalized Power on every ride as a quick glanceable way to see how intensity of the ride is comparing to others in the back of my brain. This does require a power meter though, so keep that in mind.
From a running standpoint the one I personally find most useful is Normalized Graded Pace, which is super helpful on a hilly course with lots of ups and downs to get a quick gut-check of how that effort might have looked on a flat course. Now living in Amsterdam, that metric is 100% useless to me, given most runs have exactly zero elevation gain (or loss). Not kidding. Still, when I travel I definitely appreciate it!
They've got a nifty little site that explains all these metrics in more detail here, all of which are part of the Suunto Plus thingamajig. The Suunto Plus bit means that these aren't 'normal' data fields like any other fields on your Suunto watch. Instead, they're part of this special area of the watch called Suunto Plus. That means that you toggle on/off that feature in a menu:
(To get to that menu, go like you're going to start a sport, then go down into the sport options and you'll see a toggle for 'Suunto Plus', at which point you can toggle on one of the three data sets I outlined above, or the previously added 'Strava Relative Effort' feature.)
And then it adds a full data page to your workout profile (i.e. running):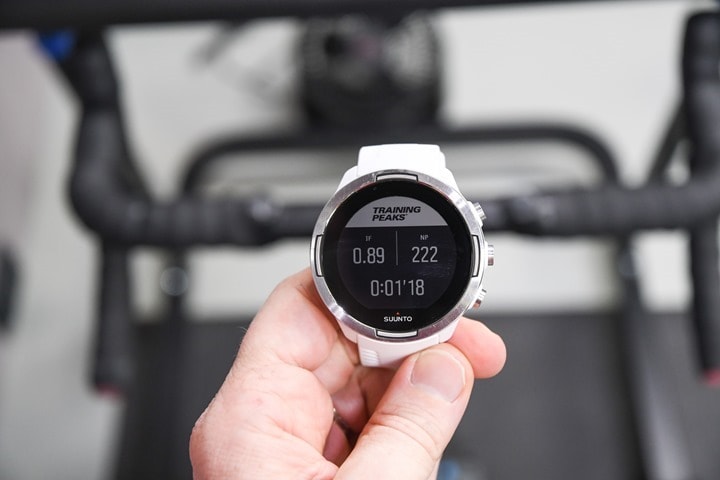 Post-ride you'll get the summary on the summary screen for these metrics. In my case my Suunto 9 is connected to Movescount, and so there's no TrainingPeaks metrics there. Perhaps there is over on the Suunto app, but I don't have my Suunto 5 updated yet.
Strava adds Weather & Device Info to App:
Next, a simple one: Strava has added weather as well as the device you used into your activities on mobile, for Summit members. Go update the Strava app if you haven't, and then crack open one of your activities. After that, scroll down a smidge, and you'll see it. However, you'll also see the device you used (for everyone), and then the weather (for Summit folks). The device used has long been offered on desktop/web, but never app.
This is a big deal for me personally because I set all my activities to private by default, and then manually turn them to public after I've validated the device name – specifically when testing unreleased things. But up until this point I couldn't do that till I got to a desktop/laptop computer. So sometimes I'd forgot and never publish it public.
And if you're in statute/miles mode, for the weather you'll get the metrics in Fahrenheit instead:
Pretty neat, huh?
Now on the weather front, I know some of you have been using Klimat.app for a long-ass time. I even tried the free variant for a bit as well. It's cool, but I always ran into issues of it playing tug of war with my descriptions – and ultimately disabled it. However, it does have way more customization than Strava's solution.
Still, for me, the native Strava solution is basically perfect. I've been using it for more weeks than I can remember now and the 'just works' factor is exceedingly high. I haven't travelled anywhere recently, so I can't speak to any weird quirks that might exist somewhere else. And while I'd normally crack a joke at the fact that the weather here in the Netherlands is the same each day: Rainy, windy, and a bit cold – the reality is that the last 2+ weeks it's been brilliantly blue-skies sunny. In any case, go forth and enjoy yet another new feature from Strava this year. I mean, assuming you can go outside.
Fitbit Charge 4: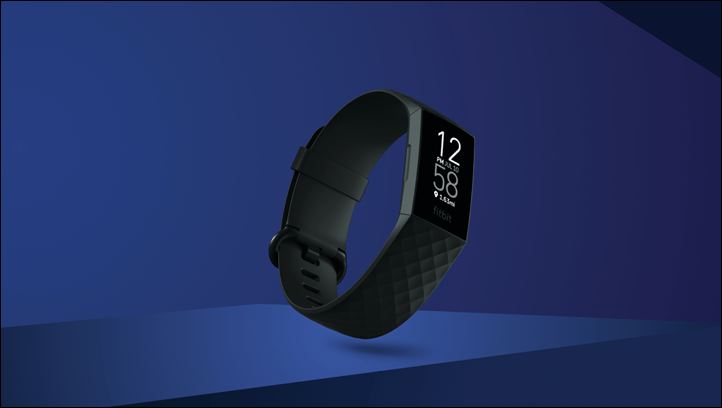 Fitbit announced their latest wearable yesterday, the new Charge 4. The key bits here being that it's now got GPS built-in (previously you connected to your phone), it's got contactless payments built-in (previously only the special edition had it), and now it also has 'Active Zone Minutes', which replaces the previous Active Minutes metric and is based on HR zones instead.
All this for $149.
I think Fitbit's actually got it figured out, finally. Their last 18 months or so of releases have largely been panned by reviewers (myself included) – with at best a 'shrug'. That didn't stop people from buying them, because…Fitbit. But it didn't help increase market share any.
However, priced at $149 is super competitive here. There's simply nothing on the market that has GPS and contactless payments built-in for $149. Period. The closest you get is the full Apple Watch Series 3 sitting at $199. That obviously has way more features, but also is a full watch that you've roughly gotta charge every day or two. The Fitbit Charge 4 lasts a theoretical 7 days (historically speaking Fitbit is usually spot-on with their battery estimates, if even a bit conservative). It's water-resistant to 50 meters and like most of Fitbit's other recent wearables includes a SpO2 sensor.
If we look at the other viable competition – the Garmin Vivosport, it has GPS but lacks contactless payments. It sits at $129 these days, but is also coming up on 3 years old. Still, it's even got things like LiveTrack and plenty of other sport-specific features that probably stack up better for most athletes (if you want more of a band than a watch). [Totally random side note, I was looking up the price of the Vivosport, and Amazon has refurb Vivosport models for a mere $46. Seriously. Holy crap!]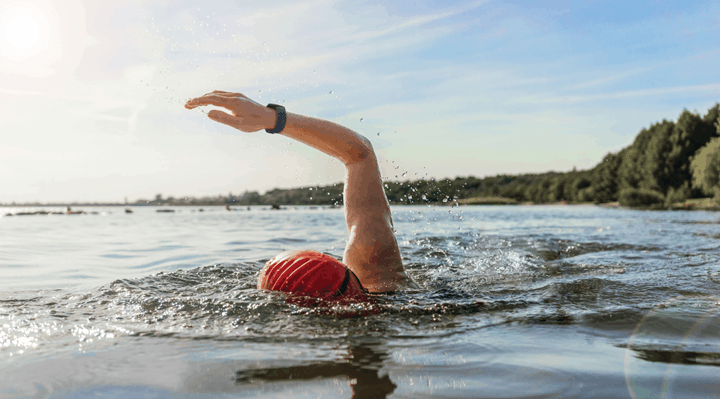 Interestingly the Fitbit Charge 4 states it tracks swim workouts in the pool "and beyond", however it's unclear if that includes openwater swims (which would be a first for Fitbit). Normally I'd say no, but their press pack includes an outsized number of openwater swim lifestyle shots in it. There's four different openwater swim shots in there, versus a mere single shot for other workout types.
In any case, I wouldn't normally post on new products unless I had something in-hand, and soon I will. However, as you may have noticed, there's no hands-on content out there anywhere on the Fitbit Charge 4. That's because all of the review units are stuck in the Fitbit HQ office in San Francisco where a shelter in place order is currently in effect. They're hoping to get review loaner units shipped from somewhere else shortly. The Charge 4 is set to start shipping on April 13th.
Note that at this juncture Google has not yet completed the acquisition of Fitbit (from a legal standpoint, let alone any technical bits) – so we don't know what impact that'll have on the other product lines. Also note, all imagery in this section is from Fitbit's press pack.
COROS Adds Pile of New Features:
Not to be outdone by Suunto, COROS also added a flotilla of new features over the weekend too. These features are live for the VERTIX, APEX Pro, and APEX. While the PACE will get them next week. Also, the APEX gets Bluetooth Sensor support that the VERTIX/APEX Pro recently got.
Adds Battery Usage feature to track your watch habit and provide the estimated battery time remaining. Press and hold the BACK/LAP button to access this feature via the toolbox menu.
Adds Bluetooth-supported heart rate broadcast feature. Press and hold the BACK/LAP button to access this feature via the toolbox menu.
Adds Nutrition Alert feature that provides time-based reminders during workouts.
Adds Lap Vertical Speed data type for Trail Run, Hike, Mountain Climb, and Bike modes.
Adds breadcrumb navigation feature for Multisport and Ski Touring modes.
Adds lap as a distance option for interval training under Track Run mode.
Adds MGRS capability for GPS coordinates.
Adds full Polish support as system language.
Adds Runalyze integration.
Stores data page preferences to the COROS account in case of watch reset and new watch pairing.
As usual, you'll crack open the COROS app and update the watch wirelessly over Bluetooth Smart:
Looking at the feature list, the importance will vary based on your use case. Obviously, I have approximately zero use for Polish….but approximately 37.98+ million people might. The battery features look good, and I might dig into them more. COROS continues to have mind-boggling powers in the battery department. I just don't understand. This toolbox feature seemed aimed at (rightfully) flaunting that.
The real biggie though is adding of Bluetooth Smart HR broadcasting. We saw Garmin add this back in January to their newer devices, but that was within a mode specific to virtual running (so it had pace/cadence too). Whereas COROS is a bit simpler in just HR, but honestly, it's also more useful for a wider chunk of people (for example, just pairing to Zwift while on a bike). You can see below me using Apple TV and then pairing directly to the COROS Vertix's optical HR sensor. Note however that in order for this to work I had to turn-off connectivity to my phone (which the COROS was using), as my guess is that it only can sustain a single Bluetooth Smart connection.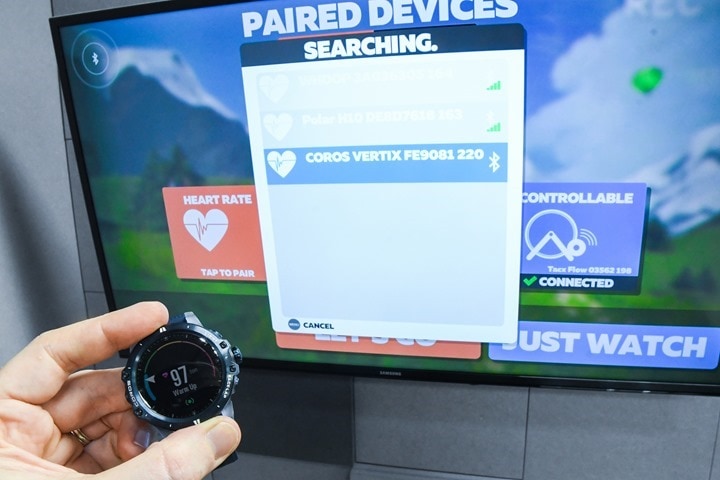 Most of the remainder of these features are fairly minor – however, the last one listed up there is great if you need to reset your watch. Very few companies allow complete saving of settings and copying to a new device. That's awesome.
Zwift Teases New Clubs Feature:
Zwift has started rolling out a new FutureWorks project (that's the name for their beta stuff) that starts to give some insights into how Zwift plans to do clubs. As of earlier this week, folks that joined Zwift 'Back in the Day' (as in, the first few months it was out) have access to join Club Jarvis (named after the original Zwift Island). If you're one of those special folks, then you'd have gotten a little pop-up in the app asking you if you wanted to join. There isn't a way to request access if you've been deemed un-special. Sorry.
Right now, once you join a club you'll get a new clubs tab/page on your companion app.  At the bottom of the club page are more details about the club including links.
There's also a listing of Club events as well as a listing of club members and their activity summary, plus some overall club stats.
But it's more than just the companion app. For example, in the Zwift game itself, you'll see the option to change which club you're active in at that moment in the game. This allows you to then see or join events for that club. A given Zwift activity can only be linked to a specific club – so you can't double-dip if there were club vs club challenges for example.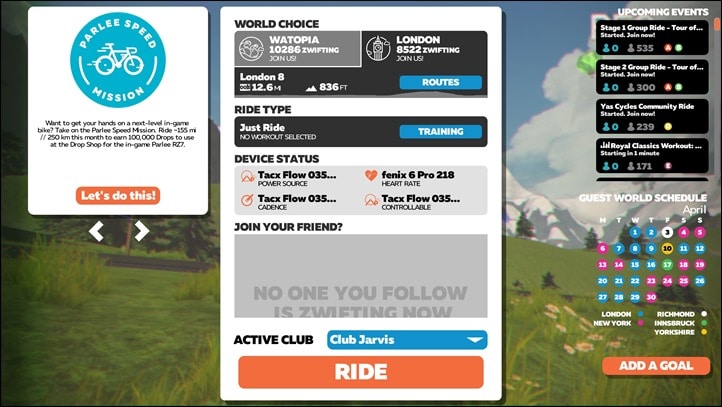 Now, undoubtedly most Zwifters will say "About effin time!", and that's true. But, at present the features are pretty limited. There are a handful of events within Club Jarvis, but those are of course created by Zwift. Right now management of events is a 100% human-driven task with various approvals at Zwift HQ.  The idea here being to delegate that off to trusted teams/clubs and their respective administrative managers.
The longer-term idea here is that team members can do that creation of events and wholly manage their team. And then further to that, the plan to be able to finally re-offer team jerseys again (they stopped nearly two years ago). Of course, to what level they plan to allow teams to create jerseys remains to be seen. The system would have to have some Zwift HQ/other approvals to ensure people weren't submitting inappropriate jerseys. And then that, in turn, would have to have some gate-keeping to make it scalable for the 300,000-400,000 subscribers of Zwift.
My thinking though is that a lot of this can be delegated out beyond Zwift. There's zero reason Zwift themselves should ever be digitizing/converting team jerseys to digital Zwift variants. That should all be outsourced to Amazon Mechanical Turk like platforms, complete with secondary approval systems, and then ultimately Zwift HQ approval for validation of inappropriate jerseys.
Perhaps one day I'll be able to get the DCR kit in-game as a club, and then be able to have the thousands of you join the club. We can do exciting stuff like test trainer accuracy together as a group ride. Or something.
In any case, Zwift says that once they get feedback from this beta of Club Jarvis they'll start expanding into existing large-scale Zwift Teams before opening it up more widespread "later in the year".
Two April Fools Tidbits of Note:
Wait, you wanted April Fools after all? Fear not, there's two pieces I've seen where I make cameos (or more). First up is Matt LeGrand's video comparing the 1983 Casio CS-831 Calculator watch to a Garmin FR945, for triathlon purposes. Seriously, I know this is supposed to be April Fool's, but the cinematography work in this is legit. This isn't just a 3 minute video. Holy balls. Subscribed!
And then there's Montre Cardio GPS's announcement of my intention to bring forth a GPS watch to the market, later in September – complete with leaked FCC images and all.
With that – enjoy the rest of your day, and welcome to April. And yes, it's still 2020. Sigh…