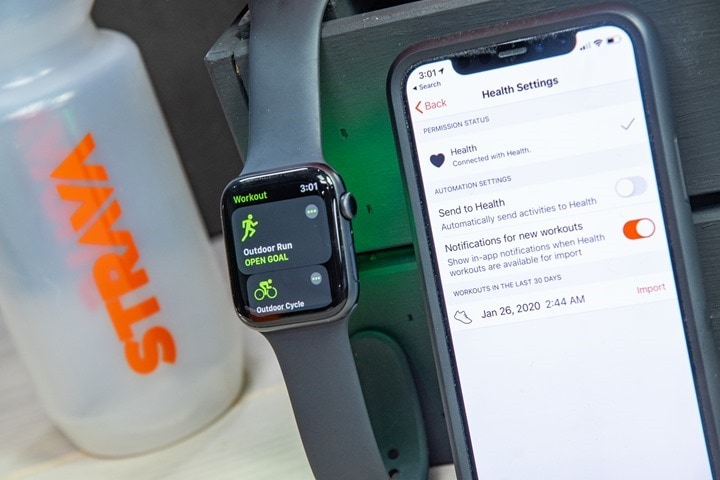 Strava just launched more cohesive integration with the Apple Watch, allowing one to effectively sync directly from the Apple Watch to Strava, so you don't have to use 3rd party apps to see your Apple Watch workouts on Strava. Given that the Apple Watch is, by far, the most popular wearable on the planet, it makes sense to complete this hookup.
Now – before you wonder – the point of this sync is to enable you to use the default Apple Watch 'Workouts' app, rather than the Strava Apple Watch app. The native Apple app is a bit more flexible than the Strava app, and is personally what I use when I'm using the Apple Watch in a workout recording capacity.
Still, you'll want to be aware of some of the limitations of the first implementation. It's a good V1 stopgap solution, but I suspect many folks will continue to use existing 3rd party apps like HealthFit or RunGap for the time being.
I've been using it for a number of weeks now with my Apple Watch Series 5 (but it works on any Apple Watch edition), and have a fairly solid grasp on how it all works. So let's dive into the details.
Getting it setup:
The first thing you'll need to do is get your iPhone all updated with the latest version of the Strava app. Yes, I said iPhone, because of course Apple requires an iPhone to use an Apple Watch. It doesn't work with an iPad because the iPad doesn't have Apple Health (and in turn, HealthKit). Without that repository, there's no place to store your workout/activity data.
Once that's done you're gonna have to go deep diving a bit to enable it within the Strava app. You'll select the 'Profile' tab, then Settings, then the 'Applications, Services, and Devices' option. From there you'll see the option for 'Health' at the bottom.
This technically is divided into two parts (sending and receiving), but for now we're just focused on the receiving bit. You'll get an option to 'Connect with Health', followed by another page to confirm your hookup intentions.
Then Apple will ask to confirm the relationship, and you're going to want to turn on all categories. I mean, technically it probably works with just the 'Workouts' option enabled under 'Read data', but honestly I wouldn't tempt the beast. This sequence requires three confirmations in total.
After which, you'll finally see it looking roughly like this. This page is how and where you manually select to import in an Apple Watch workout. Each workout you've done in the last 30 days that's available to import is listed there. If it has a checkbox next to it, it's already imported into Strava. If it has the import button, you can smash it to get that workout posted to your Strava account.
When you do that, it'll show up briefly as importing (it takes perhaps 3-5 seconds where you'll see a swirly icon seen above), and then you'll see it listed in your feed for editing like normal.
As usual, your normal Strava privacy settings will apply here. So in my case, all new workouts show up as 'Private' and without visibility to anyone. That helps me ensure that my Apple Watch Series 7, Garmin Fenix 8, and Suunto 19 aren't accidentally disclosed to you. You can add photos, emojis and such as usual. In fact, a few of my workouts over the past three weeks were posted exactly that way to Strava. You'll notice the 'Apple Watch Series 5' listed properly in the activity.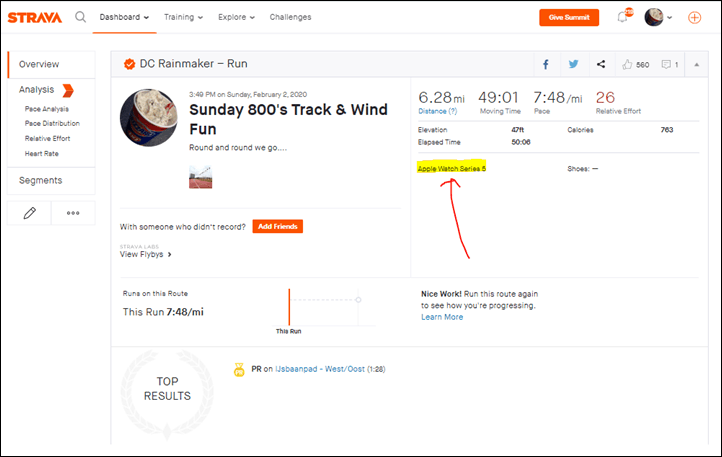 Also, it's worthwhile noting that you can turn on workout notifications, which will save you a few button presses when a new workout comes in. By turning that on, when the Apple Watch saves a new workout, Strava will immediately pick it up and notify you. From there it's just one tap to get to the import page versus the 3-4 taps. And then only one tap to confirm the import. So that saves a bit of time for sure.
Now, there's two downsides (or 'details to be aware of') with the overall solution today.
Super Practical Detail: First, the most visible downside is that this is a pain in the ass. You have to dive into your profile settings each time (Profile > Settings > Application, Services, and Devices > Health, and then manually select each workout. That's annoying, and is far more work than HealthFit, which just magically happens. Especially since last week when HealthFit rolled out an update that returns 'Autosync' back into the app (it got axed with iOS13, but has now returned) – making it all instant and behind the scenes. The downside though to HealthFit is that it won't show as an Apple Watch within the details of your Strava activity. Given that doesn't show on the mobile apps anyway, it's probably not a big deal. Of course, HealthFit also syncs with TrainingPeaks, Dropbox, and like a million other platforms.
Oh, and in case you're wondering why – it sounds like the concern Strava is trying to hedge against is 'Ring closers'. On an Apple Watch people try and close daily rings which are tied to various activity types, including workouts. One way to close a ring is to start a workout and then do something. But that could just be as mindless as walking circles around your yard. If they enabled automatic push to Strava, that might end up polluting the feed with people yard circling. Of course, the proper solution there is for people to set activities to private first, but that's like teaching people to signal before turning.
Super Nerdy Detail: But ok, moving on. The second issue I encountered is a temporary one. Which is a bug that impacts people like me who use more than two devices concurrently (such as a Garmin watch and Apple Watch). Again, super into the weeds here and impacts likely less than 1% of people. But essentially Strava is right now incorrectly pulling the heart rate values into their app. They aren't pulling the values associated with the 'workout', but rather just the HealthKit timeline. In a normal universe that's perfectly fine. But where it breaks down is when you have a fool like me who's using two devices (or four), all of which send to Apple Health. In that case Strava isn't pulling the values from the Apple Watch, but just rather any HR data from that time period.  Strava has already got a fix in the pipeline for this, but it won't be in today's release. My bet is the next one. And again, my bet is that it impacts incredibly few people.
Note that from an accuracy standpoint of the GPS track, I've seen zero differences between the file that Strava exports and the file that HealthFit exports, at least for running. I can't confirm swimming or outdoor cycling with it, as I haven't compared multiple sets of those (I have done singular device outdoor cycling activities which looked fine). Most of my stuff has been indoor riding and outdoor running. You can see (or not) the two tracks identically overlaid here:
With that, that's all you need to know.
Going Forward: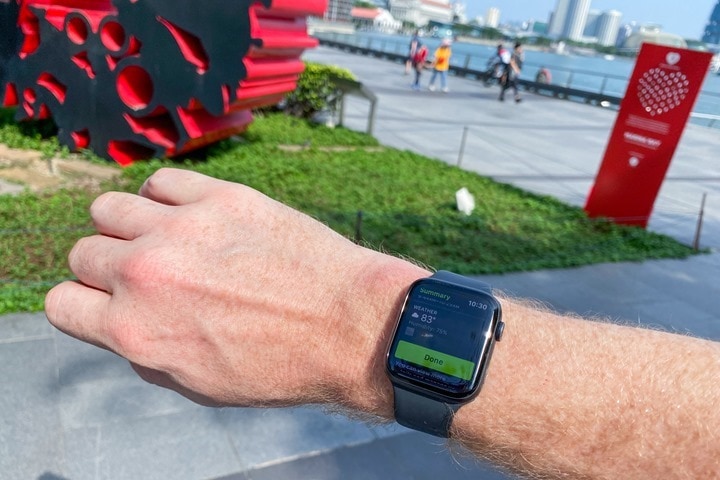 As I said at the end of last year when Strava changed up their leadership structure (brought back their original founder as CEO), I'm cautiously optimistic things will go from virtually no meaningful/memorable improvements to meaningful ones. Sure, this change won't impact everyone. Nor is it perfectly executed at launch. But given the millions upon millions of Apple Watch users out there, it is one that at least has tangible and immediate benefits.
Also, it doesn't require a premium (Summit) membership or anything else. I suppose you paid enough for that Apple Watch as it is. That's your membership.
With that – thanks for reading!