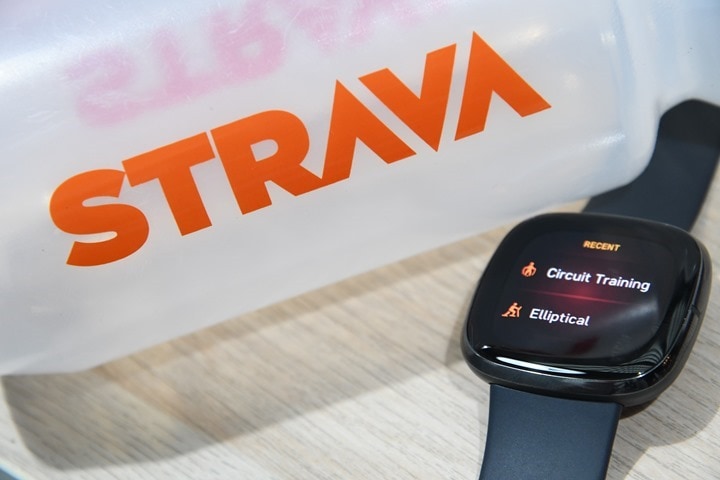 This post is going to be incredibly niche. And I'm OK with that. Heck, this post might just be more for me remembering this site than you. Sometimes I use this blog as a personal notepad. Like when I take photos of the power supplies for trainers. I appreciate that you might get value out of that, but realistically I'm doing that 100% for my own benefit, so I can figure which one goes to which trainer 8 months or 3 years later.
In any case, one challenge I've always had reviewing Fitbit devices over the (many) years I've been reviewing them is that there's actually no way to export a Fitbit indoor workout. For realz. When you go to export a non-GPS workout from Fitbit's site, it pretends to export something, but all it actually does is give you a virtually empty 1KB file. See, the button is here:

And then when you export it out, here's what's in that 1KB file:

It's basically empty. It just has a TCX header that says "Yo, Fitbit data goes here. Sorry, not home!".
Again, it's been like this for years, I've complained about it for years, Fitbit has acknowledged it during my discussions with them for years…and, it's still broken.
However, what actually matters here is that this also means 3rd party platforms don't get Fitbit uploads for non-GPS workouts either. So if you do a SoulCycle class with your Fitbit, it won't upload that data to Strava. Nor will it do so for a core workout. Or anything else not involving GPS.
In my case though, it means I can't actually analyze any of the heart rate data from Fitbit devices for any indoor workouts, because I can't get the actual data. Just a little picture of it. Which, isn't good enough for the level of accuracy I need.
Until now.
Today, while bumbling along looking for something else, I found this old post on Fitbit's forums, where someone got just as annoyed as me…except instead of complaining to the engineers like I've been doing, he just made a tool to fix his issue. He literally made a simple standalone site called FitToStrava.com, where the sole purpose is grabbing your non-GPS Fitbit activities and posting them to Strava.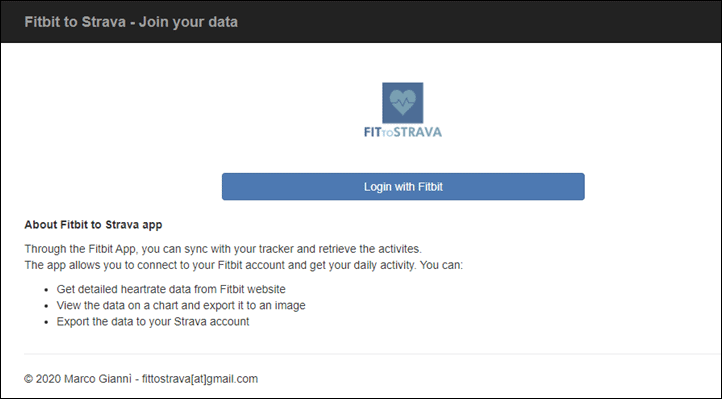 So obviously, I had to try it out! And, to save you the hassle, it's super simple. It uses proper developer OAuth authentication programs for both Fitbit and Strava (meaning, it follows all the rules/etc set in place by both companies for how users control/access data).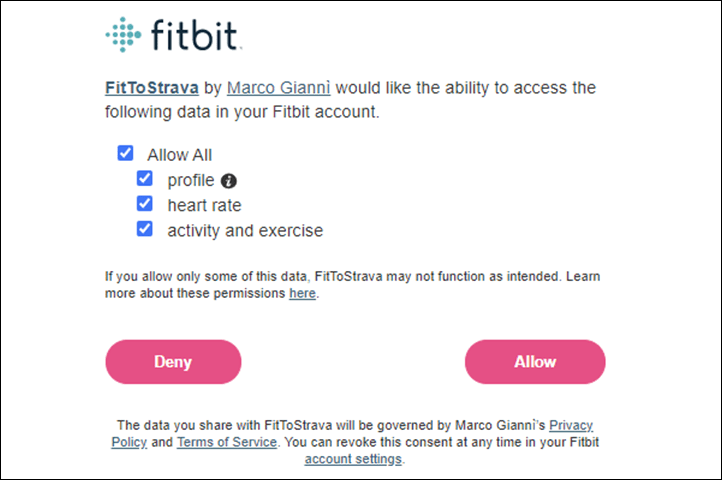 Once you've done it on both sides, you'll choose a date and choose 'Sync with Fitbit', which, will pull your activities down. From there, you can export to Strava:
A couple of seconds after hitting that button, you've got yourself an activity over on Strava: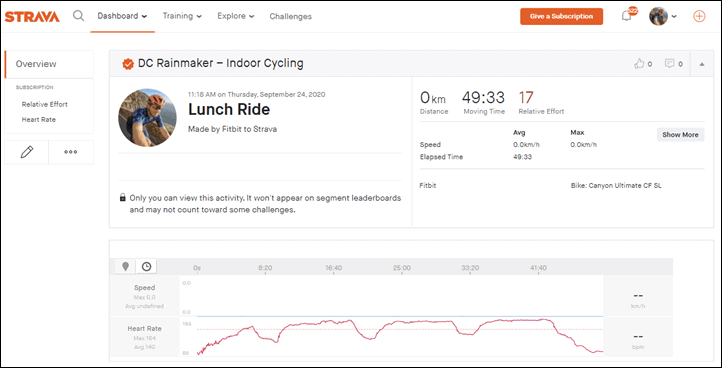 And, in my case, the ability to download the file, by choosing the pencil: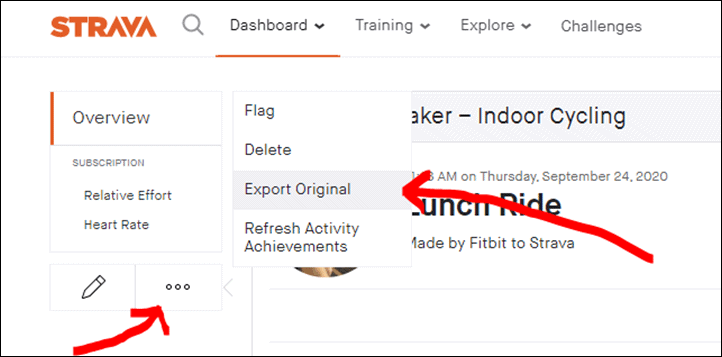 Boom! And, the file is full of data properly formatted! And it works perfectly in the DCR Analyzer:

I mean, sure, the Fitbit Sense was still as inaccurate as the Whoop strap on this ride (which, was a pretty easy test being just on an indoor bike, but it still shorted all the high-intensity areas by 8-10bpm), but hey…at least I can easily show that for indoor workouts now.
Note that it does not appear to automatically sync it over. But hey, I'm OK with that. His little site solves my problem, and thus I was also happy to use his Donate button at the bottom too. Also, I'm sure there's other ways to get this data, but I stumbled upon this and I'm pretty excited about it.
And with that, that's all I've got for now. I now return you to Thursday.
Thanks for reading!