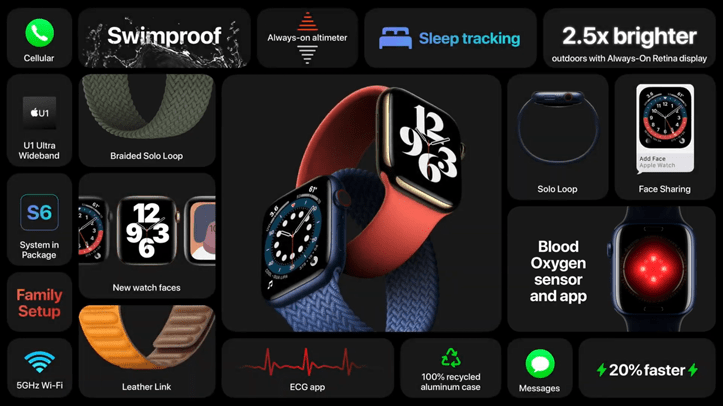 Today Apple has launched the new Apple Watch Series 6 with some modest fitness/health focused upgrades, while also launching a new fitness subscription service, Apple Fitness+. In addition to the Apple Watch 6, Apple also launched a new variant, the Apple Watch SE.
Atop all that, the Apple Watch continues its slow migration away from iPhone dependency, with a new ability to have phone-less Apple Watches targeted at kids and elderly who might not have their own phones. Though, these do require a family member on an iPhone to set them up. More on that in a moment.
Ultimately, as you'll see that while the hardware updates are mostly minor, the bigger changes here are the software and platform changes. So let's dive into everything.
Apple Watch Series 6 & SE: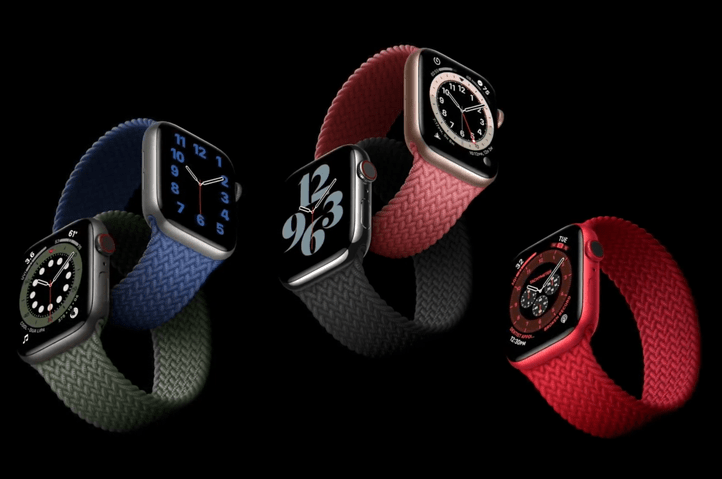 For this year's launch, Apple has settled on having three core models in the lineup, which are:
– Apple Watch Series 6 – from $399: In both GPS-only & GPS+Cellular
– Apple Watch SE – from $279: In both GPS-only & GPS+Cellular
– Apple Watch Series 3 – from $199 (though, really $169 lately): GPS only now
Now that we got that quickie out of the way, what's new in Apple Watch Series 6? Well, most of it comes from WatchOS7, which was announced back in June. You'll remember my post on it here. But the biggie from a health/fitness standpoint was Sleep Tracking, which I also detailed here hands-on (I'll be looping back to see what's changed with the final release slated for tomorrow). In addition, there was VO2Max tracking added too, including notifications when your VO2Max drops. Those features arrive on all Apple Watch's that are compatible with WatchOS7 (so Apple Watch Series 3 and higher).
But, there's new hardware in Apple Watch 6, starting first with a new optical sensor package that includes SPO2 monitoring.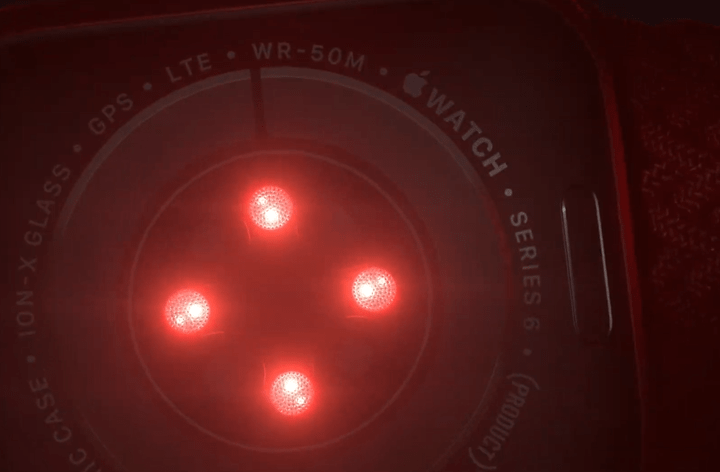 (Note: All imagery in this post is from the Apple launch presentation, or Apple's website)
The new sensor allows you to take a reading on-demand, which Apple says takes 15 seconds, and the user gets a count-down timer while the reading is being taken. This a perfect example of Apple elevating something someone already did. Garmin for example has had SpO2 sensors on their watches for a few years now. Except there isn't clear-cut guidance to the user when taking a reading that they should stop moving around, or that they need to wait for X time period. In the case of a Garmin watch, you just sorta wait and hope. Whereas this simple user interface increases the chances of success in the reading: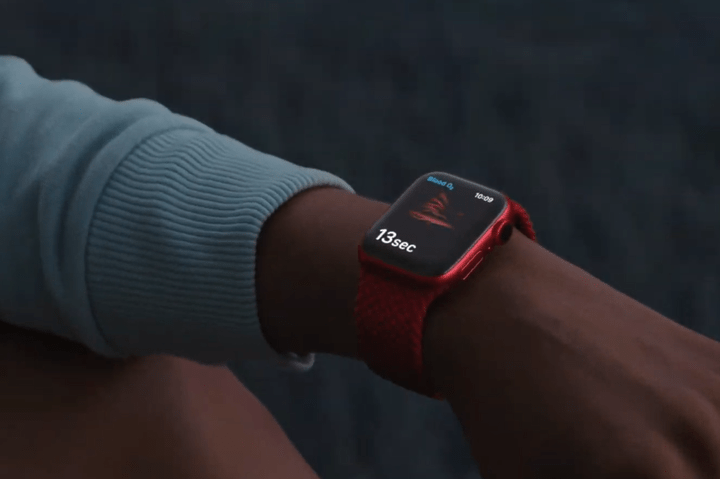 Once completed, you'll get the reading directly on your wrist: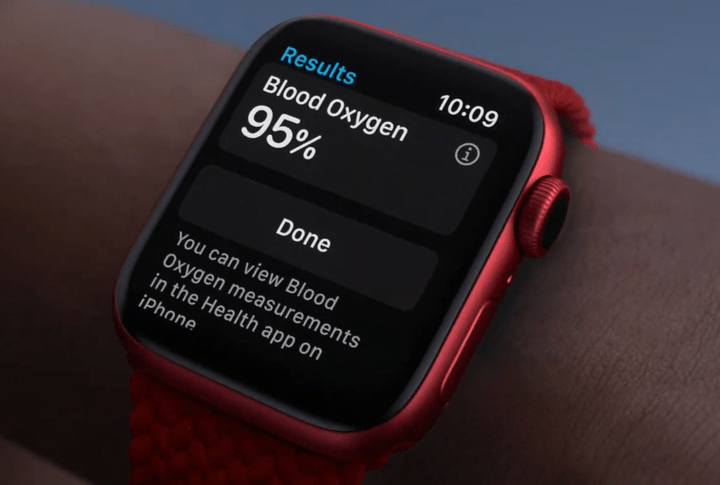 In addition, like others, there's also periodic background readings, notably when you sleep. These are then available through Apple Health.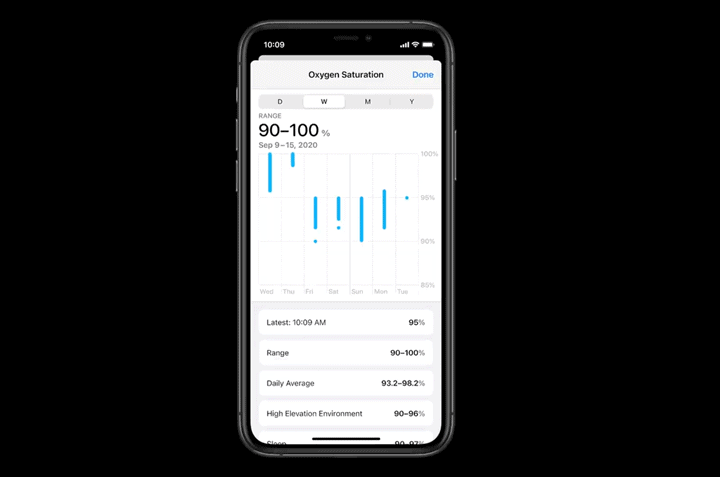 Notably, Apple has not pursued a medical certification for their sensor, which is different than the ECG functionality they rolled out two years ago

While there are lots of potential uses for SPO2 in a wearable for regular consumers, most of it is frankly a bit fuzzy. Most of the current real-world uses for SPO2 come from either the medical realm, or from high altitude scenarios. Neither has translated super well to clear-cut guidance/benefits/usefulness to consumers sitting at home watching Netflix (or chilling). Which isn't to say they aren't there, I'm just saying right now none of the manufacturers have really connected the dots on how to leverage it for the average consumer.
Speaking of high altitude and dots, the Series 6 unit gets a new altimeter that's apparently more real-time than the past barometric altimeters Apple Watch enabled units. This sensor can now feed real-time altitude data (second by second) to the watch face.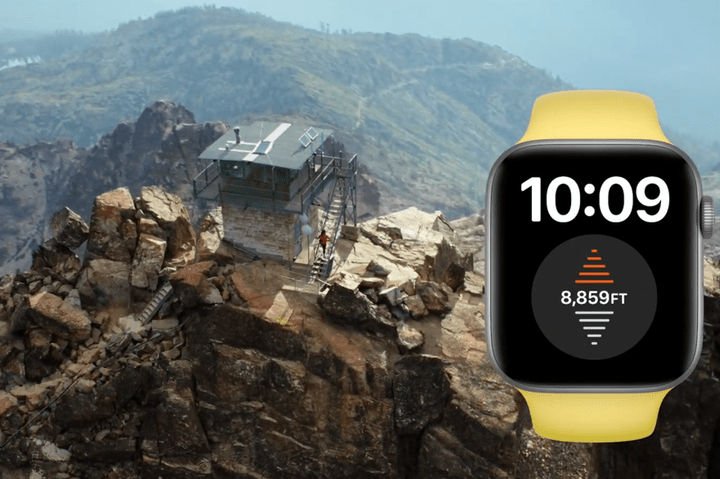 And, if used in conjunction with the SPO2 sensor at high altitude, it denotes that in the recording of that particular measurement:
The final two hardware changes are first the chipset, which is the Apple S6 silicon chipset, which they say is based on the A13 Bionic within the iPhone 11, but has been "optimized" for the Apple Watch. Apple says this chipset is 20% faster than the Series 5.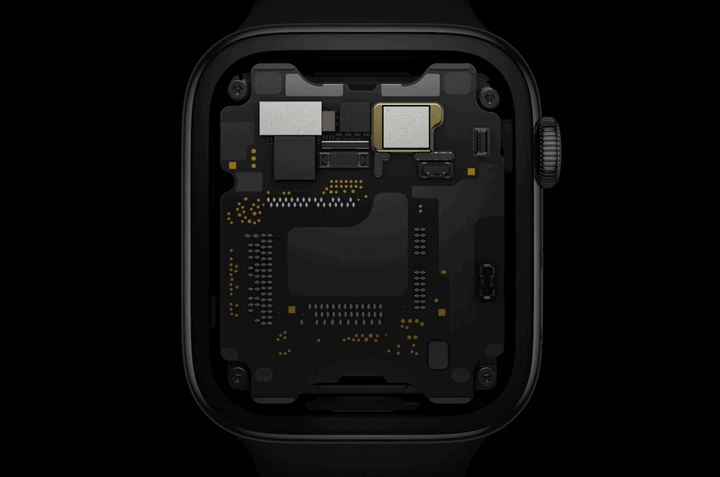 And then the always-on display when not active (so if your wrist is down), Apple says is 2.5x brighter, which would be a pretty substantial jump. It's unclear what that impact is on battery life. Apple maintains the same claim as the previous Series 5 of "18 hours".
Next, there's some new bands, most notably a "solo loop", which is a band that has no buckle, clasp, or overlapping parts. It's simply a continuous piece of silicone. Think a fancy wider version of those old Livestrong bracelets from yesteryear. You'll buy the specific band for your wrist size: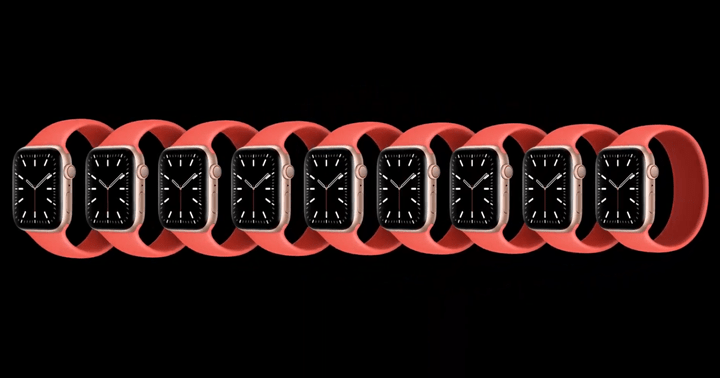 So what about the Apple Watch SE? Well, it's roughly a blend between an Apple Watch Series 5 and Apple Watch Series 3.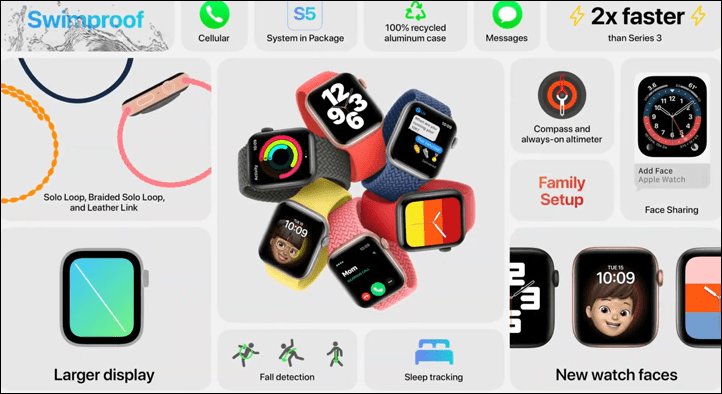 It's got the newer altimeter and related sensors of the Series 6, but doesn't have the SPO2 or ECG features (which the Series 5 did have). It retains the Apple Watch Series 5 chipset, which Apple says is twice as fast as Series 3. But it doesn't have an Always-on display. Those reductions save you $120.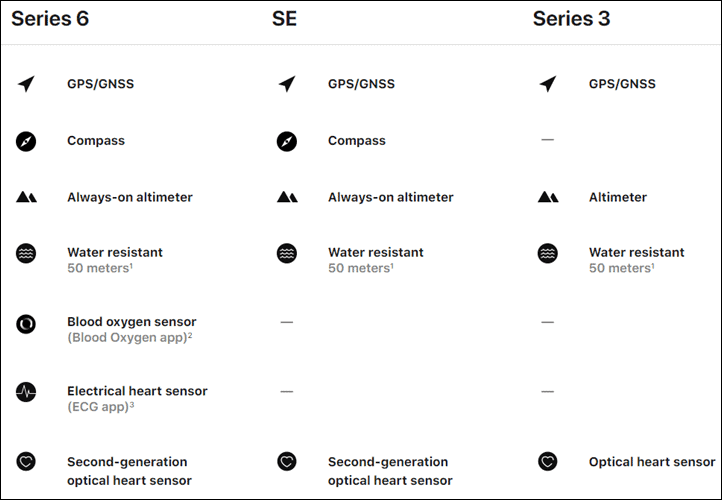 And again, more slight differences when it comes to chipsets too: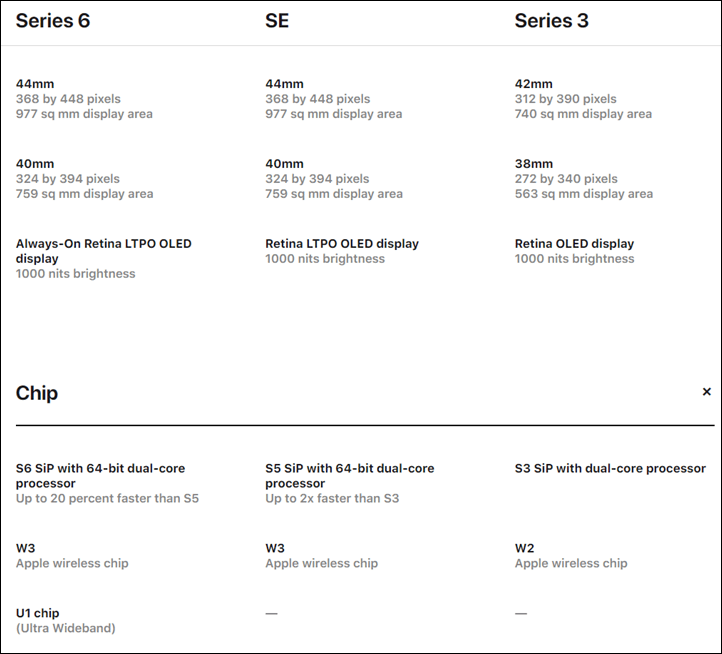 Finally, one of the more interesting areas they announced was their new 'Family Setup for Apple Watch'. The idea here is to have a child or elderly person that might not have their own phone, have an Apple Watch with cellular service instead. That watch gets its own phone number (so the requirement is a cellular Apple Watch), but is initially set up within another family member's iPhone.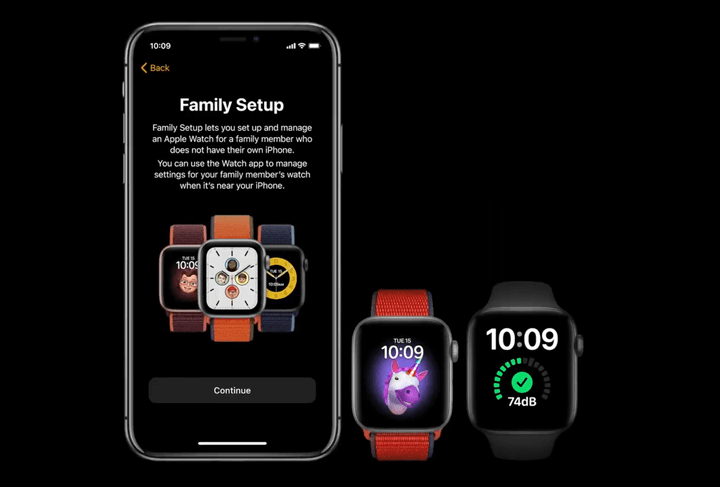 In the case of children, the parent can specify what contacts the child can communicate with, as well as a new 'School Time' mode that includes do-not-disturb and a specific mode icon that teachers can recognize the child is in the 'School Time' mode, which has restricted functionality.  The kids get their own Apple activity/fitness related details, such as closing their rings.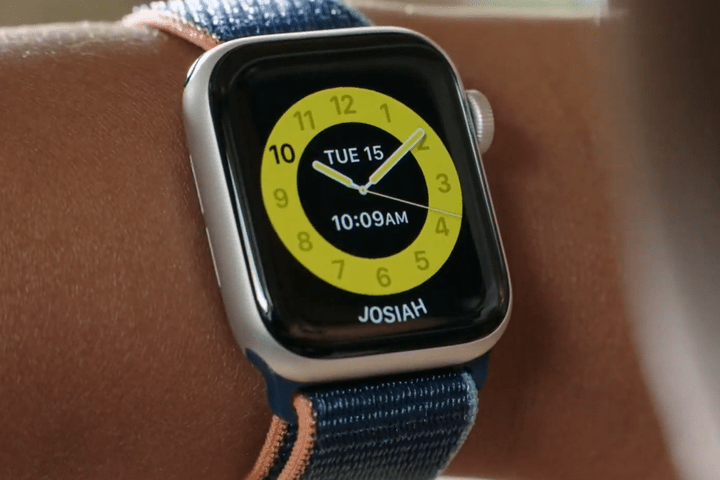 In addition, one can create automatic notifications based on location with geo-fencing, so to alert that someone has arrived at an area (or presumably left an area). The idea being that a parent automatically gets notified when a child arrives into a given pre-defined location. Or, perhaps when an elderly parent leaves a location.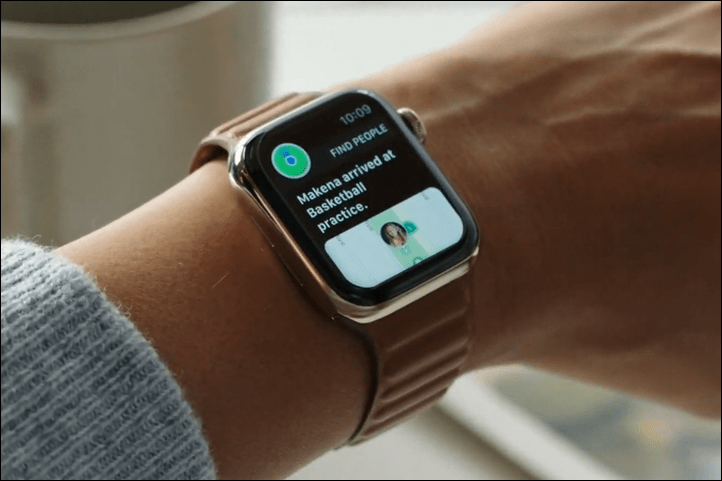 The Family Setup for Apple Watch will work on any Apple Watch Series 4 or higher watch, as long as it's the cellular edition. This in turn does limit things market-wise, because many markets don't have cellular editions in them (they aren't even offered to buy). Also, the Family Setup feature won't roll out until later this year, and only within the following markets: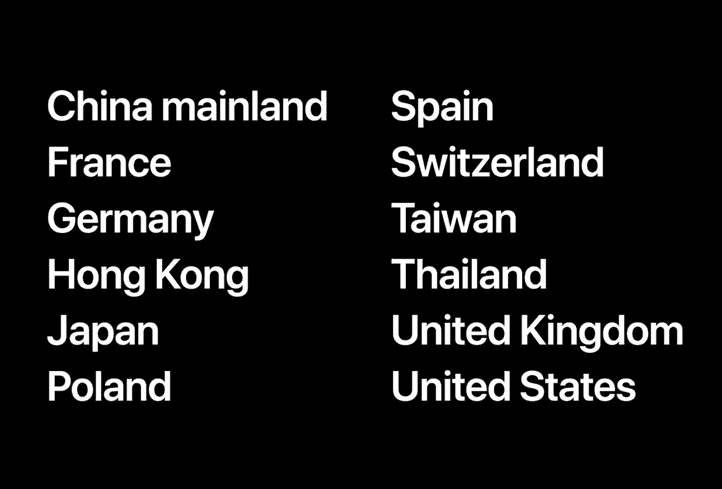 The limited nature of the markets appears largely tied to the telecom providers. So for example, we notice Canada is missing above (which is virtually always included in initial launches of Apple products/services). However, there are undoubtedly some requirements on carriers to provision watches sans-iPhone.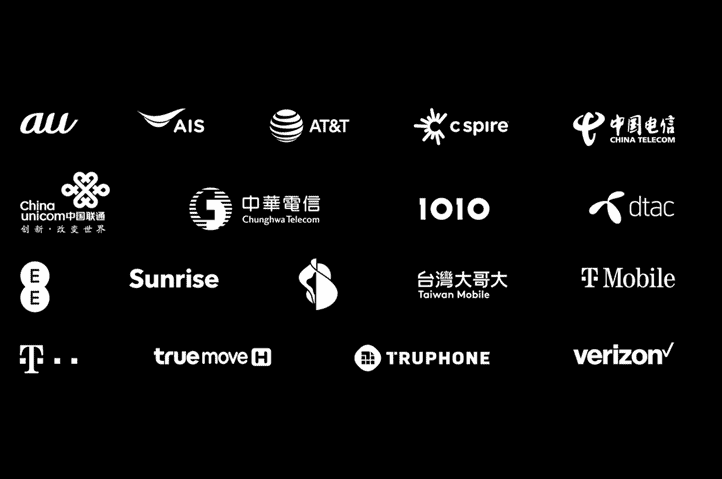 Still, I think it's pretty cool. It's a much better solution than some of the weird and wild kid/elderly tracking watches that I've seen that look more like prisoner bracelets than something that someone actually wants to wear.
Oh…and one last thing: Apple is removing the USB wall outlet/adapter from the Apple Watch. They say those are just piling up in landfills and as a result it'll have the same effect as removing 50,000 cars worth of emissions annually. Though, it doesn't appear we get back a few dollars off the price of our next Apple Watch.
Apple Fitness+: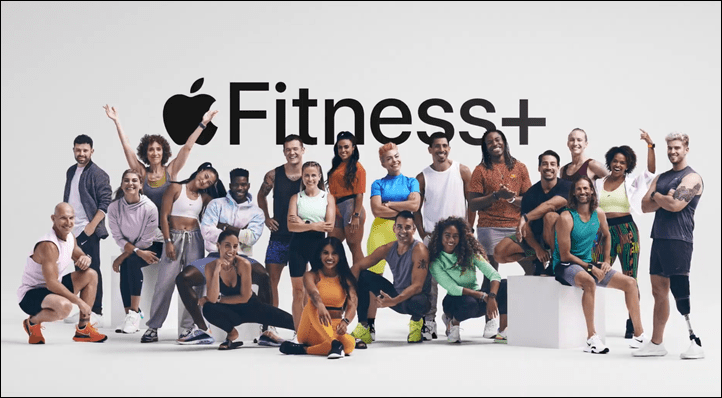 While hardware will get all the attention, the bigger news of the day is the launch of Apple Fitness+. This $9.99/month (or $79/year) service seems to be roughly like Peloton's digital app service/platform (sans-bike variant), which includes structured instructor-led workouts for 10 different sports. The platform ties together all your Apple devices, so that it's pulling from Watch to screens, and then integrating back into the watch again. Note – the service *DOES* require an Apple Watch, so keep that in mind.
To begin, you'll choose a class from within the Apple Fitness app (that's the app that replaced 'Activity' on your phone). There are 10 types of workouts to choose from: Yoga, Cycling, Dance, Treadmill Walk, Treadmill Run, Strength, CORE, HIIT, Rowing, and 'Mindful cooldowns'.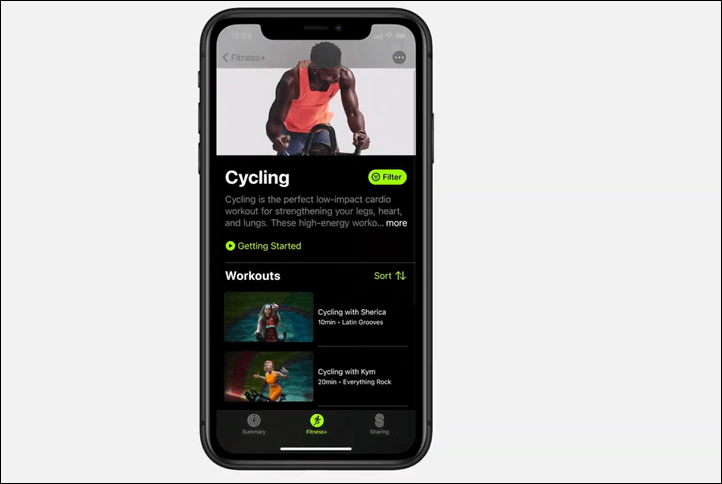 The content is developed in-house within Apple's Fitness studio, and they say that each week new content will roll-out. The workouts are integrated with music from Apple Music, though an Apple Music subscription is not required. However, it will offer the playlists for each workout that can then be transferred into your Apple Music library.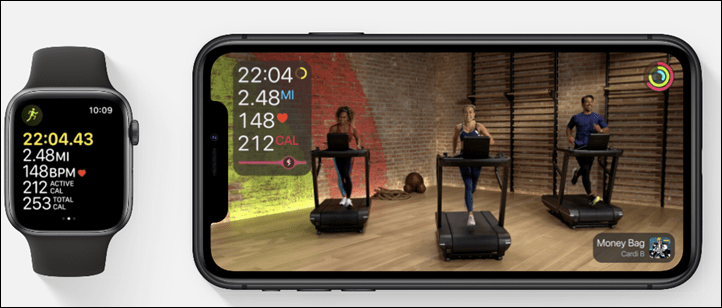 The workouts can then be shown on Apple TV, an iPad, or an iPhone. The metrics are kept in sync between the devices, and will even increase/decrease font sizes, if for example the instructor calls out to watch your HR for a specific section.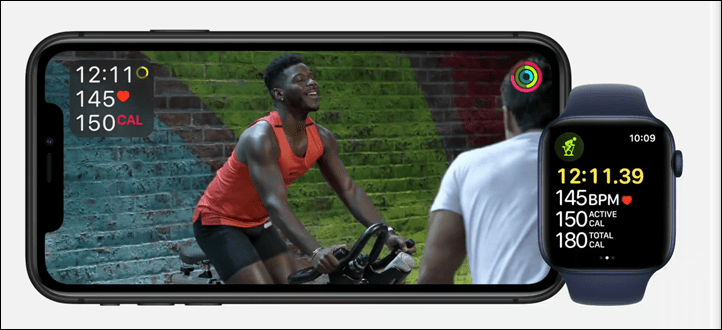 Afterwards you'll get a summary of your workout data. Apple says that the recommendation algorithm for new classes is run entirely on your watch/phone, and not on Apple's platform. They also said that your calories and instructors selected aren't tied to your Apple ID at the Apple platform level. This was an attempt at privacy, but ultimately Apple still needs to know how many people are taking certain classes, engagement time within the classes, etc… else they won't be able to accurately generate content for what people want.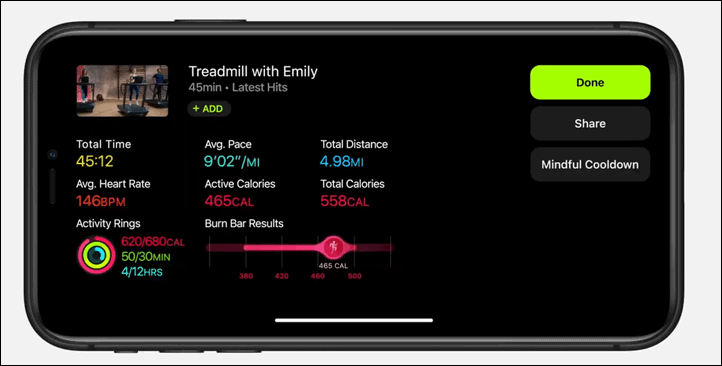 Apple's big push here is that it's entirely brand/location/equipment agnostic. Obviously, if you're doing a treadmill workout you need a treadmill – but there's isn't any specific requirement for Brand X or Model Y. Similarly, they noted that there are workouts specific to places like a hotel room or without any equipment at all, such as outside on the grass in a park.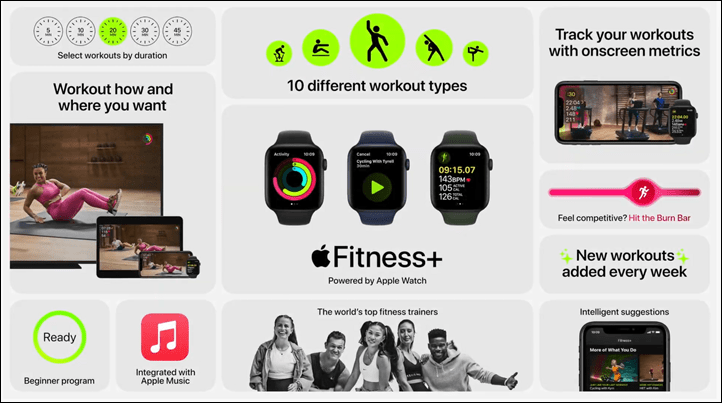 Notably, the subscription price covers the entire family, so you don't need a separate subscription for each person. And then beyond that there's Apple One, which is Apple's 'everything' service, bundling together at various levels all their different services. Here, this explains it better: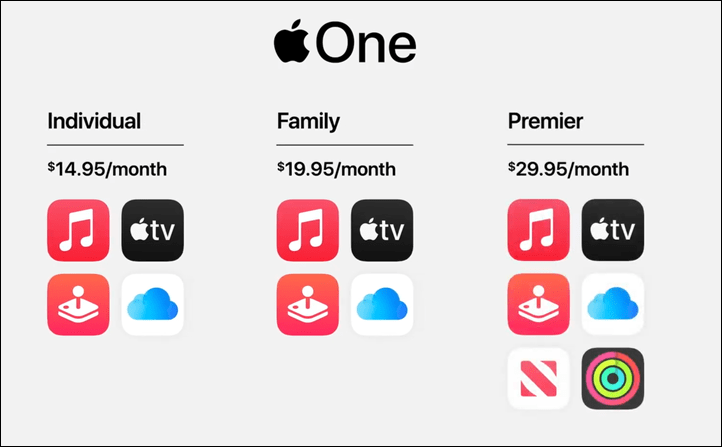 The Apple Fitness+ service won't launch till later this year, so everything remains a bit fuzzy until then. Apple Watch purchasers get 3 months free. And even when it does launch, it's doing so only in English speaking countries, listed below. Though, it's sometimes debatable if Australia counts as an English speaking country – how the eff did 'afternoon' become 'arvo', for example?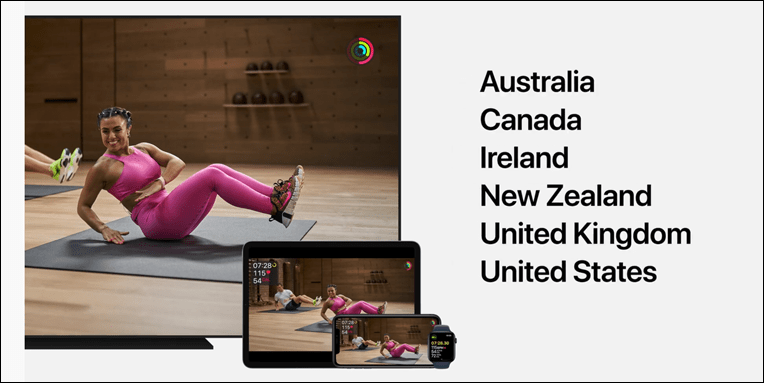 How and where Apple can evolve this is the big question. Unlike virtually all their other paid subscription services which scale easily across languages/countries with simply adding more translations or developers, this one doesn't. This basically requires a full fitness studio staff for each language. We've seen how challenging that's been for Peloton as they've slowly pried open the German market through dedicated German instructors working out of the London studios. But even that's still pretty limited compared to the scales of what Apple would be looking at doing here. Even expanding to just 3-4 languages would be a massive undertaking of resources.
Still, if there's anything Apple has its resources and energy. And money. Money helps.
Wrap Up: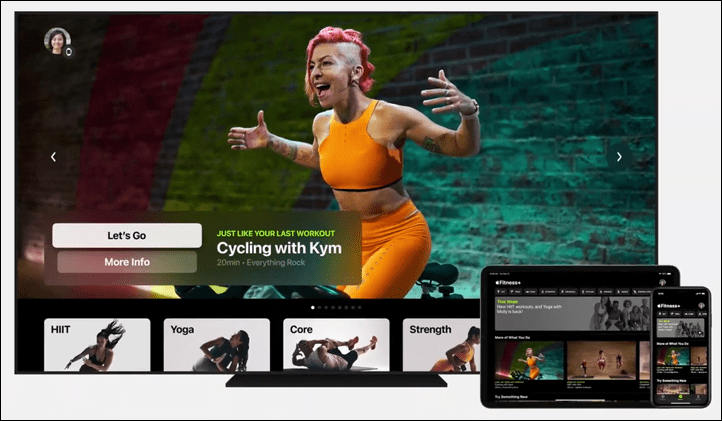 So there ya go, a quick look at what's new on the Apple Watch. Most of this was largely expected, and most of the new hardware features are largely catch-up from what we've seen Fitbit and Garmin roll-out in recent years, namely the SPo2 bits. But if there's one thing we know about Apple is that while they often lag initial implementation on cutting edge technologies, they tend to make up for it with their more polished implementations. In this case, everything we've seen on the screen shows relative similarity to what's offered already in the marketplace, so it's really going to come down more to accuracy and guidance on how to use that data.
Ultimately, I think the far bigger takeaway from today isn't the Apple Watch related announcements, but the Apple Fitness+ announcement. This too was well rumored, but I think it's the biggest threat wearables-wise is to the Garmin/Fitbit's of the world. Albeit, not at its current pricing. $9.99/month to me seems a bit too high for what Apple is putting out there, especially since I'm skeptical on how much content and variety will really be there at launch (given it won't show up till later this year – and given the complexities of creating fitness content in studios during COVID-19). I would have thought $4.99/month would be a very Apple-like price to just dominate the sector with an easy 'Sure, I'll sign-up' type scheme.
Still, it's going to have an impact. Even if just a single-digit % portion of Apple Watch users sign-up, that's a massive number of people, and would easily begin to dwarf other subscription services out there. It also poses a challenge to Peloton. Less so for owners of the bike, but more for Peloton's app users, which are paying $12.99/month for the platform. For those users, something like the Apple One bundles could be a tipping point in Apple's favor. Additionally, so could more workout diversity, or simply better content by Apple. Peloton's content is pretty darn good (it's largely considered the main draw to the Peloton platform). And so in order for Apple to pull users over from Peloton, they're going to have to throw down some pretty solid content.
In any event, I'm interested to dive into how this all looks in person, starting with the watches first, and then Apple Fitness+ a bit later this year.
With that – thanks for reading!