It's no longer summer. But hey, things are heating up in the watch realm instead – so I've got that for ya! Here's what I was up to this past weekend as the leaves start to change, and the weather gets solidly less awesome.
1) Picking up the Fitbit Versa 3
Not unlike most years, September has been a crazy sweep of new wearables: Apple Watch Series 6, Apple Watch SE, Garmin FR745, Garmin Venu SQ, Fitbit Versa 3, Fitbit Sense, and then some spillover from August including the Samsung Galaxy Watch 3. I prioritize based on a blend of expected reader interest, and product availability (when a company gets it to me).
Of course, I'm ultimately limited to just two wrists, and I don't usually wear more than one watch per wrist for workouts or 24×7 usage. So with the Fitbit Sense in-depth review behind me, I switched over to picking up the Fitbit Versa 3.
In my case, for review purposes, Fitbit asked which one I'd prefer first for earlier access, and I said the Sense. Thus, no Versa 3 handy. So I solved that by meandering down to our local big box tech store. I had also placed an order for one too with another major Dutch tech retailer, but they failed to do what they said they'd do. So this was plan B.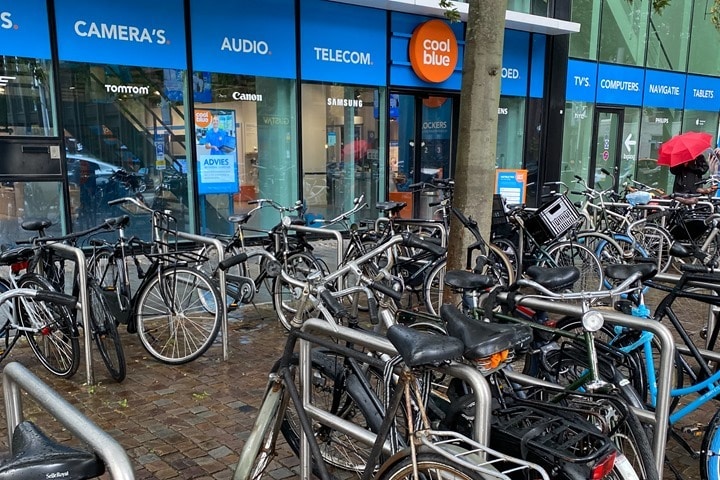 The reality is that the Versa 3 is basically just a Fitbit Sense without ECG, EDA, or Skin Temperature. Still, I treat them separately from a data collection and validation standpoint. One never knows if a company perhaps gives components more or less power since they lack a different feature.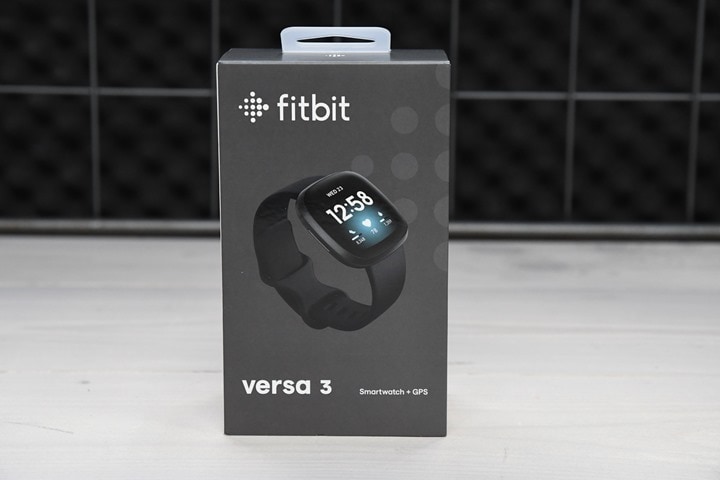 Full in-depth review likely coming up later this week, short of stumbling upon something I didn't expect.
2) Reallocating DCR Cave Resources
As summer has given way to fall, the weather has as well. So the kids spent considerable time outdoors since even beyond summer (spring had amazing weather, thankfully, for lockdown). I mean, let's be honest, the Dutch schooling system (rightfully) throws the kids outdoors even when it's raining. Which, it does basically every day in some capacity.
Point being, we've been having a little bit of trouble getting them to re-adjust their 'outside voices' to 'inside voices'.
But then I remembered the Yacker Tracker! You've of course seen this in countless indoor trainer and smart bike videos I've made, as a simple way to gauge decibel levels. Here's the video from when I first got it in Paris (and it was also a fair bit cheaper then). It's basically designed for kids' classrooms to keep things in check.
But I use it less and less both in general, and this time of year with virtually all the new trainers announced. The reason I use it less in general is simply that trainers over the last 2ish years have largely gotten to incredibly quiet levels, such that it's no longer a major purchasing decision factor.
In any case, on Friday night I wedged the stoplight into the back of the rear bike basket, and pedaled on home. There I installed it in the kitchen, near the table.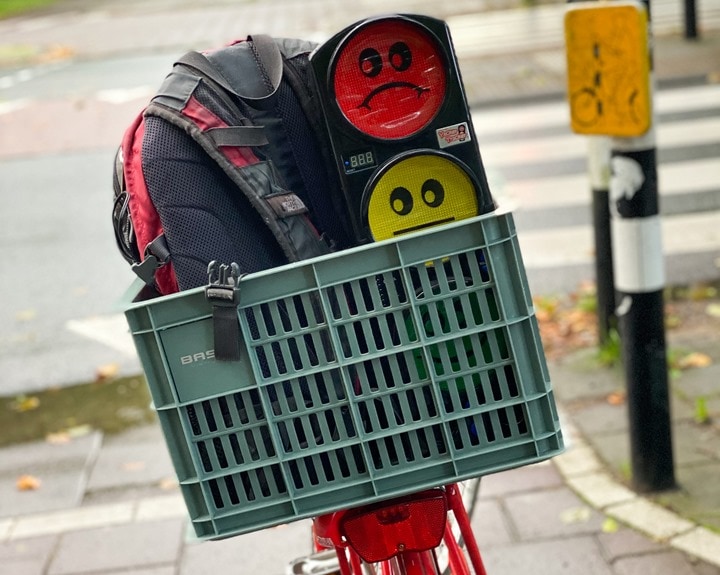 I can change the decibel threshold level, as well as specify whether or not it makes an alarm sound if the kids go into red. Also, it has a counter up top.
That said, I'm not terribly certain it's effective…but hey, it's early days still.
3) Trying to Zwift
Saturday morning while the two oldest Peanuts went to soccer practice and the younger one was down for a nap, I did a bit of garage/shed cleaning. Organizing really. After moving in a month ago, like most people things tend to stay in boxes until they need to be found for a specific purpose. That included my weeknight and weekend training spot.
As you probably guessed, I do most of my workouts at the DCR Cave/Studio, especially indoor ones. It's where the bulk of my gear is. But on weekends I tend to run from home, or ride on a trainer. Occasionally I'll do outdoor rides on weekends, but that's pretty rare unless I'm going out with a friend or such (which is also pretty rare). It's just more effective for me to thread the kids nap needle for a workout, and be home with the rodeo of three little ones.
Point being, I re-setup my indoor training spot. Which is nothing fancy at all. A bike, a trainer, and a workbench next to it. Because my iPad ran out of storage space and I couldn't re-install Zwift after it offloaded it to save space. So I just used my laptop today. Which, would turn out to be a poor decision.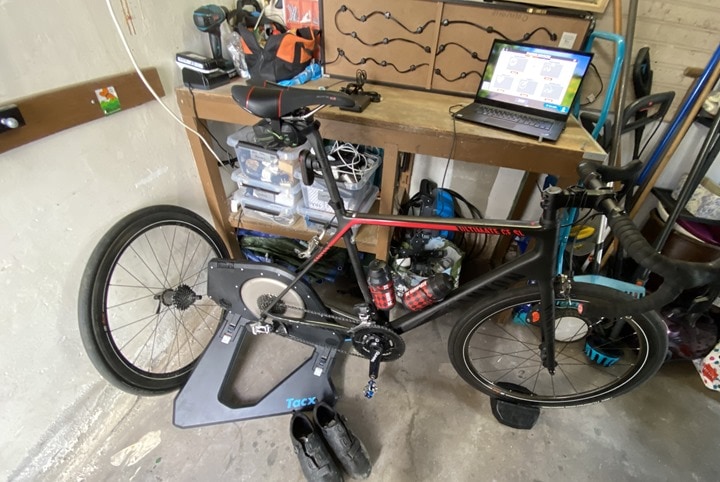 For the trainer, I'm using a Tacx NEO 2 (older one, not the NEO 2T). I'd be just fine with the original NEO. I kinda like the road feel aspects in Zwift, which is the main reason I usually default to it. Also, I like the no-calibration aspects. But realistically, I'd be just as happy with a KICKR there too. I wouldn't overthink too much which exact models I use at home. Oftentimes it's just a case of 'whatever I grabbed first out the door one random weekend'.
Anyway, I decided to go with a structured workout, Jon's Mix (longer variant). It's a good way to test things, and I needed to test some things. All started out just fine and began the warm-up.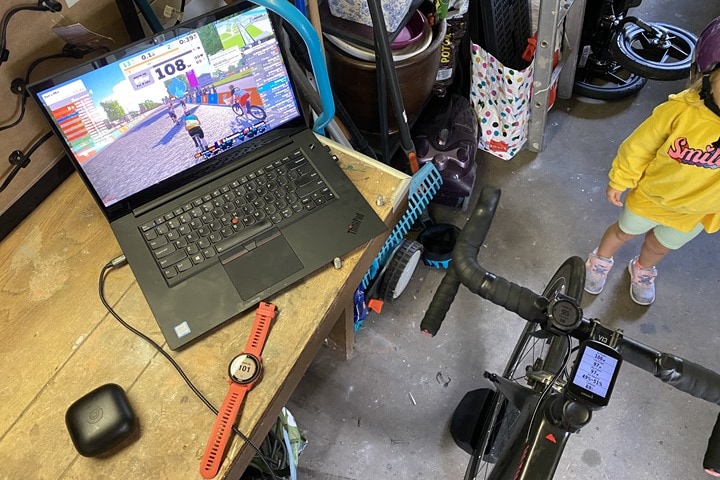 And then as I got into the 2nd round of stuff, just as the end of one of the intervals and it was supposed to transition power, it crashed Zwift (closed the app) entirely.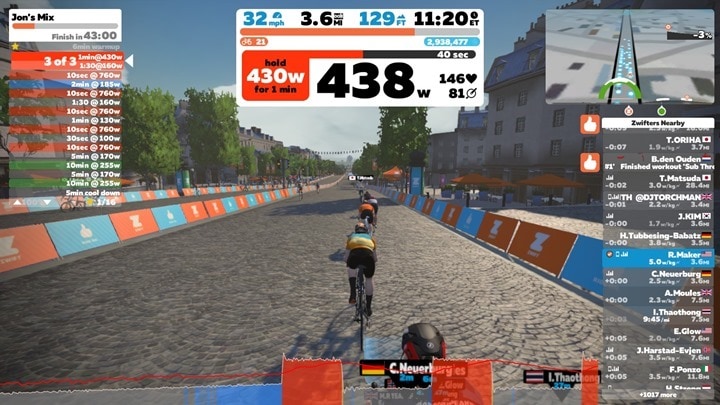 No warning, no reason, just…poof. And…in a super-rare scenario, it didn't even upload the pre-crash workout later on. That's my laptop, with Zwift now closed and gone.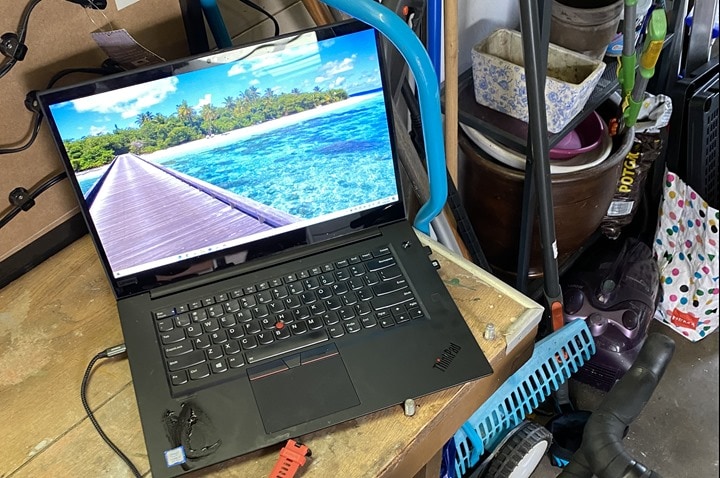 At that point I didn't really feel like restarting that structured workout (perhaps only to have it happen again), so I joined one of the newish pacer bot groups.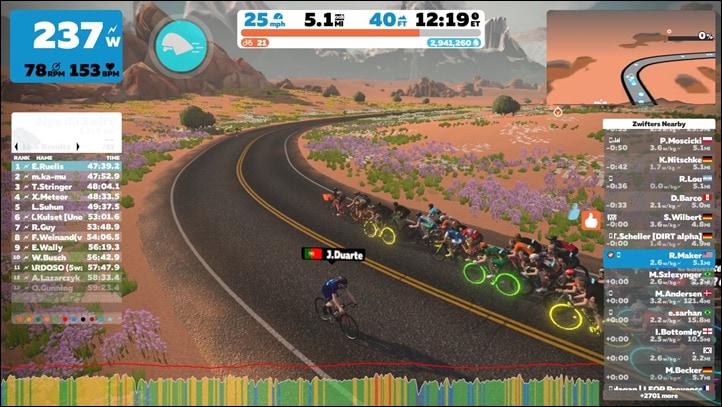 I rather like these. It's like the fun of a group ride without having to wait for a specific ride to start. The downside being all the ones offered this day were in Watopia, and some on courses I didn't really feel like riding. But hey, I did it anyway.
I finished up my allocated time on the day and called it macaroni.
4) SRM X Pedals Take Two:
Sometime long ago in a far away galaxy I started testing the SRM X power meter pedals, which are SPD-based. That went well…until it didn't (one side was producing hopelessly invalid numbers). And then I've been lazy-volleying with SRM over the course of the summer to try and fix it. Ultimately, they believe that the issues were related to being a very early production run with the units, and some manufacturing changes early on (as in, way back in Feb or March) likely have already resolved the issues.
All of which led to a new set being sent out and arriving a couple of weeks ago (right at the start of craziness on new releases). But, I finally got them installed this weekend. Also, this second set was blue this time.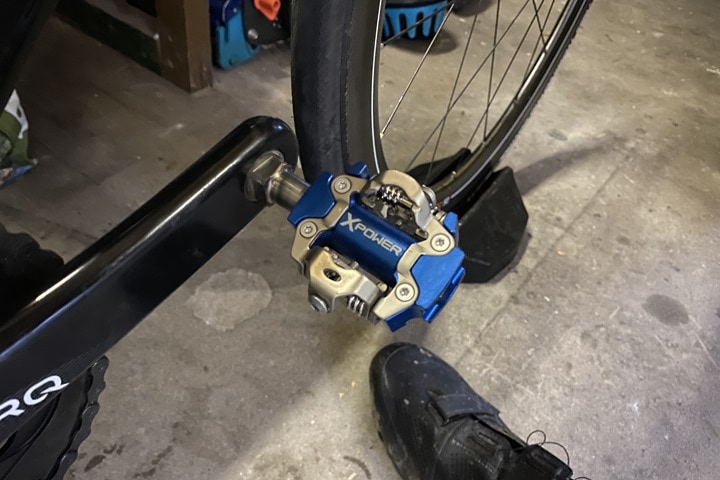 Unlike the SRM road bike pedals, installation on these is pretty much a breeze. Done in 1-2 minutes tops.
And, because this post is way too long already, the initial data looks pretty good. No major complaints on this first one for now. Looks like a little bit of settling in the first chunks of the workout, but that's normal for pedals on first install.

Of course, out on the road is what matters. I'll do some road riding first, and then switch to mountain biking to finish it up.
5) Out for a Run
Finally, Sunday while the kids ate lunch I bailed for a nice hour-ish loop. A bit of river, a bit of forest, and a bit of forgettable suburbia. Though, the old Amstelveen station is kinda neat. A bit of sun, a bit of wind, and a few drips from the rain still on trees earlier. But, all good.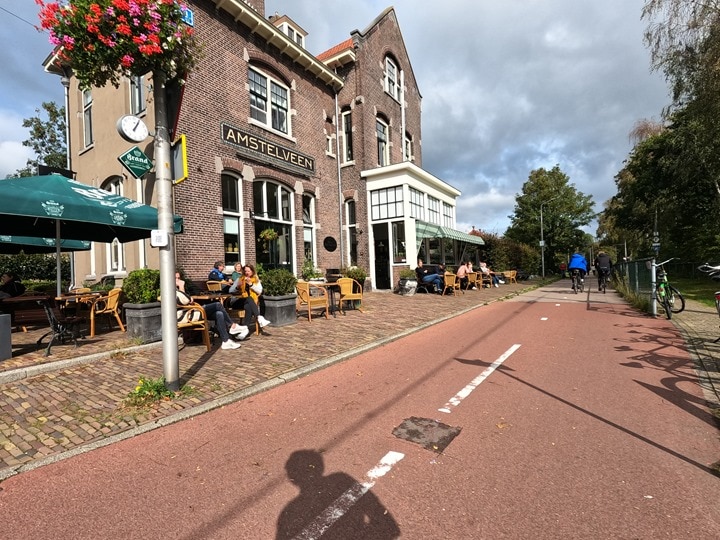 I was running with the Fitbit Versa 3 (left wrist), Apple Watch Series 6 (right wrist), and then as an extra data point the Garmin FR745 (hand-held paired to chest strap). I also had a Polar OH1 Plus, Garmin HRM-PRO, and Whoop strap for extra HR sensor data.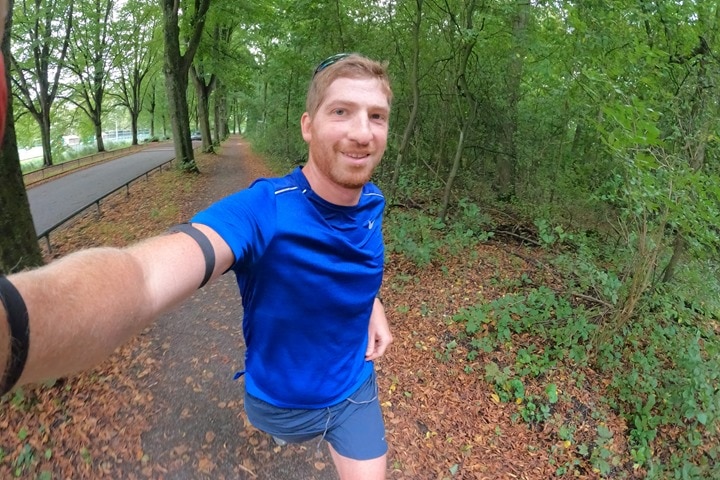 The run was nice, just cruising along at a fairly casual pace. Every 3mi/5km I'd do a bit of a sprint for 60-seconds, mostly just to cause the heart rate sensors grief. I'll do a track workout on Monday or Tuesday, but this worked in the meantime. The results aren't surprising. Like with the Fitbit Sense, the optical HR sensor of the Versa 3 struggles far more than any other sensor (even more than Whoop, though Whoop was also inaccurate). You can see some of that below. Fitbit in yellow.

(Note: I changed the position of the Garmin HRM-PRO at 2-minutes in from lower chest to upper chest, hence the bobble.)
Now, while the Fitbit was the least accurate on this run, it did mostly get the 1st/2nd/3rd intervals correct, though struggled instead at other points (the beginning of course, but also appears to suffer cadence lock issues at other times).
I do have to figure out though why the Apple Watch file export on this run didn't export with either HR or GPS (and I tried both the export from Strava as well as HealthFit. Super weird.). In watching the Apple Watch's heart rate numbers throughout the run, it was virtually lock-step with the HRM-PRO chest strap, so I'd be surprised if there's anything funky. Everything I've thrown at it to date it handles with ease. I suspect it's one track workout away from taking back the crown of best optical HR sensor in a watch (it lost that crown with the Series 5).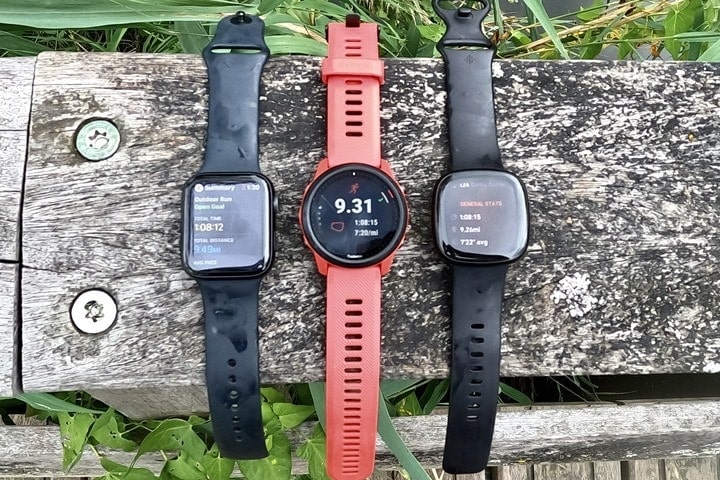 The only quirky thing I can't quite figure out is why the Apple Watch ended up with such a longer distance (~.20mi/320m). Looking at the distance accumulation graph in the DCR Analyzer, it did it slowly over the entire run, ever so gradually increasing distance faster than the other two. There were no obvious GPS 'extra bits' here or there along the route.
In any case…will sort that out in the coming days.
With that – thanks for reading, and have a good week ahead!