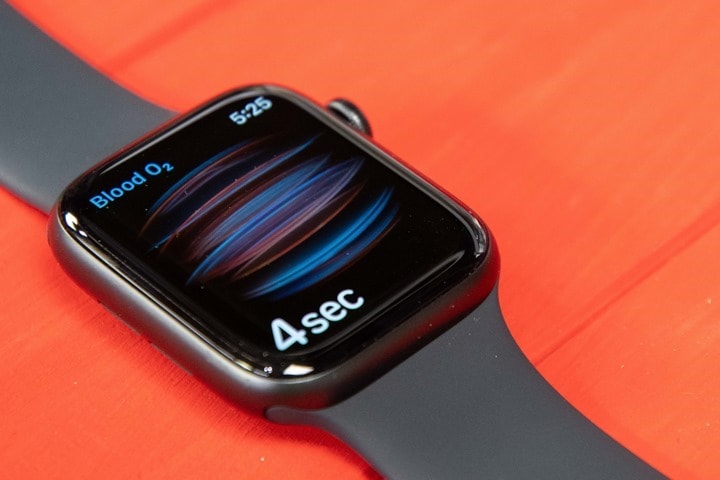 While I already posted earlier this week on the new features of the Apple Watch Series 6, I figured I'd share some quick first run Friday data for ya. As well as some initial thoughts on the handful of other new features that the Series 6 has. This includes VO2Max, SpO2, the altimeter, and screen brightness. Plus of course that new optical HR sensor.
First up, as a quick reminder, here's the main fitness-focused skinny on what's new on the Apple Watch Series 6:
– Added SpO2 Blood Oxygen Sensor/Measurements
– Changed optical sensor package entirely
– Added faster responding barometric altimeter for watch faces
– Increased screen brightness in standby 2.5x
– VO2Max Alerts Coming later 2020 via WatchOS7 (all Apple Watches from Series 3 up get this)
– Reduced detection floor of VO2Max for lower VO2Max levels
– Added Sleep Tracking via WatchOS7 (all Apple Watches from Series 3 up get this)
– Added Additional Sports via WatchOS7 (all Apple Watches from Series 3 up get this)
– Increased processor speed by 20%
In the grand scheme of things this basically all boils down to an SpO2 sensor and new optical HR sensor package. While the barometric altimeter improvements might be useful for some, Apple has long had a barometric altimeter in the Apple Watch. This just makes it faster to respond on the watch-face.
So I wanted to dive into all these changes – and for a Friday afternoon, a video seemed like the best bet (in hindsight, it wasn't – as our internet service provider in the area was having issues impacting both home and office, and I'd spend countless hours trying to get it published). Still, since it's there now and I was up to 2:30AM fighting the good internet fight, you should press the play button and enjoy a fun run around Amsterdam. Oh, and some technical bits.
Still, for this weekend post I'll quickly consolidate some thoughts. First up, there's the new optical heart rate sensor. This splits out what was a single green LED light (or, perhaps technically a cluster of lights) on the Series 5, into a dual-light arrangement on the Series 6 (though, I think there's actually four green LED's – hang tight a sec). It also adds the red-light pieces that we'll talk about later.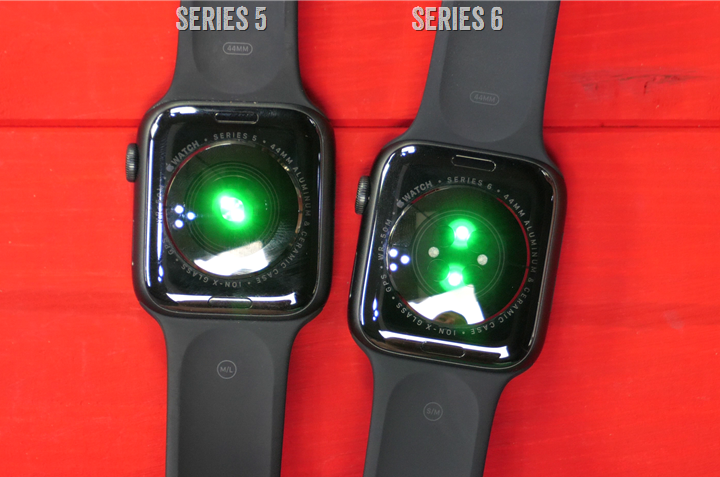 For the SpO2 piece, that's triggered one of two ways. Either manually with a 15-second test that you simply start and wait: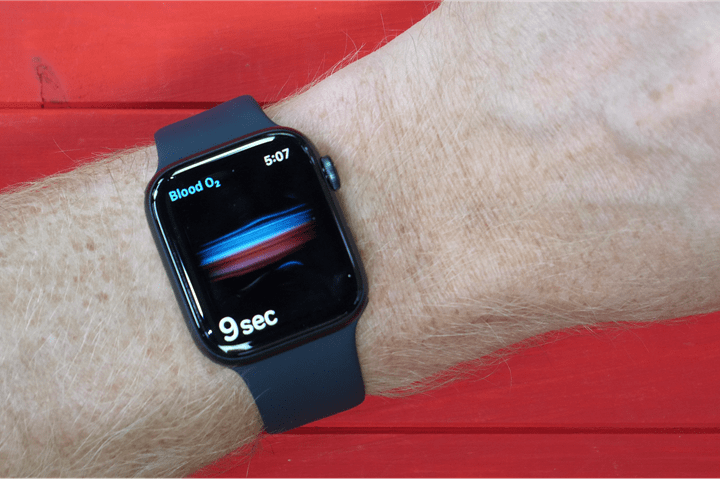 Or automatically behind the scenes every once in a while. That'll turn on the red lights for the SpO2 sensor. What's interesting in this that I didn't notice immediately in the video, is that when it turns on those red lights, there appears to be a secondary set of green lights that come with it (totally four green LED's).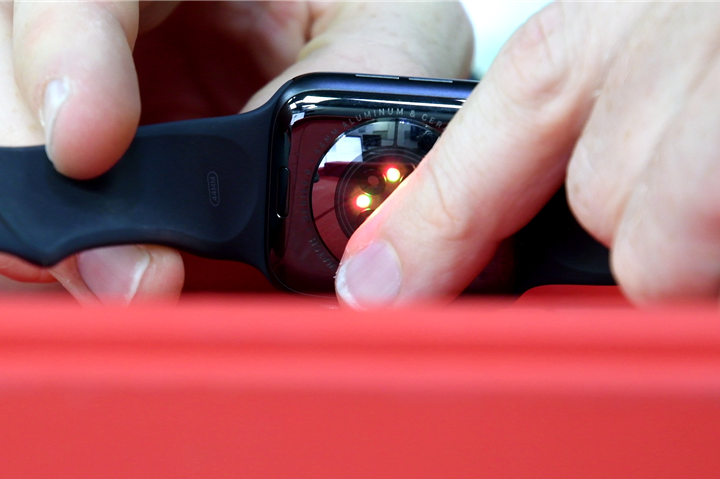 Seeing the red sensor is incredibly challenging because Apple has put in piles of error-avoidance detection things. Unlike everyone else including Garmin, Apple doesn't allow these readings to be taken just any old time. Instead, they've really focused heavily on only letting you get readings when it's in the optimal position: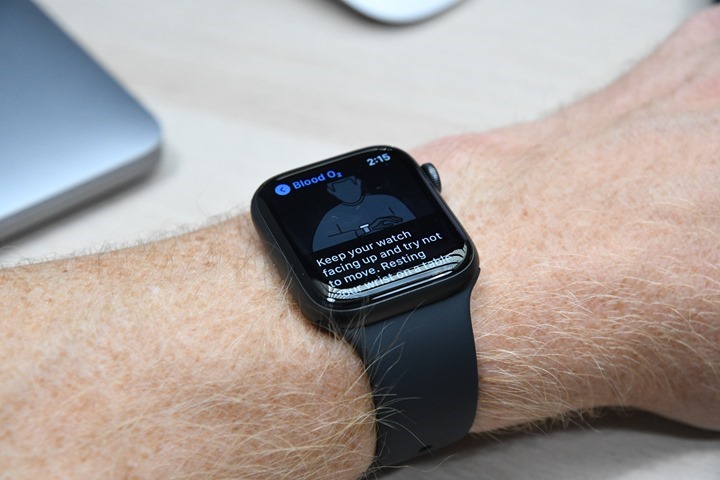 Why is this? Well, they're trying to avoid inaccurate readings from people just doing this whenever they want (as Garmin and others allow). So by sandboxing it a bit, they can increase the perceived accuracy of it, by throwing out plenty of potentially inaccurate results due to poor 'user test procedure'.  For example, while none of these are classified as medical devices, they'll undoubtedly be compared to one. And if you look at how those devices are tested/validated, it's sitting at a desk with your arm on a table. Which…is basically exactly what Apple is telling you to do above.
And in fact, once you turn the watch more than about 90° on angle, it'll instantly switch off the sensor and fail the test. It's super sensitive. Which isn't to say Garmin isn't sensitive – they might be behind the scenes, they just don't expose it – so you sit there trying annoyingly and it just looks at you like a confused dog. It's a prime example of Apple not being first with the technology, but ultimately implementing it in a more widely accessible way.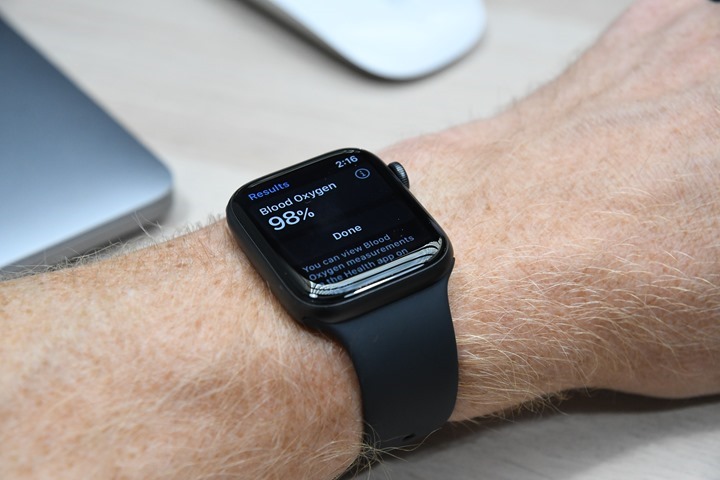 In any case, this was supposed to be a quick post. On the run, I had a pile of devices with me to compare, especially for heart rate. Looking at that first, you can see the Apple Watch did exceedingly well. Only one minor blip for a couple of seconds. The HRM-PRO had dried up while I was filming some intro stuff, and I forgot to re-lick it until about 2-3 mins in, and then you can see it instantly locked off. After that, my sweat kicked in and I was good. Standard chest strap things on a cooler dry day.

All in, for HR accuracy while running a single run – it's WAY better than the Series 5 was at launch, and now more in line with the very impressive accuracy of the Series 4.
For GPS data, I created one heck of a messy route. I included the running track, two sets of extremely long tunnels/bridges, running a loop next to a stadium, running on a small island, going through the forest, and just meandering. I had with me a FR745, Fitbit Sense, and of course the Apple Watch Series 6. Due to various embargos, I can't quite share the Fitbit data until next week. So here's the GPS data versus the FR745: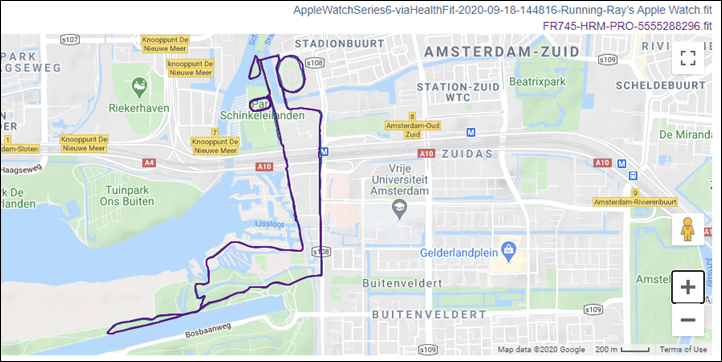 And a bit closer: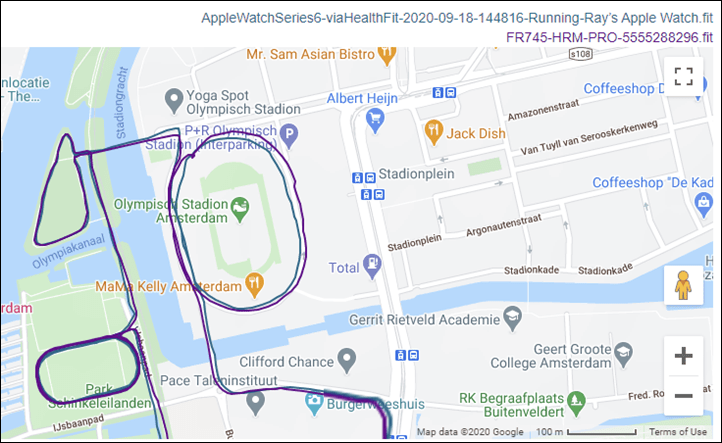 I went into this in detail in the video, or you can zoom in on the set here. But the main takeaways are:
– Holy crap, Apple finally got rid of the Mario Kart/Swooshing/Sashaying corner effect
– The Apple Watch and FR745 were very close
– The FR745 actually nailed the track, despite not being in track mode (hmm…interesting thoughts on that later)
– The Apple Watch struggled a little bit around the stadium, but we're talking mostly just a few meters
– There were a few sections it wobbled slightly on some straightaways
– Both were great in the tunnels
– Both were great in the forest
So, the biggest takeaway is that Apple has clearly traded some of the over-smoothing they've done since the very beginning of Apple Watch, with a bit more 'trueness' for where the watch actually goes (or, where it thinks it goes). This means that you get a bit more wobble in some cases compared to the past, but it also means it doesn't cut or sweep around corners like it used to. As a reminder from the Series 5, this is that sweeping I was talking about there (these are from the Series 5 review). You can see how it heavily smooths my twists and turns on the path.
Now, Apple has continued to make progress on this since last year. Every once in a while I'll do tests with it, and I've seen them slowly find that balance better and better. But I think at this point they're acting much closer to a normal GPS watch than the heavily smoothed Apple Watch.
I'll work towards an in-depth review over the next few weeks. But until then, I'm kinda impressed with the accuracy bits, as well as the gates they've put in place to try and raise the floor on SpO2 data. I might be interested in picking a legit medical certified SPO2 device to compare against. Not just a little finger one for $10, but something that would be a better reference device. Since so many wearables are out there these days using that tech, it'd be interesting to do occasional spot checks.
Until then – feel free to drop any questions below. I'm sure you'll also see Apple Watch Series 6 data in various reviews coming up over the next week or two.
With that – thanks for reading and have a good weekend!