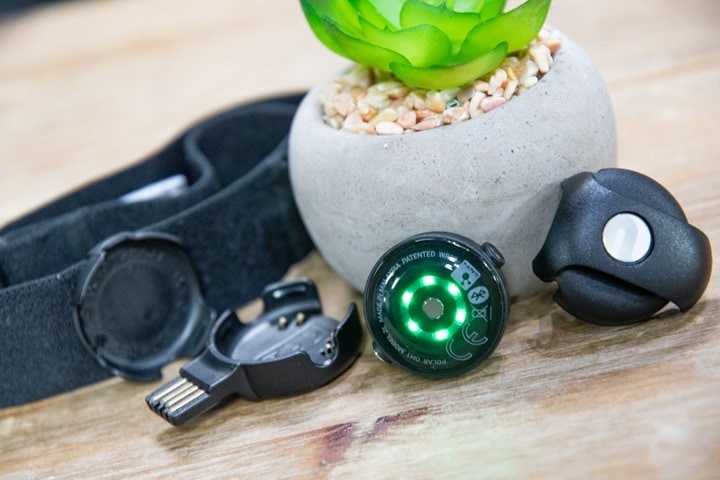 And just like that, Polar now makes ANT+ devices. The Polar OH1 is one of two devices today that Polar has announced that are getting ANT+ compatibility. The other being the H10. But I cover that (and thoughts around possible Vantage series ANT+ support), in this separate post.
This review is focused on the Polar OH1 Plus, but the good news is that Polar OH1 owners will soon find a firmware update that also gives their existing OH1 units the ability to broadcast via ANT+. However, if you can't wait for that, the new OH1 Plus units start shipping later this week and are already en-route to retailers.
Note that if you are looking at buying an OH1 (non-Plus), you can use this review as well. In fact, for this review I used a few devices. First was my own Polar OH1 that I bought and then had the firmware upgraded to effectively make it an OH1 Plus (hardware-wise there's no difference, the Plus just comes with a goggle strap for it too). In addition, Polar sent over some loaner OH1 Plus units that had the little ANT+ logo on the outside. But again, exact same hardware. I'll send those back to them shortly.
Oh – if you'd like to skip all the textual stuff and just get the entire lowdown in a few minutes, hit up the video for all the demos and OH1 goodness:
As always, if you found the review useful – hit up the links at the bottom to help support the site.
What's in the box:
The Polar OH1 Plus has almost the exact same box contents as the previous OH1. Only difference is this now comes with a little swim goggle clip. Here's the box contents, once transformed into a plastic baggie because the final boxes hadn't quite arrived yet: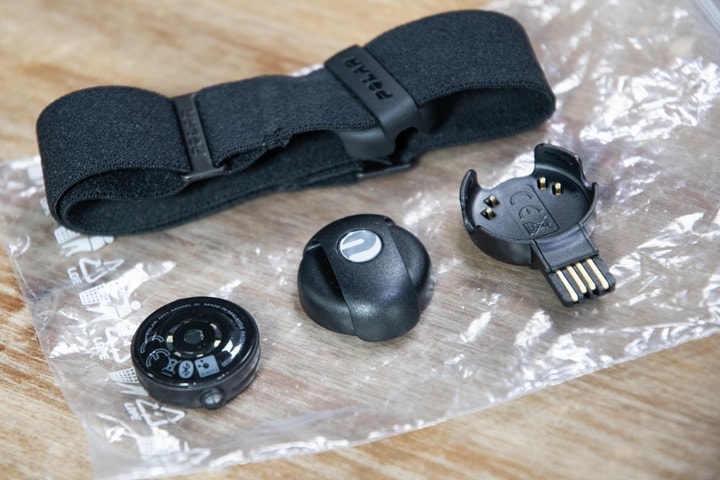 I'll update this section likely tomorrow when the final exterior box arrives here, but the contents are final. And honestly, the contents are exactly the same as before internally. Here's the pretty top-down shot of all the parts: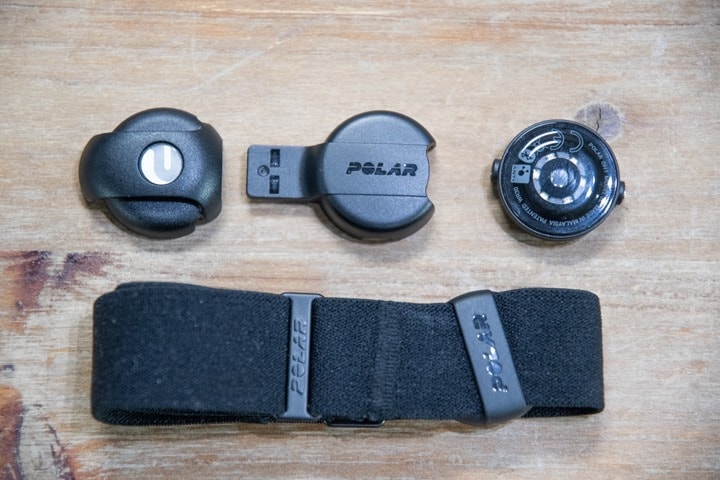 Here's a closer look at the pod and charging cradle: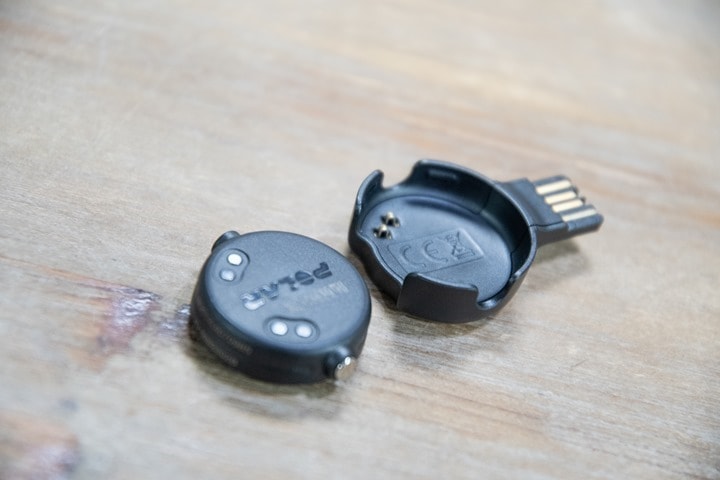 Then, there's the one new thing – which is the small swim goggle clip. I'll talk about that later on, but essentially it allows you to clip the pod to your swim goggles and then use the optical HR sensor against your temple.
And…that's the box contents. I suspect in the final paper cardboard bit I receive there's the final instruction manuals and safety stuff. But frankly, neither you or I will read that anyway.  So let's get right to using it.
The Basics: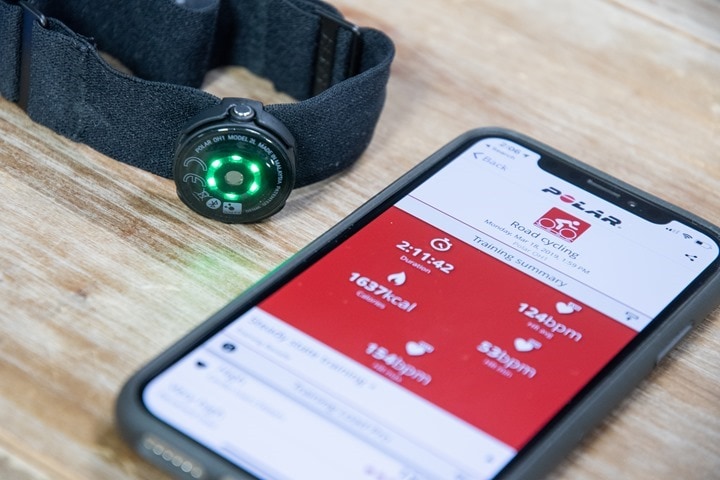 Actually, it's about now many of you might be wondering if there's any differences to the pod itself. Internally Polar says they're identical, and that makes sense given that the existing OH1 pods will get a firmware update to make them identical in functionality to the OH1 Plus. However, on the exterior someone got out their stamper and stamped the little ANT+ logo onto the new OH1 Plus pods. You can see that here side by side: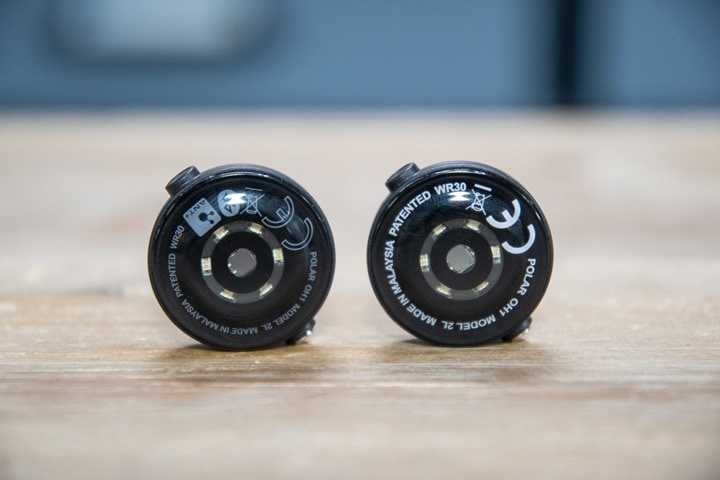 Everything else Polar says is the same. And that makes sense – no company wants to rev the internals of hardware if they can avoid it.  As noted above, the one other bit that comes with the OH1 Plus is the new swim goggle clip. You can see this here: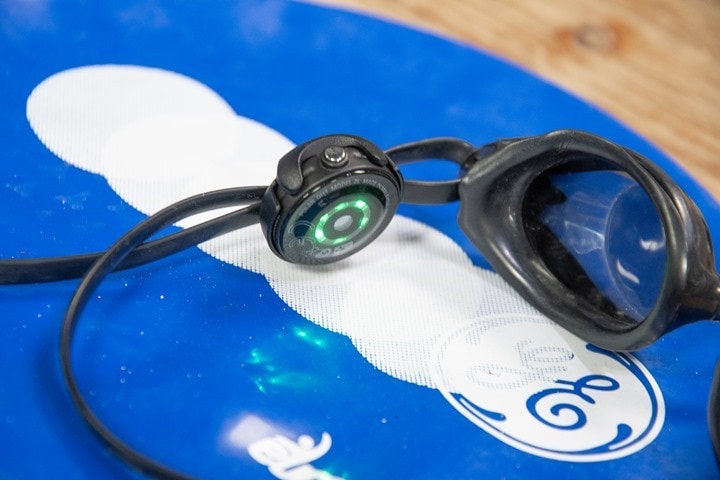 This is actually a smart move by Polar. The temple is a great place to measure optical HR, as there's no whacking going on there like your arms do. As such, there's far less external forces that are going to reduce accuracy. And in fact, there have been other HR sensors that have leveraged your head before for measuring HR. So that is interesting. I'm looking to do more testing here in the pool in the near-future, though again, there's no change to the existing OH1 (which I've used on my arm in the pool with pretty good success lately).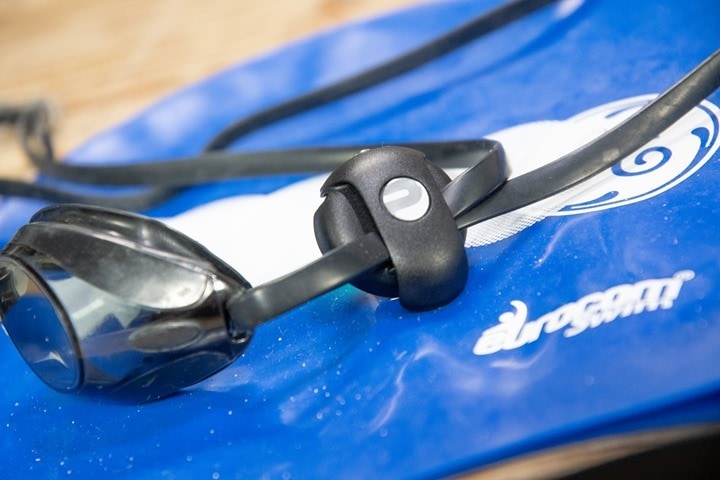 From a charging standpoint, the unit comes with a small USB charger that plugs directly into your computer or any other USB port you find:
You just pop the pod into it and you're good to go. Additionally, this allows you to sync via Polar's Flow Sync desktop app. Fear not, you don't have to use the desktop app, it's just another option for sync and/or firmware updates.
You can instead use Polar's Flow app on your iOS or Android device. To do that, you'll simply bring the pod nearby while you've got it powered on, and it'll go through the pairing process. It's quick and easy:
You may be wondering why you'd need to sync at all – isn't this just a HR sensor? Well see, the OH1/OH1 Plus has internal memory in it, so it can record your sessions in the event you either don't have a watch handy, or, if in a sporting situation like swimming where signal can't broadcast to the watch.
To start a recording, just double-tap the outside power button twice after you've turned it on: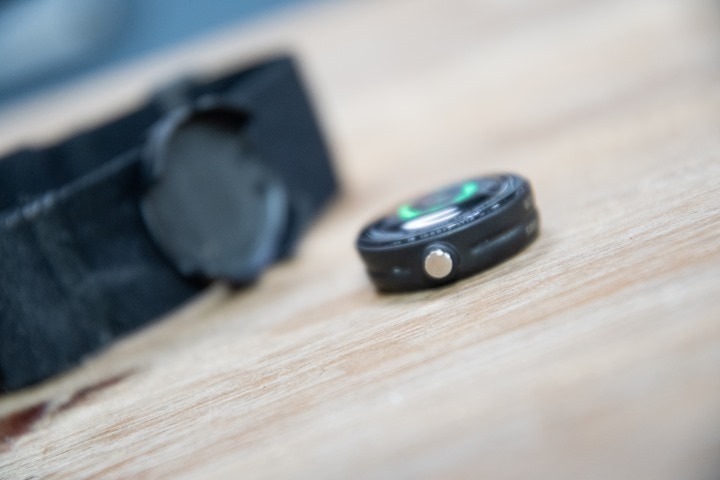 This will then trigger the status LED on the other side to blink rapidly twice, indicating it's in recording mode.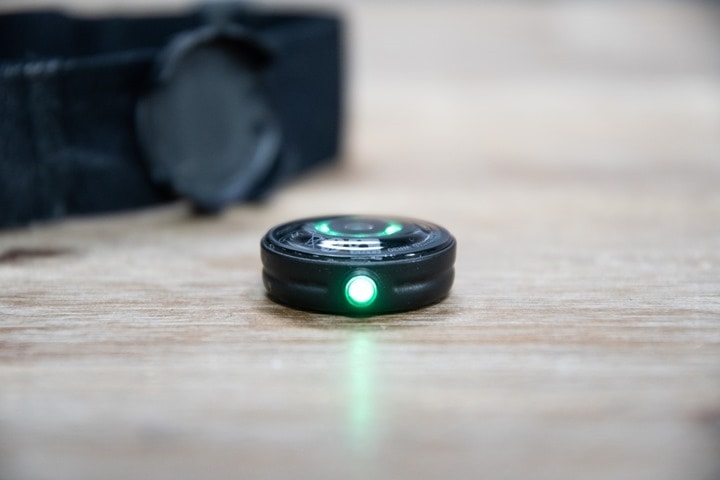 This works well enough, except when it doesn't. My complaint on this has always been that it's flaky. Not because the hardware is flaky, but because me as a human is. Specifically in that usually this is just under the edge of your clothing, and can be awkward to catch whether or not the button press registered (as the button is well designed to be protected from accidental presses).  So if you missed the double-blink (as it's super quick), then you have no idea if it's recording or not (Edit: Looks like the status light will change the blink pattern slightly when in recording mode, though trying to remember twice-blink vs blinking every two seconds is kinda a weird differentiation.)
I'd love Polar to simply allow me to press the button again and then have the light illuminate some unique recording color. Purple, red, really, anything to indicate it's recording. Scosche does a bit better job at this, making it far more clear you're in recording mode.  Again, I know it's a minor thing – but I've lost two swim workouts and a ride in the last few months where I thought it was recording but wasn't. In all cases it's likely 100% my fault, but since there's no way to double-check, you just have to trust.
After the workout, you'll power back on the sensor and it'll automatically connect to the Polar Flow app and start the sync process via Bluetooth Smart, which you can see below on the left. On the right is the completed workout:
You can then dig deeper into the completed workout. Note that I don't believe you'll see the Training Load Pro details if you just have the sensor, that's because I also have a Vantage V in my account.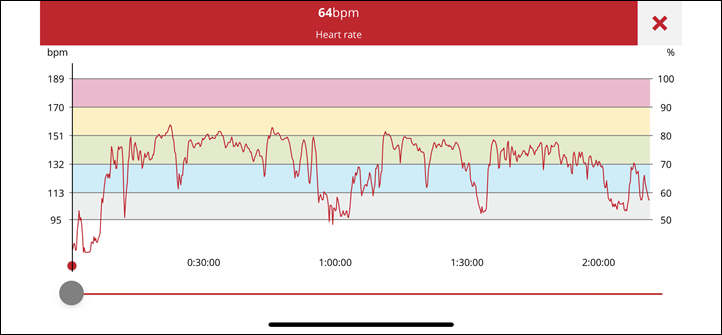 Now, in this distraction of cached workouts and all we got distracted from the obvious: To turn it on, you simply press the button.  Once on, it illuminates the green LED's on the back, which allows the optical sensor to measure your blood flow: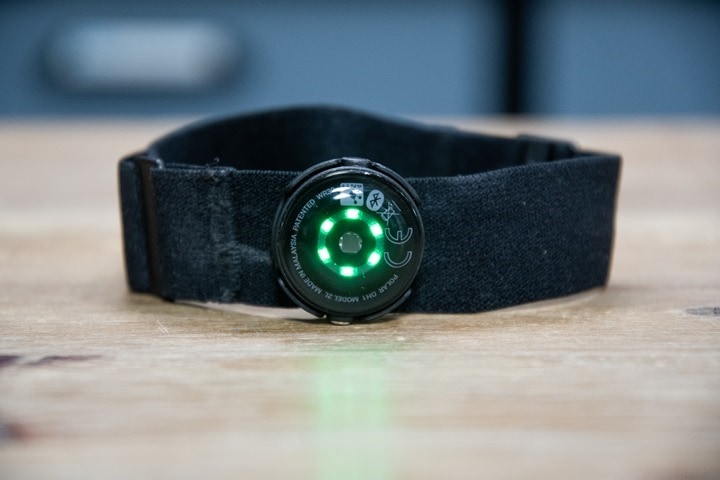 The pod is then placed in the strap (or you can do it before) and slide up onto your arm. I prefer the upper portion of my arm near my bicep, as that's usually covered by a shirt or what-not.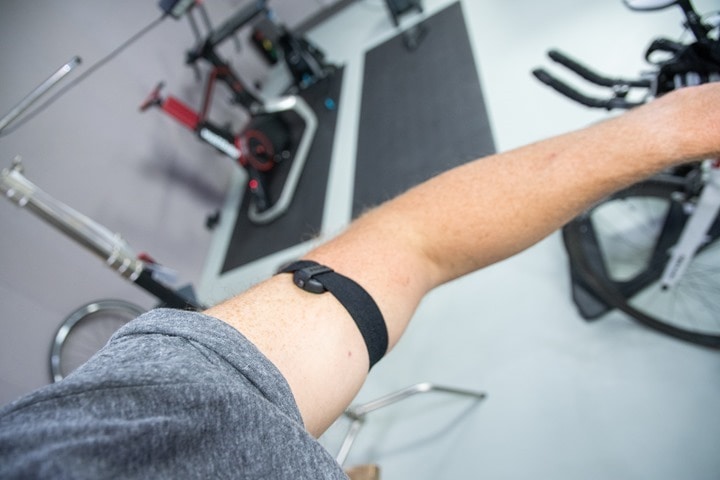 At this point, the sensor is on and transmitting your heart rate, which is now a good time to talk about how it does that.
Pairing and Compatibility: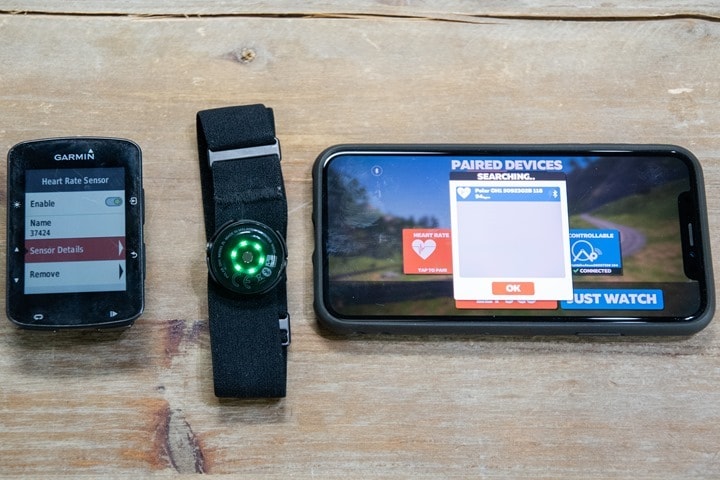 The original Polar OH1 has always transmitted your heart rate over Bluetooth Smart to compatible devices. It uses Bluetooth's heart rate sensor profile, which means virtually every fitness/sport app and device out there is compatible with it. Even most Garmin devices made after Jan 2017 are also compatible with it as it previously stood.
However, what the OH1 Plus (and the firmware update for the original OH1) add is the ability to also now broadcast over ANT+.  So what you get is the following concurrently:
A) Unlimited ANT+ HR Connections
B) A single Bluetooth Smart HR connection
I note this singularity bit on the Bluetooth Smart , because the Polar H10 strap actually gives you two concurrent Bluetooth Smart connections (as well as ANT+), as does the new Garmin HRM-DUAL.  When I asked Polar about this, they noted it's something they may be able to address. Both units use the same Nordic chipsets, so there really shouldn't be a reason one is more limited than the other.
Speaking of which, I go through the entire history of how and why ANT+ came to be on Polar in my other post here, you may want to read there.
So what does two concurrent HR streams look like? This. Below is an example from Zwift showing both the ANT+ and Bluetooth Smart side of an OH1 Plus sensor:
Sometimes, like above, you'll get slight 1-2 second latency difference between ANT+ and Bluetooth Smart signals. That's normal for all sensors.
Where it becomes even more interesting though is on Garmin gear that doesn't support Bluetooth Smart sensors. Take for example the Garmin Edge 520 Plus, released less than a year ago. That unit was built atop the Edge 520 platform, which Garmin elected to not upgrade to support Bluetooth Smart sensors. As such, it's ANT+ only sensors there. But now with the update, you can pair to the OH1: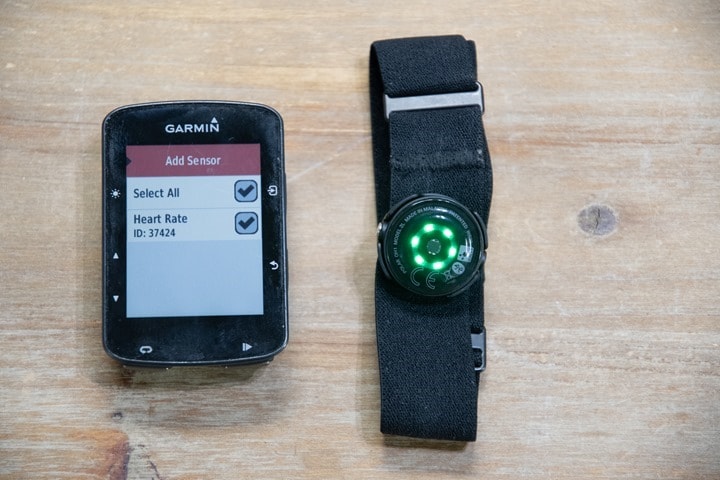 For dual-capable head units like the Wahoo BOLT, or others in the Garmin range (such as the Edge 1030), it leaves you with just a case of which side you'd prefer. Though, I'd recommend using ANT+, as to not use up the single Bluetooth Smart channel. Here's how the data looked yesterday on my ride, with the Polar OH1 streaming my HR to the Edge 520 Plus (lower unit), while the Polar H10 strap was showing HR on the Edge 1030 (upper one) also using ANT+: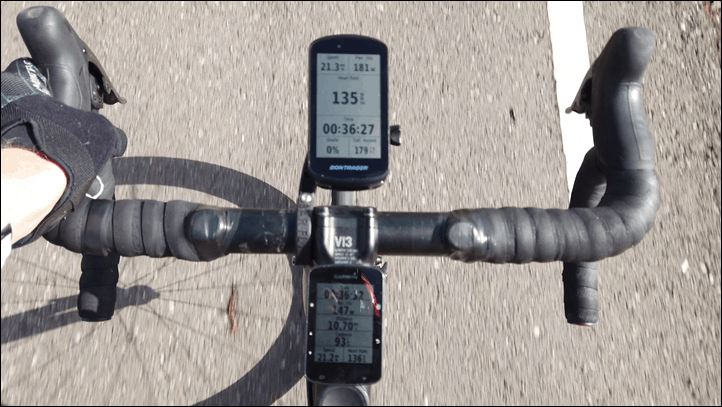 (Heart rate on the upper unit is the biggest data field at 135bpm, whereas on the lower unit it's in the lower right corner at 135bpm)
One interesting tidbit is actually going back to the swim bits here, in particular for team scenarios. Currently they've got coaches that want to monitor the HR of athletes in real-time in the pool. The challenge with Polar's existing solutions is that they all require the athlete get to the wall and then wait for transmission to pick-up. That delay/latency for swimming HR…basically sucks. It's just not super useful.  But with the goggle strap attachment, the pod stays above the waterline enough to keep a near-constant stream of HR data back to a coach using an iPad on the sidelines. Here's a screenshot from that video: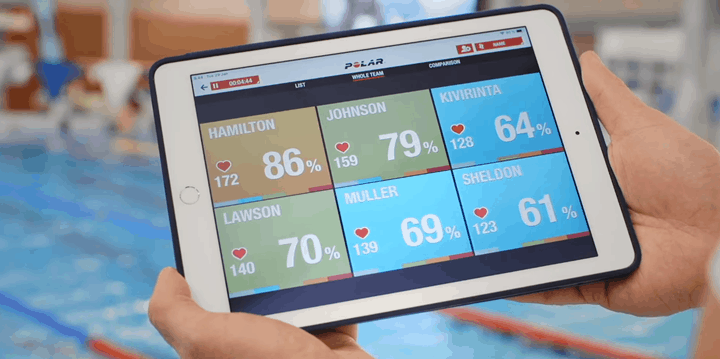 That's brilliant. Note that Polar says it won't backfill/cache data to the coach's app for cases where the pod is underwater for extended periods of time. So there is that limitation. Still, this is by far the best solution out there for real-time monitoring. The iPad app can monitor up to 40 athletes concurrently.
Ultimately, I haven't had any issues with connectivity to any device I've tried with the OH1 Plus (or OH1), on either ANT+ or Bluetooth Smart. I've personally used it for workouts via ANT+ or Bluetooth Smart with Zwift on Mac, iOS, and PC – as well as the Polar Vantage V, Garmin MARQ, Garmin FR935, Garmin Edge 1030, Garmin Edge 520 Plus, and probably more that I'm forgetting. Oh, like the Wahoo BOLT.
HR Accuracy: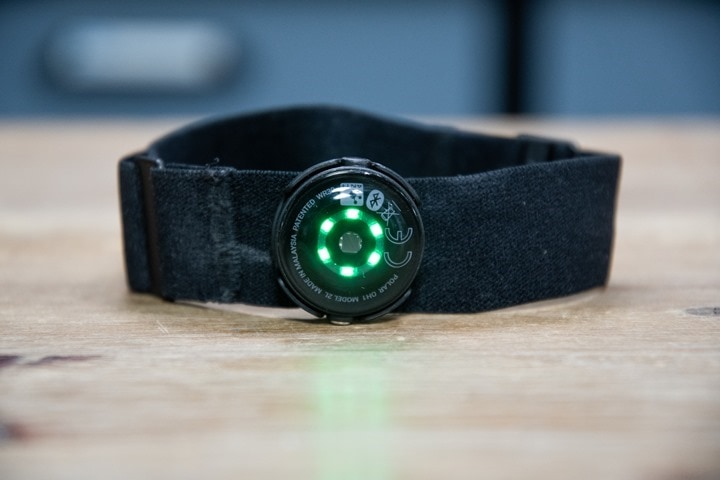 Before we move on to the test results, note that optical HR sensor accuracy is rather varied from individual to individual.  Aspects such as skin color, hair density, and position can impact accuracy.  Position, and how the band is worn, are *the most important* pieces.  A unit with an optical HR sensor should be snug.  It doesn't need to leave marks, but you shouldn't be able to slide a finger under the band.
Ok, so in my testing, I simply use the sensor throughout my normal workouts.  Those workouts include a wide variety of intensities and conditions, making them great for accuracy testing.  I've got steady runs, interval workouts on both bike and running, swimming, as well as tempo runs and rides. Basically, most everything a typical triathlete would do. While I've been using the OH1 in swimming workouts, I haven't had a chance to get to the pool with the OH1 Plus yet. Though again, it's the same sensor/internals/etc, so I wouldn't expect any issues there. If you want to see some swim data from it, check out my most recent COROS APEX In-Depth Review, which shows some data sets there.
For each test, I'm wearing additional devices, usually 3-4 in total, which capture data from other sensors.  Typically I'd wear a chest strap (lately that's been the Garmin HRM-DUAL and Polar H10), as well as two watches using optical HR sensors and often finally another optical HR sensor on the other arm (most recently the Scosche 24). I never wear more than one watch per wrist, and never more than one optical HR sensor per upper arm side.
Note that the numbers you see in the upper right corner are *not* the averages, but rather just the exact point my mouse is sitting over.  Note all this data is analyzed using the DCR Analyzer, details here.
We'll kinda work our way roughly backwards with some of these data sets. First is one from Sunday night, a reasonably hard structured workout indoor ride on Zwift. Comparative data from this particular set includes the Polar H10 (over ANT+ no less), as well as the Garmin MARQ optical HR watch, and the Scosche 24. Here's the data set:

Well damn. That's boring. Everything just worked. Perfectly. Seriously, when's the last time that's happened around here?
Ok, I suppose technically at the 17:42 marker the Garmin MARQ watch did briefly bobble slightly for a few seconds, but seriously, everything else is spot-on perfect across four different optical HR sensors. Next thing you're going to tell me all the power meters matched too. Oh good, they didn't.
Next, here's another cycling activity – this time outdoors. This one from a nice loop out on open road. I had it paired this time via ANT+ to an Edge 520 Plus. There's also comparative data against the Fitbit Inspire HR, Garmin MARQ Athlete watch, and Garmin HRM-DUAL chest strap. Here's that data set:

Now there we go –that's the kind of optical HR sensor messiness I'm talkin' about!
We can see the Garmin MARQ and Fitbit Inspire are having a rough go of things. Now technically the MARQ was still in beta during this ride. Meanwhile, if we manage to dig through all that we'll see that the OH1 and Garmin chest strap agree most of the time. Except, when they don't. For example, let's take a look at this earlier section:

To the left of the yellow line is a bunch of stop and go as I exited the city. We'll ignore that for the moment. Instead, I'm most interested in the section just to the right of it as a start a long threshold section. You can see the Garmin chest strap catches it first, then somehow amazingly the Fitbit Inspire HR wakes up too and notices. But it's almost two minutes later that the Polar OH1 catches on (but then yet another two minutes further for the Garmin MARQ). None of that's ideal. Though, at least they figure out recovery together, all declining at the same time.
Now if we use your best rainbow decoder glasses and focus in on the red and green (just like Christmas), you'll see those two entities near perfectly overlay each other the entire time. That's what I'm looking for!

Next, switching over to running, I've got this interval session around Vondelpark. In this case, I paired the OH1 to the Garmin Fenix 5S via ANT+, but I also recorded it internally on its own memory too. There's the same assortment of other comparative sensors as the previous set. Here's the data set.

There's a lot going on HR sensor wise in this graph, so I want you to focus on the green line (that's the Garmin chest strap), and the blue line (that's the OH1).
I'm going to zoom in to show the last few longer intervals and first few shorter intervals:

What you notice here is that the chest strap and OH1 are super close to each other the entire time. The chest strap leads the way on recovery just slightly by a few seconds, but the OH1 isn't far behind. We know there's actually no time drift here since the way the Analyzer tool accounts for that – also, in a second I'll show you how I recorded it two different ways.
Again, the slight latency here is hardly an issue for most. Also – the fact is this $70 sensor easily outperformed the optical HR sensor on the wrist-based $1,500 Garmin MARQ watch and the $99 Fitbit Inspire HR activity tracker.
Now before we leave this set, there's one thing to note: I actually recorded the OH-1 also internally. And in fact, what you saw above was the internal side of the equation. Whereas below shows the purple line of the ANT+ side from the Fenix 5s. You can see the two Polar OH1 tracks match perfectly atop each other, except at three points where the signal drops out momentarily. It's not clear who's fault this is, though, the Fenix 5s (non-Plus) does have some substantial history with 3rd party sensors and dropouts. I haven't seen dropouts in other workouts be a problem, but it's important to note.

Finally, another running session – this time a giant rectangle. Because the shape of my running route most definitely matters to optical HR accuracy. In this case I simply used the OH1 without any watch at all. I just used the internal memory to capture my run and then sync'd it later to the Polar Flow app. Here's that set:

In this run I basically did half of it at a relatively even steady-state intensity, followed by the last half or so doing constant 60-second on/off intervals of hard running. The Polar OH1 is in teal, while the Garmin chest strap is in red.
Once again, just like above we see the OH1 mirror every interval spot-on. However, like before there's a few seconds of lag compared to the chest strap.

Again, the other contenders all struggled here. Which I suppose makes things a bit of a boring accuracy section when the sensor being reviewed just works.
If one wants even more accuracy data, there's tons more OH1 sets available in both my recent Polar Vantage M In-Depth Review as well as my COROS APEX GPS Watch In-Depth Review.
Ultimately though, from an accuracy standpoint, I think the specific optical sensor inside the OH1/OH1 Plus is probably either the best, or equal with Scosche for their implementation in the R24 or Rhythm+. Though I think in general there's probably a slight accuracy edge to Polar, at least in my tests over the course of 2019 thus far.
I'd also argue that in most cases, I get better performance from the OH1/OH1 Plus than traditional chest straps. The reason is simple: With most optical HR sensors on the upper arm, you don't have to deal with the reality of cool/dry chest straps in cooler/dryer winter months. That often manifests itself as issues early in the workout with drops/spikes, as well as static electricity discharge. Things I used to write annual posts about. With wrist based optical HR sensors, you can still run into blood flow issues on cooler days at the start of a workout. But for the upper arm, that's rarely an issue – and thus, accuracy is usually really really good. Just like I saw here.
(Note: All of the charts in these accuracy portions were created using the DCR Analyzer tool.  It allows you to compare power meters/trainers, heart rate, cadence, speed/pace, GPS tracks and plenty more. You can use it as well for your own gadget comparisons, more details here.)
Product Comparison:
I've added the Polar OH1 Plus into the product comparison tool within the heart rate sensor category. I've compared it against the Scosche Rhythm 24 as well as the Wahoo TICKR FIT, which are basically the only other upper-arm options in this category. Of course, there's plenty of chest straps, so if you want to see how this compares against those and make your own comparison charts, hit up the comparison tool and do some comparing:
Function/Feature

Polar OH1 Plus
Scosche Rhythm 24
Wahoo TICKR FIT
Copyright DC Rainmaker - Updated July 27th, 2023 @ 10:46 am New Window
Price
$79
$99
$79
Product Announce Date
Mar 20th, 2019
Jan 9th, 2018
Jan 3rd, 2018
Product Availability Date
Mar 22nd, 2019
Late April 2018
Jan 3rd, 2018
Measurement Type
Optical
Optical
Optical
Typical Placement
Upper Arm
Mid/Upper Arm
Mid/Upper Arm
Battery Life
12 hours
24 hours+
30 hours
Battery Type
USB Rechargeable
USB rechargeable
USB rechargeable
NFC Capable
No
Yes
No

HR Transmission

Polar OH1 Plus
Scosche Rhythm 24
Wahoo TICKR FIT
ANT+
Yes (with firmware update)
Yes
Yes
Bluetooth Smart
Yes
Yes
Yes
Dual concurrent ANT+/BLE
Yes
Yes
Yes
Analog for gym equipment
No
No
No
Usable HR data underwater
DEPENDS: IF ON SAME WRIST, YMMV.
Depends: If on same wrist, YMMV.
Depends: If on same wrist, YMMV.
Bridging ANT+ to Bluetooth Smart
No
No
No
Can record activity in memory
Yes
Yes
No

Additional Data

Polar OH1 Plus
Scosche Rhythm 24
Wahoo TICKR FIT
Run Pace
No
Yes
No
Run Cadence
No
YEs
No
Run Economy/Metrics
No
No
No
Cycling Cadence
No
Yes
No
Cycling Power Meter Estimation
No
No
No
Valid HRV/RR data
No
At rest only
No
Configurable Sport Modes
No
Yes
No
Displays HR Zones
No
Yes
No
Requires Bluetooth Smart Phone for Configuration
No
Yes
No
Firmware Updateable
Yes
Yes
Yes
SDK For App Developers
No

App

Polar OH1 Plus
Scosche Rhythm 24
Wahoo TICKR FIT
Can show workout afterwards
Yes
No
N/A (No recording)
Can sync files/workout to 3rd party
Yes
Yes
N/A (No recording)
More Info
Link
Link
Link

Purchase

Polar OH1 Plus
Scosche Rhythm 24
Wahoo TICKR FIT
Amazon
Link
Link
Link
Backcountry.com
Link
Competitive Cyclist
Link
REI
Link
Wiggle
Link
Link
Again, don't forget you can make your own comparison charts in the product comparison tool here.
Summary: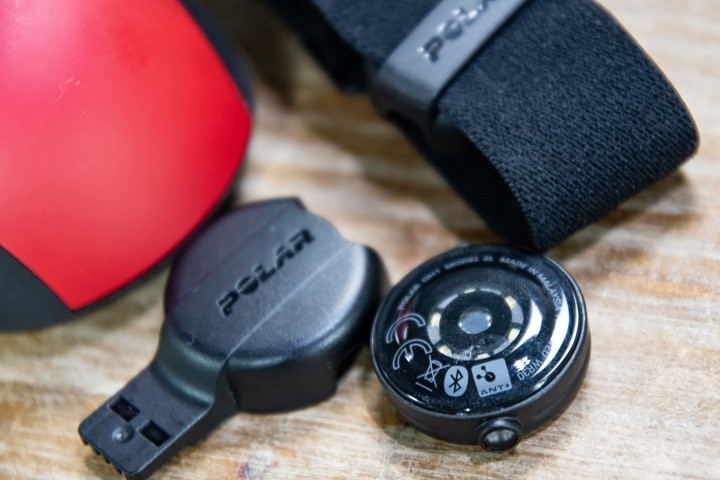 Overall the OH1 Plus is exactly the product it honestly should have been when it launched nearly two years ago as the OH1. The good news is that water is under the bridge and Polar now has an incredibly competitive offering on its hands, even more so if they decide to enable the 2nd Bluetooth Smart broadcast channel – in which case it'll easily sweep the category.
Though honestly, pitted up against the Scosche Rhythm 24 and Wahoo TICKR FIT, it's hard to see how it's not already the winner. The TICKR FIT lacks offline caching that both the Scosche and Polar have. However, Polar edges ahead of the Scosche when it comes to their app/platform ecosystem – which is full-featured, rather than just being a somewhat clunky conduit. Of course if Scosche pulled out the stops and allowed things like the long talked about swim-sync to Garmin watch capability, that might definitely change things. At present, none of these sensors can transmit your swim data to any watches directly (an oddity for Polar especially).
There are very few things to nitpick on the Polar OH1 Plus (or OH1 post-firmware update). As I noted earlier, I really wish they'd figure out something for the status LED light to re-confirm you're in recording mode when tapped. Additionally, there's really no excuse for Polar not having OH1 to Polar Vantage M/V offload capability like Garmin has (whereby for swimming it'll sync post-work automatically and merge the data together on the watch). But I suppose that's honestly more a Vantage M/V complaint than an OH1 complaint.
Anyways, as I said earlier – if you're in the market for a standalone optical HR sensor, there's little reason at this point to not choose Polar OH1. I've really picked up my usage of it since earlier this year, and now with ANT+, it's pretty much going to be my go-to upper arm optical HR sensor – mainly because of just how clean the sync is post-workout and because the accuracy is so good.
With that – thanks for reading!

Found This Post Useful? Support The Site!
Hopefully you found this review useful. At the end of the day, I'm an athlete just like you looking for the most detail possible on a new purchase – so my review is written from the standpoint of how I used the device. The reviews generally take a lot of hours to put together, so it's a fair bit of work (and labor of love). As you probably noticed by looking below, I also take time to answer all the questions posted in the comments – and there's quite a bit of detail in there as well.
If you're shopping for the Polar OH1 Plus or any other accessory items, please consider using the affiliate links below! As an Amazon Associate I earn from qualifying purchases. It doesn't cost you anything extra, but your purchases help support this website a lot. Even more, if you shop with TPC (The Pro's Closet), you'll save $40 on purchases over $200 with coupon code DCRAIN40! The Pro's Closet has been a long-time partner of the site here - including sponsoring videos like my cargo bike race, as well as just being an awesome Colorado-based company full of good humans. Check them out with the links below and the DCRAIN40 coupon!
And of course – you can always sign-up to be a DCR Supporter! That gets you an ad-free DCR, access to the DCR Quarantine Corner video series packed with behind the scenes tidbits...and it also makes you awesome. And being awesome is what it's all about!
Thanks for reading! And as always, feel free to post comments or questions in the comments section below, I'll be happy to try and answer them as quickly as possible. And lastly, if you felt this review was useful – I always appreciate feedback in the comments below. Thanks!