In a bit of a quiet week – a calm before the storm that will be early May in sports tech, I've got a few arrivals that I figured I'd drop a quick note here and some minor first impressions on. Nothing long, it's Friday after all.
Also, in addition to these, I've got a few others. Notably the Tacx Flux 2.1 with firmware that finally fixes issues from over a year ago around ERG mode in accuracy (they started shipping the updated Tacx Flux 2.1 hardware late last summer, but the software update didn't come out till last month). Unfortunately it was damaged in shipping, so a new one is set to arrive today. Then there's the IQ2 pedal-based power meter, which I had an initial test ride on, but it too needed to be looked at again, so they picked that up a day later. I don't yet have a replacement pair. But I am optimistic that'll happen again soon too. Ok, with those tidbits, onwards!
SRM X SPD Power Meter: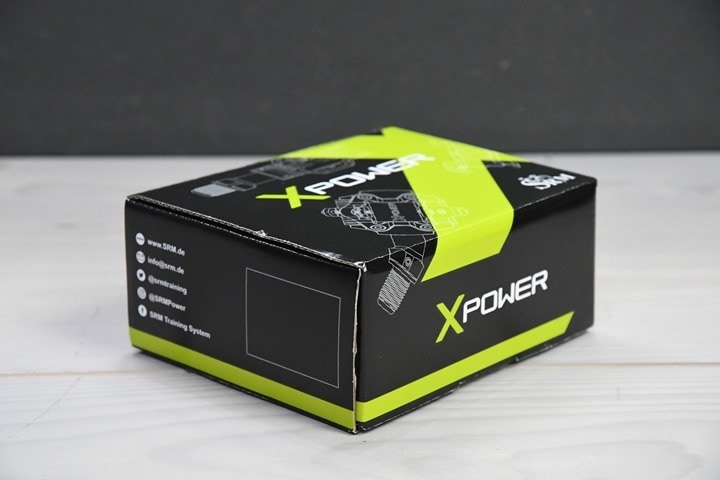 These came in a bit over a week ago now, and I've got some initial rides in, though only one power comparison to date (my other outside ride wasn't a power meter test ride, as it was more of a 'getting cool shots' type ride).
In any case, these pedals started shipping last week and are priced at 999EUR, which is a fair price in EUR, given that there's zero other SPD power meter products on the market today. However, the USD price ($1,199) is probably a touch high. Sure, this is SRM and pricing has always been out of whack in recent years. No doubt SRM will sell well, but I think at $999USD they could have really put a dent in the market before it's likely others will come in with the Shimano patents now expired.
In any case, here's some quick unboxing pics:
Now, I was happy to see they included two charging adapters this time – one for each pedal. On the SRM road pedals they only included one – silly for a nearly $2,000 product at time of launch. The chargers are magnetic kinda like the Assioma ones, and simply snap in place. The other side is micro-USB.
From an install standpoint, gone are all the dramatics of the SRM road pedals (which were made in partnership with Look). These are SRM's own design through and through, and you just simply install them like any other road pedal. The singular thing you do in the app is place the right side crank arm facing down once, so it knows the positioning. Other companies like Favero/Garmin/PowerTap figure this out in software afterwards, but that's fine. It takes 2 seconds and you're done.
In my case, I like to baseline power meters indoors first on trainers. Basically a 'if it doesn't work here, it won't work out there' sort of thinking. So I first installed these on my road bike actually, since that has the deepest power meter test capabilities at present. On that bike was a Quarq and then I put that atop a Tacx NEO 2T trainer.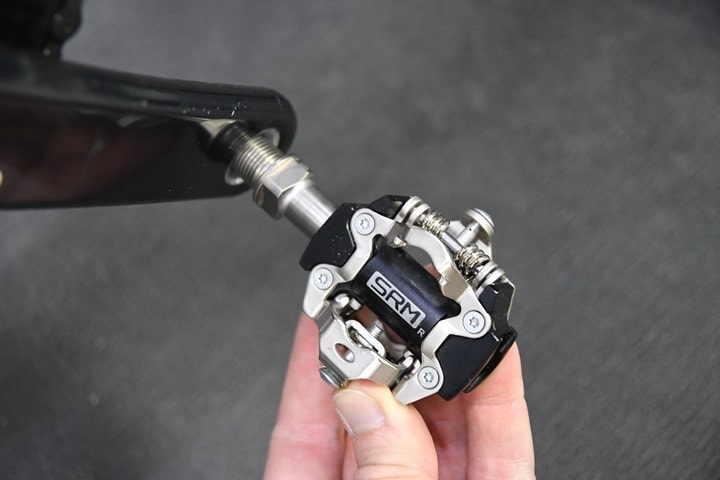 And installed fully (this was a post-outdoor ride through…umm…some off-road sections finding my drone that…oh nevermind):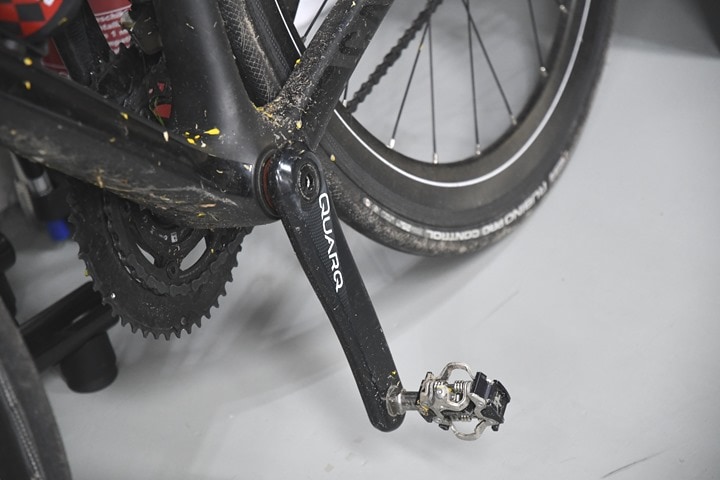 Then I did a Zwift ride using the Titans Grove loop that I often do power meter and trainer accuracy testing with, due to the variations in terrain and gearing required. Looks pretty clean.

Though, the Quarq DZero is a bit spikey in some cases:

Next up is an outdoor road ride, and then it's off-road we go. That'll coincide with getting my Quarq DZero DUB crankset in for my mountain bike, which I'm having 4iiii add their dual-sided Precision Pro power meter to (non-Shimano crank arms). Thus I'll have three comparative sources outside.
And then it's off to the trails! More soon!
Wattbike ATOM X:
Next, we've got the newish Wattbike ATOM X. This bike is primarily aimed at the commercial market, but I think it probably sketches the future of where Wattbike wants to go with future consumer-targeted products.
Here's the super-friendly dude delivering it. He was rather curious about the bike, which, to be fair – has been every delivery person delivering these sorts of units. Maybe it's just natural for Dutch people to be curious about bikes. Pretty sure that's it.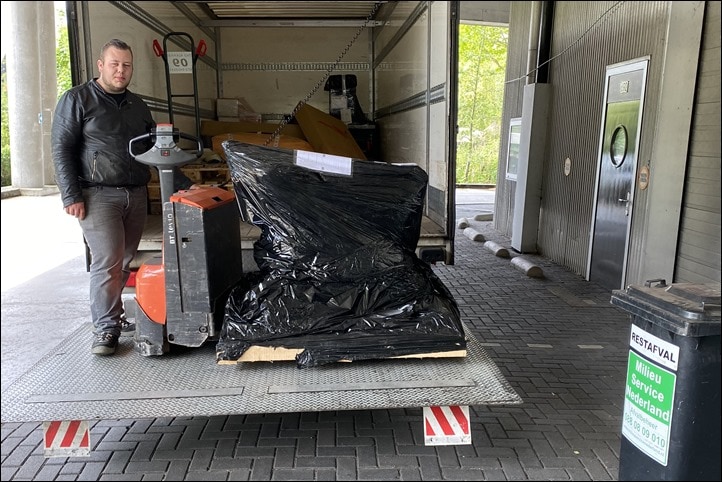 Also, I initially was expecting the Stages Bike to arrive yesterday, and didn't carefully inspect the packing slip when he unloaded it and placed it off to the side (so we'd avoid direct contact). So, I presumed it was the Stages Bike.
Obviously, this was not the Stages Bike, as I found out the next morning when I un-bagged it: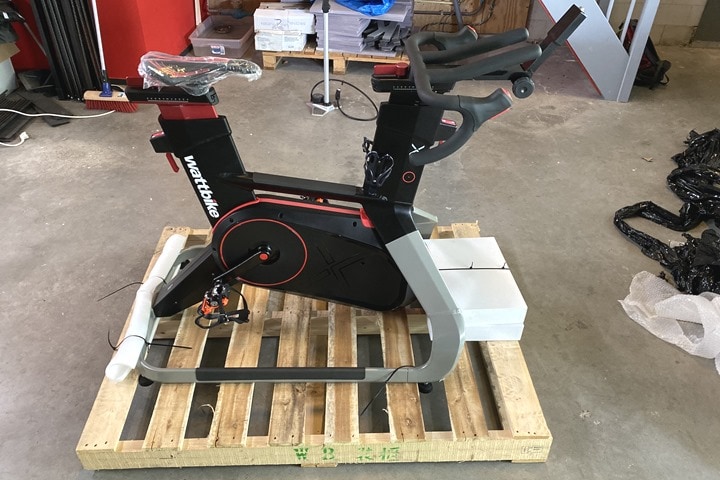 Now from the outside the ATOM X probably looks a lot like the ATOM. However, internally it's vastly different. In fact, externally in a few key areas, it's different. Internally it's an entirely different resistance scheme, instead being electromagnetic (like the Tacx NEO series or the Wahoo KICKR Bike). That should address the lag and responsiveness issues people had with the original ATOM.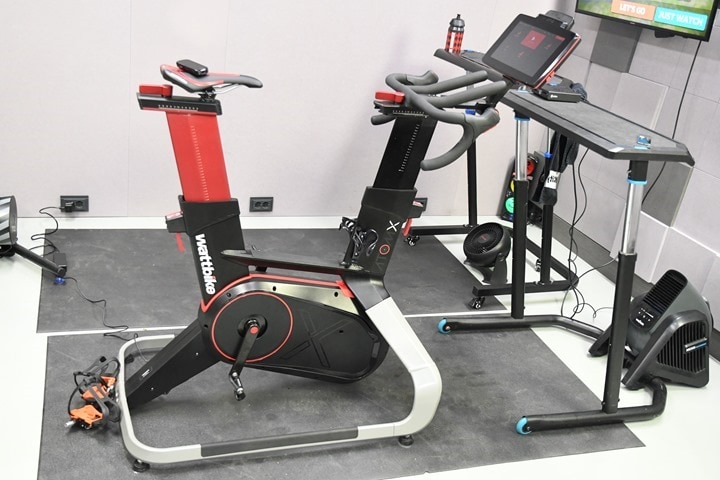 Externally it's beefier, since it's targeted at the gym market. It's got more resilient handles and parts to deal with people doing stupid things to gear they don't own. Oh, and it has a touchscreen built into it: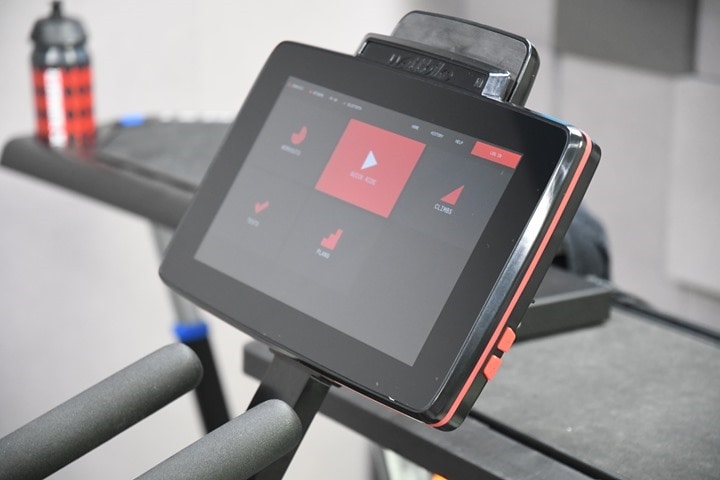 It's actually interesting how the touchscreen fits on there. Basically there's a VGA plug at the top, and then you slide this custom-screen down over this pole, a perfect fit. And then you slap a few screws in there to lock in in place. No wiring or anything.
I know some people want a separate screen for their bike. But I suspect a lot of people do. And given Peloton has sold something like 700,000 bikes with that concept and has a crazy high customer satisfaction rate. It removes all the 'issues' associated with wireless connectivity and pairing and all the things. The just works factor is enormously high.
Again, this bike is targeted at the commercial market, so in theory they don't need people running Zwift or TrainerRoad or some other app on there. As such, this particular Android display is both a bit small and a bit underpowered. My understanding is Zwift won't run on it. But perhaps TrainerRoad would if someone side-loaded the APK file.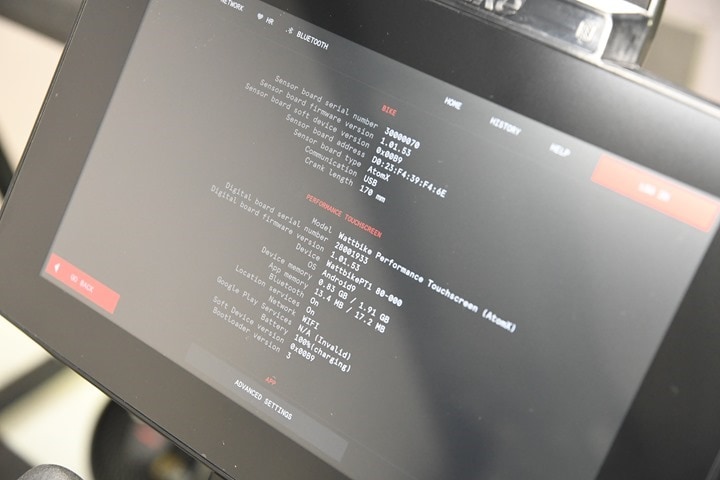 In any case – I'm just about to start my first workout with it, so I'll swing back later and update this section with some more tidbits.
I frankly don't know what type of future post I'll do on this. It's more about me understanding their implementation of this technology (electromagnetic), as well as the display pieces. I'd love to see a consumer variant of this with a much larger screen and the ability to load Zwift or TrainerRoad. I'm an instant buyer then.
Casio GBD-H1000: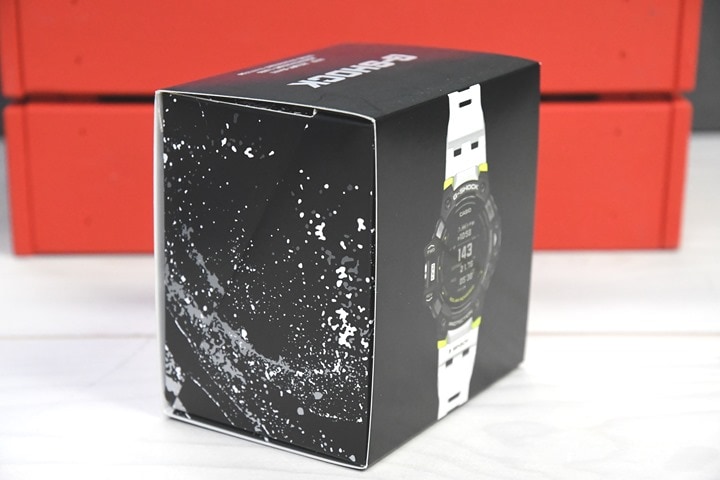 Last but definitely not least, is the new Casio GBD-H1000. This beast is almost as heavy as that Wattbike, except…wearable.
It came last week and I promptly got it unboxed: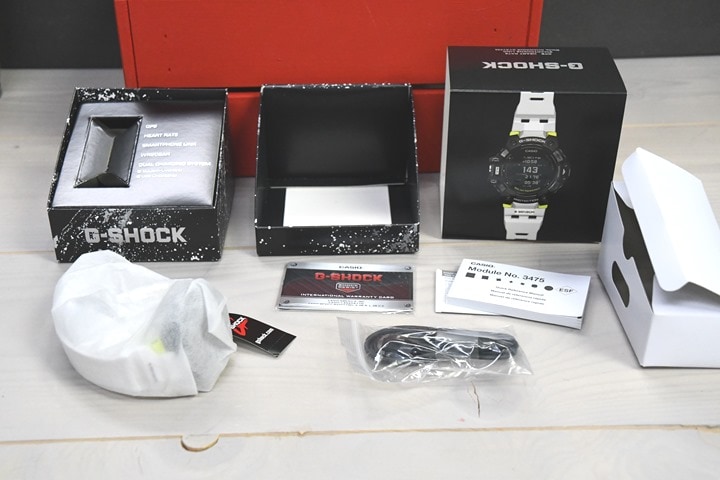 It was quite a bit heftier than I expected. I had mentally imagined it in line with a Garmin Instinct in terms of size, but it's clearly far bigger and heavier.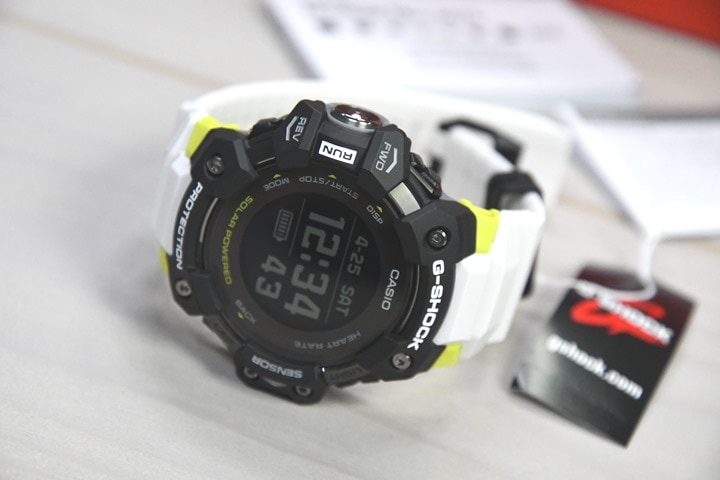 It's more in line with a Garmin Fenix 6X series watch.
In any case, the two things that are interesting on this watch are:
A) The GPS
B) The new optical HR sensor (the first in a Casio)
It's also got a baro altimeter, compass, and all the usual things you'd expect. Casio does say that they take into account the compass and altitude information to help with GPS distance measurements. I'm interested in understanding that a bit more.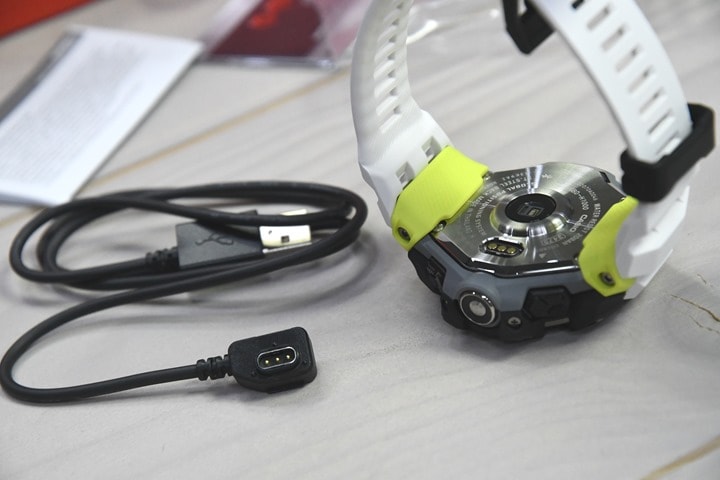 It's also got Casio's solar charging, which can charge both indoors and outdoors. It says it'll maintain battery state (neutral) for daily watch mode if used 8hrs a day under fluorescent lights, or 2hrs a day next to a sunny window.
And finally, it's got a pile of FirstBeat metrics in it: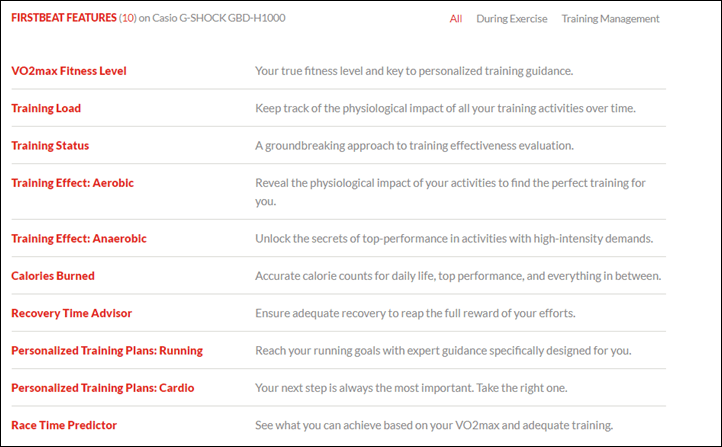 Many of these are exactly the same modules as found in Garmin's higher-end running watches (Fenix and Forerunner) – specifically the Training Load and Training Status that were added last year. Features not found in the Garmin Instinct.
Of course, how accurate GPS & HR are will be key to some of these bits. And I can't quite tell you that yet. I'm working through some early teething issues with the app that are blocking my ability to move forward. Technically the app is still in beta till the end of the month. Casio is working to get everything untangled, so hopefully I'll be in business soon!
With that – thanks for reading and have a great weekend ahead!