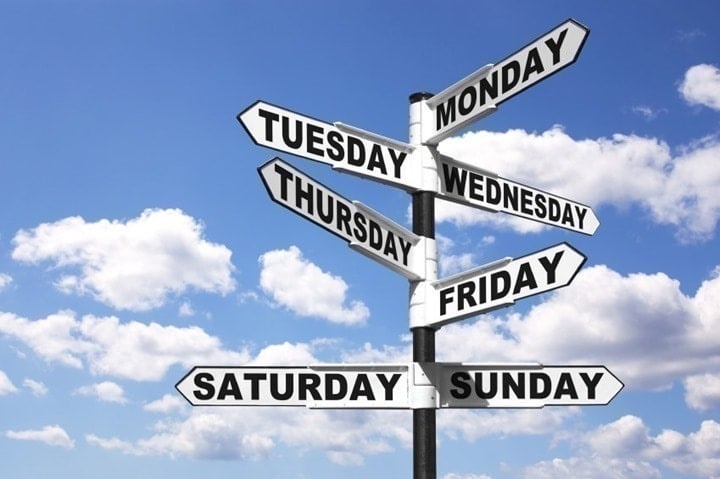 The Week in Review is a collection of both all the goodness I've written during the past week around the internet, as well as a small pile of links I found interesting – generally endurance sports related. I've often wondered what to do with all of the coolness that people write, and while I share a lot of it on Twitter and Facebook, this is a better forum for sending it on to y'all. Most times these different streams don't overlap, so be on the lookout at all these places for good stuff!
So with that, let's get into the action!
Sports Tech Deals of Note:
A new slate of sports tech deals began over the last few days. These are typical deals that Garmin does *every* single year, usually starting about a month out from Father's Day. Suunto also often jumps in the fray (and others too). Note that most of the Garmin deals end on/around fathers day (June 21st).
Product

Sale Price

Amazon

Other site

Sale Notes

Apple AirPods with Wireless Charging Case - $50 Off!
$149
Amazon
⚡ I use AirPods primarily when I'm travelling just to listen in airports, planes, etc... I don't tend to use these for workouts due to them falling out. Personally, I just use the basic model.
Apple Airpods (2nd Gen) - $30 off
$159
$119
Amazon
I use AirPods primarily when I'm travelling just to listen in airports, planes, etc... I don't tend to use these for workouts due to them falling out.
Apple Airpods Pro - $30 off!
$249
$219
Amazon
Garmin Edge 130 Plus - 25% off!
$199
$149
Amazon
REI
This is the first time we've seen the Edge 130 Plus on sale. The 'Plus' variant is notable compared to the regular unit for having ClimbPro on it, plus a handful of other tweaks. $149 is a good deal for it.
Garmin Edge 130 Plus Bundle - 20% off!
$199
Amazon
Competitive Cyclist
This is the first time we've seen the Edge 130 Plus on sale. The 'Plus' variant is notable compared to the regular unit for having ClimbPro on it, plus a handful of other tweaks. This bundle includes a heart rate chest strap as well.
Garmin Forerunner 45/45S - $40 off
$199
$160
Amazon
If you're looking for a runners focused watch, this is a pretty good deal, about 20% off. The FR45 basically packs all the features of the previous generation FR235...just now in the FR45 series.
Garmin Forerunner 935
$499
$269
Amazon
⚡ Sure, it's not the latest edition, but the FR935 is the staple of many triathletes and runners, and it still an incredibly solid watch. We saw this a bit lower last summer on Amazon Prime Day ($239) - but beyond that, this is pretty darn low. Also, I say $100-$200 off, because the 'base' price fluctuates a bit these days. Sometimes retail is $399 sometimes $499.
Garmin Instinct - $100 off
$299
$189
Amazon
Sure, the new Solar variants came out last summer with a few new features, but at their core the Instincts are mostly the same. $189 is still a strong price for this watch.
Garmin RVR315 Varia Radar - Save 20%
$120
Amazon
Competitive Cyclist
I believe this is the first sale of the Garmin Varia RVR315 cycling radar. This unit doesn't have a taillight, so it's a bit smaller as a result. Same radar tech though, and compatible with Garmin/Stages/Hammerhead/Wahoo bike computers.
Garmin Vivoactive 4/4S - $100 off
$299
$249
Amazon
This is Garmin's current offering to compete with the Apple Watch series (alongside the Garmin Venu), and this is a good price, though, it does go lower from time to time (not since Black Friday 2020).
GoPro Hero 9 Black - $50 off
$399
Amazon
REI
⚡ This is the camera I use for all my daily shooting during sports. Actually, I've bought a few of them. Note that if you're a GoPro Plus Subscriber, then it's a bit cheaper at $349 from GoPro directly, but otherwise, it's $449.
GoPro Max - $50 off
$499
$449
Amazon
REI
DCRAINMAKER.COM Posts in the Past Week:
Here's all the goodness that ended up on the main page this past week:
Monday: Lezyne's Komoot & Relive Integration Update: How it all works
Tuesday: Garmin Shows Off New On-Device Sleep Tracking Widgets
Wednesday: Strava Rolls Out New Local Legends Feature: Here's how it works in action
This was a prime example of a calm before the storm week. Quieter, as I slogged away on things for next week. Hold on to your hats!
YouTube Videos This Past Week:
Here's what hit the tubes over on the You of Tube, definitely don't forget to subscribe there to get notified of videos the second they hit!
Stuff I Found Interesting Around The Interwebs:
Here's a not-so-small smattering of all the random things that I stumbled on while doing my civic duty to find the end of the Internet (and in this case, some of these are from the past few weeks to clear out the backlog):
1) Sports Tech Reviewer Gets Called by South African Insurance Company Over Stolen Goods: Oh, wait, that's me! Teaches ya that crime doesn't pay. But more importantly, teaches ya not to eff with my photos!
2) US Olympic Boxer Cleared of Doping Violations via Sex: While easy to make jokes about (really really easy), it's actually an interesting scenario. Good to see that USADA and the individual were seemingly on the same side of this.
3) Details list of US cycling clubs focused on diversity: Great list and starting point from Adam Myerson. Worth looking at, sharing, and seeing where it can be added to with validated information.
4) Why HealthKit needs a health check at WWDC: I actually agree with a lot of what's laid out here. HealthKit is by far one of the most important tech-focused innovations of the last few years when it comes to consumer health tracking. But, there's too many gaps in it today, especially around sports as noted in the article, but also around accessibility of that data if tied only to an iPhone (not even an iPad, because iPads don't have HealthKit). (via Stéphane)
5) Fitbit Ventilator passes FDA approval (emergency use authorization), starts production: I continue to be super curious to see where this ends up in a year or two. Will it still be a product? Will Google continue it once/if the acquisition is approved? What will ventilator pricing (in general) look like 1-2 years from now, compared to a year ago? So many questions. But also super fascinating.
6) Researches say Oura rings can detect COVID-19 with over 90% accuracy: Lots of wearable companies have been doing semi-similar poking's in this area, but this appears to be the most concrete research-driven data to date on a given device.
7) When Zwift Won't Do, Just Make Your Own Game: Obviously this isn't going to compete with Zwift anytime soon. But it's a fun tech-focused look at making a bike-driven workout simulator/game.
8) GoPro rolls out Android QRControl app: If you saw my video/post a week or two ago about the webpage based control, there's now an Android app out, and the iOS one should be out shortly.
9) Behind the Scenes at Garmin Canada: This actually comes from the now renamed ANT+ YouTube Channel that I've had in my YouTube feed for years. Back a year or two ago Garmin renamed ANT+/Dynastream to 'Garmin Canada'. They also built a new fancy building that houses both the ANT+ side of the house (which is theoretically separate from a function standpoint serving other ANT+ members), and then the Garmin division that works out of the same building on Garmin-specific projects. This video is about that Garmin-specific half. While the scripted video touches on it, the employees up there tend to focus on sensor aspects of products such as the optical HR sensor, Varia radar, Vector pedals, RD pods, HR straps, etc… Which makes sense, the long-term knowledge from what started as mostly former ANT+ employees converting to 'normal Garmin' employees sways heavily that way.
Sports Tech Device Firmware Updates This Week:
Each week I quickly highlight some of the new firmware, app, software, and website service updates that I see go out. If you're a sports technology company and release an update – shoot me a quick note (just one-liners are perfect, or Tweet it at me is even better) and I'll make mention of it here. If I don't know about it, I won't be able to post about it. Sound good?  Oh – and if you want to get a head start on things, this page is a great resource for watching Garmin and a few other firmware updates.
Garmin Fenix 6 Series & MARQ Series BETA Firmware Update: This mostly builds on the previous sleep beta, but includes various additional bug fixes.
Garmin Instinct BETA Firmware Update: Minor bug fixes/improvements
Wahoo ROAM/BOLT/ELEMNT Firmware Update: Stability fixes
—
Thanks for reading!