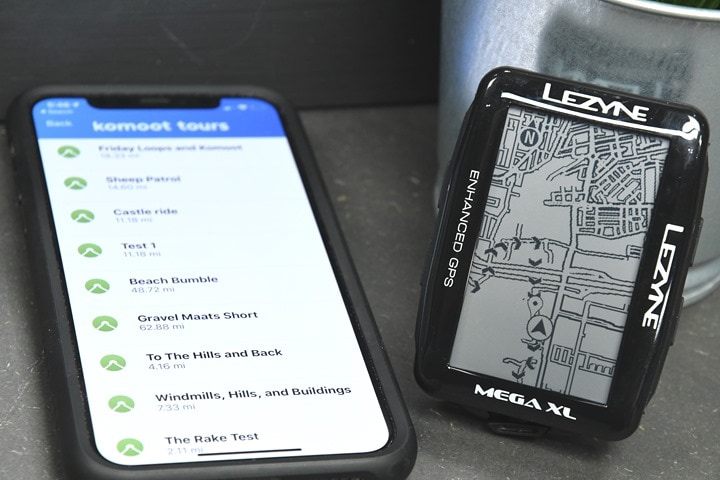 Last month Lezyne rolled out a new integration with Komoot and Relive, as part of what they see as their primary substantial firmware update for the 2020 season. It applies to a slate of GPS units (including the higher end Mega C and Mega XL, but also the various derivatives and lesser priced versions). Now my initial intent wasn't actually to necessarily focus on the Relive/Komoot piece specifically, but I got distracted while toying with their connected lights. These lights are controllable from their bike computers, though, they don't follow the ANT+ lighting spec (so they won't work with others).
I've been riding with them as daylight lights a bit here and there, but given it's summer in Europe (and the Northern Hemisphere), it doesn't actually get legit dark out in Amsterdam till around 10:45-11PM. Maybe later tonight I'll finally take some night-photos out on the streets. So, hang tight on the lights!
Till then, let's talk about the Komoot & Relive integration. Of course, Lezyne isn't Komoot's only recent win. We saw their integration with the Garmin Course API back in early May too. And ultimately, this is pretty darn similar from an end-user perspective. Which is also pretty similar to what Komoot and Wahoo have. The long and the short of it is that you can now sync your Komoot routes directly to your Lezyne unit.
Oh, and with the new addition of Relive, you can now sync there too – ideal if you lost your Strava to Relive footpath last summer.
Komoot Integration:
The first order of business, if you haven't yet done so, is to upgrade your firmware. In the case of Lezyne units this must be done via USB to your computer. Unfortunately no over the air (WiFi or Bluetooth) upgrades here. But the process is pretty simple with their updater app, which you can download here for Mac or PC.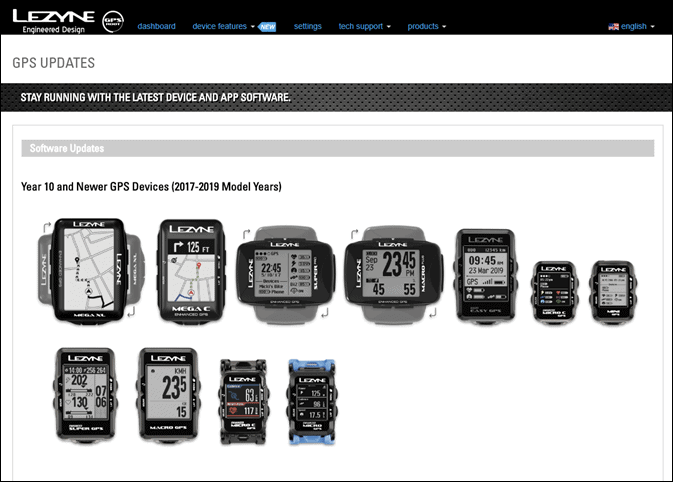 Now, once that's done, ensure your iOS or Android app is all updated. It's likely by now that's already happened. But if you haven't done so…umm…do so.
Next, within that app, you'll choose the 'More', then select 'Komoot'. It'll do a few step Komoot/Lezyne authentication request/confirm/re-confirm tango with you, and in a few seconds you'll be ready.
Now's a good time to remember to download the offline map for your area if you haven't already. This allows you to navigate when you don't have phone connectivity. The way Lezyne units work is that they can either leverage phone connectivity for turn by turn navigation, or, you can use the offline maps for your region. The map downloads are via Bluetooth (which is handy), but, it's also a wee bit slow (because….Bluetooth). So my 82MB map of the rough Amsterdam metro area took about 8 mins to download to the unit. No biggie, I just got coffee while it did that.
Next, go into the 'Navigation' tab on the Lezyne smartphone app, and then choose the menu at the top right and select 'Komoot Tours'. From there, you'll get a list of Komoot tours directly from Komoot live.
You'll go ahead and tap on one, which will show the map, and elevation profile (as well as distance). Once ready, hit the 'Go' button, which will transfer it to your Lezyne unit, and off you go.
Once out and about, you'll get turn by turn instructions on the Lezyne GPS, along with a black and white map that's similar to what you'd find on a Wahoo BOLT or ELEMNT unit (but not as detailed as you'd find on higher-end units). Still, that's not bad given that the Mega C and Mega XL float around in the $199 price ballpark.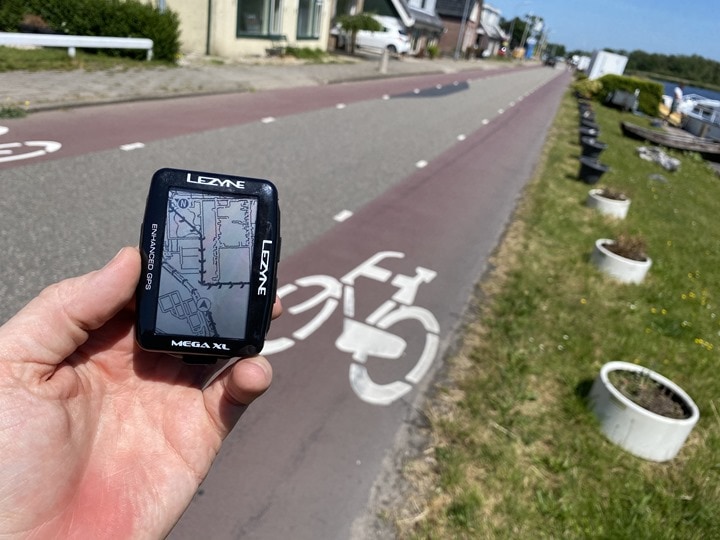 I was battling with the sun glare/reflections to get these shots with my phone, so it was easier to take the unit off the handlebars.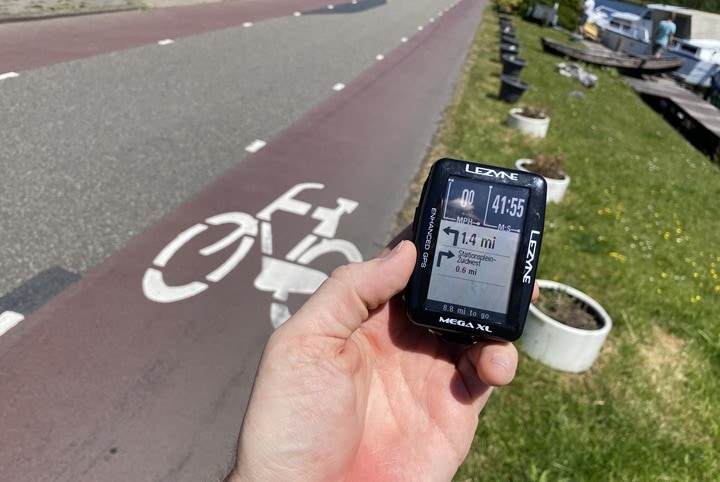 You can also zoom out to see where you've been and where you're going: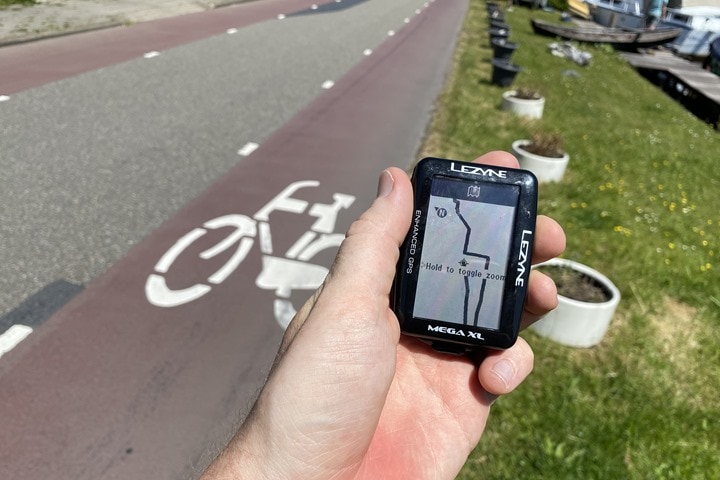 I had no issues on my ride using the route from Komoot or the turn by turn navigation. It just worked as expected. Also worth noting, you can tweak the navigation data fields and layouts pretty easily using the phone app:
Ok, with that route done, it has automatically uploaded back to Komoot…but also over to Relive (and of course in my case, also TrainingPeaks and Strava). Which, is a handy time to talk about that Relive connection.
Relive:
Next, there's the Relive integration. This means you can connect up your Lezyne account to Relive, and have your rides automatically upload there. The process is essentially the same as setting up the Komoot account. In the Lezyne app you'll choose the 'More', then select 'Relive'. It'll do a few step Relive/Lezyne authentication request/confirm/re-confirm tango with you, and in a few seconds you'll be ready.
Next, go out and ride.
Ok, ride done.
Now, the ride will automatically show up within Relive as soon as it's ended and synced from the Lezyne GPS up to Relive. Just the same as syncing to Strava or anything else. You can maintain multiple sync connections too, so no issues there still syncing wherever you want it.
Now, crack open the Relive app. It's here you'll find your ride waiting for you, along with the ability to add photos as usual. Anything taken on the ride will automatically show up here (photos or videos), and even iOS Live photos will show up and be usable as mini 3-second movies.
Pick the photos you want (also, as usual). In my case I don't pay for the premium Relive variant, so I just get the max three photos. No biggie, I frankly didn't take too many non-product shot photos on this ride. Totally forgot.
Once that's done, it'll generate up the standard Relive movie with music and your route (along with photos interspersed) and you can export it out to your social media platform of choice (or, just your phone).
Again, nothing here is really unique/specific to Lezyne in terms of how Relive works. The fact is, it just works. Which, when it comes to partnerships is how you honestly want things to be.
Wrap-Up:
For Lezyne users of either Komoot or Relive, these will be big wins for you – probably the Komoot one a bit more so than the Relive one, given how substantial it is to have seamless routing partners for GPS devices. I think in some ways what we've seen over the last year is a bigger focus by all the major cycling units on trying to smooth out the bump in the road between a manufacturer's device and a partner's platform capabilities. Making it more and more seamless, and with less and less hurdles.
In the case of Lezyne it's pretty easy. And Lezyne has historically focused more on the budget end of the GPS spectrum than the higher end one. Still, at $199 the Mega C and Mega XL float closer to that mid-range realm these days.  Wahoo has their BOLT oft priced at $199, and occasionally we see Garmin's Edge 520 Plus down there too – which capability-wise are more advanced units. For Lezyne, that's somewhat of a danger zone pricing-wise to avoid. It's a much easier nod when they're priced in the $150ish range to say "Look, this unit might not be as overall polished as the Wahoo experience, but it's got the bulk of the same core features, and it costs $50+ less". And, of course, Lezyne's lower-priced offerings fill that gap super well with strong connectivity on ANT+ & Bluetooth Smart sensors and more.
What's probably underrated though is the underlying platform Lezyne has built – which is pretty advanced. Everything from the online web training log and routing platform (which Wahoo lacks) to the expanding partnerships and even the turn by turn navigation aspects. Those aren't easy to build-out, nor are they easy to get right. A lot of companies have tried and failed, and Lezyne clearly isn't one of them.
In any case – thanks for reading, and more soon on the lights. Once the…umm…lights go out.

Found This Post Useful? Support The Site!
Hopefully you found this review useful. At the end of the day, I'm an athlete just like you looking for the most detail possible on a new purchase – so my review is written from the standpoint of how I used the device. The reviews generally take a lot of hours to put together, so it's a fair bit of work (and labor of love). As you probably noticed by looking below, I also take time to answer all the questions posted in the comments – and there's quite a bit of detail in there as well.
If you're shopping for the Lezyne Mega- XL GPS or any other accessory items, please consider using the affiliate links below! As an Amazon Associate I earn from qualifying purchases. It doesn't cost you anything extra, but your purchases help support this website a lot. Even more, if you use Backcountry.com or Competitive Cyclist with coupon code DCRAINMAKER, first time users save 15% on applicable products! Or, with TPC (The Pro's Closet), you'll save $40 on purchases over $200 with coupon code DCRAIN40!
And of course – you can always sign-up to be a DCR Supporter! That gets you an ad-free DCR, access to the DCR Quarantine Corner video series packed with behind the scenes tidbits...and it also makes you awesome. And being awesome is what it's all about!
Thanks for reading! And as always, feel free to post comments or questions in the comments section below, I'll be happy to try and answer them as quickly as possible. And lastly, if you felt this review was useful – I always appreciate feedback in the comments below. Thanks!