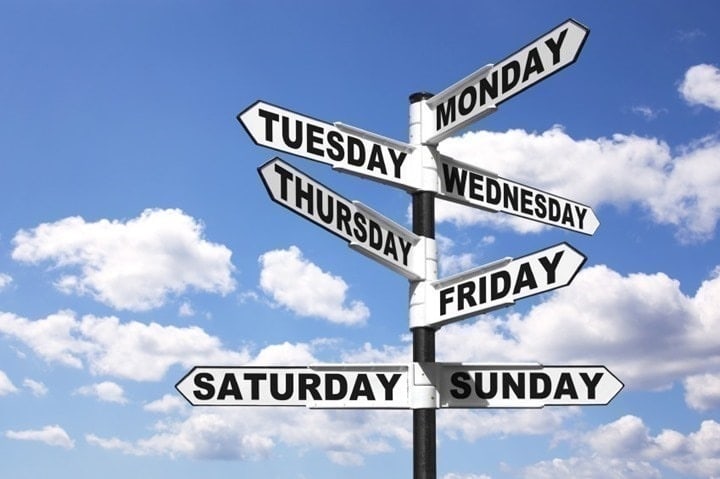 The Week in Review is a collection of both all the goodness I've written during the past week around the internet, as well as a small pile of links I found interesting – generally endurance sports related. I've often wondered what to do with all of the coolness that people write, and while I share a lot of it on Twitter and Facebook, this is a better forum for sending it on to y'all. Most times these different streams don't overlap, so be on the lookout at all these places for good stuff!
So with that, let's get into the action!
Sports Tech Deals of Note:
Here's some continuing sports tech deals.
Product

Sale Price

Amazon

Other site

Sale Notes

Apple AirPods with Wireless Charging Case - $50 Off!
$149
Amazon
⚡ I use AirPods primarily when I'm travelling just to listen in airports, planes, etc... I don't tend to use these for workouts due to them falling out. Personally, I just use the basic model.
Apple Airpods (2nd Gen) - $30 off
$159
$119
Amazon
I use AirPods primarily when I'm travelling just to listen in airports, planes, etc... I don't tend to use these for workouts due to them falling out.
Apple Airpods Pro - $30 off!
$249
$219
Amazon
Garmin Edge 130 Plus - 25% off!
$199
$149
Amazon
REI
This is the first time we've seen the Edge 130 Plus on sale. The 'Plus' variant is notable compared to the regular unit for having ClimbPro on it, plus a handful of other tweaks. $149 is a good deal for it.
Garmin Edge 130 Plus Bundle - 20% off!
$199
Amazon
Competitive Cyclist
This is the first time we've seen the Edge 130 Plus on sale. The 'Plus' variant is notable compared to the regular unit for having ClimbPro on it, plus a handful of other tweaks. This bundle includes a heart rate chest strap as well.
Garmin Forerunner 45/45S - $40 off
$199
$160
Amazon
If you're looking for a runners focused watch, this is a pretty good deal, about 20% off. The FR45 basically packs all the features of the previous generation FR235...just now in the FR45 series.
Garmin Forerunner 935
$499
$269
Amazon
⚡ Sure, it's not the latest edition, but the FR935 is the staple of many triathletes and runners, and it still an incredibly solid watch. We saw this a bit lower last summer on Amazon Prime Day ($239) - but beyond that, this is pretty darn low. Also, I say $100-$200 off, because the 'base' price fluctuates a bit these days. Sometimes retail is $399 sometimes $499.
Garmin Instinct - $100 off
$299
$189
Amazon
Sure, the new Solar variants came out last summer with a few new features, but at their core the Instincts are mostly the same. $189 is still a strong price for this watch.
Garmin RVR315 Varia Radar - Save 20%
$120
Amazon
Competitive Cyclist
I believe this is the first sale of the Garmin Varia RVR315 cycling radar. This unit doesn't have a taillight, so it's a bit smaller as a result. Same radar tech though, and compatible with Garmin/Stages/Hammerhead/Wahoo bike computers.
Garmin Vivoactive 4/4S - $100 off
$299
$249
Amazon
This is Garmin's current offering to compete with the Apple Watch series (alongside the Garmin Venu), and this is a good price, though, it does go lower from time to time (not since Black Friday 2020).
GoPro Hero 9 Black - $50 off
$399
Amazon
REI
⚡ This is the camera I use for all my daily shooting during sports. Actually, I've bought a few of them. Note that if you're a GoPro Plus Subscriber, then it's a bit cheaper at $349 from GoPro directly, but otherwise, it's $449.
GoPro Max - $50 off
$499
$449
Amazon
REI
DCRAINMAKER.COM Posts in the Past Week:
Here's all the goodness that ended up on the main page this past week:
Sunday: Week in Review–March 8th, 2020
Monday: 5 Random Things I Did This Weekend
Tuesday: Wahoo's New 'Stealth'-Black BOLT, Price Drop, Plus Adds E-Bike Support, ANGi GPS connectivity
Tuesday: Strava Eliminates Multiple Summit Tiers, Simplifies Back to Single Option
Thursday: GoPro Hero 8 Black Charging Door Accessory: Video Review Posted
Saturday: Elite Sterzo Steering/Riser Block Accessory In-Depth Review
YouTube Videos This Past Week:
Here's what hit the tubes over on the You of Tube, definitely don't forget to subscribe there to get notified of videos the second they hit!
FIT FILE Podcast This Week:
Episode 102 is out!
– Sea Otter is off…then on…then conflicts with their own event?
– Pro teams migrate to indoor trainer apps
– What could TrainerRoad do to partner with teams this season?
– And perhaps Sufferfest too?
– Strava's "What's Old is New Again" 2020 campaign continues
– Wahoo drops price on BOLT
– Then Wahoo drops a new BOLT!
– Is there actually ebike integration demand?
– Garmin drops price on Edge 1030/130/Varia Radar.
– GoPro Hero 8 charging door test!
Listen here, or four options for where to find the podcast:
A) iTunes: If you've got an Apple device, we're there!
B) Google Play Music: Yup, we're here too (and on Google Podcasts app)
C) Spotify: Of course we're on Spotify now – you can even cache it on your wearable too!
D) RSS Feed: Follow along using the direct RSS feed
Stuff I Found Interesting Around The Interwebs:
Here's a not-so-small smattering of all the random things that I stumbled on while doing my civic duty to find the end of the Internet (and in this case, some of these are from the past few weeks…as my backlog is a bit longer):
1) Apple Watch appears set to add blood oxygen detection and improved ECG: Among many other vNext Apple Watch or WatchOS features that seemed to have leaked out. I'm not however convinced that Apple will be able to do SpO2 any better than Garmin/Fitbit/etc. It's easy to do sitting still, it's really hard to do in movement (the FDA certification doesn't even attempt to deal with at movement).
2) How pro cyclists scheme to get a PlayStation into quarantine: Oh to look back on those times and think it was just going to be a couple of riders for a few days or weeks.
3) Twitch to stream National Women's Soccer League games: This is super cool, especially for international audiences who will be able to see every game.
4) France looks at fines and jail time for e-bike modification: This seems a bit over the top. A lot of this really does seem to stem out of the slightly bizarre displeasure in certain circles against many of the bike sharing companies, which has in turn spilled out into e-bikes in general.
5) Ironman's comments and plans for the upcoming season: Realistically, the short version could be 'Everything is basically off till further notice. We're rescheduling eventually, and your race fee goes to a future race. Roughly.'
6) All Peloton studios to be closed to the public: No surprise here, one of many things that'll become the new normal.
7) Sister company to LifeQ shuts down: As a reminder, LifeQ makes optical sensors that are approved by Qualcomm for use in Google Wear devices (which are, in turn, on the approved list by Google for Google Wear devices). They used to make TomTom running watch optical HR sensors way back when. These days the most notable watch for them is the recent Suunto 7. While it might sound bad that their sister company HealthQ is shutting down, this is really about refocusing on LifeQ. So in this narrow focus, it's a good thing for LifeQ. I think. Hopefully. (Thanks Matthys)
8) Hansons-Brooks Running Team Rejects Official Placements for Payouts: Essentially, the team is pretending one of the runners within the race results (a known doper) doesn't exist, and thus from a team payout standpoint are paying each member higher up in the ranking. That's awesome! (via Jeff Dengate)
9) Withings creates new division for medical research: As part of that, they'll work more closely with institutions that need their devices for unrelated studies. In addition, this page consolidates studies using their devices.
Sports Tech Device Firmware Updates This Week:
Each week I quickly highlight some of the new firmware, app, software, and website service updates that I see go out. If you're a sports technology company and release an update – shoot me a quick note (just one-liners are perfect, or Tweet it at me is even better) and I'll make mention of it here. If I don't know about it, I won't be able to post about it. Sound good?  Oh – and if you want to get a head start on things, this page is a great resource for watching Garmin and a few other firmware updates.
[Things be pretty slow in the sports tech world right now. Part of that is seasonality, but a very real part of that is COVID-19]
Garmin Fenix 6 Series & MARQ series devices BETA Firmware update: Minor bug fix.
Garmin Fenix 5 Series BETA Firmware update: Minor bug fix.
Garmin Instinct BETA Firmware Update: Minor bug fix.
Garmin FR245 Firmware Update: Updates to support newer CIQ apps.
Garmin Vivoactive 4 Series Firmware Update: Boatload of fixes, also some new features and added emoji.
Polar Vantage M & Vantage V Firmware Update: Bug fixes.
Wahoo ELEMNT/BOLT/ROAM Firmware Update: Added ANT+ LEV (e-bikes), SRM power meter fixes, other tweaks.
—
With that – have a great week ahead!