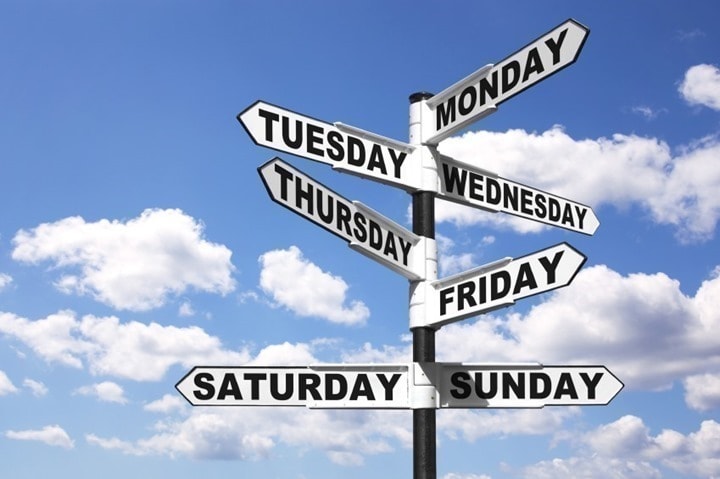 The Week in Review is a collection of both all the goodness I've written during the past week around the internet, as well as a small pile of links I found interesting – generally endurance sports related. I've often wondered what to do with all of the coolness that people write, and while I share a lot of it on Twitter and Facebook, this is a better forum for sending it on to y'all. Most times these different streams don't overlap, so be on the lookout at all these places for good stuff!
So with that, let's get into the action!
Sports Tech Deals of Note:
For whatever reason, the sports tech deal train has rained down upon us starting this weekend. Many of the major companies have either made permanent pricing shifts, or we're seeing some mid-Q1 sale pushes to try and drive numbers. I wouldn't overthink *any* of these sales as indicators of new products (save the Pioneer thing obviously being clearance). It's not the right time of year for any of the products below to get refreshed.
| | Product | Sale Price | Amazon | Clever Training | Sale Notes |
| --- | --- | --- | --- | --- | --- |
| | All Pioneer Power Meters & Bike Computer Gear Clearance! | 40% off | Amazon | Clever Training | This is a Pioneer-wide clearance deal for everything power meter and cycling computer from them, following the acquisition by Shimano this past week. Note that Pioneer (as well as Shimano) have stated that warranties/etc will remain in place, as well as support. So risk-wise this is super-low risk. There are some challenges with the 8000 & 9100 based cranksets and accuracy, but Pioneer has options that don't include those cranksets. Note that Clever Training doesn't have a ton of extra inventory here, so most of this stuff won't last very long. |
| | CycleOps Hammer (Original) - $200 off | $599 | N/A | Clever Training | This is a solid deal if you don't mind the slight racket that the original CycleOps Hammer makes. Note that basically there's virtually no feature differences between the H1/H2/H3 - just different colors of paint and on the H3, a different belt that makes it quieter. They're already running near identical firmware (the original Hammer got a big firmware update Aug 2019 to bring them all inline). |
| | DJI OSMO Action (Action Cam) - Normally $329 | $279 | Amazon | | ⚡ This is by far the lowest price we've seen on the DJI OSMO Action, and it's a very strong first contender from DJI to compete with the Hero 7 Black (realistically, except for the dual-screen, it simply doesn't compete with the Hero 8). I really like a lot of elements on the OSMO Action, but especially the dual-screen. Check out my full review for comparative thoughts. While I would have said that maybe we'd see a new OSMO Action sometime this spring (an annual refresh cycling). The closure of DJI in China due to Coronovirus has pretty much killed any hopes for that anytime soon. |
| | Elite Direto X Smart Trainer - Normally $899 | $799 | Amazon | Clever Training | This is a solid deal for this trainer, and aside from generic 20% deals we saw over Black Friday, this is probably one of the better deals out there. The 'bonus' to Direto X is that I've seen virtually no issues with it in terms of early teething bits like the Elite Suito. |
| | Garmin Venu GPS Smartwatch - $100 off! | $299 | Amazon | Clever Training | This is a very solid deal on this, and brings us back to Black Friday pricing. Now technically speaking this both a sale and a price reduction. Garmin has officially lowered the MAP price of Venu to $349 (from $399), and then there's $50 off sale atop that. Either way, this is in a much more price-appropriate ballpark for this watch. |
| | Polar Ignite GPS - Normally $229 | $179 | Amazon | Clever Training | This is a very solid deal for this unit, and about the lowest we've seen it. Note that the price varies slightly based on the exact color band you select. But either way, it's a great deal. |
| | Tacx NEO 2 Smart | $1,199 | Amazon | Clever Training | ⚡ This is a great deal, especially considering there's such little difference between the NEO 2 and the NEO 2T. We saw this deal back in the fall, and it looks like Tacx found another pile of original NEO 2's to clearance out. Note: This might not show as available yet, keep hittin' refresh! |
DCRAINMAKER.COM Posts in the Past Week:
Here's all the goodness that ended up on the main page this past week:
Sunday: Week in Review–February 2nd, 2020
Monday: 5 Random Things I Did This Weekend
Tuesday: Pioneer Exits Power Meter Business as Shimano Buys Their Cycling Business
Thursday: Garmin Vivoactive 4 Smartwatch In-Depth Review
Friday: Bikes, Beer, and Tech Live Podcast/Video from TDU Posted!
YouTube Videos This Past Week:
Here's what hit the tubes over on the You of Tube, definitely don't forget to subscribe there to get notified of videos the second they hit!
FIT File Podcast This Week:
Episode 99 of the podcast is up!
0:00 – Bikes, Beer, and Tech Explainer
1:50 – Introductions
5:40 – The impact of less accurate power meters in the pro peloton/athletes
15:30 – To Murray: What was the most difficult Wahoo product feature to develop that you thought would be easy?
19:50 – What has surprised us in the last 12 months in sports tech?
26:00 – Do pros and elite athletes use indoor training apps/devices the same way as consumers?
28:00 – Why can't we just plug our trainers into WiFi?
31:35 – To Wahoo: What's Wahoo's power meter plans for Speedplay (since acquisition)?
32:25 – To Neal: As an elite coach, what do his athletes screw up the most?
34:14 – What do we expect with Zwift's entrance into trainer hardware?
37:35 – Is reliance on tech taking away from riding a bike?
41:30 – To Neal: What does he see with mental health in the pro peloton/elite competitors, and coping with pressures?
Listen here, or four options for where to find the podcast:
A) iTunes: If you've got an Apple device, we're there!
B) Google Play Music: Yup, we're here too (and on Google Podcasts app)
C) Spotify: Of course we're on Spotify now – you can even cache it on your wearable too!
D) RSS Feed: Follow along using the direct RSS feed
Stuff I Found Interesting Around The Interwebs:
Here's a not-so-small smattering of all the random things that I stumbled on while doing my civic duty to find the end of the Internet (and in this case, some of these are from the past few weeks…as my backlog is a bit longer):
1) The impact of music lawsuit on Peloton, from their head of music: This is way more than just the lawsuit, and was a surprisingly interesting behind the scenes look at how the music bits of their business works. Not so much from a 'how they got sued for hundreds of millions', but more the specifics of how they select/process/think about music.
2) Understanding all the wonky broken bikes in Amsterdam: Title says it all, this helps you decode for each scenario what exactly went wrong. (via Dutch Cycling Embassy)
3) How ski films have changed dramatically due to social media: Super interesting, though, I'm betting the industry is oddly more financially sustainable for smaller outfits now than it was back then.
4) Zwiftcast 'Ask me Anything' annual edition with Eric Minn: While this is on my to-do list to listen to, you can get a jump start on digging through the nuggets.
5) The backstory on triathletes in Facebook Super Bowl Ad: Yup, they were real triathletes.
6) The battle against crowded ski hills: Having grown up going to Crystal Mountain to ski a few times a year within the race circuit, the concept of having traffic stretch that many miles away is unfathomable.
7) What you need to know for the 2020 Olympic Marathon Trials (for US athletes): Definitely a worthy read if you're trying to get caught back up on the pro marathon scene ahead of Tokyo.
Sports Tech Device Firmware Updates This Week:
Each week I quickly highlight some of the new firmware, app, software, and website service updates that I see go out. If you're a sports technology company and release an update – shoot me a quick note (just one-liners are perfect, or Tweet it at me is even better) and I'll make mention of it here. If I don't know about it, I won't be able to post about it. Sound good?  Oh – and if you want to get a head start on things, this page is a great resource for watching Garmin and a few other firmware updates.
Garmin Edge 530/830/1030 BETA Firmware Update: Bug fix around stability issue
Garmin Fenix 6 Series & MARQ Series BETA Firmware Update: Bug fix around wifi issue
Garmin Fenix 5 Plus Series BETA Firmware Update: Same bug fix as Fenix 6/MARQ
Garmin SWIM 2 Firmware update: Mostly performance improvements and bug fixes
Stages Gen 3 Power Meter Firmware Update: A few new features related to cadence & magnets, as well as bug fixes
—
Thanks for reading everyone! Have a great week ahead!