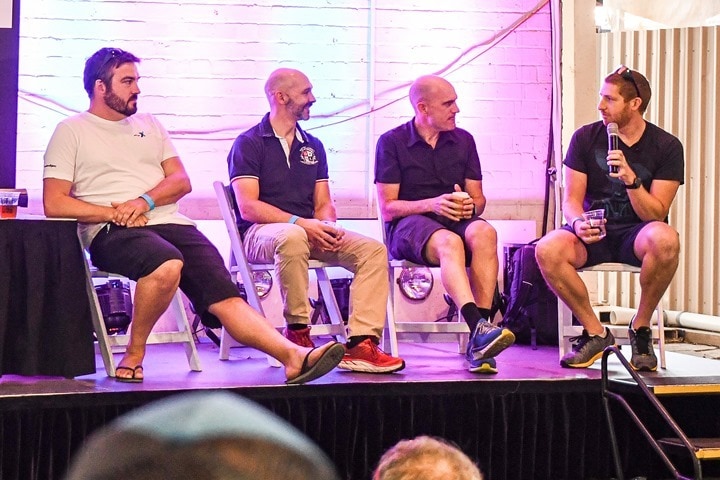 I've got a quick Friday post for folks today, which is a posting of the Bikes, Beer, and Tech 'studio audience' edition of the FIT File podcast recording we did at the Tour Down Under (TDU) about two weeks ago. For those unfamiliar, this is an event we've held for I think three or four years now, and started at the Tour Down Under as just a way for people to geek-out with various sports tech companies. Anyone and any company is invited. Each year the event has gotten a bit bigger and we've had to upscale the venue.
This year the Rapha pop-up shop at the TDU, which acts as a cycling hub for all sorts of events at the Tour Down Under – and this year they were game for us to occupy the space for an hour or so hosting the FIT File Podcast onstage. Atop that, Wahoo covered everyone's beer!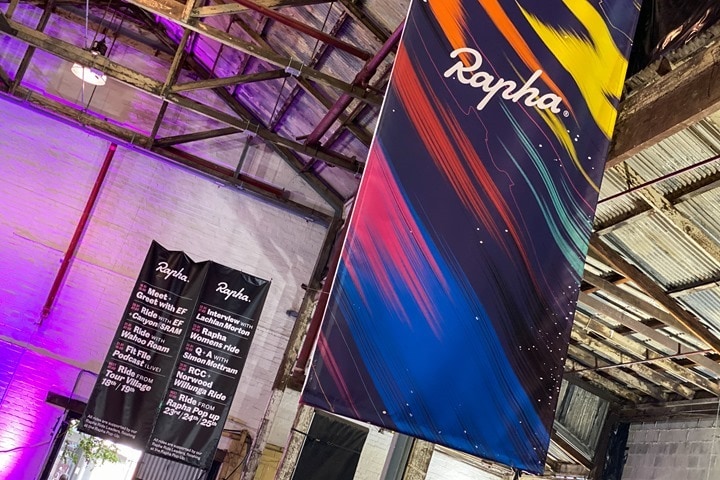 (Look, we're even on the sign in the back!)
We ended up tweaking the format away from just Shane and I recording the FIT File with audience questions, to also having Murray Hughes and Neal Henderson from Wahoo. Murray's been at Wahoo since rocks were formed, and while I have no idea what his actual title is – it roughly translates to 'all dev roads lead through Murray'. Meanwhile, Neal comes from the sport science side of things, and has coached numerous Olympic athletes and teams while more recently joining The Sufferfest and in turn Wahoo.
You've got two options for listening to or watching the whole thing. First up is that it's been uploaded to the typical FIT File Podcast feed as episode 99. You can press play here on this page, or you've got four options for where to find the podcast:
A) iTunes: If you've got an Apple device, we're there!
B) Google Play Music: Yup, we're here too (and on Google Podcasts app)
C) Spotify: Of course we're on Spotify now – you can even cache it on your wearable too!
D) RSS Feed: Follow along using the direct RSS feed
Or, you can watch the video below. This was just filmed on a GoPro in a dimly lit warehouse pointed at a stage with a bright wide open door behind it. I didn't think this one through very well. But hey – it's great to stick on in the background and just watch from time to time. Here's the video, but I've listed all the topics below:
And finally, here's the rough round-up of topics that we discussed with the approximate timestamps, but we really meandered quite a bit within these bands:
0:00 – Bikes, Beer, and Tech Explainer
1:50 – Introductions
5:40 – The impact of less accurate power meters in the pro peloton/athletes
15:30 – To Murray: What was the most difficult Wahoo product feature to develop that you thought would be easy?
19:50 – What has surprised us in the last 12 months in sports tech?
26:00 – Do pros and elite athletes use indoor training apps/devices the same way as consumers?
28:00 – Why can't we just plug our trainers into WiFi?
31:35 – To Wahoo: What's Wahoo's power meter plans for Speedplay (since acquisition)?
32:25 – To Neal: As an elite coach, what do his athletes screw up the most?
34:14 – What do we expect with Zwift's entrance into trainer hardware?
37:35 – Is reliance on tech taking away from riding a bike?
41:30 – To Neal: What does he see with mental health in the pro peloton/elite competitors, and coping with pressures?
With that – thanks for watching or listening, and thanks to Rapha and Wahoo for providing the venue, beers. And finally – thanks to all those that came out to listen! It's always awesome to catch-up with folks!
I could perhaps see doing something similar to this at Sea Otter in California in a few months with a different crew of characters (and obviously, audience participation too) – if there's interest.
And finally, in semi-related news – I found these stickers on the table in the Rapha pop-up shop. Clearly, I took a few:
Have a great weekend all!