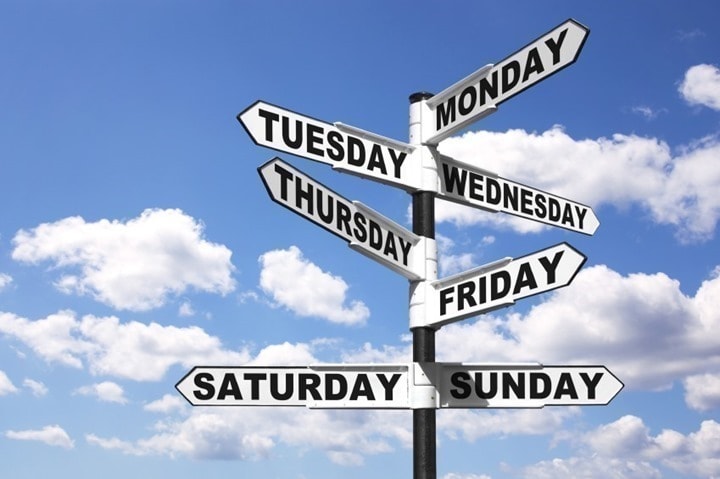 The Week in Review is a collection of both all the goodness I've written during the past week around the internet, as well as a small pile of links I found interesting – generally endurance sports related. I've often wondered what to do with all of the coolness that people write, and while I share a lot of it on Twitter and Facebook, this is a better forum for sending it on to y'all. Most times these different streams don't overlap, so be on the lookout at all these places for good stuff!
So with that, let's get into the action!
DCRAINMAKER.COM Posts in the Past Week:
Here's all the goodness that ended up on the main page this past week:
Sunday: Suunto 7 with Wear OS–Maps, Music, Payments: Everything you ever wanted to know
Monday: Stages Further Lowers Power Meter Pricing to $299
Thursday: First Look: Amazfit's Crazy Treadmill & Wall Display System
Expect to see some of the highlights of CES 2020 this week as I dig out from that. And then next week we've got the Tour Down Under, and expect to see a few things tied to that too. Goodness abounds!
Clever Training UK/Europe Closing – Huge Deals:
Over the last four years, many of you have supported the site via Clever Training UK/EU. That of course being an extension of Clever Training US. The European operation being run out of the UK, while the US operation is run from Florida. I greatly appreciate that support over those last four years of the European site – you're awesome!
Unfortunately, Clever Training US has decided to focus purely on the North American market going forward. This is primarily due to the company's continued expansion within North America (opening up numerous warehouses across the country, plus merger with JackRabbit sports). An element of uncertainty around Brexit was also a factor.
However, if there's a silver lining in this cloud it's that CT is putting *everything* on 30% off sale immediately. Yes, everything. That includes the Garmin Fenix 6 series, Edge 1030, Vector 3, Wahoo gear, and so on. If it's on the site, it's on sale for 30% off. If it's not on the site, it's gone. Note that no backorders will be accepted. So like buying Halloween candy after Halloween – once it's gone, it's gone. Items will disappear as stock disappears – and obviously this deal won't last long.
Warranties will continue to be honored by the respective manufacturers the products are made by, which at this point is mostly just Garmin/Wahoo/Suunto/Polar gear left on the CT UK site.
Here's a landing page of all the deals to get your mind working – though frankly anything you click on within the site is a deal because all products are 30% off. 😉 Note that the 10% DCR coupon doesn't apply atop that (nice try though!). And as always, using these links help support the site!
Finally – note that Clever Training USA is still going strong (and bigger than ever). And as for Europeans (and Australian/New Zealand folks), you'll be pleased to note that you can now support the site via Wiggle! Details on that here.
YouTube Videos This Past Week:
Here's what hit the tubes over on the You of Tube, definitely don't forget to subscribe there to get notified of videos the second they hit!
Stuff I Found Interesting Around The Interwebs:
Here's a not-so-small smattering of all the random things that I stumbled on while doing my civic duty to find the end of the Internet (and in this case, some of these are from the past few weeks…as my backlog is a bit longer):
[This week is a slight clearing out of a few links that have been sitting in open browser tabs for a while]
1) Fitbit publishes 2019 year in review stats breakdown: Unlike most/certain companies, Fitbit actually waited for 2019 to end before doing the data analysis. Interesting stuff – including the fact that those from Finland get the most sleep.
2) Philips escalates legal dispute with Garmin & Fitbit: This is kicking their dispute higher up the totem pole, which first started back in August. In fact, I outlined some of the specific patents in the comments section of that post as well as the FIT File Podcast Episode 84 a few days later.
3) A smaller USB-C Apple Watch charger: Here's the link straight to Amazon. Basically it allows you to consolidate down the longer cord to a small puck, perfect for throwing in your bag for travelling.
4) Bluetooth SIG announces new Bluetooth audio specs: While not directly sport-related per se, this will undoubtedly impact sport devices in the coming years.
5) An open source variant of the KICKR CLIMB hardware: Wanna build your own Wahoo KICKR CLIMB? Well, now you can. I mean, with enough skills. The first of the links that's been sitting on my browser tabs.
6) Hammerhead adds Live Tracking to Karoo (from late December): Oh man Hammerhead, you keep doing things to make me want to like your unit more and more with each firmware update. One might even say it's reaching fairly competitive status. This latest update adds Live Tracking to the list. However, as has always been – the deal-killer is the lack of audible alerts/beeps/anything (important for navigation). Seriously, just add the beeper part into new units and be done with it. Instant success. Now, the new live tracking feature does expose the other major shortcoming of the Hammerhead Karoo: It actually can't talk to your phone. Thus, in order to do live tracking you have to either put a SIM card in it (cool), or you have to enable the WiFi hotspot on your phone the entire time you're riding (not cool). Plus the usual no smartphone notifications. Every time Hammerhead gets *THIS CLOSE*, it just hurts to have these two items be the deal-killers. I'm begging you Hammerhead: Don't overthink this – just put a beeper in there and be done with it.
7) The research of poop to unlock athletic supremacy: This one was from back in December, but my Dad sent it over and it's pretty fascinating.
8) What happens when politicians meddle with sport: This was back in December too, written from the perspective of a Russian athlete. Different perspectives are worth a read, even when you disagree with them.
Sports Tech Device Firmware Updates This Week:
Each week I quickly highlight some of the new firmware, app, software, and website service updates that I see go out. If you're a sports technology company and release an update – shoot me a quick note (just one-liners are perfect, or Tweet it at me is even better) and I'll make mention of it here. If I don't know about it, I won't be able to post about it. Sound good?  Oh – and if you want to get a head start on things, this page is a great resource for watching Garmin and a few other firmware updates.
Garmin Fenix 6 Series BETA Firmware Update: Added ability to configure intensity mins via HR zones, other fixes.
Garmin Fenix 5 Series Firmware Update: Fixes a Connect IQ issue.
Garmin Edge 530/830/1030 BETA Firmware Update: Holy balls. So many new additions. Tons of stuff related to indoor riding, a bunch of ClimbPro bits, and well like 25 other changes.
—
With that – thanks for reading and have a good week ahead!