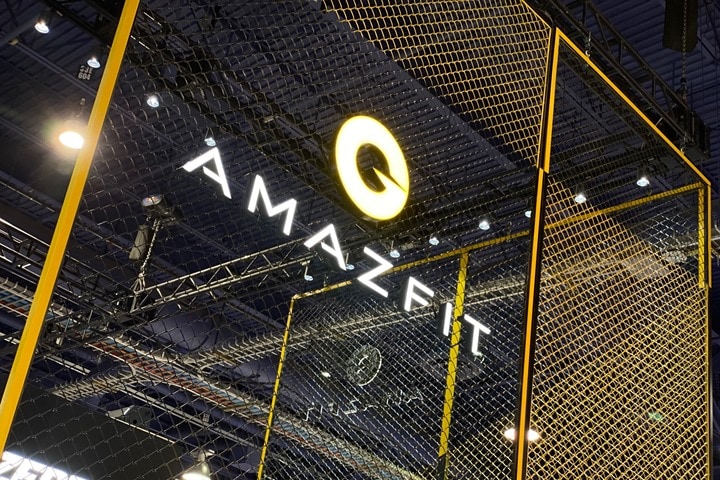 The most common question I get while walking around the CES show floor each year is: What's the coolest thing you've seen here?
Every…single…person asks me that. Every hour, every day, every year.
And generally speaking this year it was a wishy-washy answer. There just wasn't anything super cool, sports tech space or otherwise. Maybe I'm getting old, or jaded, or what-not. But, it was all mostly shrug.
Until I randomly stumbled on the Amazfit booth while doing some final errands in the last hour of my time at the show. As I first approached, they had suckered a pile of people into doing a push-up contest of sorts. As I rounded the booth I could see the newly announced earbuds, and some of their watches. I poked at them for a few minutes.
And then, out of the corner of my eye, I saw their super lightweight looking treadmill on the far side of the booth. Well, that's unexpected. I tried asking some basic questions, but it wasn't the right person apparently. Not unusual for CES actually.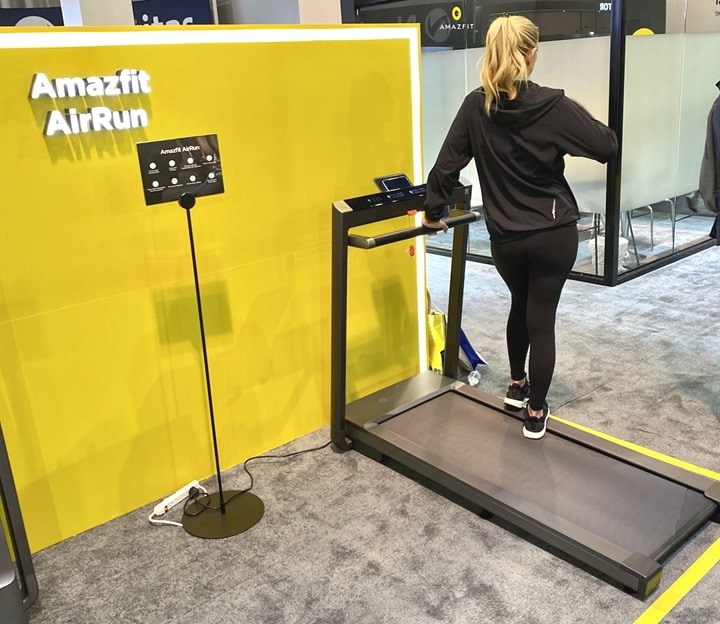 (I'd later find out the Amazfit Air unit tops out at 9MPH and has just shy of the space length/width specs of the higher end unit. Also, it folds down onto itself in under 5 seconds apparently.)
I was then directed over the wall to another woman, who to my surprise, was on a totally different treadmill, with a gigantic cell-phone looking contraption in front of her. It looked like something from the future. Finally, not just another 8K TV at CES.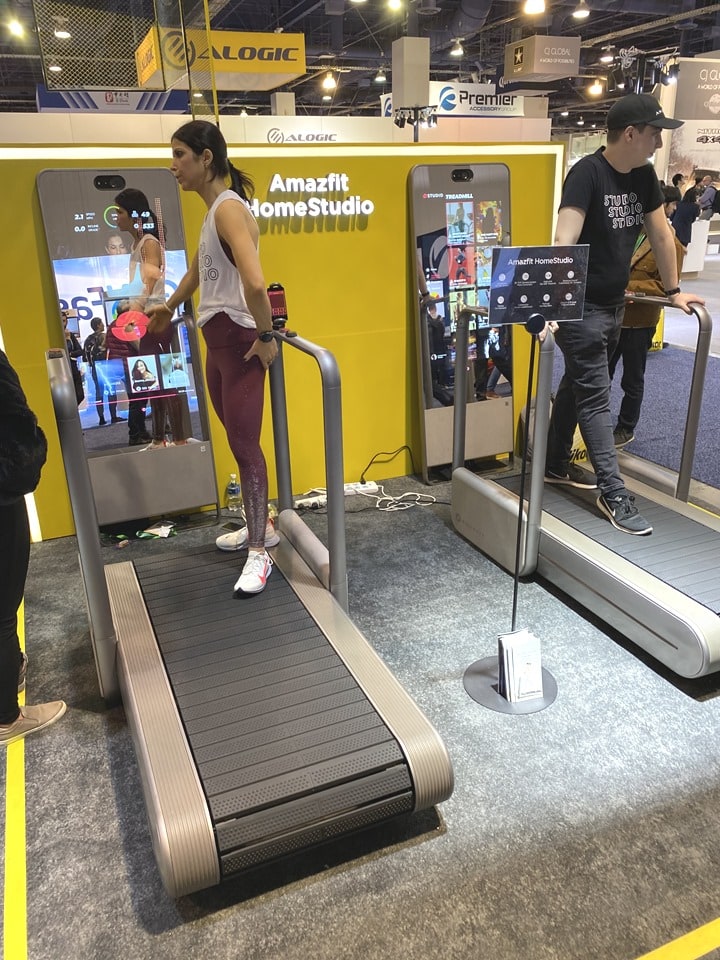 Turns out she was incredibly knowledgeable, likely because it'd also turn out that aside from being an online instructor for the platform I'll explain shortly, she's also the Chief Content Officer for the company.
So, let's get to it. This whole setup is called the Amazfit Home Studio. It includes the treadmill, the gigantic wall display you see, as well as some weights and such used within workouts. Like Peloton, it requires a subscription, which slightly undercuts Peloton's costs – coming in at a monthly fee of $35. As for the price of everything – well, Amazfit isn't saying yet, but they are committing it'll be "under the Peloton Tread" price, which is $4,500. That's notable, considering the Peloton Tread includes effectively a miniature display that pales in comparison to this setup.
First up is the treadmill, with its 55 individual rubber-coated aluminum slats. I gave it a short run, bringing it up to 10MPH (in running shoes and jeans).
It felt just good. My feet were tired, as I had already walked 30,000 steps at this point in the day. But it felt good for my super short bout on it (I reserve the right to change my mind later when running on it for realz). The belt is 53" long (135cm) and 20" wide (51cm).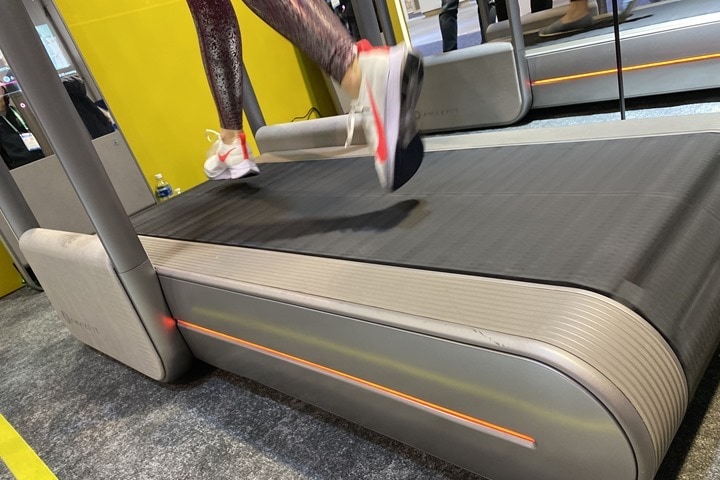 The two bars on the treadmill have both incline and speed dials, not terribly unlike that of the Peloton Tread. It's very clearly *not* a rip-off. Sure, Amazfit can and does 'borrow inspiration' within their products here and there, but this largely isn't one of those times. Next to the right dial is a nifty phone stand. This is how you control the main display via an app on your phone. It's honestly a brilliant place to put it. When I think about running on a treadmill, the forward reach into a center display console to grab/interact with a phone is always kinda awkward as you try not to go too far forward and have your feet clip the front plate. This solves that (minus the fact there is no front plate).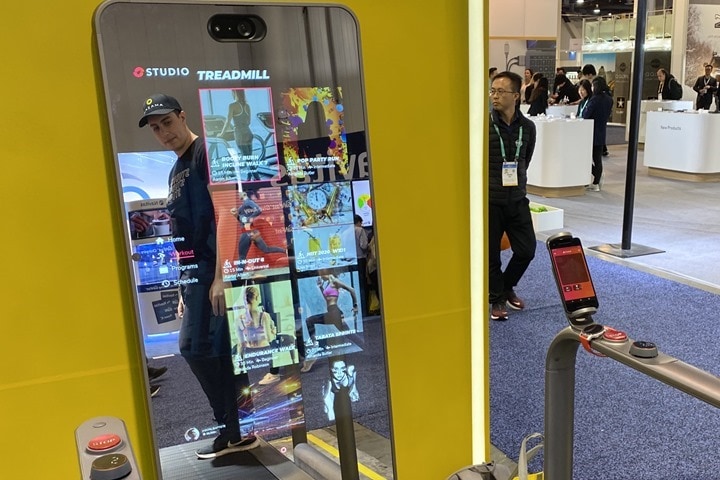 The treadmill can reach speeds of 20KPH (12.4MPH) and an incline of 7° (in 10 different steps). The side bars also support 200 pounds (it says 100kg too in the literature, but those don't match up, as it'd be 220lbs for 100kg). The idea there being to do bilateral type exercises. Also, it supports reading your HR from Amazfit wearables (and presumably HR straps too).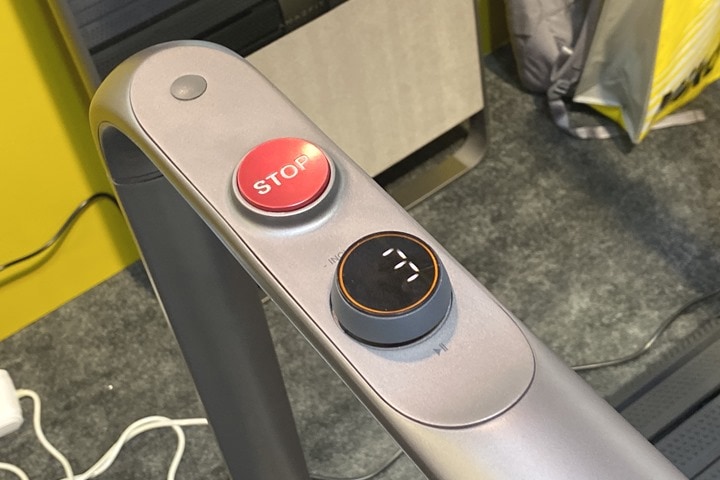 Of course, the real looker in this equation is the display. It tilts against the wall like a fancy mirror, and embedded inside it you'll find a 43" display and two JBL speakers. There's also a third JBL speaker in the treadmill itself. Apparently Amazfit believes there's a market for replicating indoor concerts mid-run.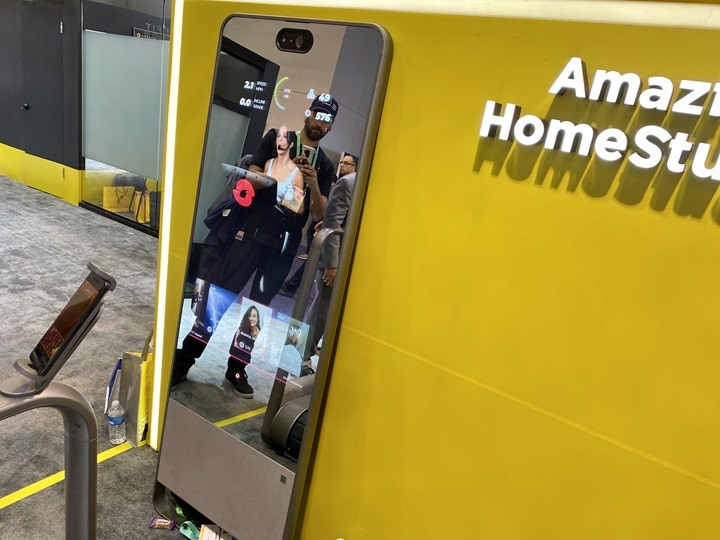 But at the very top is that slightly ominous looking camera. That's actually a 3D Time of Flight (ToF) camera system, which can do motion recognition of your body during exercises, offering ways to do those specific movements correctly (theoretically reducing injury chances). Also, at some point down the road the company says it'll do gesture recognition – presumably to recognize the 'flailing arms' gesture as you fly off the back of the treadmill.
Now, like Peloton the whole point of this thing is to get you paying their $35/month subscription fee (Peloton's is $40/month). That gets you access to the Amazfit Studio, which isn't actually a new app or platform. Nope, Amazfit is leaning on a company called 'Studio', which has been around for a couple of years already and has "Tens of thousands" of paying users already according to the company. And true enough you can download them up on the App Store and use their app today for $14/month or $99/year – no treadmill required.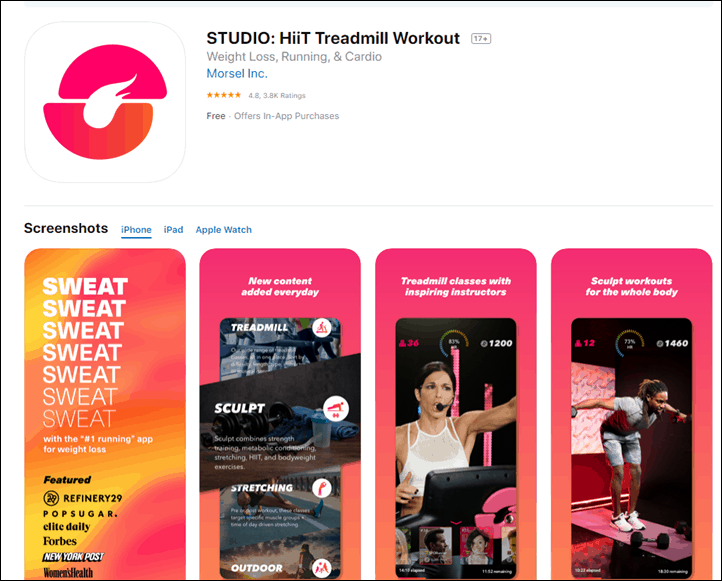 The workouts range from running/walking centered to ones that are more sculpt focused, as well as involving both weighted and unweighted workouts (since it comes with the weights).  All of this is at a high level fairly similar to Peloton, both in pricing as well as features.
Which, makes this entire setup super appealing for folks that were in that market already. With the Peloton Tread being $4,500 and this being cheaper but also including the huge display/speakers, it'll definitely give folks pause. Of course, Peloton has incredible market recognition already.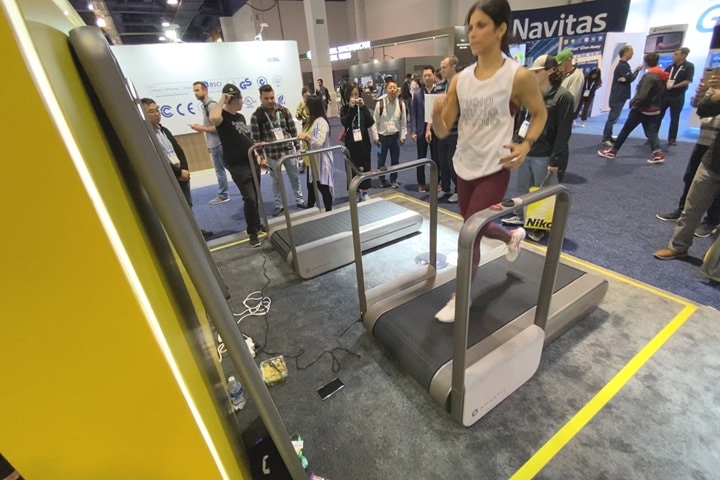 Now here's the thing: Amazfit actually has a reputation for doing uniquely sport-focused stuff in their products that other newcomers might dismiss. For example, they've got piles of FirstBeat metrics in their watches, as well as ANT+ support too. I'd love to see Amazfit stick ANT+ & Bluetooth Smart broadcasting of the treadmill pace/speed into it so one could connect it to Zwift or other apps. Heck, if they want to get super crazy, they could simply put in ANT+ FE-C, and allow Zwift to control the incline too. Now that'd be AmazBalls. Even more AmazBalls if I could actually run Zwift on the screen.
Anyway, I'll leave that for those two companies to sort out. As I've said, Amazfit's shown some history in thinking outside the box product-wise, so it doesn't seem outside the realm of possibility.
As for the shipping of the entire kit, the company is saying to expect it by summer, which seems reasonable. It's also notable that Bloomberg recently reported Peloton is looking to launch a lower-cost treadmill this year, but it would seem the Amazfit Air would be the answer to that (no pricing their either unfortunately).
In any case – looking forward to seeing how this space heats up. With that – thanks for reading!
[P.S. – In case you haven't been following my epic story on Instagram Stories this week, I bought a Peloton bike via Craigslist in Vegas while there for CES and have been been working to dismantle it and take it back home on the airplane. I've documented the highs and lows of this entirely horrible idea in hilariously detailed step by step photos. And if you tap my profile you'll see the 'Flying Peloton' archive of all 70 parts thus far. Enjoy!]