Despite being a chilly weekend here – at least it was dry. Of course, that ended this morning – but hey, can't win them all. Here's what I was up to!
1) So much sale searching
A significant portion of my spare time this weekend was honestly just looking for sale deals to add to the ever growing list. While there are official sales I know about (i.e. the ones from Garmin, Suunto, REI, Clever Training, etc…) – it's the unofficial ones that you spend so much time tracking down. These are all over the place, and I'm using a blend of different price checking tools and just extensive interweb searching to find these.
But one of the best ways I've found is actually just looking through the list of purchased items on Amazon, specifically, all the random things you've bought via the DCR Amazon link (even just toilet paper – it all helps!). Don't worry, I can't see any order details (or even orders at all) – I just see a total daily list of items. But it actually shows me the price someone paid for it, and then I just do quick price checks in my head to see if that was the normal price or not.
That's actually how I found the GoPro Hero 8 deal yesterday (that is still live now). Someone had randomly ordered a GoPro Hero 8 and it showed the reduced price.  While a reader meanwhile had found the Edge 530 deal, and then I went looking for other similar deals and found the Edge 830 deals. Both still live, btw.
This system works really well over Black Friday too, and is how I often find really good deals on really random sports tech things. Of course, sorta like a tree falling in the forest making a sound question – the system doesn't work well if nobody buys an item, as then I never know it exists. But hey, win some, lose some.
2) Saying goodbye to my parents in town!
My parents have been in town the last 10 days or so, enjoying time with us and all three of their granddaughters here (and seeing P3 for the first time). While they flew over, they'll actually be taking a boat back to the US. They did a transatlantic cruise over last spring, and it went well enough that they'll be reversing the journey this time around. They will spend the next 13 days checking out Spain, Portugal, and a few other places then spending the remaining days looking at nothing but water.
So Friday afternoon while the kiddos were still at school we got a late lunch together. Though, I guess P3 was tagging along under The Girl's coat. Here's a pic of that scene:
I'm still amazed at the iPhone 11's photo quality, especially the pic of my Dad and I. The other pic facing the window is tougher to achieve, but still mostly good.
Luckily, my parents will be back in January to help with P1 & P2 while The Girl and I head to Australia for the Tour Down Under. Woot!
3) A Zumo Zwift Workout
Saturday while P3 slept next door, I jumped on the trainer to knock out a workout. This was on the Elite Zumo (review goaled for this afternoon), while using Zwift in a structured lead-out workout as part of a group.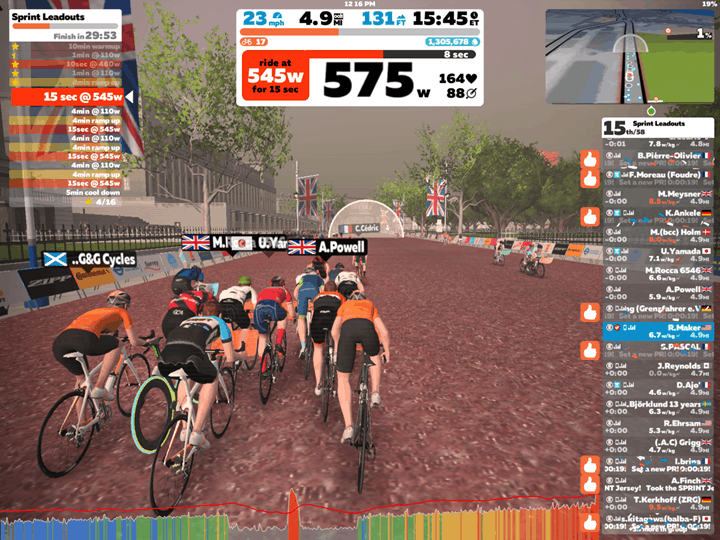 While the trainer does earn the 'quiet enough for a baby two meters away through thin walls' award, I certainly wasn't about to ride that trainer in the same room as her. That'd be a mistake (I do think I can get away with it on the 4iiii Fliiiight though, more on that in a minute).
The only problem I encountered with the Zumo & Zwift was that a bit of a way through the workout during one of the recovery breaks I wanted to calibrate the trainer as it seemed to be reading a bit low.
While the calibration instantly fixed it, it also left me in a pickle within Zwift. Zwift didn't correctly go back to ERG mode at the specified value. Instead, it left me hanging out in some mode that required me to push about 350w until the next step of the workout, when it then switched back.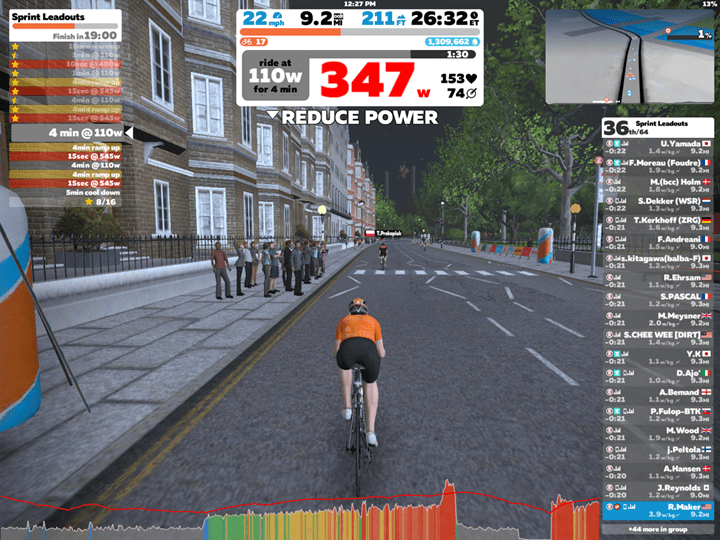 Kinda odd – just not sure if the bug is on the Zwift side or the Elite side. My guess would be the Zwift side, as my guess is that it didn't send a secondary set-wattage command post-calibration for the ERG level it was at previously. So it wasn't until the next set command went out (at the start of the next interval).Either way – it was a good workout overall – which I suppose is mostly what matters.
4) Sinterklaas Parade!
This Sunday was the annual Sinterklaas parade, welcoming Sinterklaas to town (Amsterdam in this case). Like last year, we pedaled on down to have lunch with friends nearby and then enjoy the parade and all of its candy dropped in the bags and hoods of little kids (including ours). And in fact, this year we were actually prepared with bags for the kids, versus having to use their hoods last year.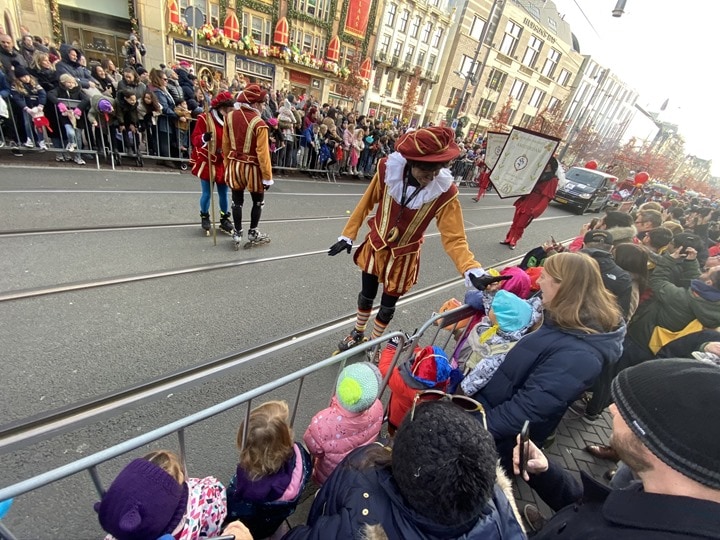 And, The Peanut (P1) was quite open to the concept this year. Versus last year she was deathly afraid of the entire transaction consisting of strangers giving her candy. Of course, P2 was totally for it – and somehow despite being a year younger ended up with like five times as much candy.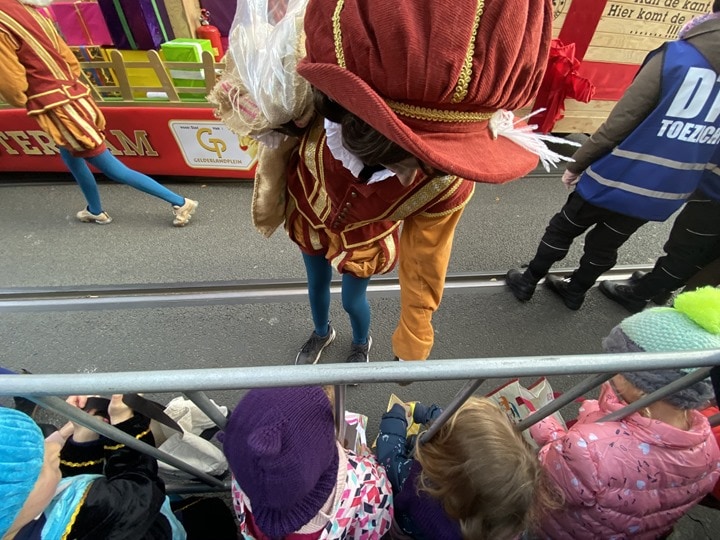 There were many bikes too – like this one here – my favorite:
And of course Sinterklaas himself – albeit on horse, not bike: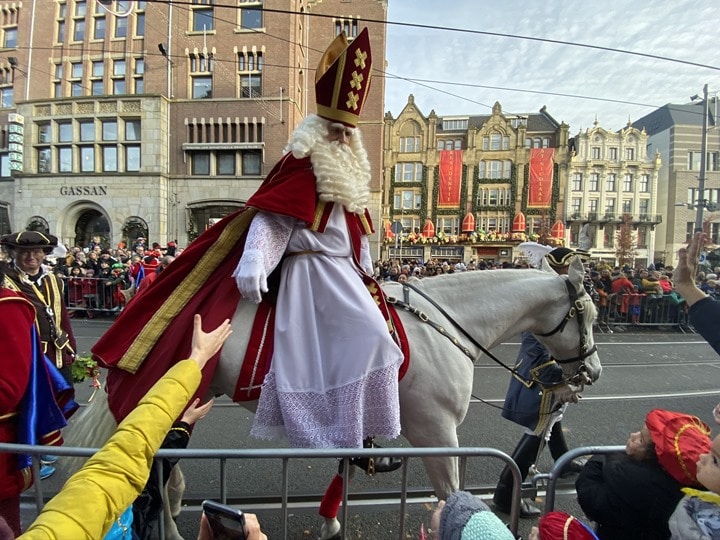 Afterwards, the kids found a giant clog. Not as good as our bike-clog we rented once, but this one would make an excellent sled. If only there were hills here.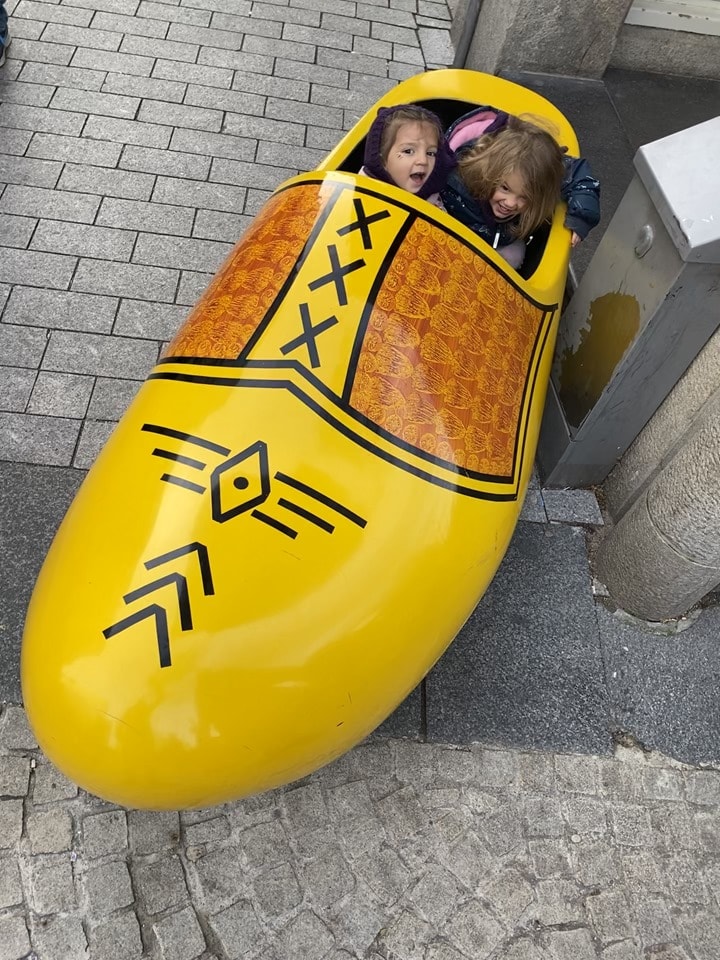 On the way home via bike, none of the kiddos made it home awake. All fell asleep in their respective perches:
P3 would often go inside the Urban Arrow in a car-seat of sorts, but we didn't want to drag around a heavy car seat in thick parade crowds, so she stayed nice and toasty in the chest carrier for the day.
5) Late Night Trainer Fixes
I guess it wasn't that late, though when it gets dark at 3:30-4PM, it kinda feels like it by the time you go for a ride at 8PM. See, while I did the Zumo ride on Saturday, I had planned to do a 4iiii Fliiiight ride. You may remember from last weekend's edition that I ran into some snags there. Well, after a bevy of back and forth's over the course of the week, I got a firmware update that fixes the problem. Unfortunately, the production app was having problems sending the firmware on iOS and PC, so I needed an Android or Mac device to get it all updated. Both of which I had oddly left at the office on Friday.
So off pedaling I went, down to get my Mac and Google Pixel phone to try and get the firmware update to take. I even posted a video on Instagram Stories (yes, I'm actually putting stuff on Instagram Stories these days – my social media skillz are expanding greatly!)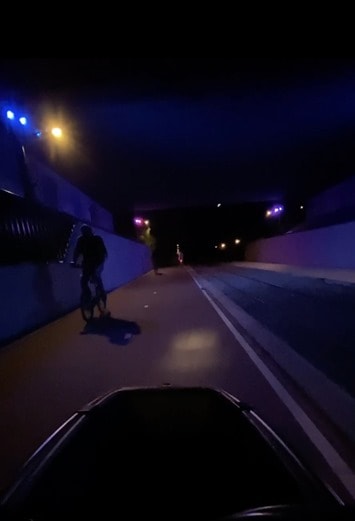 After getting back, the Mac happily updated the firmware on it, using a nifty little Chrome web-app they have. It's super cool actually. And even better is that their smartphone app (which works happily now that I'm on the right firmware version) allows you to control the nifty robotic arms.  Which means I can easily make endless animated GIF's on how awesome these arms are. The SRAM eTAP Review staple across the web was an animated GIF of the shifters moving wirelessly across a table. Wahoo KICKR CLIMB reviews had up and down GIF's. And 4iiiii Fliiiight reviews will have robotic arm movements. Mark my words (mostly, cause I'm gonna GIF the hell out of it!).
As for the firmware fix actually working? Not sure, that's today's ride. But hey…at least I got GIF's.
Thanks for reading and have a great week ahead!