While it may seem a bit quieter on the site in recent weeks – that's mostly because I've been slammed trying to get things all set up in the new space, as well as compiling the huge buyer's guides (Power Meter Guide, Trainer Guide, Sports Tech Gadget Guide). Oh, and arranging the biggest DCR Open House (in just under two weeks) ever! Seriously, it's gonna be massive.  In the meantime, here's the last few days of activity.
1) So much sorting
The last few weeks have mostly been about unboxing, sorting, and cleaning. Generally in that order, but not always. My weekend started at the DCR Cave doing exactly that. I'd take a box of stuffs from downstairs (where things have mostly sat since June), and then move them upstairs. It's here I'd clean and sort them, and place them in the correct and sorted spot.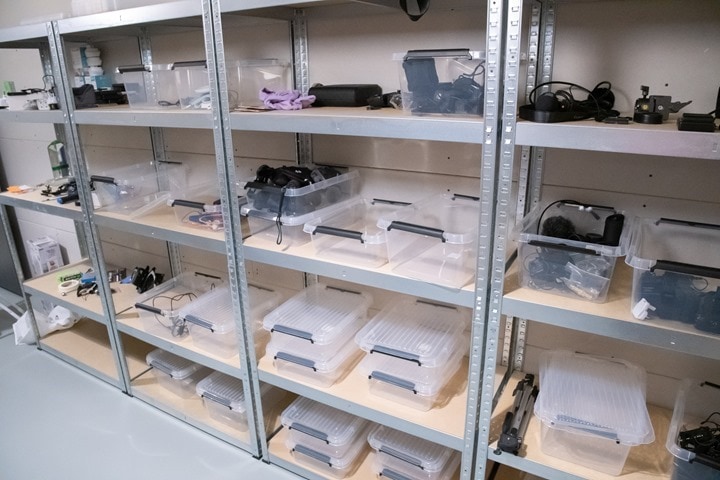 All of this is part of the process of moving into the new DCR Cave (Amsterdam Edition) now that construction has largely wrapped up. The challenge with construction (aside from taking 4+ months) is that it created a lot of dust. Combine that with the seemingly never-ending concrete dust of the downstairs warehouse portion, it was a recipe for…well…more dust.
Ultimately I had to get work done this entire time, and re-opening and closing boxes 18 times a day isn't very practical. I used large tarps over some areas, but inevitably dust got in and around every opened or semi-opened box.  The far table is 'ingest' of taking bins and boxes from downstairs, and where we wipe them down and then sort them into the boxes above (which, are now expertly labeled with advanced masking tape and a pen). There's also twice as many bins as the above photo, all in just a few days.
In the Paris DCR Cave the single biggest limiter (aside from it being a mere 15sq meters) was organization. Sure things might have looked organized in photos or what-not, but in reality finding things was so difficult because I had so much stuff crammed into the same categorized bins.
Now with a gazillion bins (and growing), I can be much more precise about my categorizing. No longer will every charging cable be grouped together, but rather a bit smaller groups now. But anyway, back to cleaning and sorting.
2) Unboxing of a different kind
While I was busy dealing with moving boxes, the last week has had a steady stream of newer boxes come into the DCR Cave, these ones with gadgets in them. Ok, and also furniture and shelving and steel beams, and all sorts of other non-exciting stuff.  But let's talk gadgets.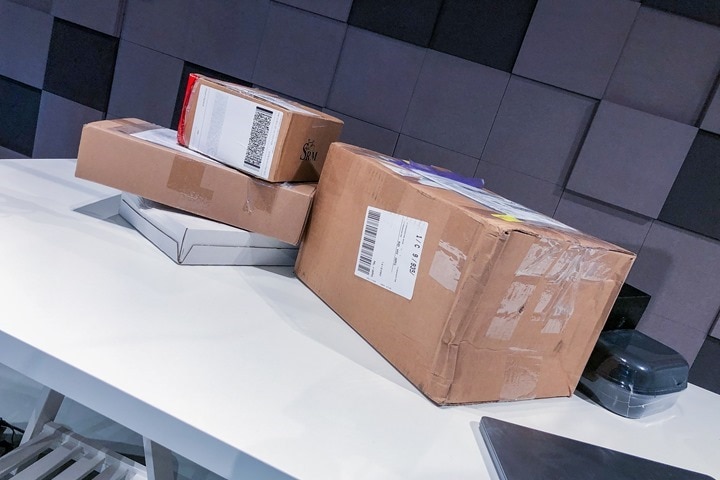 Notably, I got some replacement SRM EXAKT pedals to try and resolve a few issues I've seen (primarily battery drain, though occasionally unexplainable low-readings).  Then there's the new Withings Steel HR Sport watch.  Oh, and actually just this morning (Monday) I got a couple of the new COROS APEX Multisport GPS watches.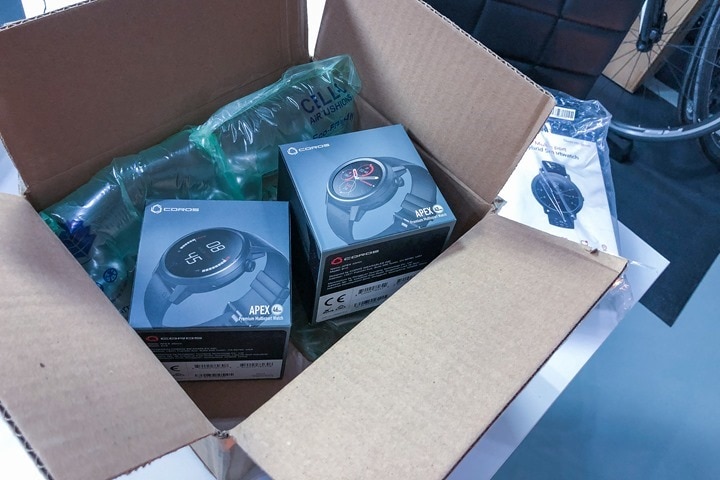 I'm hoping to get out a first run in the next day or so on the new COROS APEX watches.  Essentially these take the existing COROS Pace GPS watch and kick up the style a bit, as well as add a few more training load/recovery type features.  And of course, the price jumps too. Such is tech life.
3) Trips for bins
With The Girl out of town for a few days, I was cookin' along with activities to keep the kiddos busy for a solo Saturday. But, I also needed more of those plastic bins. The good news is the kids absolutely love going for rides in the cargo bike (which is good, since that's basically our equivalent of a minivan). I figured we'd make a trip out of it. With having emptied out the plastic bin stocks of our nearest store, I headed to the next nearest one – across town a ways.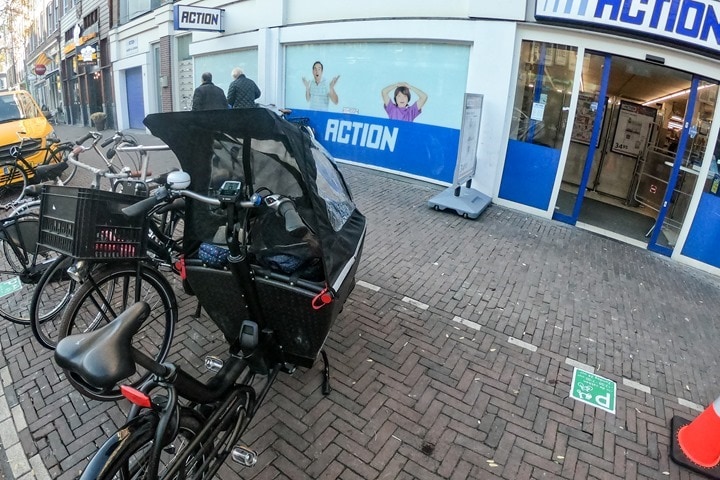 After getting inside we found our bins and I bought about 30 of them – as many as I could carry around the store while also carrying the smallest Peanut too.  Then we found that store had a lineup that wrapped around the inside of it like Christmas lights.  Thankfully Dutch efficiency was strong that morning, and we were out of there in 10 minutes or so.
Then I squished all the bins and kids into the bike and set off back across town. It was a wee bit tight, but, everyone mostly fit. I still need a bunch more bins though. Will probably head out after I finish typing up this post.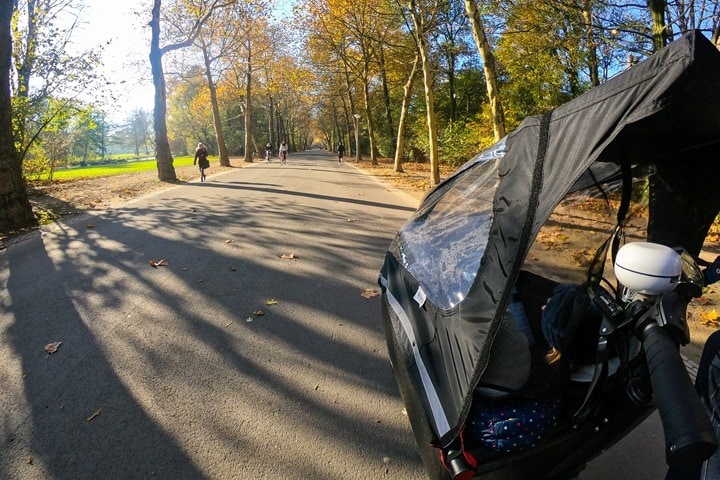 The weekend weather, while a bit chilly, was stunningly beautiful for the ride home. We've mostly been keeping the cover on the bike now since it cuts down on the cold wind for the kids.
4) Sinterklaas Arrival
Sunday afternoon it was time to welcome Sinterklaas to Amsterdam. Sinterklaas is basically the Dutch Santa Claus (and many other countries' tradition as well). Earlier in the morning he arrived by boat to the city, but one of our kiddos decided napping was more important. And any parent knows that waking up kids from a nap is a poor idea. Plus, they only need so much Sinter parade time anyways at this age.
So after meeting up with some other families for lunch we lined the parade route. The initial route in the morning was via canals (some official photos here), the afternoon was via road in a well attended parade. Apparently as part this tradition, costumed men rappel down the sides of buildings.
Our two-year-old was visibly concerned about this entire situation. Partially because she was unhappy with strange men descending from the sky above her head a few meters away, and partly because she didn't like people jumping off of buildings. Either way, she wanted no part of that.
She was also equally suspicious of strangers giving her candy. The same costumed characters (called Piets) also dance down the street ahead of Sinterklaas and give out candy. Lots and lots of candy. But again, strangers giving candy thing. So she wouldn't accept it from them no matter how hard I tried to tell her it was OK, and how these were Santa's helpers, she wanted no part of the transaction directly.
However, she was OK with them putting it into the hood of her coat. Which is what they did for kids like her that lacked bags (apparently we didn't get that memo).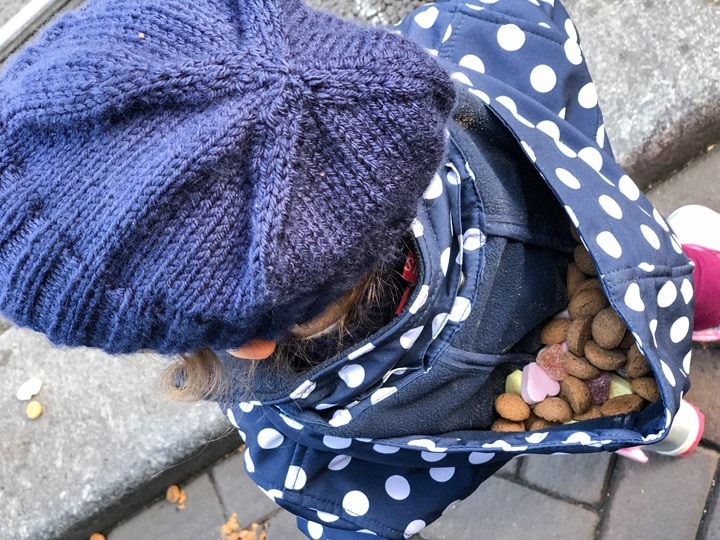 And then she was OK with me taking the candy from her hood and putting it into her pocket, where then she picked up the candy and ate it.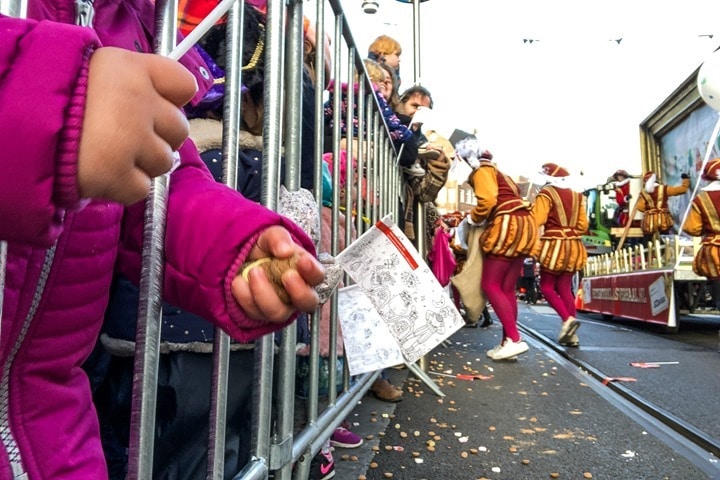 The whole transaction was sorta like a modified dead drop….but sweet. Oh, and the youngest Peanut thought everything was great. Though, no candy for her.
5) Sifting sale deals
Finally, the last item on my list (aside from playing with the kids a bunch) was sifting through sale deals for next weekend. I'll be consolidating these all in a huge Black Friday deals post on Wednesday evening or Thursday morning. I've done this for more years than I can count, and then refresh/update said post as frequently as every hour for the weekend. It's kinda crazy.
Of course, I'm also looking for specific deals for some of my own gadgets and tech items. Now of course, in case you're wondering what type of stuff I have on my BF deals watch list, here's what I've got: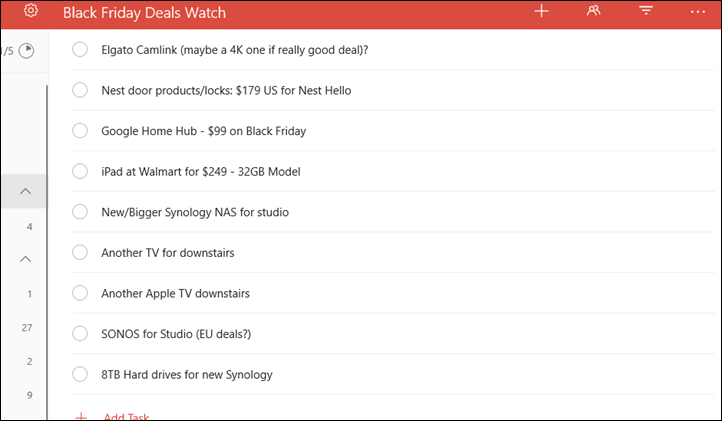 Almost everything is actually for the new DCR Cave. My Synology NAS is out of space and I'm unable to add any more expansion units/disks to it.  I've been putting this off since…well, last year sometime. So I'm hoping to get some good deals at least on the hard drives (8TB ones are kinda the sweet spot right now price-wise).
Things like a new iPad are key because my iPad is 2-3 years old and I stupidly bought the 16GB version, so I'm in a pickle where I can't even keep Zwift and TrainerRoad both installed on it anymore (let alone get the latest iOS updates). Grr… Seriously, the only thing I use this iPad for is testing trainer apps.
We use SONOS at home, but I find it really pricey. So undecided if I'll jump on that for the studio. We used to have it at the Studio in Paris (but not at home), but then we moved them to home during the move to Amsterdam, and now it's kinda hard to give those up.
Anyway, I'm sure I had a point here, but I've got no idea what it is anymore. Other than sometimes folks find these behind the scenes geeky things fun.
With that – I've gotta go and buy more bins before they close up. Thanks for reading, and if you're travelling in the US this week for Thanksgiving – be safe and have a good week ahead!