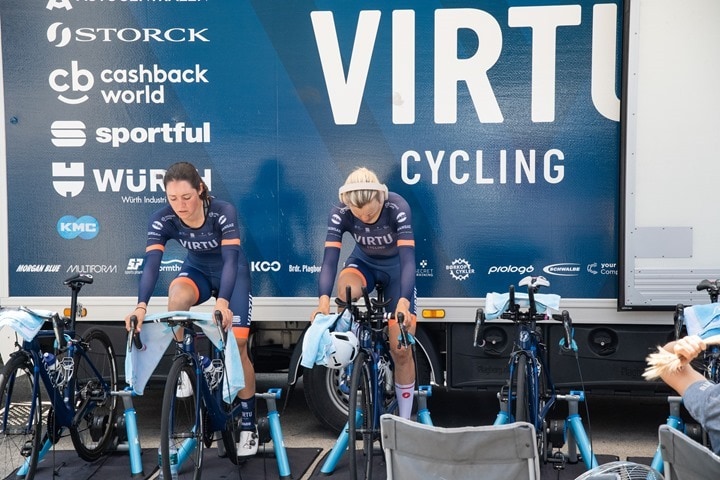 Yesterday I detailed the trainers and power meters of the Men's WorldTour teams (plus a few odds and ends), as seen at the Tour de France. While I generally do that yearly, I also try and profile the women if I'm at an equivalent event – for example at the Tour Down Under, but technically in terms of the women's races – that wasn't technically a WorldTour event, so the classification and associated teams/equipment/etc tends to be a bit lower.
But the Giro Rosa last week is a legit WorldTour event (though not an ASO event like the Tour de France), and generally considered one of (if not the) premier Women's cycling stage events out there.  Of course, today was also La Course – which is a one-day event that ASO puts on in an attempt to pacify critics that say it's ignoring women's cycling. Unfortunately, La Course falls far short of that goal, and ASO's own stated goals a few short years ago for a multi-day stage race. Nobody is realistically asking for a 21-day TdF-like stage race (yet) for the women, but five days or so is very doable with the same attention as the men.  But more on that in a moment.
First, we need to start with the sponsors, which in turn highlight the gear – or rather, the inequalities in it. Just like men's WorldTour cycling, everything revolves around sponsors. And to some degree, it kinda should. After all, this is a professional sporting event, and ultimately a business. The purpose of almost any business is to make money. And as such, there's an implied goal for that entire chain (from rider to team to sponsor to race organizer) to ensure that the sport is sustainable. Be it a men's or women's sport, if it's not financially sustainable then it's not healthy as a professional sports league.
On the flip-side, just like startups in Silicon Valley – there's often a period of non-profitability that must be endured to bridge the gap between initial operating years of a business to eventual profitability. As long as a product (read: event) shows consumer interest and a path to profitability – then it should be pursued as a business venture. And despite ASO's attempts to squander La Course, it actually has shown extremely strong interest from viewership and the general public.
But again, we're getting distracted. Let's talk trainers before I explain why everything quickly falls apart.
Actually, wait – one more distraction. If you want a feel for the flavor of the Giro Rosa beyond just all this technical stuff – watch GPLAMA's short 4-minute video recap of the stage:
It helps set the stage for things a bit.
The Trainers: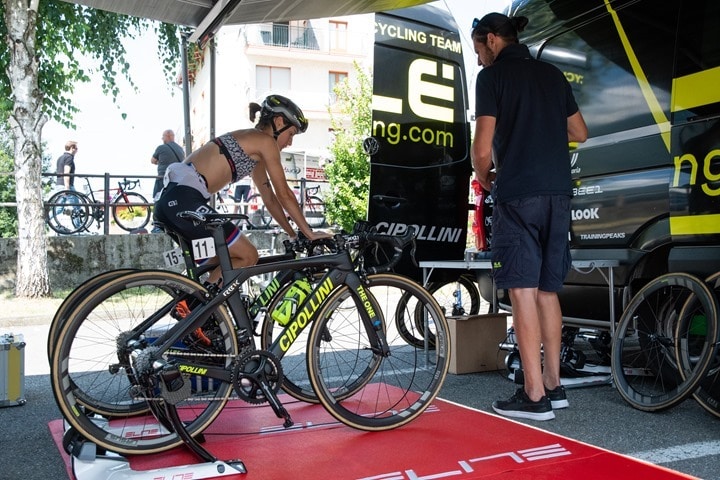 I'll be honest – as we drove up the road into the Italian Alps to check out the Giro Rosa time trial stage last week, I was already mentally ready to start filing off e-mails to PR leads at Tacx and Elite if I saw sub-par equipage of trainers of the Tacx & Elite sponsored women's teams. Meaning, in the case of Tacx for example having equipped their men's team's with top of the line NEO's, but perhaps only giving the women lesser trainers. Or Elite doing the same.
But…I was pleasantly surprised to the contrary for the most part.
Both Tacx and Elite teams largely had their top end trainers available and onsite with their women's teams. Albeit with some logical conditions. Some teams it turned out actually preferred some of the lower end, but far lighter and easier to manage, trainers. And this makes sense. With a Tacx NEO approaching 50lbs (~23KG), they're a beast to manage with 6-8 of them. And unlike the WorldTour men's teams with usually one if not two giant high end team busses, only a handful of women's teams have equal sized buses (and only one). Most are rollin' in a combination of small loaned RV's or just the equivalent of airport shuttle vans.
So what were the teams using? Let's dive into it all:
*ALE CIPOLLINI: Elite Trainers
AROMITALIA – BASSO BIKES – VAIANO: N/A
*BEPINK: Elite Trainers
*BIGLA: Tacx NEO2 Trainers
*BIZKAIA – DURANGO: BKool Smart Pro 2 Trainer
*BOELS DOLMANS CYCLING TEAM: Tacx NEO2 (+ 1 set of Tacx rollers)
BTC CITY LJUBLJANA: Tacx Trainers
*CANYON//SRAM RACING: Tacx Trainers
*CCC-LIV: Tacx Satori Trainers
COGEAS METTLER PRO CYCLING TEAM: Elite PowerMag
*CONCERIA ZABRI – FANINI: Elite Sponsored Team (but couldn't find)
*EUROTARGET BIANCHI VITTORIA: Elite Trainers
*FDJ NOUVELLE AQUITAINE FUTUROSCOPE: Elite Trainers
*LOTTO SOUDAL LADIES: Tacx Rollers, Tacx Booster Trainers
*MITCHELTON SCOTT: Elite Trainers
*MOVISTAR TEAM WOMEN: Elite Qubo
PARKHOTEL VALKENBURG: N/A
SERVETTO – PIUMATE – BELTRAMI TSA: Elite Trainers
*TEAM SUNWEB: Elite Qubo
*TEAM VIRTU CYCLING: Tacx Booster
*TOP GIRLS FASSA BORTOLO: Elite Trainers
*TREK – SEGAFREDO WE: CycleOps Hammer
*VALCAR CYLANCE CYCLING TEAM: Elite Arion
WNT ROTOR PRO CYCLING TEAM: [No trainers present during check]

[*Indicates team sponsored by that trainer company. For teams marked N/A, they were hiding somewhere in town not with the rest of the teams.]
Now, a couple of things to note – just because a team was using Tacx or Elite trainers doesn't mean they were sponsored by them. It's just that Tacx and Elite generally offer the best budget options in Europe, so teams often have those around. So above I've highlighted which teams are actually sponsored by Tacx and Elite so you can see the differences there. The CycleOps-sponsored team is also noted as well, as was BKool. There was/is no Wahoo-sponsored women's WorldTour team, though Wahoo does sponsor numerous other individual female pro athletes.
Also of note is that like the Tour de France, there are teams above that technically aren't 'WorldTour' teams, but rather local continental teams invited by the race organizer. There are generally 3-5 of them these days, and it's true whether it's the Tour de France, Tour Down Under, or Giro Rosa (or even Giro). Often these teams are from the host country. The point being, it's like comparing a 'minor league' team to a 'major league' team. They race the same race, but they simply don't have the sponsorship level as a WorldTour team.
For example, one continental team had these trainers outside their vehicle: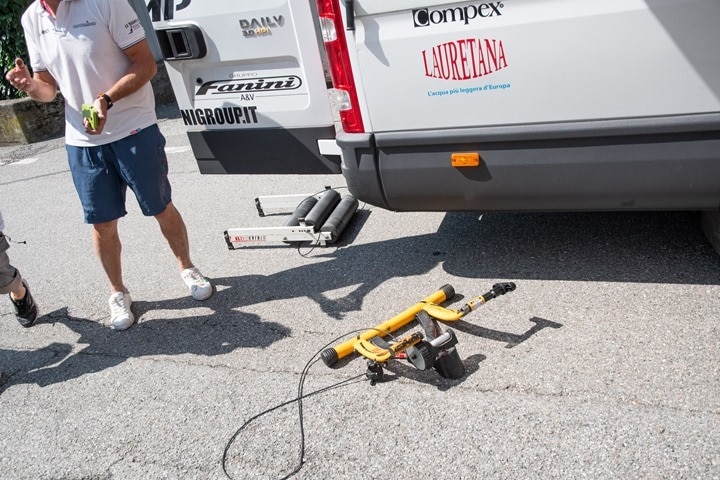 Which, no matter how low down the totem pole a Tour de France team is – you'll never see this. In talking to Elite, they believe these units are about 20 years old. For realz. Note, this team wasn't sponsored by Elite.
From an Elite standpoint, virtually all of their teams were using the Qubo or SuperMag's. In talking with Elite, that's due to preference of those teams for the lighter/easier to pack trainers.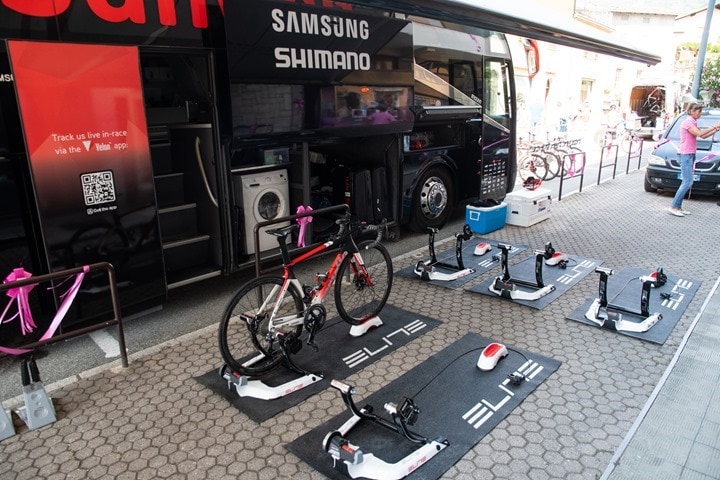 It should be noted that this event occurred five days prior to the announcement of the Elite Suito trainer. Elite noted that it's super likely they'll standardize most of the teams on the Elite Suito (both men's and women's) going into next year since it's compact/lightweight, and doesn't require power. Mitchelton-Scott was using the larger Elite Direto's however.
Though, there was one Elite sponsored team – Top Girls Fassa Bortolo that was clearly riding some pretty old gear: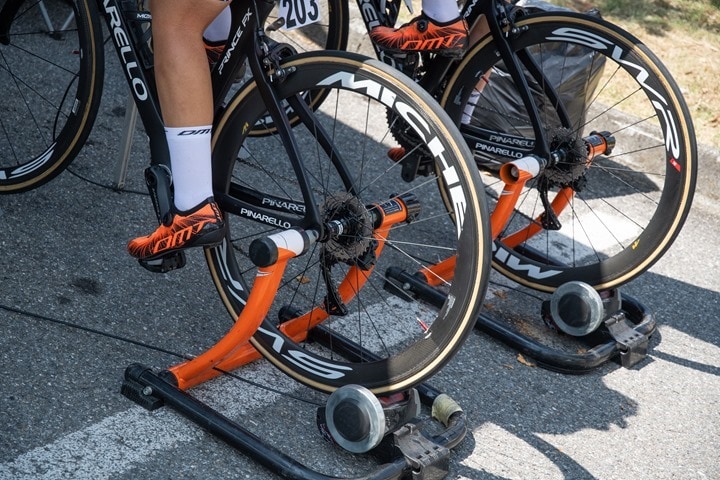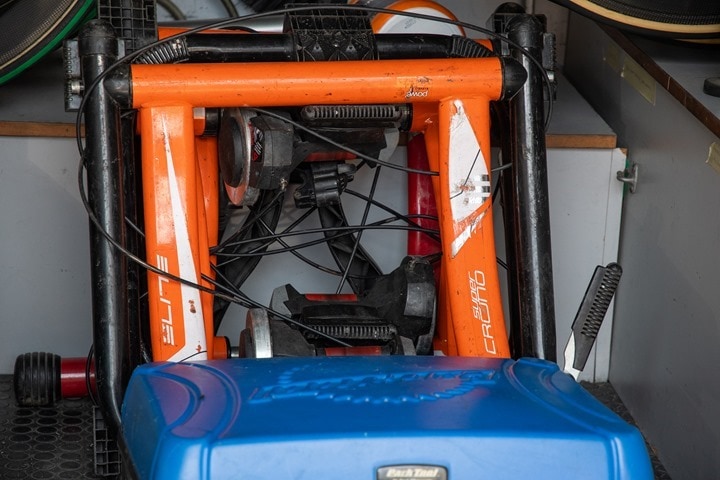 On the flip-side, we've got the super-well equipped Team BOELS DOLMANS CYCLING TEAM, sponsored by Tacx – with a fleet of 12-speed capable Tacx NEO's and some rollers chillin' in the back.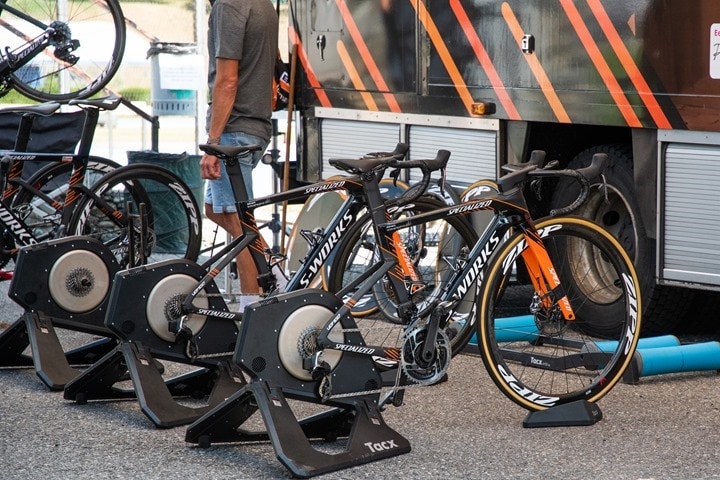 Next, there's CycleOps. They sponsor TREK – SEGAFREDO WE, and were rockin' full on CycleOps Hammer trainers, which do require power. Though, the Trek team bus had no issues dealing with that.
But what was far more interesting was a newer version of this beast hanging out there in front of the team bus: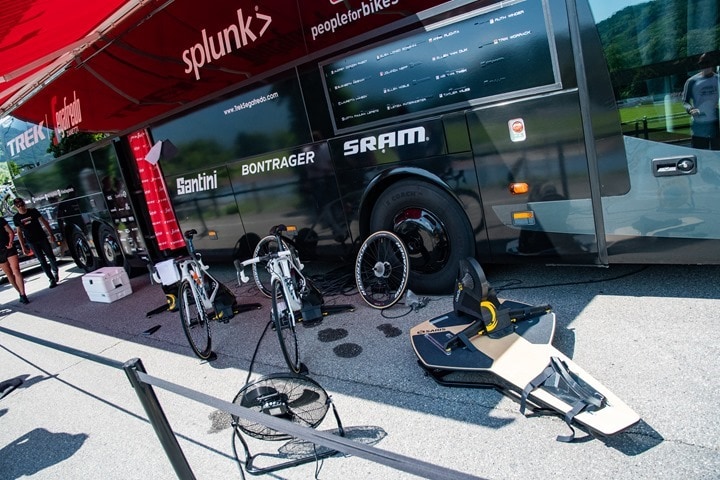 Unfortunately, I can't say anything more about that – other than to note it was indeed there. Perhaps we'll hear more details on it in an official capacity down the road. But props to CycleOps for going above and beyond and actually having their women's team highlight something unannounced that their men's team didn't.
Additionally, it's notable there was a Bkool sponsored team here, team BIZKAIA – DURANGO: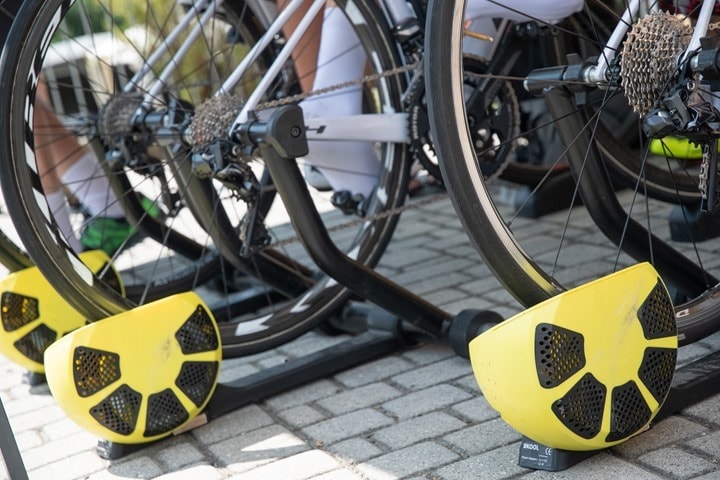 They were using BKool Smart Pro 2 trainers. One interesting tidbit I noticed is that the yellow surface looked pretty rough on these in person (the slight blow-outs of the highlights helps hide it in photos). Something trainer companies probably want to consider in terms of materials/etc when pro teams are using their products.
Finally, here's a bit of a gallery of many of the women's teams on various trainers:
One thing you will notice a bunch (and a trend I've seen at other women's races but rarely at men's WorldTour races) is the apparent preference by a number of riders to warm-up on rollers. Almost all teams had one set nearby. Now whether that was due to issues with thru-axle compatibility on older trainers, I'm not sure – but I thought it was interesting.
The Power Meters: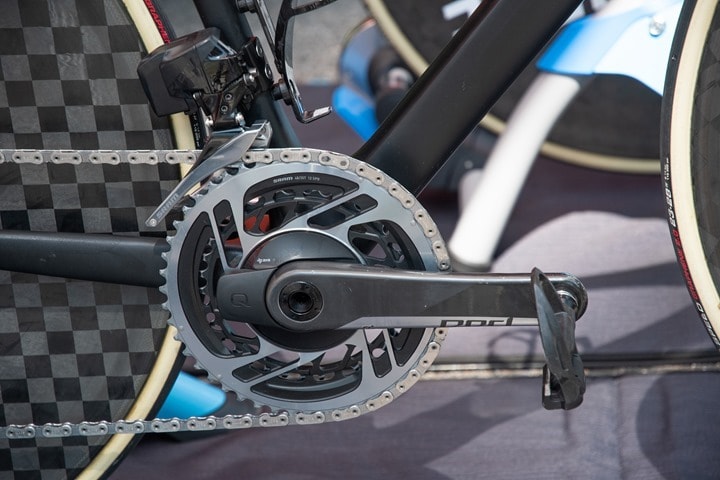 I'm just going to come out and note it upfront: This part is a mess.
Not because of my attempt at cataloging it, but because only a couple teams actually had the entire team on a single power meter brand. Heck, there were some teams that were sponsored by one brand (4iiii), but only one single bike with a unit on it. And yes, we even searched both their available road and time trial bikes. Just one bike appeared equipped.
And lest you think all women had power meters? Nope. Many did not. Unlike the men where virtually every rider in the pro peloton has a power meter on their bike, there were countless women without them. Figuring out sponsored teams? Impossible. It seemed like many just had stickers on the vehicles from half a decade prior.
So instead, here's just a very rough inventory of what I saw. I'm using the term 'Random Blend' to indicate exactly that – a garden variety where each rider was BYOPM (Bring Your Own Power Meter), which is actually a very real reality of women's pro racing. They might have individual sponsors, but very few were completely equipped:
ALE CIPOLLINI: 4iiii Sponsored, but only single TT bike on 4iiii
AROMITALIA – BASSO BIKES – VAIANO: N/A
BEPINK: Random Blend (notably a single Garmin vector 3 user)
BIGLA: ROTOR 2INPower
BIZKAIA – DURANGO: Random blend
BOELS DOLMANS CYCLING TEAM: Quarq/SRAM Sponsored (RED eTAP AXS)
BTC CITY LJUBLJANA: Some Power2Max
CANYON//SRAM RACING: Quarq/SRAM (RED eTAP AXS)
CCC-LIV: Quarq/SRAM (RED eTAP AXS)
COGEAS METTLER PRO CYCLING TEAM: No power meters seen
CONCERIA ZABRI – FANINI: N/A
EUROTARGET BIANCHI VITTORIA: N/A
FDJ NOUVELLE AQUITAINE FUTUROSCOPE: Shimano Power Meters
LOTTO SOUDAL LADIES: Random Blend
MITCHELTON SCOTT: N/A
MOVISTAR TEAM WOMEN: Some Power2Max, most not
PARKHOTEL VALKENBURG: N/A
SERVETTO – PIUMATE – BELTRAMI TSA: Random Blend
TEAM SUNWEB: Some Shimano Power meters
TEAM VIRTU CYCLING: SRM Power Meters
TOP GIRLS FASSA BORTOLO: Random Blend
TREK – SEGAFREDO WE: Quarq/SRAM
VALCAR CYLANCE CYCLING TEAM: FSA PowerBox (mostly)
WNT ROTOR PRO CYCLING TEAM: ROTOR 2INPower

[For teams marked N/A, they were hiding somewhere in town not with the rest of the teams.]
Here's a gallery of some of the power meters, though again, only a handful of teams were equipped across the board with all riders on the same units (or even brands).
For lack of anywhere else to put it – I roughly tried to keep track of mounts and head units. Overwhelmingly Garmin head units, with a few SRM's and a what appeared to be one team on Wahoo BOLT's (WNT-ROTOR Pro Cycling Team).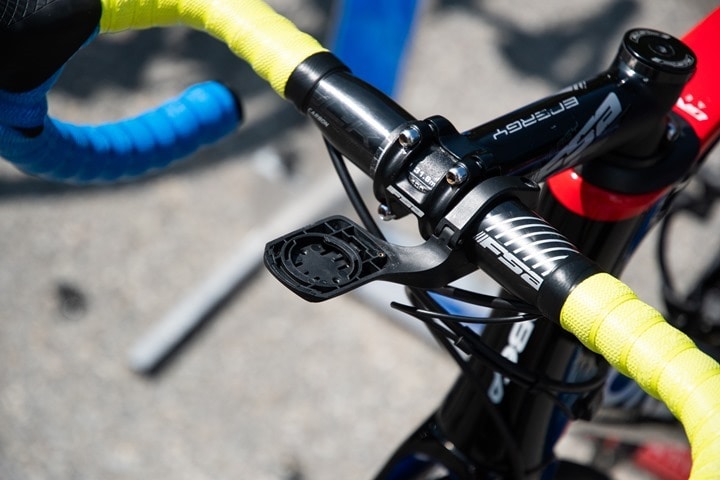 The variety of Garmin head units though was mostly all over the map, with athletes rockin' head units spanning back nearly a decade. In one case, one rider from BIZKAIA-DURANGO was actually racing with this Edge 520: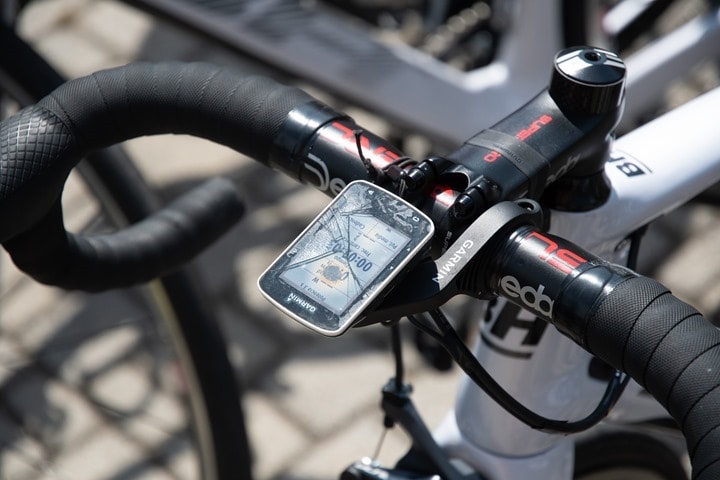 Yup, she was using it as-is to pace her time trial that day. Impressive. Perhaps Garmin Italy will get her all hooked up with a repair. Speaking of which, Garmin does sponsor 11 WorldTour pro cycling teams, though only three of those are women's teams – Trek-Segafredo, Movistar, Rally UHC. Each of these teams basically get a care package of Edge 130/520 Plus/1030 units, plus Varia Radar. Also, teams get Forerunner 935 and Fenix 5 Plus watches, as well as scales. Note that the sponsorships were announced earlier in the year prior to the Edge 530/830/FR945 coming out, so it's probable teams have received newer units since then (and in fact I remember one team tweeting out a pic of all their new units at some point back this past spring). Further note that while Garmin owns Tacx, those teams are accounted for separately above – which then has a far higher/stronger showing.
Also, completing the randomness side, from a mounts standpoint it was super clear: Either teams were on stock out-front mounts from Garmin, or they were on custom aluminum mounts from K-Edge. This roughly matches what we see on the men's side.
Still, as you can see – going back to the power meter side of the equation, it's basically a random lottery of what you'll find.
Wrap-Up: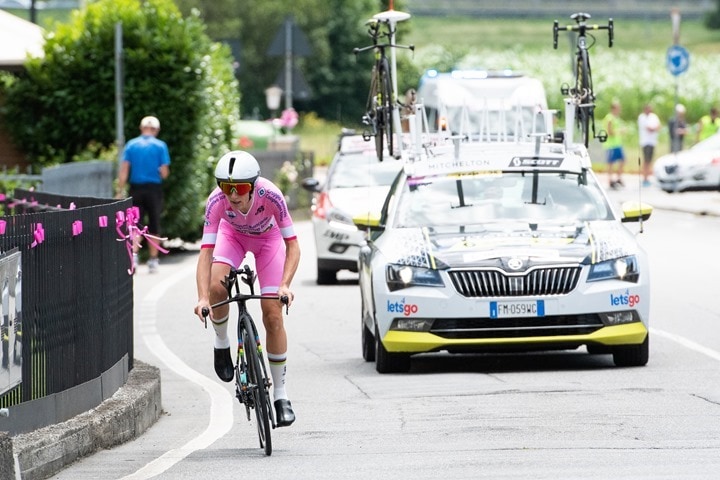 So from an equality standpoint, I fully expect that any company that sponsors both a men's and women's team should equip those teams equally. Or at least to the degree those teams prefer. And that round seems to be the case for Tacx and Elite, though it's clear that many women's teams either don't prefer the larger trainers from each company, or perhaps aren't being offered them. I suspect it's a bit of a blend of both. Both companies said they give basically whatever the teams want. And we see that with some of the larger teams. For example on Mitchelton Scott, both the men and women's teams are using Elite Direto's. And on some of the more well funded Tacx teams (which in turn have more space for heavier trainers), they're both using Tacx NEO's.
However, from a power meter standpoint, it's super clear that brands aren't bothering to sponsor a meaningful number of women's teams. Certainly for the Quarq/SRAM teams I was super excited to see all the Quarq/SRAM sponsored teams running the latest 12-speed SRAM AXS RED systems. This is in contrast to years past when the women's sponsors teams didn't have the top-line stuff at the same time as the men, something I called out at the time (after all, I as a reviewer had it some 6 months prior to that event – as did the men's teams). But as of this past week, those inequalities have been erased from at least one major sponsor.
Still, there appears to be little appetite from other power meter companies to sponsor women's teams. Something I always find strange since in the vast majority of cases here, the teams aren't even asking for additional funds from secondary sponsors – it's usually just equipment provided free of charge.
Ultimately though – change has to occur from the top-down. In talking with former pro cyclist Kathryn Bertine during my time at the Giro Rosa, she noted that while events like La Course were a step, they were far from ideal. Take the Giro Rosa for example – even its calendar placement dooms it to second-fiddle status. It's during the middle of the Tour de France, with 99.999% of the cycling media world covering The Tour. Some publications like Cycling Tips did extensively cover the Giro Rosa, and GCN to a degree as well, but most aren't. There's no live (or recorded) TV coverage of it. Far better placement would be in late June prior to the Tour de France, allowing it much more media attention. Or perhaps the week after The Tour, since at that point many fans will be looking for their daily fix of pro cycling.
The secondary method to start to drive change on some of this front is to the sponsors themselves. During my discussions with Kathryn, she said when they talked to some of the big-name race sponsors (global brands), they weren't even aware in some cases that there were women's teams that wanted to race. In some cases the mere point of having that discussion at high levels has helped turn the tide. And then of course, there's social media pressure too.
Finally, it's worth noting that unlike the men's pro tour scene which is behind barricades with huge security teams, the women's teams are totally accessible to fans. There's no barricades here in the warm-up zones, nor any rider that would refuse a young child's autograph request – boy or girl. Seems like a good sport to keep the focus on to me.
With that – thanks for reading!