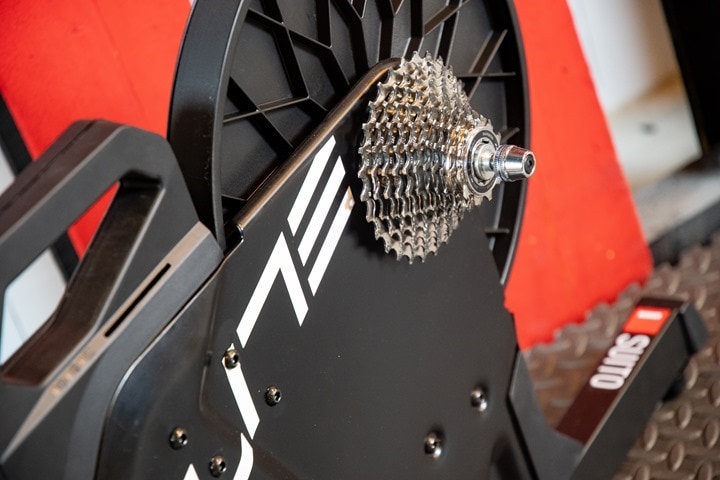 December 2019 Update – Hey folks, my full in-depth review after months of usage is published and available here, definitely go check that out instead!
It's very likely that the just announced Elite Suito will be the trainer to beat for 2019 in terms of value for the money. In many ways, this is repeating Elite's successes of 2017 with the original Elite Direto which dramatically shifted the price equation downwards. Just like then, it appears to be the ideal balance of functionality and price.
Which isn't to say it does anything earth-shatteringly new from a technology standpoint. At this point in the trainer industry, I don't think we'll see any major shifts tech-wise. Instead, it's about creating better value for the money (read: continued lower pricing), and in some cases various accessories.  The Elite Suito will however look dramatically different than existing Elite trainers, but it shares many aspects of the Elite Direto lineup. But there are some improvements over that product line, notably that it's quieter and responds faster in ERG mode.
Though, before we talk all tech, let's just talk. As in, how to pronounce it. Which is always the discussion for any Elite product. This time, the proper pronunciation is akin to sweet-o. Like Cheeto, but, with sweets. You can add some Italian flare in there if you want, it's optional. Also optional, but highly recommend – is watching the below video recap of everything (it includes the audio tests too!).
Oh, and note – this isn't a review. While I do have a near-final production unit, there's some minor tweaks to be had – mainly in firmware, but also even to the packaging. This was considered a test production run, and based on that test there's a few tiny things they want to do. Point being – things could change in terms of my impressions. They're expected to do final production runs in about 2 weeks, with European deliveries occurring in early August, and US deliveries the first week of September (the first few weeks of production actually go to North America, but due to boat shipping times, they'll arrive after Euro deliveries).
And lastly, as usual, this is just a media loaner unit. Once I'm done with the full review I'll ship it back to Elite and go out and get my own. You can use the links at the bottom to help support the site.
The Tech Specs: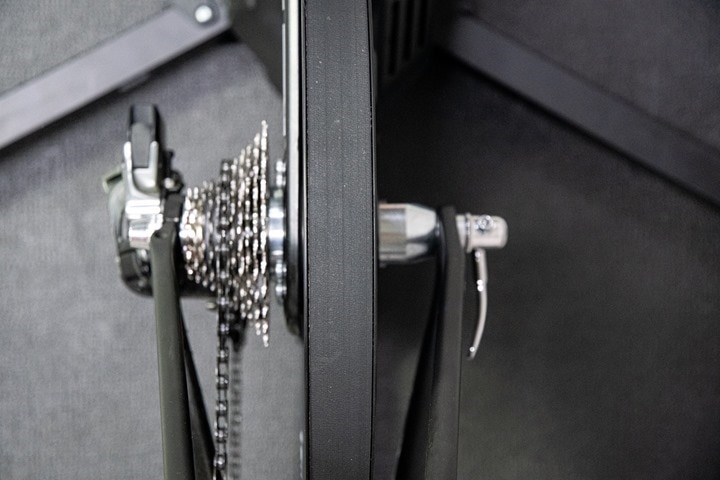 So, let's get straight into the tech side of the question. Ain't got no time to waste! Here's your bulleted top-line tech specs for the Elite Suito.
– Direct drive trainer: This means you remove your rear wheel
– Includes Shimano 11sp cassette (Shimano 105, 11-28)
– Flywheel: 3.5kg/7.7lbs
– Max Simulated Incline: 15%
– Max Resistance: 1900w @ 40kph, 2900w @ 60kph
– Stated Accuracy: +/- 2.5%
– Legs: Adjustable in/out to consolidate, as well as individually adjustable feet
– Sound: Quieter than a Direto, not as silent as a KICKR CORE (less than your fan though)
– Handle: Yes, includes a handle to move around/store
– Protocol Compatibility: ANT+ FE-C, ANT +Power, ANT+ Speed & Cadence, Bluetooth FTMS (Trainer Control), Bluetooth Power, Bluetooth Speed & Cadence
– App compatible: Every app out there basically (Zwift, TrainerRoad, Rouvy, Road Grand Tours, Sufferfest, Kinomap, etc…)
– Compatibility: 130/135 QR, 142×12 thru-axle included (and 148×12 Boost adapter available)
– Weight: 14.5kg / 31.96lbs
– Includes a Zwift 30-day voucher/card in the box
So more or less, it's very similar to the Wahoo KICKR CORE in most categories. The main differences are the KICKR CORE goes to 16% (vs 15% here), the CORE is slightly quieter, and the CORE has a bigger flywheel (5.45kg vs Suito's 3.5kg). On the flip-side, the Suito includes a cassette on the unit so that'll save you ~$60 (+ $15-$20 in tools if you don't have them), and comes fully assembled and has adjustable feet. Further, it supports proper Bluetooth FTMS, and includes cadence inline (a big deal for Apple TV users).
So, let's start with the box side of things. Cause that's where I started. Here it is: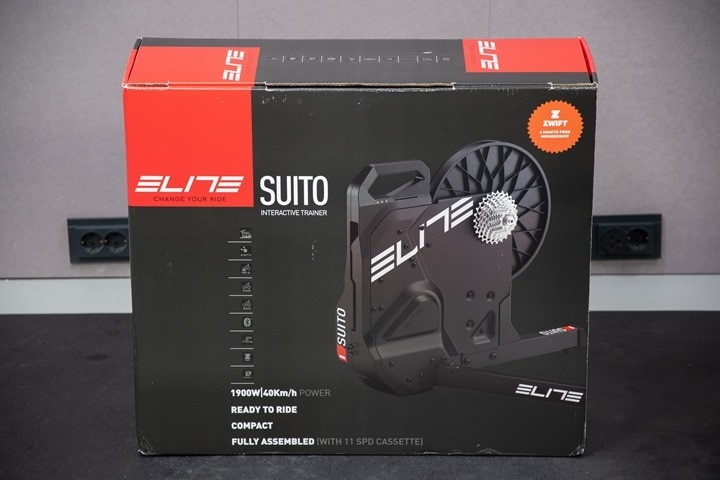 Inside you'll find the trainer 100% fully assembled. Well, I suppose you have to plug in the power cable and then put the skewer on the trainer. But that takes like 6 seconds. No leg assembly to deal with like so many past Elite trainers. Finally!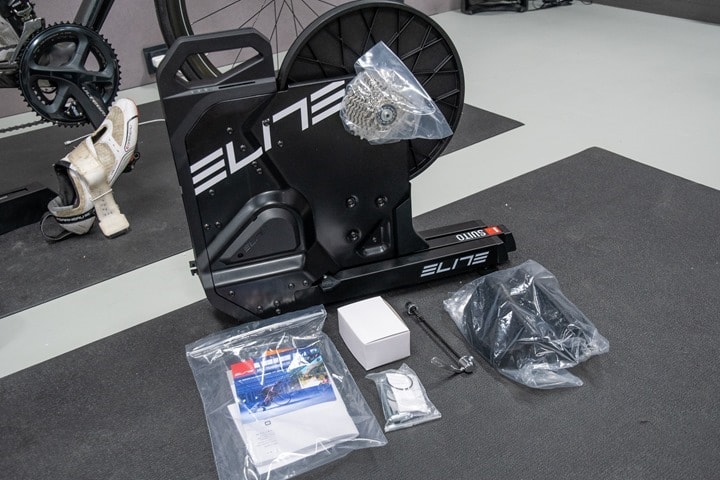 Speaking of that power cord, the unit I received included a rather short 1.5-meter cord cord. However, I've been told that starting sometime in August the production line will switch to a 2.5-meter power cord. For consumers that receive a unit between those two points, they can simply hit up Elite support and they'll send them the longer cord gratis.
The most notable thing about the Elite Suito is that it includes a cassette. This is the only other trainer except the $1,199 Wahoo KICKR 2018 (and all top-end KICKR prior to that) to include a cassette. While cassettes are hardly expensive, I've always found it fascinating (read: stupid) that more higher end trainers don't come with them. A typical cassette will set you back about $50-$60, and then another $15-$20 in tools if you don't already have them. So for a $799 trainer to include a cassette is a huge industry shift. Whereas the $899 Wahoo KICKR CORE doesn't include a cassette.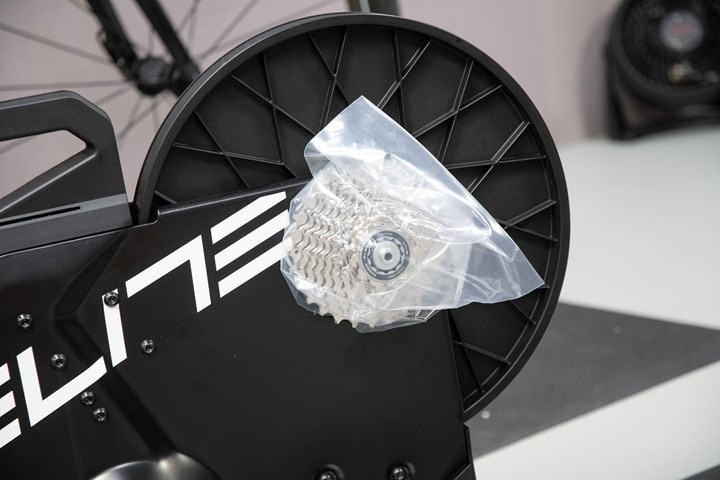 That cassette is an 11-speed Shimano 105 (11-28), and will work just fine with 11-speed SRAM if the rest of your drivetrain is like that (as is mine). Additionally, you can always swap out the cassette for other cassettes including Shimano & SRAM 9/10/11 speed cassettes, or there's a separate freehub adapter available for Campagnolo 9/10/11 speed cassettes.
One minor tidbit that I noticed immediately upon my first pedal strokes was that without a tiny bit of chain lube on my otherwise dry chain, the Suito sounded fairly loud/rough. But after adding a few drops of lube I was good to go. As a result, Elite will be including a tiny little bit of chain/cassette oil in the box so that if your bike is not as ideally maintained (like mine), your trainer will still sound great.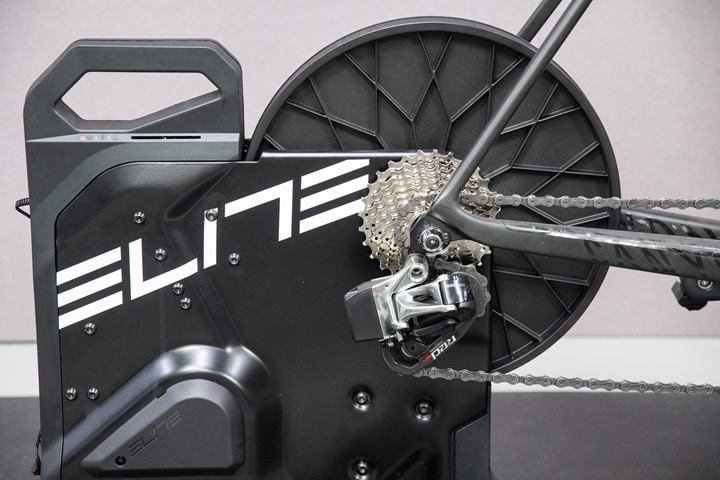 Speaking of attachment type things, the unit includes 130 & 135mm quick release compatibility for standard road bike skewers. Additionally, in the box is a 142mm thru-axle adapter. If you've got a 148x12mm thru-axle (Boost) or a 135x10mm or 135x12mm setup, then Elite has separate accessories for those. Again, this is notable as there's a number of other trainers that don't include the 148x12mm thru-axle adapters in the box at the lower price points.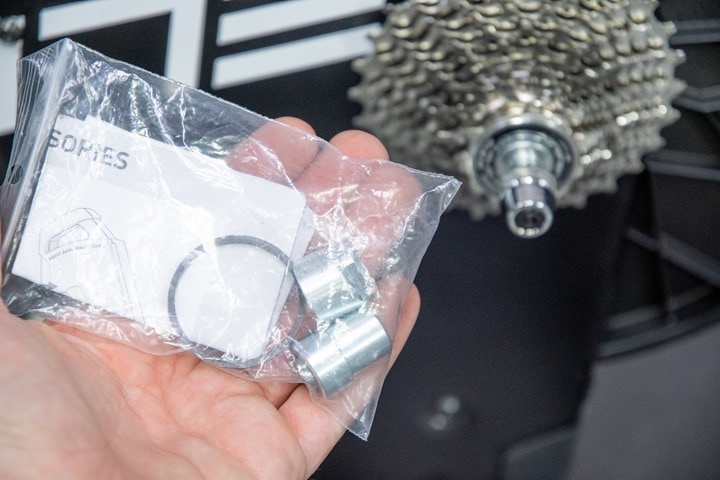 And lastly on the accessory front, it includes a front riser/wheel block. Elite started adding this to the Direto trainers last year (2018), and has continued that down to the Elite Suito as well: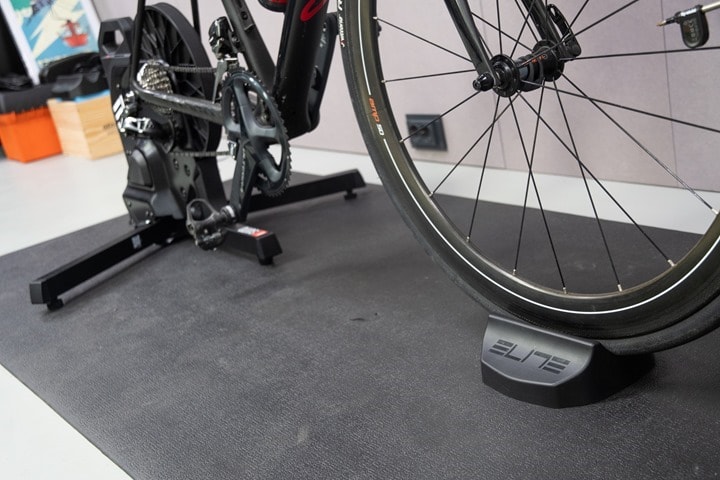 The Suito includes a 3.5kg (7.7lbs) flywheel. This is smaller than the $899 Wahoo KICKR CORE at 5.4kg (12lbs) and less compared to the $749 Tacx Flux S trainer at 6.7KG flywheel (which can simulate 32KG). Flywheel weight is generally what drives how realistic the road-like feel is. But there's not a perfect 1:1 mapping there. Companies can do various secondary belts that multiply the flywheel effect (as Elite has done in the past), or in the case of the Tacx Neo, have no physical flywheel at all, but a virtual one. Still, from a road-like feel standpoint it's about the same as an Elite Direto to me, and not as good as the Wahoo KICKR CORE – felt primarily during accelerations.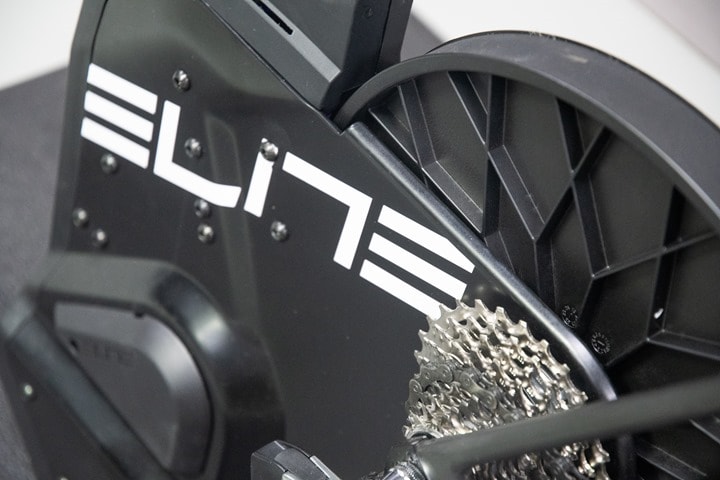 The belt is also a tiny bit wider than the Direto belt, while the case is obviously much thinner than the Direto, with both sides being two sheets of metal versus the plastic shell found on the Direto.
Finally, before we get to the pedaling side of things, let's talk protocols. The unit supports ANT+ & Bluetooth Smart in the most open way of any company out there. It supports all of the following:
– ANT+ FE-C Trainer Control (including power/speed/cadence)
– ANT+ Power Meter Broadcast (including power/speed/cadence)
– ANT+ Speed/Cadence Sensor Broadcast
– Bluetooth Smart FTMS Trainer Control (including power/speed/cadence)
– Bluetooth Smart Power Meter Broadcast (including power/speed/cadence)
– Bluetooth Smart Speed/Cadence Sensor Broadcast
Neither Wahoo nor Kinetic support this. And Tacx is a bit of a mixed bag on the FTMS side.
The inclusion of cadence in all of the signals is a huge deal for Apple TV users, whereby Apple TV is limited to two Bluetooth Smart connections (plus the Apple TV remote). So Wahoo users for example have to choose between having heart rate or cadence, whereas with the Elite Suito you'll be able to pair the trainer and get all the data: Control/Power/Speed/Cadence + heart rate from your own HR sensor.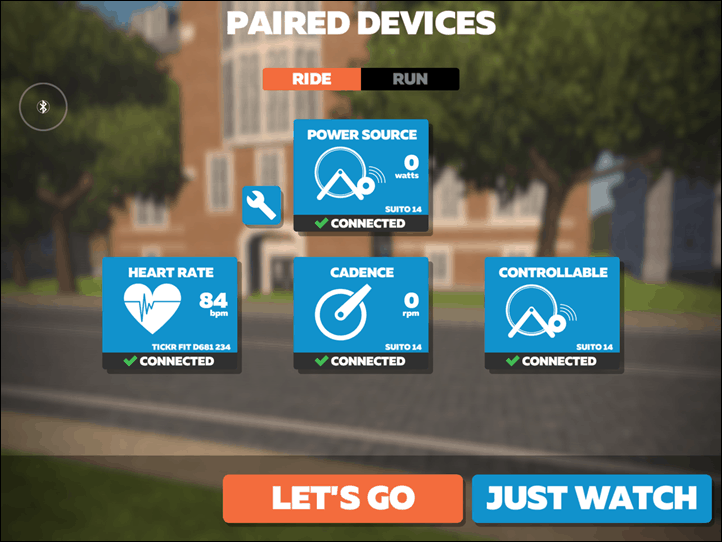 Also of note is that the Elite Suito includes their 'power meter link' feature, which means the trainer can pair to your power meter to have the two values match (effectively ensuring the trainer matches your power meter). I'm not usually a huge fan of using this feature on any trainer unless you've got a really specific use case. But it's there for those that want it.
On more thing before we talk first ride is the folding capability. The unit folds up easily so it can fit into smaller places. I suppose you can easily lie it down on it's back (side?) too, and it'll probably fit under some beds. The stack height when folded this way I measured at approximately 8in/20cm including the skewer: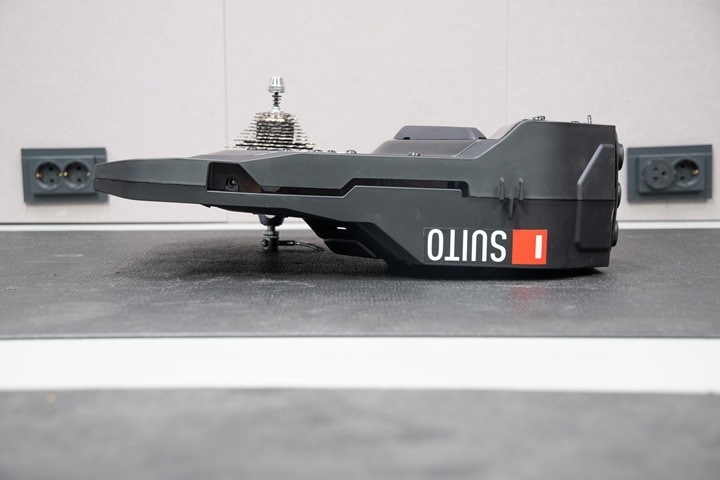 And here's a before/after with its legs extended:
Ok, with all that covered, let's get onto riding it.
First Ride Data: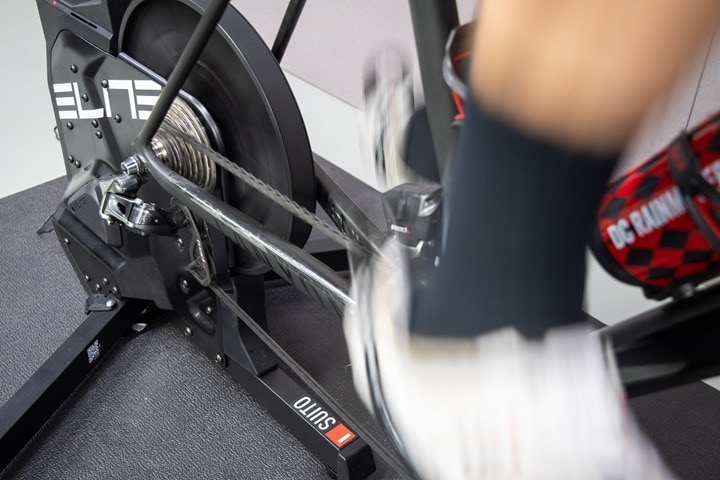 Technically speaking, I think I'm on my 2nd ride by now. But the first ride was just some quick setup type validation, whereas this second ride was a little bit longer. Definitely not a full test, but enough just to get the feel for things.  Keep in mind the firmware isn't finished on this, and there's already some tweaks in the pipeline based on some of my initial ride feedback.
For both of my initial rides I just used Zwift in regular simulation mode (non-workout mode). I'll likely take TrainerRoad for a spin sometime later today (Monday), if life cooperates, allowing me to test out ERG mode.
Speaking of Zwift, one semi-unique selling point here is the inclusion of a free 1-month trial of Zwift. Many other trainers include 7-day trials, but 1-month is pretty rare. There's a little credit card thingy found in the box, and on the back of it is a disturbingly long code you can input into Zwift for the 1-month of freedom.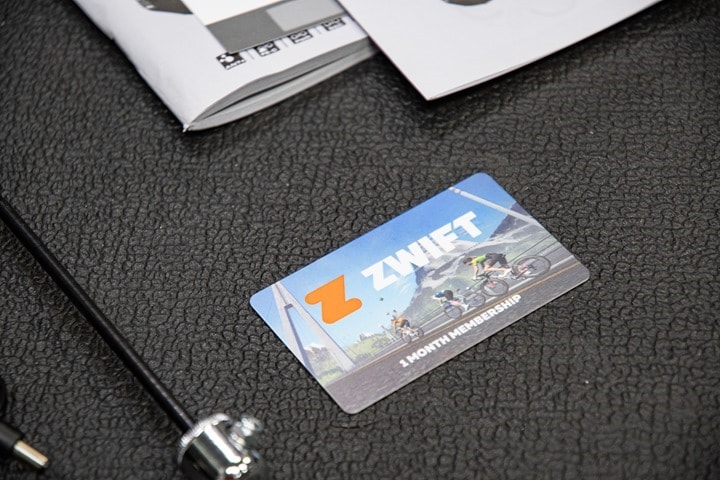 In my case, I've long been paying for Zwift, so this wasn't terribly useful for me. Though, at least it was pretty. I cracked open the app and got Zwift all paired up. Apparently this is Suito #14 off the assembly line.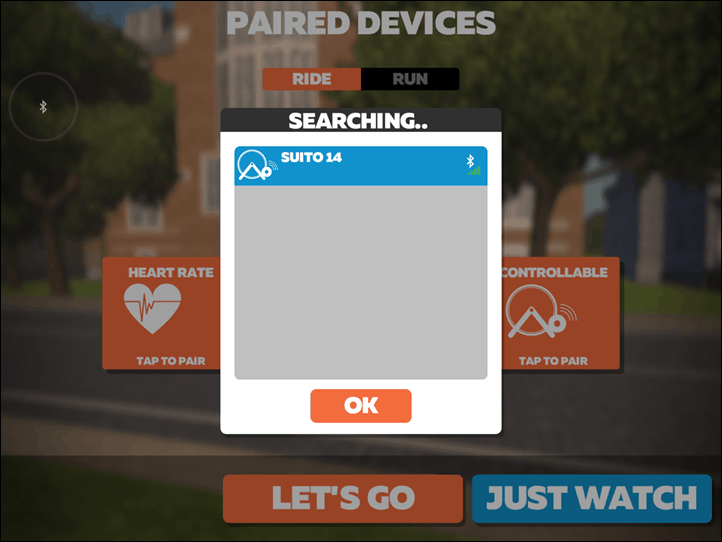 You'll notice I've got it paired as a controllable trainer, the power meter, and then the cadence as well. For the heart rate I ended up on a TICKR FIT for this ride – all paired via Bluetooth Smart.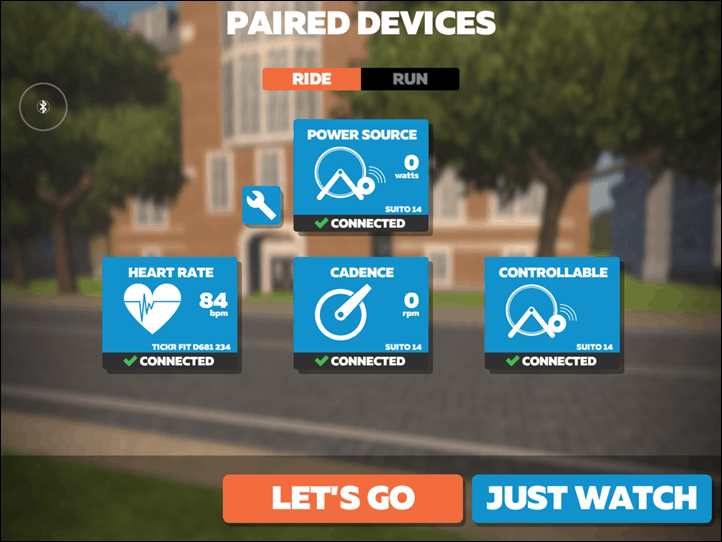 At this point, off I went – pedaling away. I ended up doing a few loops of Zwift's NYC Central Park, which includes some nice rollers and a few brief climbs up to about 12% I believe (on the park perimeter loop):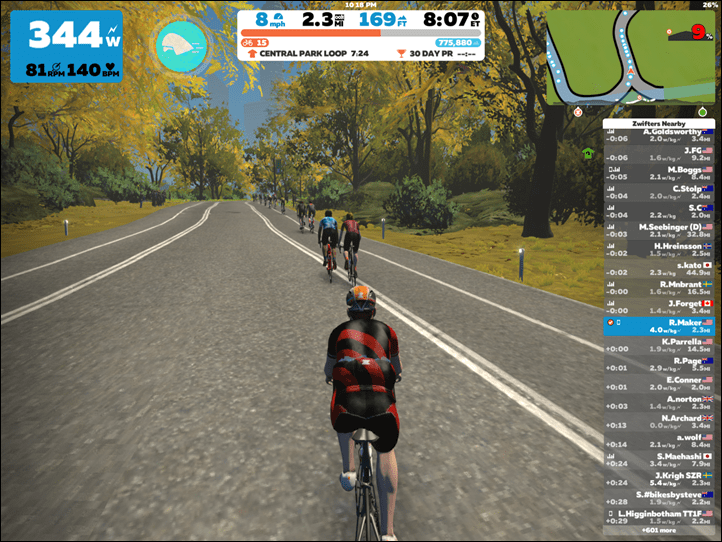 From a ride feel standpoint it was mostly good, though certainly not at the same level as something much higher end (but also not horribly far away either). As I often note – at the end of the day I'm still staring at a wall inside, there's only so much a company can do to simulate the outdoors in any meaningful way. But still, accelerations and such were fine – and there wasn't the grinding feeling found on some lower-end trainers.
Sound-level wise, I'd wager it was quieter than an Elite Direto, but certainly not at the same near-silent level of a Wahoo KICKR/CORE. I've got a video coming up sometime today over on YouTube that'll cover exactly this. Just running out of hours in the day this past weekend.  Also, no issues with the quality of the included cassette. Not that I'd expect that on a 105 either. Sure, the greater Shimano 105 groupset isn't the pinnacle of engineering tolerances compared to an Ultegra or Dura-Ace one, but for the most part the 105 cassettes are just fine (even when mixed in with a SRAM RED eTAP groupset like I was doing).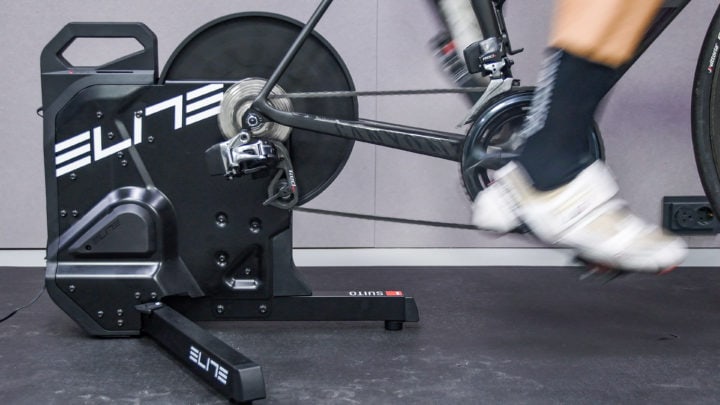 But now it's time to shift our focus to the power accuracy bits. Keeping in mind that this *will* change. Mostly because Elite has already stated it'll change, specifically around the sprint accuracy. Ideally/hopefully, it'll change for the better. Here's the data from this ride, compared against the Favero Assioma Duo pedals and the 4iiii Precision Pro power meters.  Full DCR Analyzer data set here:

(Note: I've divided this ride up into two chunks, because Zwift on iOS has a bit of a weird quirk where if you change to a different app for a second, it'll create a delay in the data, so I did that around the 17 minute marker, and then things were offset for a few seconds. So I've adjusted for that in the later graphs.)
What you see above is that for the most part the Elite Suito is similar to the other power meters (namely the Favero Assioma Duo pedals via an Edge 530) during the majority of it. We see it slightly lower, as expected, since it's further down the drive chain. Oddly the 4iiii Precision Pro unit connected to a Garmin MARQ over ANT+ showed a number of dropouts. I don't believe I've seen this on any previous rides with this combination, so it's unclear if this is something in the DCR Cave for this ride that caused that.
If we zoom into the sprint a bit, we'll get a bit more clarity on things at higher outputs. In both the above/below graphs I've added smoothing of 10-seconds to make it easier to see. It seems highly unlikely the 4iiii Precision Pro power is accurate at nearly 800w for 10-second smoothed value. Whereas the Elite Suito and known-good Favero Assioma pedals are near identical.

However, you'll notice that at the end of the sprint, the Elite Suito seems to somewhat ignore the pullback in power, likely due to the speed not catching up, and throwing the algorithm a bit. The Elite Suito (like many trainers these days), doesn't have a built-in power meter. I don't particularly care whether a unit does or doesn't have a power meter in it, some of the highest end trainers don't have them and report perfectly accurate power. All I care about is whether the number is accurate, the means are irrelevant in 2019.
Now what you'll see a bit later on is the small issue I saw on my first test ride (more of a quick break-in), whereby the Suito will undercut power on less-intense sprints. So in the above case, it was a very rapid sprint. Whereas in the below case it was more of a gradual/sustained build. And it's oddly in that case where I see the undercuts:

Though, on the second one which is sharper, you'll see it appears to slightly overshoot. Like I said, some imperfections here to work on. Again, in talking with Elite about this, they believe they can adjust things and address it before it goes into production in the next few weeks.
As a reminder, the Wahoo KICKR CORE also overshot sprints when it first came out – and took about three months to get it addressed (after it started shipping). So this isn't really unchartered territory by companies. In fact, the Tacx Neo 2 also had some sprint accuracy issues that took a bit of time to sort out.  And hey, CycleOps still (two years later) is the favorite among Zwift sprinters for generously overshooting sprints.
Just a brief note on cadence – in case you were wondering. The Elite Suito uses a bit of black magic to determine cadence, just like most other companies (except Tacx with the NEO2, where they are sensing the pedal instead). Here's how that cadence data looks on the Suito:

You'll notice it's pretty darn close, with roughly two blips of a few seconds being higher/lower than the others. I suspect for most people that aren't doing hyper-specific cadence drills, this is more than adequate. Whereas if you want more accurate cadence you'll want to pick up a separate cadence sensor.
As part of my full in-depth review down the road once things start shipping, I'll dive into many more data sets across multiple apps and different scenarios. This is just a bit of a quick first look at things. And again, I expect (hope) things will change prior to shipping.
Update – ERG Mode Test: I've now had a chance to run it through a nice proper 30×30 TrainerRoad ERG mode session. This tests how quickly the trainer can respond to shifts in power, as well as stability of holding power. For these tests I disable any form of power matching or smoothing, and I use the exact same custom workout across all trainers. Per typical recommendation of TrainerRoad and manufacturers, I put the bike's gearing in the small ring in the front and mid-way on the rear cassette.
The test itself is a very short build, followed by 30 seconds on (this time at ~400w, or 396w to be precise), and then 'off' for 30-seconds at about 142. Rinse and repeat 8 times, then a short section at about 285w afterwards.  Here's how that looked. Note: Ignore the blue line, I had reduced the intensity prior to the start, but TrainerRoad doesn't show that (somehow, still, all these years later).

The green line indicates the specified power, and the yellow line indicates the actual power. For responsiveness, the unit took on average 3-seconds to adjust between 142w and ~400w, pretty consistently each time.
Now, one oddity that did occur was on the 6th interval, it simply didn't change at all. Whether this was a communications issue (extremely likely) or something else is unknown. About mid-way through the interval it 'took' and changed the wattage. Typically this happens due to wireless interference, though I'd have somewhat expected that TrainerRoad would be sending commands every second to maintain the interval wattage (to mitigate exactly this scenario). Perhaps it does and the Elite Suito didn't respond. I'll follow-up with TrainerRoad.
From a power accuracy standpoint, here's how it compared against the Favero Assioma Duo and 4iiii Precision Pro (dual as well). In this case we're looking at ensuring the trainer isn't 'lying' about the power meter numbers it says it's holding to the app (there's a long history of trainers that do that). So effectively using the power meter as the arbitrator of things. Here's that data set:

That's super-duper close. Some slight variations at the peak of each interval, mostly due to my cadence drifting a bit, which means you're going to get slightly different transmission rates on the power meters which in turn impacts recording timing. But really darn close. I'm content with that for this stage of things, but want to ensure any changes coming for the other bits of firmware fixes don't impact this.
(Note: All of the charts in these accuracy sections were created using the DCR Analyzer tool.  It allows you to compare power meters/trainers, heart rate, cadence, speed/pace, GPS tracks and plenty more. You can use it as well for your own gadget comparisons, more details here.)
Product Comparison:
I've added the Elite Suito into the product comparison database, and for the purposes of this post I've compared it against the Wahoo KICKR CORE, the Tacx Flux S, and the Elite Direto 2018. I suppose I could have thrown in the Tacx Flux 2, but you can do so yourself via the product comparison tool here – adding in any other trainers as you see fit.
Function/Feature

Elite Suito
Elite Direto (2018)
Tacx Flux S
Wahoo Fitness KICKR CORE
Copyright DC Rainmaker - Updated June 15th, 2023 @ 8:13 am New Window
Price for trainer
$799 (incl cassette)
$849 ($799 for 2017 models)
$749USD
$899
Trainer Type
Direct Drive (No Wheel)
Direct Drive (No Wheel)
Direct Drive (no wheel)
Direct Drive (No Wheel)
Available today (for sale)
Yes
Yes
YEs
Yes
Availability regions
Global
Global
Global
Global
Wired or Wireless data transmission/control
Wireless
Wireless
Wireless
Wireless
Power cord required
Yes (no control w/o)
Yes (no control w/o)
Yes
Yes
Flywheel weight
3.5kg/7.7lbs
4.2KG/9.2LBS
6.7kg (simulated 25kg)
12.0lbs/5.44kgs
Includes cassette
Yes (11 Speed SRAM/Shimano)
No
No
No

Resistance

Elite Suito
Elite Direto (2018)
Tacx Flux S
Wahoo Fitness KICKR CORE
Can electronically control resistance (i.e. 200w)
Yes
Yes
Yes
Yes
Includes motor to drive speed (simulate downhill)
No
No
No
No
Maximum wattage capability
1,900w @ 40KPH / 2,900w @ 60KPH
1,400w @ 40KPH / 2,200w @ 60KPH
1,500w @ 40KPH
1800w
Maximum simulated hill incline
15%
14%
10%
16%

Features

Elite Suito
Elite Direto (2018)
Tacx Flux S
Wahoo Fitness KICKR CORE
Ability to update unit firmware
Yes
Yes
Yes
Yes
Measures/Estimates Left/Right Power
No
9EUR one-time fee
No
No
Can directionally steer trainer (left/right)
No
No
No
No
Can simulate road patterns/shaking (i.e. cobblestones)
No
No
No
No

Motion

Elite Suito
Elite Direto (2018)
Tacx Flux S
Wahoo Fitness KICKR CORE
Whole-bike physical gradient simulation
No
No
No
With KICKR CLIMB accessory
Can rock/tilt side to side (significantly)
No
No
No
No

Accuracy

Elite Suito
Elite Direto (2018)
Tacx Flux S
Wahoo Fitness KICKR CORE
Includes temperature compensation
Yes
N/A
Yes
Yes
Support rolldown procedure (for wheel based)
Yes
Yes
Yes
Yes
Supported accuracy level
+/- 2.5%
+/- 2% (Sept 2018 models, +/- 2.5% for earlier models)
+/-3%
+/- 2%

Trainer Control

Elite Suito
Elite Direto (2018)
Tacx Flux S
Wahoo Fitness KICKR CORE
Allows 3rd party trainer control
Yes
Yes
Yes
Yes
Supports ANT+ FE-C (Trainer Control Standard)
Yes
Yes
Yes
YEs
Supports Bluetooth Smart FTMS (Trainer Control Standard)
Yes
Yes
Yes
YEs
WiFi or Ethernet
No
No
No

Data Broadcast

Elite Suito
Elite Direto (2018)
Tacx Flux S
Wahoo Fitness KICKR CORE
Transmits power via ANT+
Yes
Yes
Yes
Yes
Transmits power via Bluetooth Smart
Yes
Yes
Yes
Yes
Supports Multiple Concurrent Bluetooth connections
No, just one
No, just one
No, just one
Yes, 3 Concurrent
Transmits cadence data
Yes
Yes
Yes
Yes
Bridging or re-transmission
No
No
No

Purchase

Elite Suito
Elite Direto (2018)
Tacx Flux S
Wahoo Fitness KICKR CORE
Amazon
Link
Link
Link
Link
Backcountry.com
Link
Link
Competitive Cyclist
Link
Link
Link
REI
Link
Link
Link
TPC
Link
Link
Wiggle
Link
Link
Link
Link

DCRainmaker

Elite Suito
Elite Direto (2018)
Tacx Flux S
Wahoo Fitness KICKR CORE
Review Link
Link
Link
Link
Link
Two minor tidbits that don't really show up as well on this chart is that I don't find the Tacx Flux S road-feel all that great (kinda sounds grinding-like), and it doesn't fold up at all. Nor does things like setup time or included Zwift/app trials. Perhaps considerations for the future.
Again, don't forget you can mix and match and create your own product comparison graph/chart using the tool here.
Wrap-Up: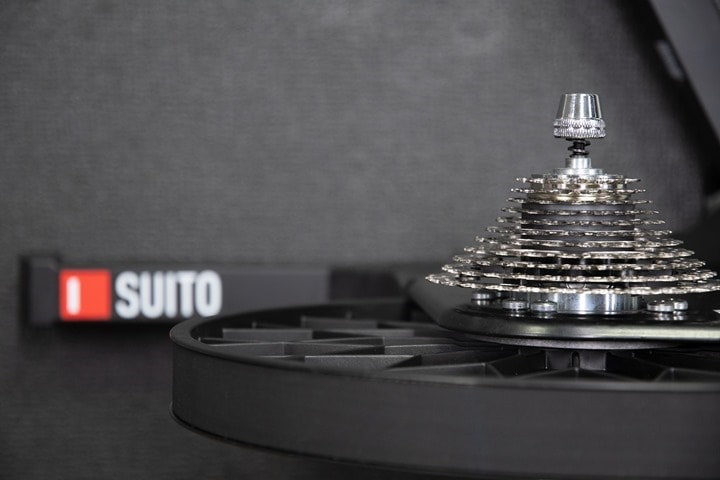 When it comes to indoor training in 2019, there's essentially two ways companies can 'innovate'. The first is by advancing new technology that changes the ride experience in a meaningful way. For example, a couple years back we saw Wahoo add elevation via the KICKR CLIMB accessory, or Tacx prior to that with the exceedingly quiet NEO.  The second way to innovate is on price and value, which is what Elite has focused on in recent years – and that's precisely what they've done with the Suito.
They've essentially lowered the price point of a trainer in this class by about $175-$180, once you factor in the cost of a new cassette and any required tools (and I suppose slightly more if you include the free month of Zwift).  But it's also not quite as easy as that. After all, unlike the Wahoo KICKR CORE, this does include cadence over Bluetooth Smart – something of growing importance for Apple TV users.  And it has other smaller touches like adjustable feet for uneven floors.
Of course, as I've noted, it's not perfect either. It undercuts the sprints in its current pre-production form (just like the KICKR CORE did for the first few months), and it's not got the near silence or the road-feel of the KICKR CORE.
Like I said at the beginning though, I suspect this will be the trainer to beat value-wise this year. Of course, Eurobike is still some 6-7 weeks away (first week of September), where we usually see new trainer announcements. Though, true to historical form – Elite will be long-since shipping the Suito before those companies even announce, let alone ship anything new (if anything at all).
With that, thanks for reading.

Found This Post Useful? Support The Site!
Hopefully you found this review useful. At the end of the day, I'm an athlete just like you looking for the most detail possible on a new purchase – so my review is written from the standpoint of how I used the device. The reviews generally take a lot of hours to put together, so it's a fair bit of work (and labor of love). As you probably noticed by looking below, I also take time to answer all the questions posted in the comments – and there's quite a bit of detail in there as well.
If you're shopping for the Elite Suito or any other accessory items, please consider using the affiliate links below! As an Amazon Associate I earn from qualifying purchases. It doesn't cost you anything extra, but your purchases help support this website a lot. Even more, if you shop with TPC (The Pro's Closet), you'll save $40 on purchases over $200 with coupon code DCRAIN40! The Pro's Closet has been a long-time partner of the site here - including sponsoring videos like my cargo bike race, as well as just being an awesome Colorado-based company full of good humans. Check them out with the links below and the DCRAIN40 coupon!
And finally, here's a handy list of trainer accessories that most folks getting a smart trainer for the first time might not have already:
And of course – you can always sign-up to be a DCR Supporter! That gets you an ad-free DCR, access to the DCR Quarantine Corner video series packed with behind the scenes tidbits...and it also makes you awesome. And being awesome is what it's all about!
Thanks for reading! And as always, feel free to post comments or questions in the comments section below, I'll be happy to try and answer them as quickly as possible. And lastly, if you felt this review was useful – I always appreciate feedback in the comments below. Thanks!