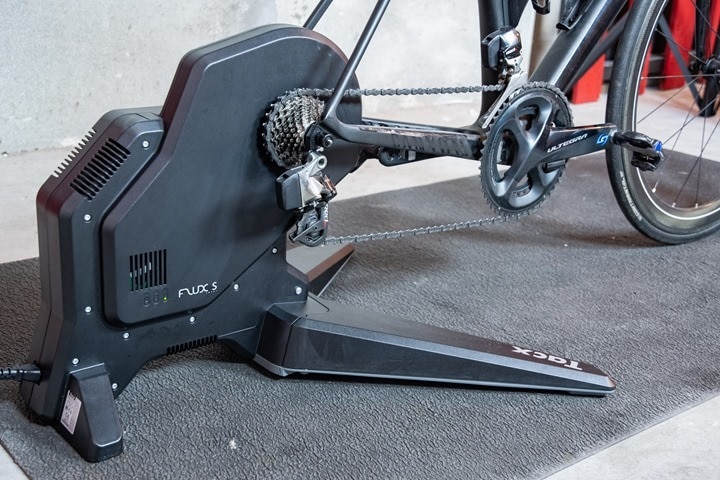 It's been a bit over a month since Tacx first announced the Flux S, which despite looking similar at a distance to the also newly announced Flux 2, is indeed different. Aside from price (the Flux S is $749USD and the Flux 2 is $899), the Flux S is slightly lesser spec'd than the Flux 2.  Effectively it's a minor refresh of the original Flux from two years ago.
Of course, we'll get to all the technical details in a bit. Lots of details. From how well it handles to accuracy and sound and plenty more. I even got to test out not one, but two different Flux S units for accuracy…among other things.
If you just want to grab a cup of coffee and sit back and press play – then you can do so with the below video I put together summarizing everything. Plus, where else do you get to see 800+ people riding a Zwift event together (without having to do the work)?
And finally, as usual the Flux S is a media loaner and will go back to Tacx shortly. Maybe I'll even put it in my cargo bike and pedal it over to them myself. We'll see if I have that much spare energy. Probably not. A delivery truck works fine too.
Onwards with the review!
Technical Overview: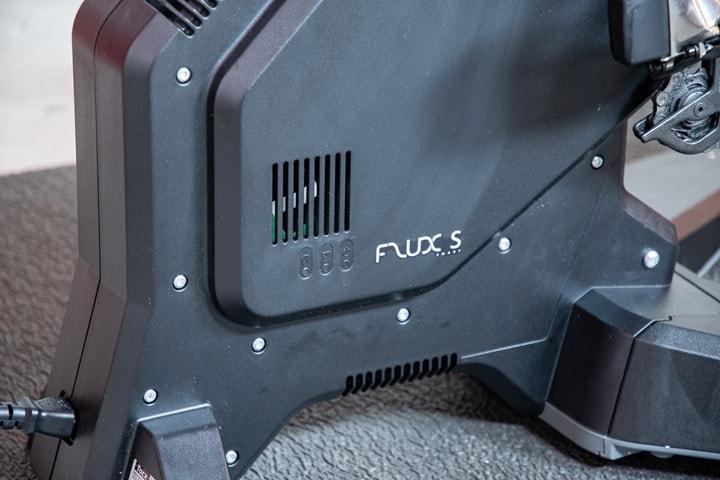 The basic concept of the Tacx Flux S is to essentially take the existing Flux trainer that's had a pile of internal changes over the past two years, tweak the frame to allow longer derailleur cages…and call it a new trainer (oh, and they dropped the price by some $150). Meanwhile, they also announced the Tacx Flux 2, which takes many of those same internal changes but adds a pile of additional gusto to make a more powerful trainer and left that at the original price of $899.
The Flux S is no more quiet than the original Flux, it's also not really any more powerful either. Most all of the changes internally have been focused on manufacturing rather than features. Still, some things spill into the feature realm. Here's the specific list of items that have been changed:
– Improved internal tension roller: which results in slightly improved road feel and accuracy during sprints
– Improved internal alignment: Nothing meaningful to consumers, purely manufacturing
– Long derailleur cage support: They dropped the legs lower so that it fits
But before we get too far, let's do a quick dive into the core tech specs in a bulleted fashion:
– Direct drive trainer: This means you remove your rear wheel
– Flywheel: It has a 6.7kg flywheel (but simulates 25KG)
– Cassette: No Tacx trainers include a cassette, which will set you back $50-$60, plus $10-$20 in tools to install.
– Sound: It's essentially the same as the original Flux (and the Flux 2), quiet-ish, but definitely not mostly silent like the Tacx Neo or Wahoo KICKR CORE.
– Handle: This unit lacks a handle, which continues to be a bit of an oddity compared to other brands.
– Protocol Compatibility: ANT+ FE-C, ANT+ Power, Bluetooth Smart Trainer Control, Bluetooth Smart Power
– App Compatibility: Every app out there basically (Zwift, TrainerRoad, Rouvy, Road Grand Tours, SufferFest, Kinomap, etc…)
– Compatibility: 130/135 QR in-box. Also compatible with 12×142 & 12×148 Thru-Axle, but only with a not-included adapter (the Flux 2 includes the adapters inbox)
– Max Incline: 10% simulated grade
– Max Wattage: 1,500 watts resistance
– Stated Accuracy: +/- 3% (the Flux 2 is +/- 2.5%)
– Pricing and Availability: $749/€599, already shipping as of this week.
For comparison, here's the price/feature points of some of the Tacx 2018 Trainer lineup (they have a pile of other trainers, these are the ones I'm considering most interesting/relevant):
Tacx Flow Smart – 299EUR: Wheel-on trainer with 6% incline, all standards supported.
Tacx Bushido Smart – $619: Wheel-on trainer with 15% incline, all standards supported.
Tacx Flux S Smart – $749: Direct drive trainer with 10% incline capability, no cassette included
Tacx Flux 2 Smart – $899: Direct drive trainer with 16% incline and better low-speed resistance for climbs, no cassette included
Tacx Neo Smart – $1,369: Top of the line direct drive trainer that's virtually silent, can replicate road vibrations too, no cassette included
Tacx Neo Bike Smart – $3,199: A full indoor bike built atop the Neo. Nifty fans included too.
Oh, with that out of the way let's get into the details of setup and configuration…which won't take too long. This is one of the easiest to assemble direct drive trainers as it requires a mere two bolts to two connect two parts together.
What's in the box: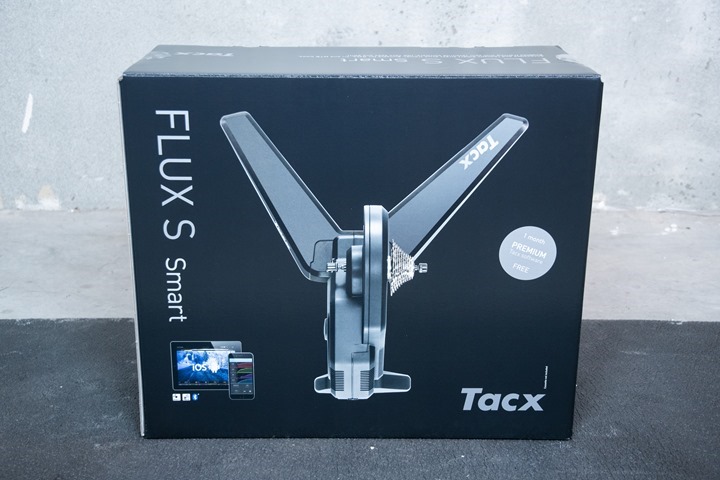 Trainer companies are really stepping up their games lately when it comes to the unboxing process of trainers. And I'm mostly talking non-Wahoo companies, since up till recently Wahoo trainers came totally pre-assembled, just pull them from the box and you're good to go. I hate spending a pile of time sitting on the ground playing Jenga with new trainers.
While the Tacx Flux S technically is in two pieces, it's silly easy to assemble (as you might have seen in the video above). But first, the box: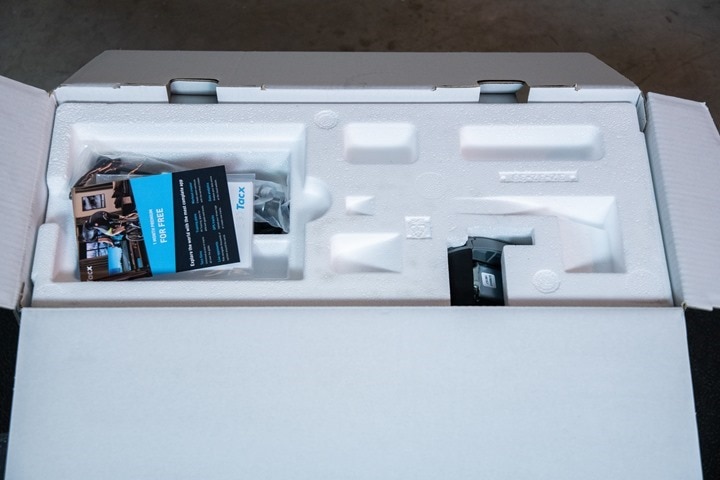 Inside it, you'll find the main body of the trainer, the legs (as one piece), two bolts, two washers, and a hex wrench. Also, there's a sturdy quick release skewer and a spacer for 9-speed cassettes. And some paper stuff.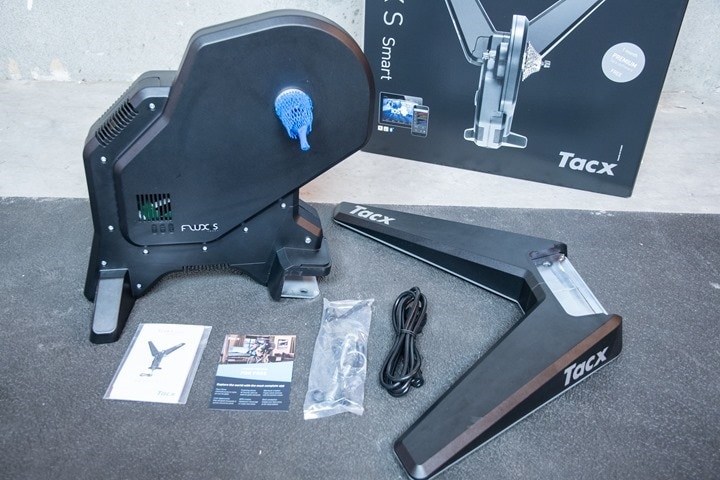 To assemble things simply take the singular leg/foot and attach it to the trainer in one swift motion (not Zwift motion, that's different). Then, using your fingers just thread the bolts in. After they get to the point your fingers wimp out, use the included hex wrench.
The entire process takes under 30 seconds, unless you're trying to photograph it properly, in which case you might be talking at least 45-48 seconds.
You're done.
Actually, technically you have to slide that skewer through there. Then you're done. Oh, and install the cassette – but we'll save that for a later section. This is the unboxing section after all, and things have already spiraled out of control to having the unit nearly completely built. Well, minus that cassette. After all – like most trainers there's not one included.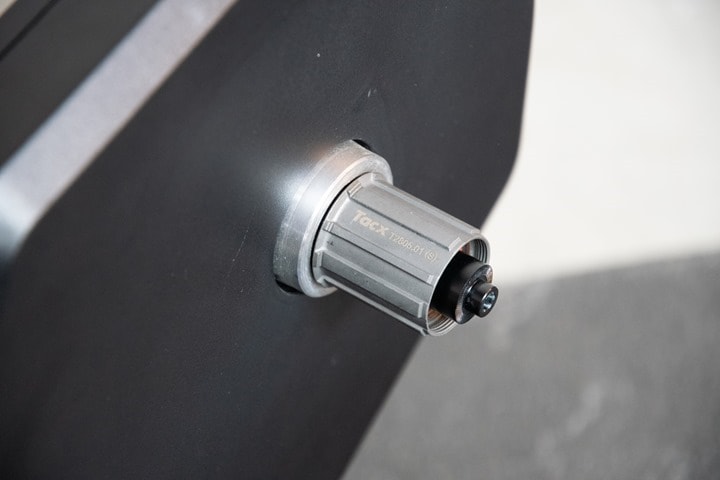 Finally, I need to note that I actually had two Flux S units.  As those who watched the video above saw/heard, the first unit I unboxed and rode worked technically just fine. Accuracy was spot-on and all (without even a calibration). Except there was an odd rubbing sound inside of it from the first pedal stroke onwards.  After contacting Tacx about it they swapped out the unit immediately and took it apart. The odd-duck sounding unit apparently had extra plastic on one part that was rubbing against the flywheel, causing the sound heard in the video.
The new unit does not have that issue. Tacx says they've put in place a system to double-check that specific item on all units going forward, and have checked all other units. Still, this will no doubt remind folks of the quality control issues that Tacx had with the original Flux two years ago. Obviously, much of what Tacx put into place for the Flux S is designed to mitigate those issues (especially since this is basically just a re-branded original Flux). So this could well have been a 1 in 10,000 fluke that I got one that slipped through. I (nor you) don't really know. We'll just have to wait and find out over time.
The Basics: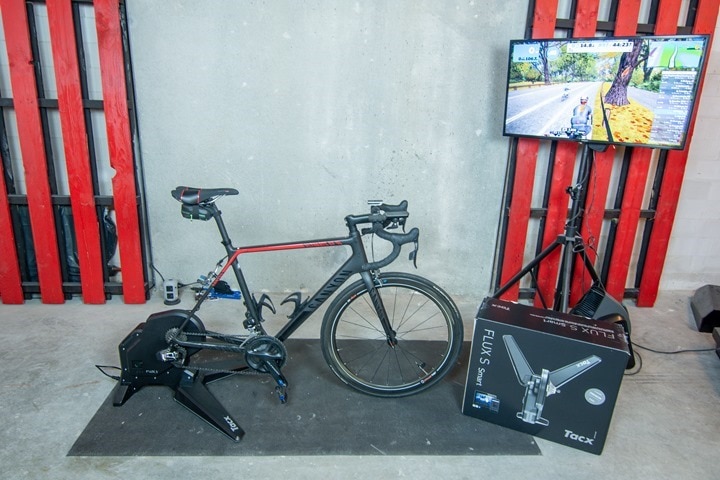 Once the base installation is together there actually is one bit that will take a minute or two – which is installing the cassette. As noted it doesn't include a cassette, so you'll need to pick one up. I typically buy Shimano Ultegra cassettes for my trainers (mostly for sound-testing consistency across videos), but I've also done a few SRAM ones and whatever else happens to be on sale from the bike shop. It generally doesn't matter, except sometimes you'll find some of the lower end cassettes (like a Shimano 105) don't quite sound as quiet as mid to higher end ones.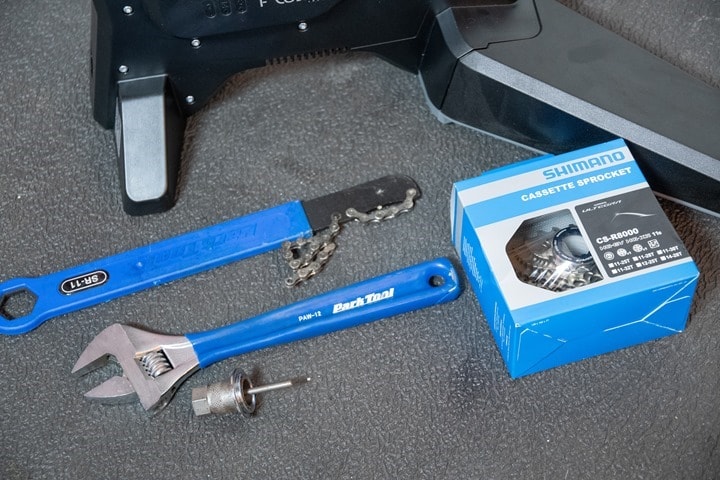 In any case, with a cassette, you'll need two tools. A lockring tool (or lockring + a wrench, in my case), and a chain whip. In this case you need the chainwhip since you can't get a good grasp on the flywheel. Whereas for a trainer like a KICKR, you can simply hold the flywheel to get the opposite tension you need.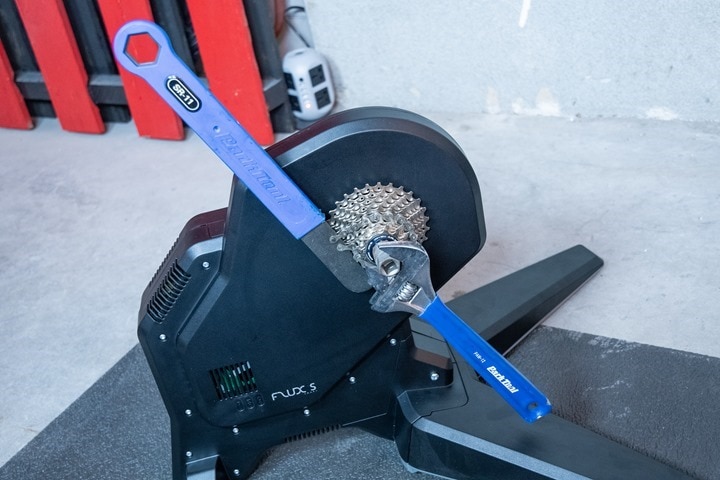 After sliding the cassette on, just validate it doesn't wiggle any. If it wiggles, then something is amiss (either it's not tightened properly or if on a 9/10 speed cassette then a spacer is likely missing).
And with that – installation is complete: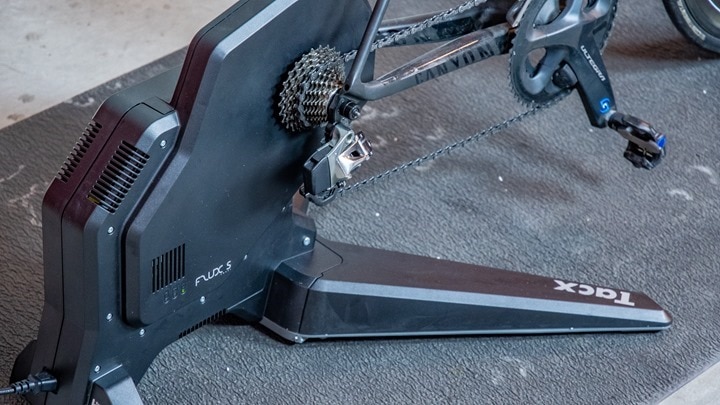 Oh, technically you should plug it in. It does need power (110-240v) to provide any meaningful resistance. Some of you have asked about that awesome tower of power in the background on past posts that I bought. It accepts any international outlet type, super useful for those in Europe (EU/UK link here, and a variant of the same thing for US folks here). Plus has four USB ports for charging pedals on power meters and such.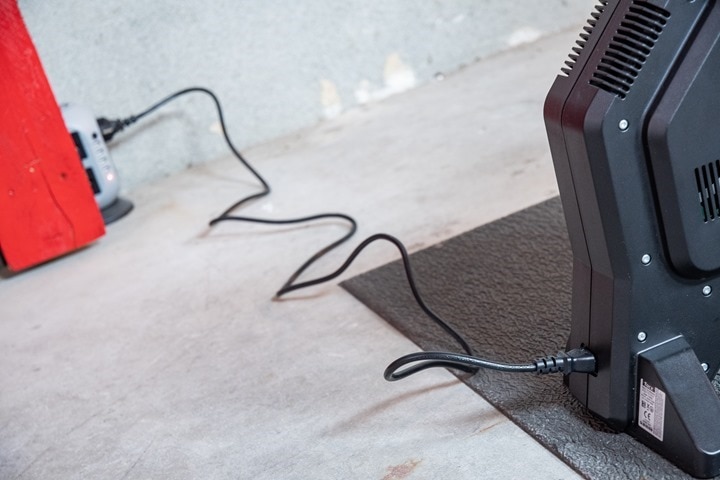 Once plugged in you've got three individual status lights. One is for general power (green), the next for Bluetooth Smart connectivity (Blue), and the last for ANT+ connectivity (red).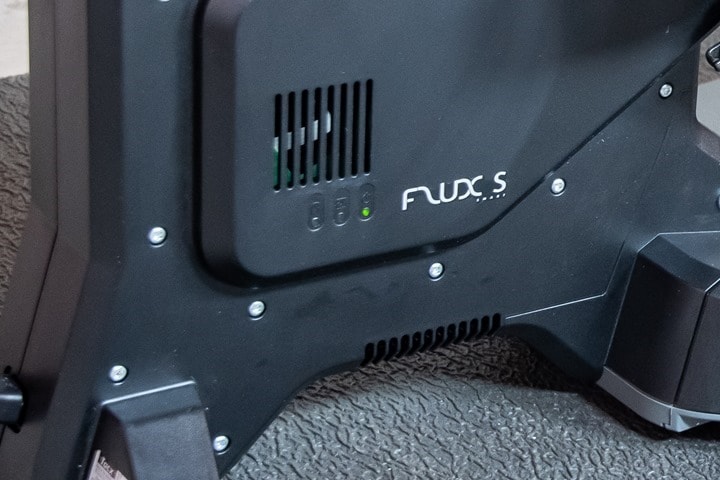 Note that there's no foldable legs on the Tacx Flux series, nor any handle. This does make it cumbersome to move around, since you basically have to give it a bear hug.
Once you've got the trainer ready, you'll attach your bike to it using the included trainer skewer: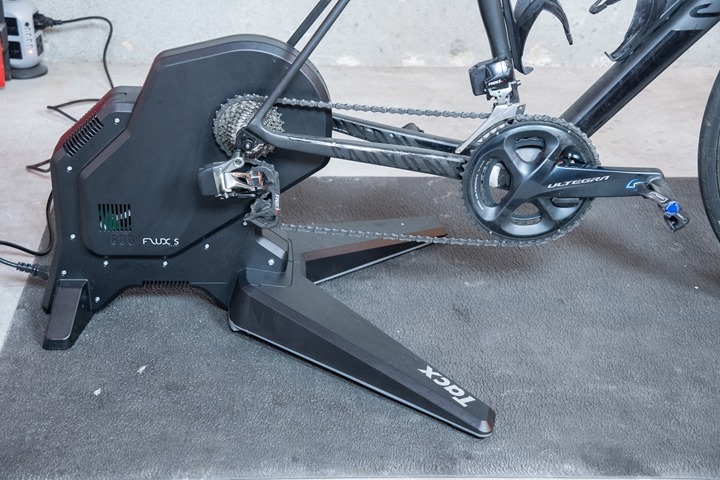 As noted, the trainer isn't silent. It's kinda got a bit of a low-growl noise to it. Not loud, and thankfully not high pitched.  You can hear it within the overview video linked at the start of the post. The only trainer in the Tacx lineup that's silent is the Tacx Neo (minus drive-train noise of course).  You can hear the noise within my video about half-way through.
Next, while Tacx does have a mobile app for their trainer, it's unlikely you're going to use it much if you use other 3rd party software.  However, it is valuable for setting your correct weight so that you can get realistic grade simulation. You can also perform a calibration within the app, though most 3rd party apps support that function too.
When it comes to calibration (roll-down) most 3rd party apps like Zwift or TrainerRoad also support it.  You'll spin up to about 23MPH and then stop pedaling. The trainer will slowly coast down and it'll measure the time it takes to determine any required offset.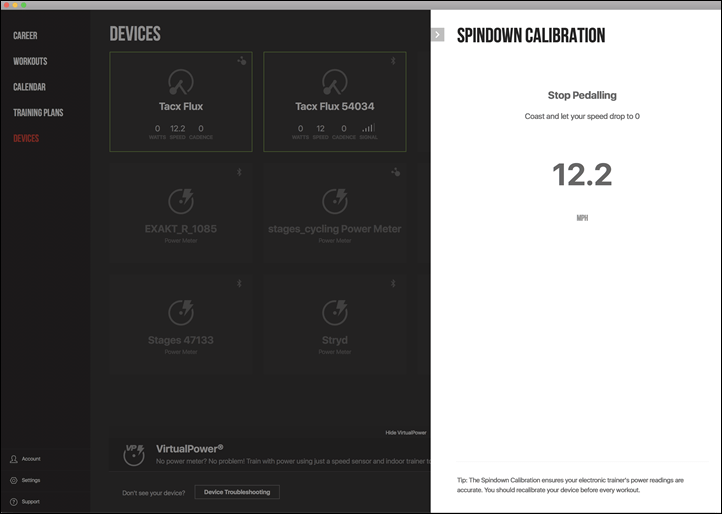 Generally speaking, you'll want to do this anytime there's significant temperature shifts, or if you move the trainer. I found that as long as things remained stable there was no impact on not doing so week to week.  In fact, my first two tests I didn't even do it at all – just straight out of the factory box.
Given the Tacx Flux is a smart trainer, it'll change resistance automatically in a few different ways, primarily driven by different applications/methods.  But most of this all boils down to two core methods:
ERG Mode: Setting a specific power level – i.e., 210w.  In this mode, no matter what gearing you use, the trainer will simply stay at 210w (or whatever you set it to).
Simulation Mode: Simulating a specific outdoor grade – i.e., 6% incline.  In this mode, it's just like outdoors in that you can change your gearing to make it easier or harder.  Wattage is not hard-set, only incline levels.
In the case of simulation (aka slope) mode, the Tacx Flux S can simulate from 0% to 10% incline – which is pretty darn high. Sure, some trainers can go over 20%+, but realistically, if you've ever tried riding up 16% inclines on a road bike, you'll either nearly fall over or just want to anyway.  Not to mention that by default Zwift halves the incline anyway (though, you can change that easily if you want under the setting 'Trainer Difficulty' in Zwift).
The second mode the trainer has is ERG mode.  In that case, the company claims up to 1,500w of resistance at 40KPH. Although, realistically, you don't care about that. I can only barely break 1,000w for a second or two, and even most front of the non-pro pack cyclists aren't going to top 1,800w.  The pros would only be just a bit beyond that.  Said differently: Peak numbers don't matter.  Instead, what matters is actually a harder metric to make clear – which is the ability to simulate high grades and lower speeds (especially if you're a heavier cyclist).
And it's here that we see the key differences between the Flux S and the Flux 2, whereby the Flux 2 is engineered to allow slower/lower speeds for higher wattages (and thus, higher inclines).  As you'll see in one of my tests down below, the Flux can struggle in some low-speed high-wattage scenarios.
Another area that does matter is whether there's a delay or not in changes to resistance, and with the Tacx Flux S I tested that in my 30×30 test down below in the power accuracy section. So check that out.

Next, a lot of folks will ask about road-like feel, and I always say pretty much the same thing:
Either way, for me personally, it's hard to separate the fact that I'm riding indoors from outdoors. It's still a trainer, and I'm still looking at a wall in front of me.  My brain can only turn off so much of that.
Still, much of the road-like feel is driven by the flywheel, and be it physical or virtual, flywheel sizes tend to be measured in weight.  This impacts inertia and how it feels – primarily when you accelerate or otherwise change acceleration (such as briefly coasting). It's got a 6kg flywheel, which is on the better side of middle of the road. Tacx does a simulated flywheel weight of 25KG however, which is substantially bigger than others,  once accounted for.
In the case of the Flux/Flux S (and also the Elite Direto in this same boat), the road-like feel is good, but not fantastic. There's no question that the Tacx Flux S doesn't feel as good as the Wahoo KICKR CORE, but that also costs $150 more (and realistically even more than that since Wahoo heavily restricts discounting, so most people would save even more than the $150 difference).
App Compatibility: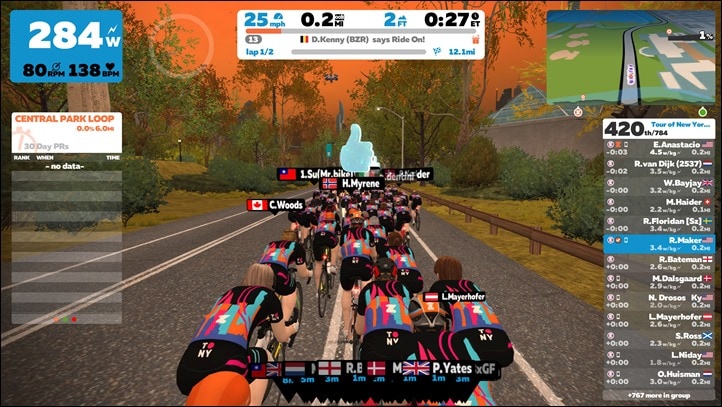 The Tacx Flux S follows the industry norms as you'd expect from most trainers these days.  As you probably know, apps like Zwift, TrainerRoad, SufferFest, Rouvy, Kinomap and many more all support most of these industry standards, making it easy to use whatever app you'd like.  If trainers or apps don't support these standards, then it makes it far more difficult for you as the end user. Given the Flux S is essentially of the same firmware as the Tacx Flux (original), it's no surprise everything here is as expected.
The Tacx Flux S transmits data on both ANT+ & Bluetooth Smart as well, allowing interactive resistance control across both ANT+ & Bluetooth Smart.  By applying resistance control, apps can simulate climbs as well as set specific wattage targets.
In any case, the Tacx Flux S supports the following protocol transmission standards:
ANT+ FE-C Control: This is for controlling the trainer via ANT+ from apps and head units. Read tons about it here.
ANT+ Power Meter Profile: This broadcasts as a standard ANT+ power meter, with speed baked in as well.
ANT+ Speed/Cadence Profile: This broadcasts the speed and cadence portions as a standard ANT+ speed/cadence sensor. This is handy for those that have devices/apps that may not support power meters, but still get some basic cycling data.
Bluetooth Smart Tacx Trainer Control: This is Tacx's private method of controlling the trainer. At this point it does NOT yet support FTMS, but that switch-over is very near term according to the company. Most apps support this Tacx method, so it's not a huge deal at this point in time.
Bluetooth Smart Power Meter Profile: This broadcasts as a standard BLE power meter with speed as well.
Bluetooth Smart Speed/Cadence Profile: Same as the ANT+ variant above.
Both Tacx and Elite lead the way when it comes to protocol standards support, with Elite having a slight edge over Tacx due to supporting FTMS already on their trainers.  Both companies (as well as Kinetic and a few others) also transmit estimated cadence data, which Wahoo and CycleOps lack in their transmissions (Update: The new CycleOps H2 and M2 do now have cadence, and the company says it'll add it to the original Hammer and Magnus in a firmware update).
Baked in cadence data is handy if you're connecting to Zwift on an Apple TV, due to Apple TV's two concurrent Bluetooth Smart sensor limitation (plus the Apple TV remote).  While you can use the Zwift mobile companion app for additional sensors, I find that can be sometimes a bit flaky.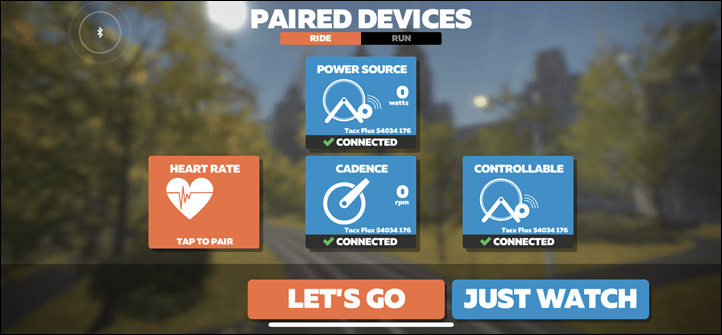 Finally, It's these same standards that also allow you to connect via head units too. For example the Wahoo ELEMNT/BOLT as well as Garmin Edge series support ANT+ FE-C for trainer control, so you can re-ride outdoor rides straight from your bike head unit to your trainer. For example, for my accuracy testing section, I recorded the data on a Garmin Edge 520 as well as the trainer apps.  From there I'm able to save the file and upload it to whatever platform I like.
Note that Tacx has a complete suite of training apps that they sell like other 3rd party app providers do. Though, I don't really cover that in this post – instead, stay tuned for my complete Trainer App guide.
For me, in my testing, I used Zwift and TrainerRoad as my two main apps (which are the two main apps I use personally).  In the case of Zwift, I used it in regular riding mode (non-workout mode), whereas in the case of TrainerRoad I used it in a structured workout mode.  I dig into the nuances of these both within the power accuracy section. Here you can see TrainerRoad paired as an ANT+ FE-C trainer with Windows: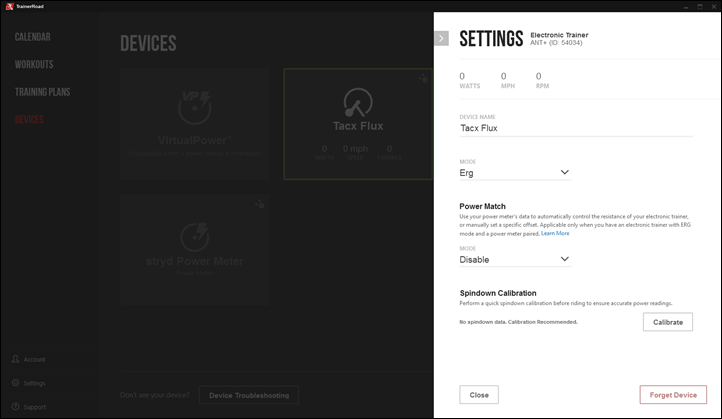 And one last time, here's the trainer actually enumerated two ways on my Mac – one via Bluetooth Smart and one via ANT+ FE-C: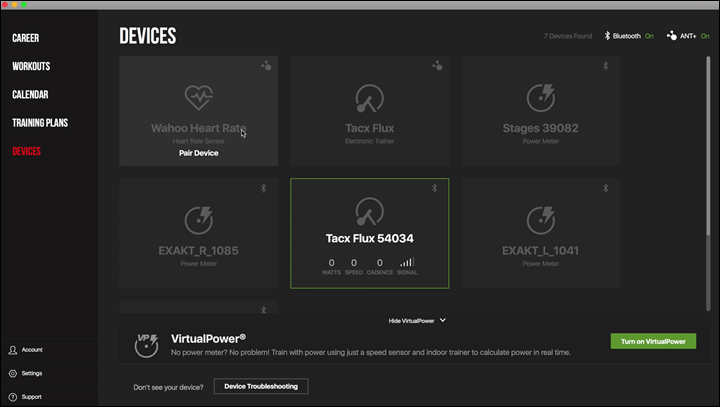 All of this worked without issues for me.  Oh, and Apple TV worked too – which I used for the first ride on this trainer. A second ride I use iOS, and a third and fourth Zwift ride I used my Mac.  For TrainerRoad I used my Mac as well.
Power Accuracy Analysis: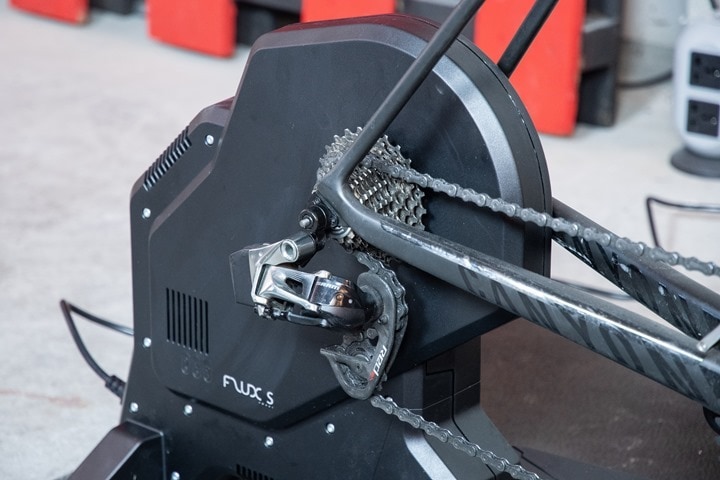 As usual, I put the trainer up against a number of power meters to see how well it handled everything from resistance control accuracy, to speed of change, to any other weird quirks along the way.
In my case I used one primary bike setup as follows
Canyon Bike Setup #1: SRM EXAKT (Dual sided), Stages LR (Dual sided)
This is all in addition to the trainer itself.  Note that because you remove the rear wheel I can't use something like a PowerTap hub to compare as well (which I would use in power meter testing normally).
In my case, I was looking to see how it reacted in two core apps: Zwift and TrainerRoad.  The actual apps don't typically much matter, but rather the use cases are different.  In Zwift you get variability by having the road incline change and by being able to instantly sprint.  This reaction time and accuracy are both tested here.  Whereas in TrainerRoad I'm looking at its ability to hold a specific wattage very precisely, and to then change wattages instantly in a repeatable way.  There's no better test of that than 30×30 repeats (30-seconds at a high resistance, followed by 30-seconds at an easy resistance).
There's two ways to look at this.  First is how quickly it responds to the commands of the application.  So for that, we need to actually look at the overlay from TrainerRoad showing when it sent the command followed by when the FLUX S achieved that level.  Here's the levels being sent (the super hard to read green line) by TrainerRoad (in this case via ANT+ FE-C on Mac) and how quickly the Flux S responded to it: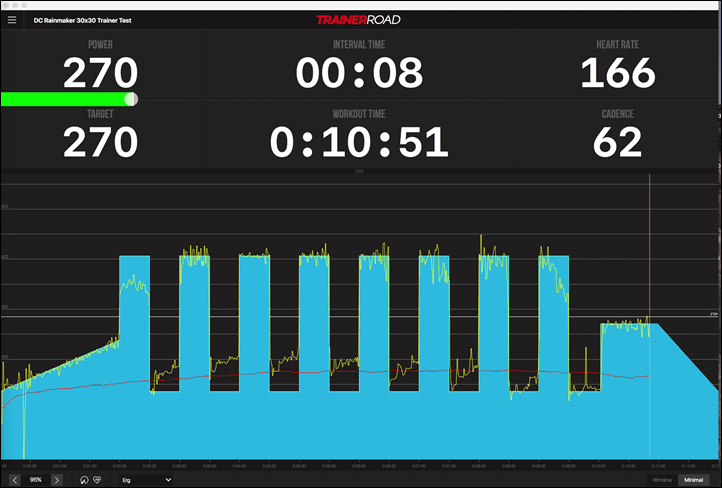 (Side note: If you change the ERG % levels in TR prior to the start of a workout as I did lower, it'll always incorrectly show the old target levels in the summary page online, below. They attempt to counteract that by showing the actual target level in green, but honestly the coloring should be switched to make it easier to see whether or not you hit your intended goal. Plus the coloring the other way is how it shows when you're actually doing the workout anyway – above.)

Now, there's a few things to note here. The first couple of seconds I was shifting the gears a bit, so that's why the power data is wobbly (totally normal). After that, we go into the first interval, and it fails to hold the requested power. My legs had no problem delivering in this interval, but it couldn't.
Why?
Well, gearing. And in turn, flywheel speeds.
At the gearing I started in, the 'speed' wasn't super high, and thus it didn't have the resistance power it needed to deliver 400w of resistance. Instead, it topped out in that 370w range. So for the second interval I swapped into the big ring in the front and some smaller rings in the back, and then it handily delivered 400w of resistance.
When companies talk about resistance levels it's usually accompanied by a certain speed.  In fact, most trainers can actually provide far more resistance than they're rated for. It's just that these companies don't have machines to test them beyond usually about 2,200w.
In fact, TrainerRoad themselves, in certain versions of the application, will even give you a warning about how trainers handle this and to change your gearing to make reaction time faster (another benefit of changing the gearing). Anyways, back to the chart.

The middle intervals went just fine and dandy. Any variations in how perfectly it held them were me, not the trainer. You can see when I was on my game in interval #3, it had no problem.
But towards the end the intervals get wobbly.  This was because I thought it would be a brilliant idea to finish a Zwift event and then go straight into doing this 30×30 test. As I realized by #7, that was a poor idea. After a week of riding the trainer 1-2 times a day, that was overestimating my legs' capabilities.
Anyway, as for reaction time, I was seeing about 2-3 seconds to stabilize from ~150w to 407w. Par for the course for these trainers, and about what I'd look for.  You really don't want a trainer to instantly change (sub-1 second) from 150w to 400w, as it's like hitting a brick wall.

And as you can see above from a power accuracy/matching standpoint, it matches the other units just fine (here's that data set).
We see a little bit more variance on the mean/max graph, but the reason is actually interesting: The other units are a bit more reactive in the 1-second category. Which is totally normal for power meters to have less smoothing built in. Typically in ERG mode trainers have a bit more stability and smoothness than the power meters which don't actually know about the set power. So we see a bit of wobble in the power meter values, which causes a slight spike in their 1-3s max numbers over the baseline trainer.

The main takeaway here is that once I sorted my speed items – accuracy wise and resistance wise, things were spot-on.
In any case, let's move onto a Zwift ride. This one was a bit of a Zwift race, which started out pretty hard from the get-go. Here's the data set. Note, the colors switched on this one. The Flux S is now red.

We see here that the three units trend very similarly, but the SRM EXAKT unit is oddly lower than all the others. It should actually be the highest of the three. I've seen this a few times over the past months where randomly on a ride it's lower than everyone else without explanation. It seems to happen after about 3-4 minutes in this ride though (I never stopped pedaling).
In any event, let's start by looking at the first few minutes:

You can see here things are pretty close. We see the Flux S as a bit more smoothed from a data standpoint (all these are smoothed in the charts at 5-second smoothing, but the Flux is even more smooth). This is pretty normal for trainers to not be as variable as power meters. What's key here though is that red line matches everyone pretty well.
There's a slight surge you see there at the 29-second point where the units differ a bit, but nothing out of the ordinary for a 1-2 second peak difference between power meters.
Here's another section about 9 minutes later showing another surge. This one the units are pretty close, though the SRM is definitely lower than the others by a fair chunk. It's unclear though if that's because the Flux and Stages LR (dual) are both reading high or the SRM low. Given I've seen the random-low readings from the SRM before, I'm inclined to say the Flux and Stages are closest here.

Still, there's lots of points where the units agree. In fact, it's usually on the surges that the three units come together.

Then there's the mean-max graph for this ride, which looks pretty close. Except, you'll notice around the 5-minute marker the SRM flips to be the lowest power. This matches what I noted a second ago where the units properly align at higher wattages, but the SRM seems to be reading lower at lower wattages.

For fun, here's the cadence generated by each unit on this ride. Note that the estimated cadence by the Flux S is actually pretty solid here. There's only a single drop where it seems to disappear, but that looks more like an ANT+ interference drop than anything else. Plus, we see a few Stages interference drops as well. I was having a rough day with WiFi interference next to a new router this day.

Finally, one more ride – just a general loop around Zwift's NYC course. Here's the data sets.

Again, fairly close across the board. Especially when you keep in mind that this trainer isn't actually rated for super-high accuracy, being at +/- 3% claims.
I did, however, find this little snippet interesting. On this surge here you can see the Flux is notably slower/lower than the others by some 150w+.

Even when I take away the smoothing, the data still shows an inaccurate value in there:

What's actually unusual about this is that given we're talking a 5-8 second sprint of about 600w, the trainer had more than enough time to catch-up, so I'm a bit surprised here.
Later in the ride though I see a less pronounced variant of this, where the spin-up speed is slower than the Stages and SRM. You can see it lags behind in this non-smoothed graph (whereas it's obvious the Flux S is smoothed a bit, like all trainers).

And of course, you wouldn't catch this sort of thing on a mean/max graph, or an averages graph, because it eventually gets to those power levels, just a bit delayed.

So then I went digging in yet another ride with a sprint in it – and sure enough, the same pattern:

You can see that while the averages for that section are correct, the actual sprint power is delayed. For most people this wouldn't be an issue. But for those doing Zwift racing, this would be a tough handicap to overcome, since there's clearly a delay there.  Keep in mind in the above case it wasn't an all-out sprint. It just so happened that I ramped up slowly over that time period.
Ultimately the overall accuracy of the unit is on-par (if not better) than most units in this price ballpark ($749), including the trainers that are often found at the $599 price point slightly below it. But it's also clear it's not quite at the same level of the more expensive trainers like the $899 Wahoo CORE or the higher end Tacx trainers either.
I'll be interested to see if on the Flux 2 (that's coming shortly) whether this behavior exists as well. The Flux 2 specifically has different internals around higher resistance levels that may mitigate this.
(Note: All of the charts in these accuracy sections were created using the DCR Analyzer tool.  It allows you to compare power meters/trainers, heart rate, cadence, speed/pace, GPS tracks and plenty more. You can use it as well for your own gadget comparisons, more details here.)
Trainer Comparisons:
I've added the Tacx Flux S into the product comparison database.  This allows you to compare it against other trainers I've reviewed. For this price point I've compared it against the Wahoo KICKR CORE which is $899, as well as the Elite Direto at $849. And finally the more expensive Tacx Flux 2 at $899.
Function/Feature

Tacx Flux S
Tacx Flux 2
Elite Direto (2018)
Wahoo Fitness KICKR CORE
Copyright DC Rainmaker - Updated June 8th, 2023 @ 1:30 am New Window
Price for trainer
$749USD
$899
$849 ($799 for 2017 models)
$899
Trainer Type
Direct Drive (no wheel)
Direct Drive (no wheel)
Direct Drive (No Wheel)
Direct Drive (No Wheel)
Available today (for sale)
YEs
YEs
Yes
Yes
Availability regions
Global
Global
Global
Global
Wired or Wireless data transmission/control
Wireless
Wireless
Wireless
Wireless
Power cord required
Yes
Yes
Yes (no control w/o)
Yes
Flywheel weight
6.7kg (simulated 25kg)
7.6kg (simulated 32.1kg)
4.2KG/9.2LBS
12.0lbs/5.44kgs
Includes cassette
No
No
No
No

Resistance

Tacx Flux S
Tacx Flux 2
Elite Direto (2018)
Wahoo Fitness KICKR CORE
Can electronically control resistance (i.e. 200w)
Yes
Yes
Yes
Yes
Includes motor to drive speed (simulate downhill)
No
No
No
No
Maximum wattage capability
1,500w @ 40KPH
2,000w @ 40KPH
1,400w @ 40KPH / 2,200w @ 60KPH
1800w
Maximum simulated hill incline
10%
16%
14%
16%

Features

Tacx Flux S
Tacx Flux 2
Elite Direto (2018)
Wahoo Fitness KICKR CORE
Ability to update unit firmware
Yes
Yes
Yes
Yes
Measures/Estimates Left/Right Power
No
No
9EUR one-time fee
No
Whole-bike physical gradient simulation
No
No
No
With KICKR CLIMB accessory
Can directionally steer trainer (left/right)
No
No
No
No
Can rock side to side (significantly)
No
No
No
No
Can simulate road patterns/shaking (i.e. cobblestones)
No
No
No
No

Accuracy

Tacx Flux S
Tacx Flux 2
Elite Direto (2018)
Wahoo Fitness KICKR CORE
Includes temperature compensation
Yes
Yes
N/A
Yes
Support rolldown procedure (for wheel based)
Yes
Yes
Yes
Yes
Supported accuracy level
+/-3%
+/-2.5%
+/- 2% (Sept 2018 models, +/- 2.5% for earlier models)
+/- 2%

Trainer Control

Tacx Flux S
Tacx Flux 2
Elite Direto (2018)
Wahoo Fitness KICKR CORE
Allows 3rd party trainer control
Yes
Yes
Yes
Yes
Supports ANT+ FE-C (Trainer Control Standard)
Yes
Yes
Yes
YEs
Supports Bluetooth Smart FTMS (Trainer Control Standard)
Yes
Yes
Yes
YEs
WiFi or Ethernet
No
No

Data Broadcast

Tacx Flux S
Tacx Flux 2
Elite Direto (2018)
Wahoo Fitness KICKR CORE
Transmits power via ANT+
Yes
Yes
Yes
Yes
Transmits power via Bluetooth Smart
Yes
Yes
Yes
Yes
Supports Multiple Concurrent Bluetooth connections
No, just one
No, just one
No, just one
Yes, 3 Concurrent
Transmits cadence data
Yes
Yes
Yes
Yes (with Sept 2019 firmware update)
Bridging or re-transmission
No
No

Purchase

Tacx Flux S
Tacx Flux 2
Elite Direto (2018)
Wahoo Fitness KICKR CORE
Amazon
Link
Link
Link
Link
Backcountry.com
Link
Link
Link
Link
Chain Reaction Cycles
Link
Link
Link
Link
Competitive Cyclist
Link
Link
Link
Link
REI
Link
Link
Link
Link
TPC
Link
Link
Wiggle
Link
Link
Link
Link

DCRainmaker

Tacx Flux S
Tacx Flux 2
Elite Direto (2018)
Wahoo Fitness KICKR CORE
Review Link
Link
Link
Link
Link
Again, you can mix and match the products in the comparison database as you see fit here.
Oh – and wondering when the 2018 Trainer Guide will be out? Tomorrow (Wednesday the 31st). Unless I get word of a trainer or two being announced on Thursday. In which case I'll slide it a day to accommodate those. If that happens of course, just sayin'.
Summary: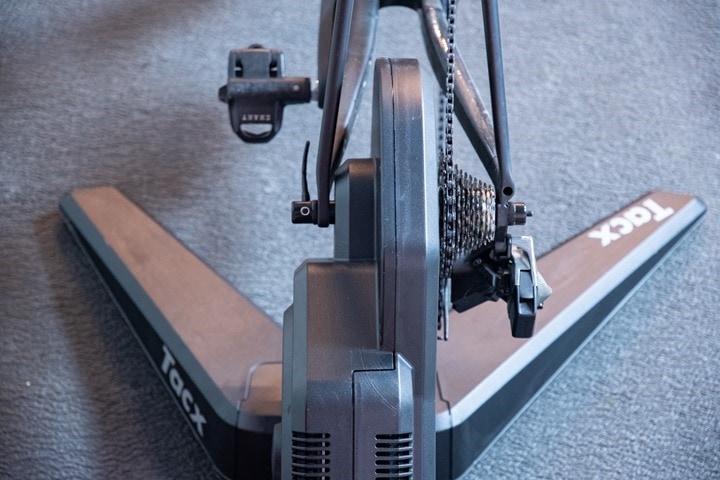 As I said when the Flux S was first announced, this would be a very minor update to the original Flux trainer. Nothing earth-shattering. But it can't be overlooked that this trainer is now $150 less than it was before, plus it does increase compatibility and have updated internals designed to improve a handful of conditions. So while it may not seem like a major stepping stone, the reality is that the cost of getting this level of trainer has dropped by 17% compared to just a few months ago.
It does help that all but the physical leg extension were already made to the original Flux lineup this past spring. In theory that should reduce any teething pains that we may see in production, but at the same time that's not what happened in my case with the first unit. Hopefully that was just a single fluke of bad luck, but it's certainly something that might give some pause for concern. Ultimately only time will tell with that one, one way or another.
Still, it is fascinating to me how far we've come in just a few years with trainers. We've got now direct drive trainers at $749 with all the full smarts in them the same as trainers at $1,200. It's just the resistance levels and road-like feels that mostly differ, as well as the quietness aspects of course. The level of choice that we as consumers have now in the trainer selection market is incredible, and the Flux S is one of those options that leads the way in terms of solid contenders at a reasonable price.

Found This Post Useful? Support The Site!
Hopefully you found this review useful. At the end of the day, I'm an athlete just like you looking for the most detail possible on a new purchase – so my review is written from the standpoint of how I used the device. The reviews generally take a lot of hours to put together, so it's a fair bit of work (and labor of love). As you probably noticed by looking below, I also take time to answer all the questions posted in the comments – and there's quite a bit of detail in there as well.
If you're shopping for the Tacx Flux S or any other accessory items, please consider using the affiliate links below! As an Amazon Associate I earn from qualifying purchases. It doesn't cost you anything extra, but your purchases help support this website a lot. Even more, if you use Backcountry.com or Competitive Cyclist with coupon code DCRAINMAKER, first time users save 15% on applicable products! Or, with TPC (The Pro's Closet), you'll save $40 on purchases over $200 with coupon code DCRAIN40!
And finally, here's a handy list of trainer accessories that most folks getting a smart trainer for the first time might not have already:
And of course – you can always sign-up to be a DCR Supporter! That gets you an ad-free DCR, access to the DCR Quarantine Corner video series packed with behind the scenes tidbits...and it also makes you awesome. And being awesome is what it's all about!
Thanks for reading! And as always, feel free to post comments or questions in the comments section below, I'll be happy to try and answer them as quickly as possible. And lastly, if you felt this review was useful – I always appreciate feedback in the comments below. Thanks!