Finally, it's getting warmish here. Not like Florida warm, but like acceptable levels of warmth warm. So, here's what we were up to!
1) Openwater Swim Afternoon
I kicked off the weekend with an openwater swim Friday afternoon. It finally stopped being cold (and stopped raining). Though of course raining doesn't matter, but there's something enjoyable about getting out of the water and it being warm and sunny out that makes summer openwater swims the best.
The purpose of my swim was to test the new beta GPS firmware for Garmin's new lineup of watches, which aims to fix the issue I and others have encountered where it stops tracking distance after a very short time period (like 20-50 meters). It's ultimately what led to this tweet and subsequent post (with just shy of 600 comments now).  So I got both the MARQ & Forerunner 945 all updated and charged up, then headed to the lake. Technically I could swim directly from the DCR Cave front door, but the water quality seems suspect at that locale. So I pedaled two minutes away to the newly built docks: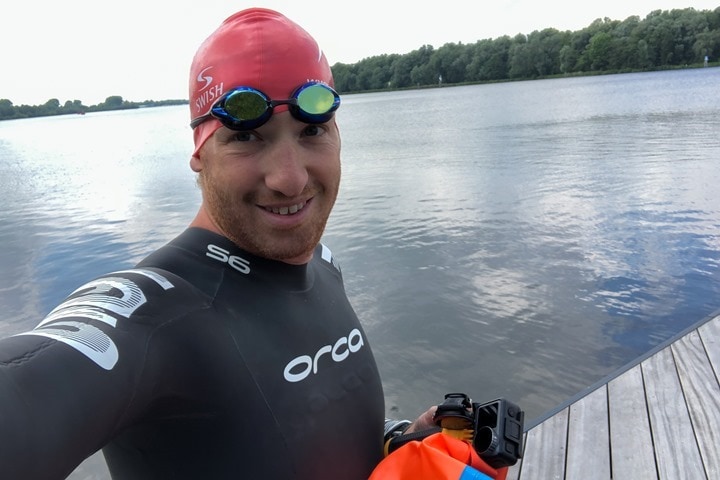 I then took some obligatory pics and got into the water. Oh, and I had a Forerunner 935 (older unit) in running mode on the swim buoy above the water. This would be the reference track.
Ready to roll, I stored my action cam and pressed start. Then I gave the units 5 seconds with my wrists still above the water (so they'd have a clean starting point), I set off swimming.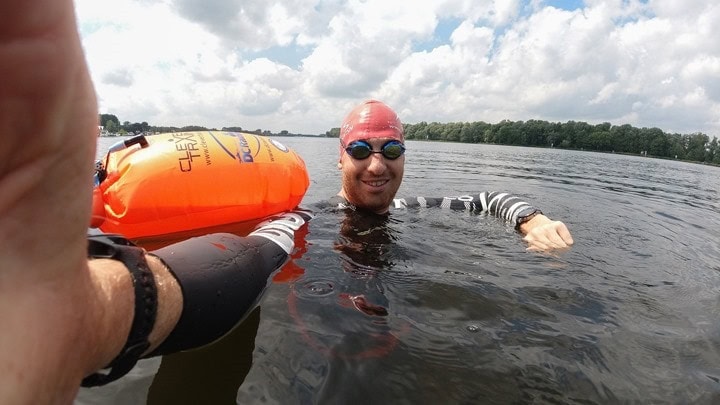 I didn't stop till I completed my giant squarish thing. I did manage to take one photo though of a buoy/marker structure by swimming one-armed. Kinda like the old days.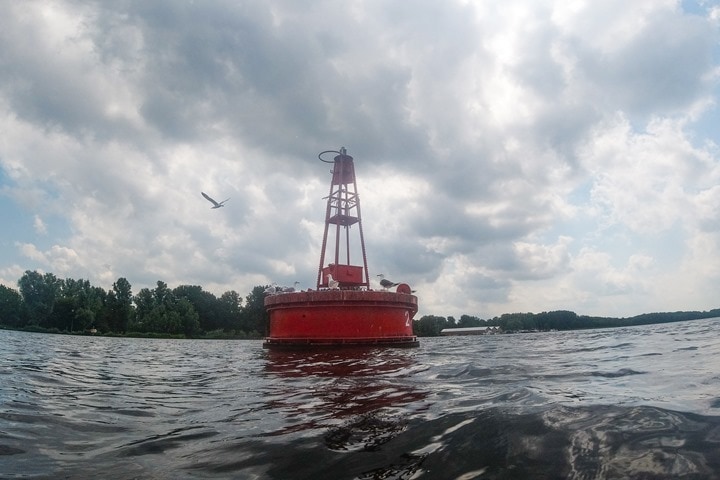 Randomly, a minute later two girls went swimming by in the opposite direction sans-clothing of any sort. That was unexpected.
I got back to the dock and gave the watches five more seconds above the water before pressing stop (which roughly simulates coming out of the water and running to a nearby T1 timing mat, giving them chance to get one last clean fix). Here's the results: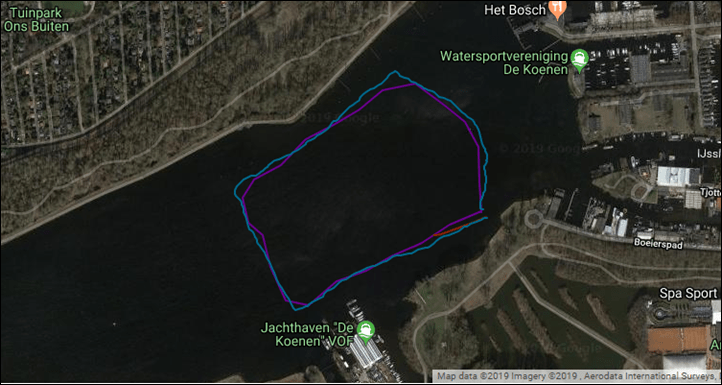 You'll see the MARQ (purple) was very close to the reference track (blue). More than acceptable for an openwater swim track accuracy-wise. Perfect? No. But it's almost unheard of to have perfect tracks. This slightly cut the corners, but nothing major for swimming.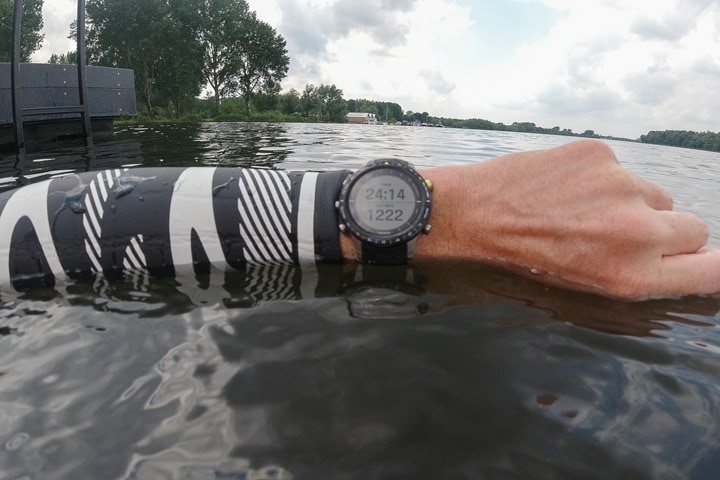 Whereas the FR945 (red) gave up on life after 68 yards. But I'm not going to hold it against Garmin at this juncture (I did that last week after all). Instead, that's the *entire purpose* of releasing beta updates that the public can try. I sent them the feedback from my swim a few hours later. Obviously, beta testing isn't for everyone, but I'm happy for an excuse to go swimming. It's supposed to be beautiful weather all week long. At this point though, it's clear the issue isn't yet fixed. And having only a single swim on the MARQ doesn't declare it fixed there either. I'd want 4-5 swims without issue to assume it might be fixed. But again, happy to swim more.
(Side note: I probably didn't make it super clear in my post last week, but I have mostly zero issues with testing pre-production devices that aren't ready and have bugs. That's never been my issue. My issue is production devices that are available to the general public on final firmware but are still buggy. Give me buggy beta devices all day long, I'm never going to complain about it publicly.)
2) Let there be light!
I spent an incredible amount of time unboxing light boxes. Seriously, how is it that each light needs like 28 boxes for all the parts? There must be a better way.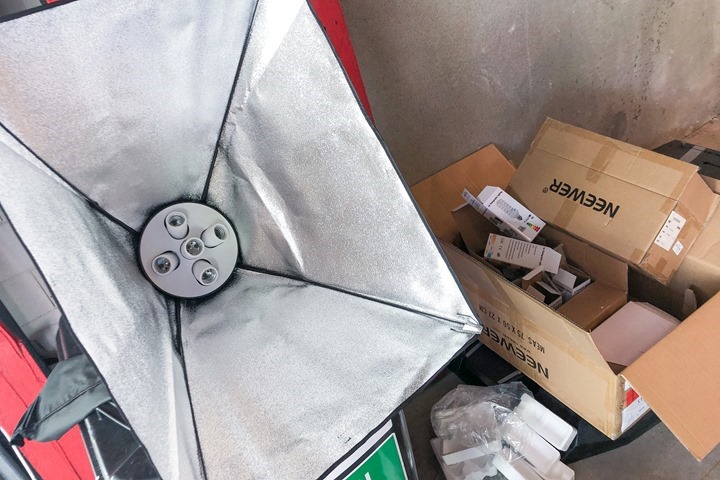 This is mostly because the lighting in the main DCR Studio portion continues to be the bane of my existence. Though, these lights will actually be used elsewhere. I've got some large overhead LED panels that should blanket the studio with crispy light starting this week, assuming PostNL manages to deliver them. They've been delayed twice now due to some sorting issue. Maybe tomorrow.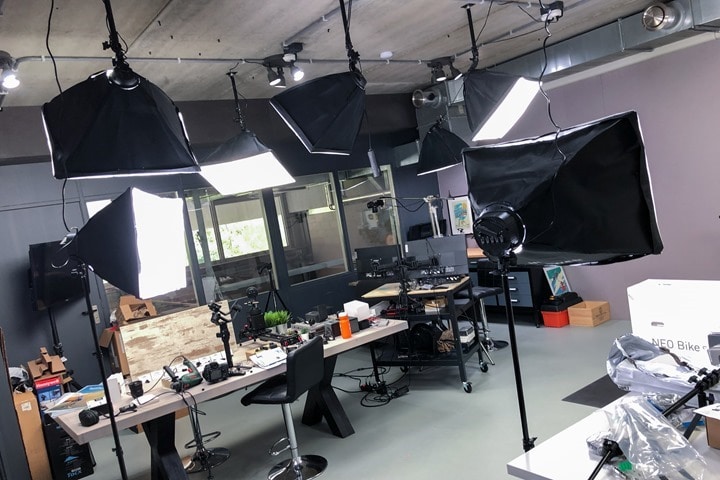 Hope they hurry up, I've got unboxings to get done!
(Side geekery note: I had desperately wanted to buy these specific lights for the main studio, but turns out they were only available in the US. Looked awesome. Ended up with something similar though through Amazon Germany. Not a perfect match, especially on price, but the best I could find.)
3) Flower delivery by bike
This weekend The Girl and I decided to spruce up the backyard a bit. With the weather turning summer-ish, it was time to get some flowers planted. Sure, the rest of our block already has flowers in their backyards. But the rest of the block is also retired without kiddos running around. And, it's not technically summer yet, so given it's still spring – I think we're perfectly on time.
We went to the garden center and picked out a bunch of flowers, but by the time our "marriage negotiations" were over, the kids were starting to lose it, so we pedaled them back home for snacks and naps. Thus, I went back solo to pickup our goods: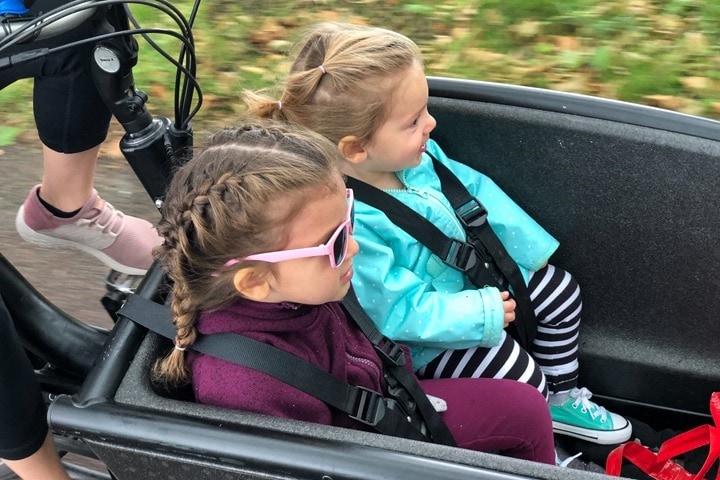 Turns out, we badly miscalculated on how much space we'd need in the bike. So it's a good thing the kids weren't in there too. Here's my first load, with the leftovers in the cart.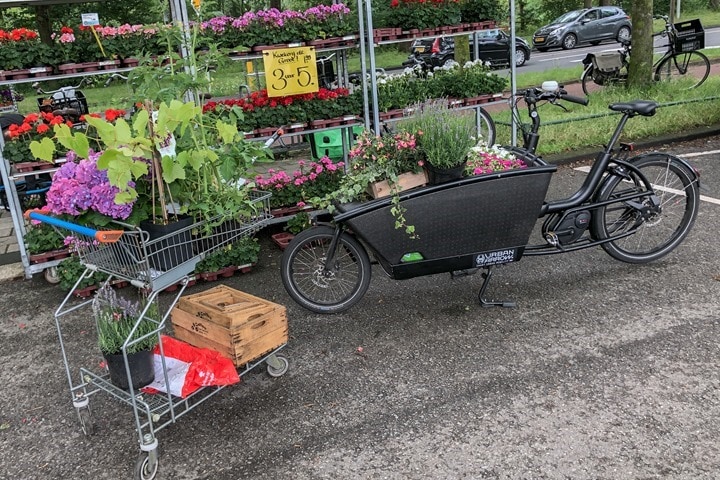 And then I went back for the second half. By then The Peanut was awake, so she came along for the ride. Once again, it was a tight squeeze, but she liked being surrounded by flowers. Mostly.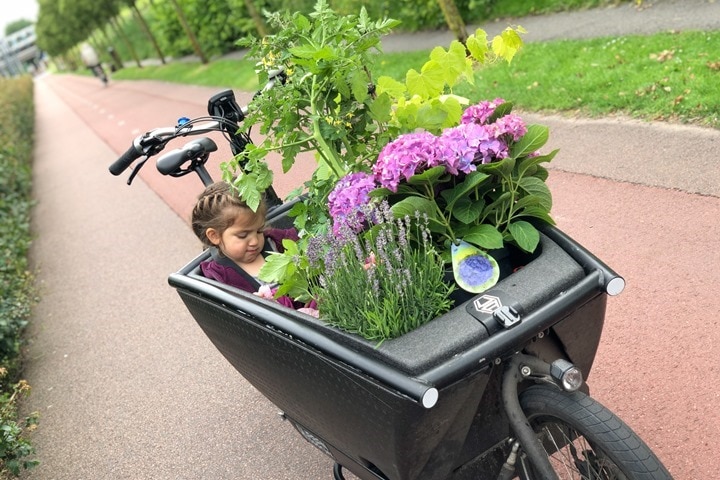 Like I've said in the past, we use the crap out of our cargo bike. So nice not to have a car, even if it takes a few more trips.
4) Pancakes, Pie, and Peddling
Saturday afternoon after our flower delivery we decided to escape to the pancake house for dinner. We've come here countless times before, but always for breakfast/lunch. For some reason we decided to test out how well dinner would work. Stuff the kids full of dinner, let them play on the playground, and then pedal home and send them to bed. So first, the pancakes…and then pie.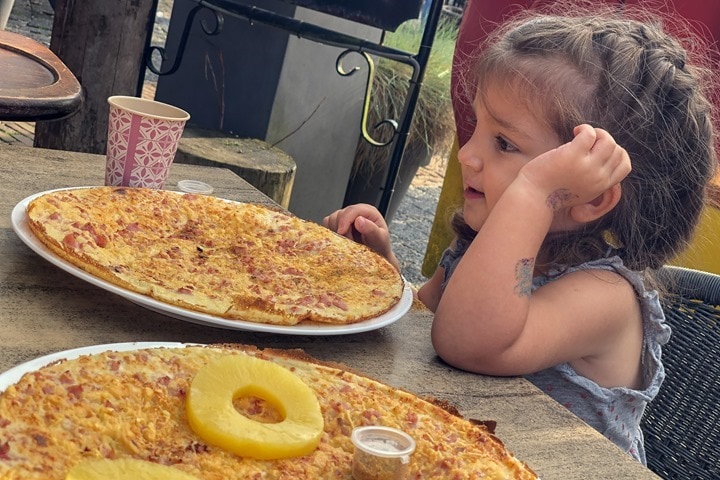 And then the pedaling home: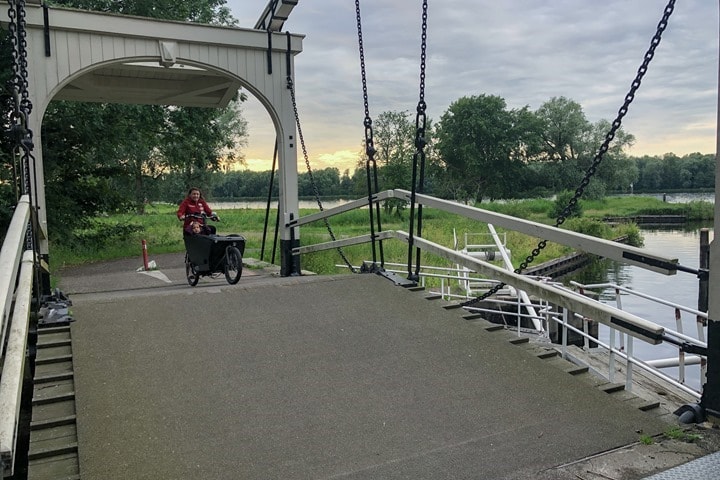 At the easy pace we peddled at, it takes about 20 or so minutes to get home. The kids had a great time, as after pie we left them loose in the playground for a bit. There's also the petting zoo portion too. Which I suppose makes for all the P's: Pancakes, Pie, Playground, Petting, and Peddling. Though the 'petting' part sounds a bit wrong standalone like that.
Seriously though, life is just so easy here with bikes and kids. Perhaps it sounds like we just bike around all weekend with the kids and that's it. But honestly…yeah, that's kinda it. We also went swimming Sunday morning too via bike. We do everything via bike. What families do in the US via a minivan, we do with a cargo bike on almost entirely separated and protected bike paths. It's amazing.
5) So much dirt
Remember all those flowers? Yeah…us too. Now we had to plant them. And to be fair, that actually didn't take very long. It's everything else that took forever. Trimming back bushes, weeding, keeping kids from picking up the shears, etc…  Many many many hours slowly vanished on Sunday afternoon and evening. The Girl and I finished up at 10PM. Apparently it was Father's Day too. Oh and The Girl discovered we had some sort of poison ivy out there amongst the bushes as well. Doh.
We will now have pretty flowers in our yard for when GPLama (+1.5), DesFit, and others stay over the coming month for the DCR Open Cave. Assuming we don't kill them first (the flowers, not the Lama's). Which is a good reminder to get all registered if you want to come to the DCR Open Cave. We're definitely on a faster sign-up pace than back in the fall.
With that – thanks for reading! I've gotta get back to deboxing and assembling more lights.