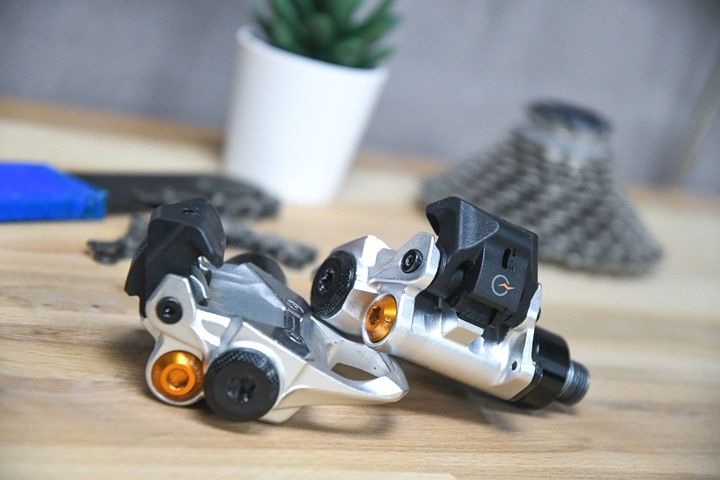 It's been almost exactly 4 years to the week since PowerTap first announced their PowerTap P1 pedals, and it didn't take long for them to rocket to popularity. The installation required nothing more than a simple hex wrench, and the accuracy was on point. But over time new competitors came into the space and started stealing some of their thunder.  We had Favero with their BePro and then Assioma pedals – both undercutting PowerTap in pricing.  And then we had Garmin with their Vector pedals – undercutting PowerTap in the looks department.
So this past fall PowerTap announced their new P2 pedals.  Would these new pedals take back their throne? Well, spoiler alert – not really. The company opted for some very minor tweaks in battery life and internal weight rather than an exterior redesign or new software features. Still, one strength of the PowerTap pedals is that they just work – a quality which sometimes as of late in trainers and power meters is often missing. Plus, the pricing does still undercut Garmin – so there's that.
And this intro section is beginning to sound more like my closer. So before I give away too many secrets – let's get the thing unboxed and put it to the test for a few months.
What's in the box:
The box of the PowerTap P2 pedals is exactly the same as the PowerTap P1 pedals. In fact, it's so much the same that when I was sent a final production set to test the exterior paper wrapper still said P1. No worries, the new wrapper shipping was just a bit behind.
Oh, and I fixed it for them: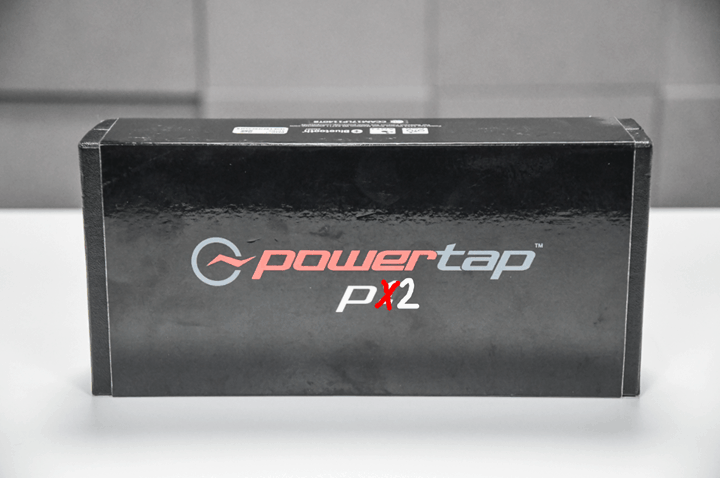 Inside though it was all the proper parts: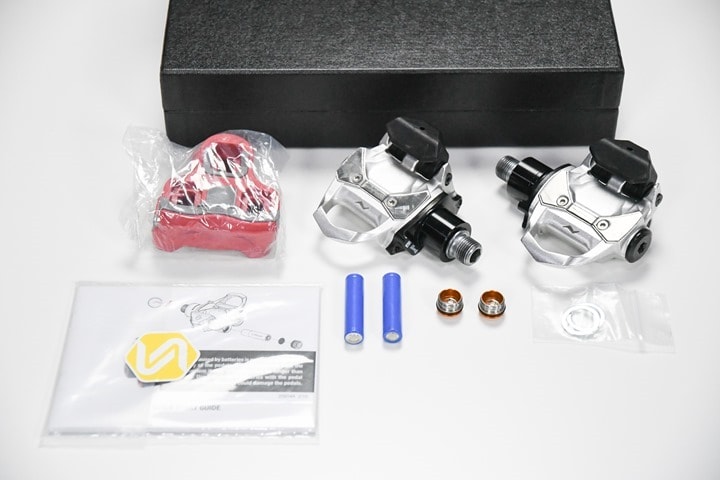 Here's what you've got. First up, the pedals themselves:
Then there's two AAA batteries, along with two battery caps, and two washers: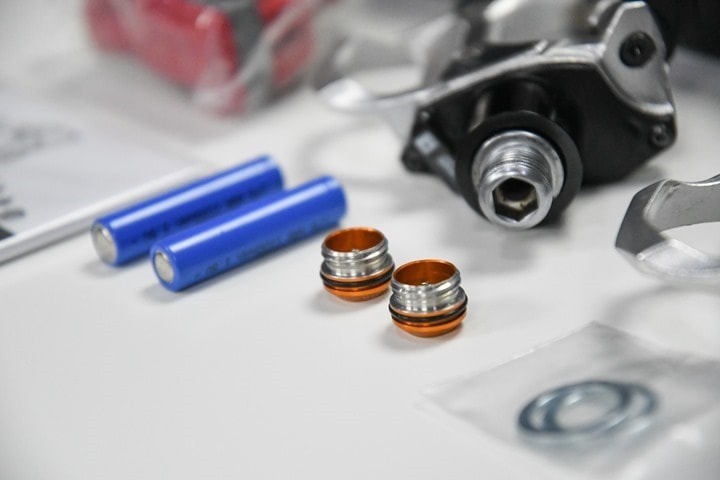 The batteries simply slide in the pedals, and the battery caps atop them: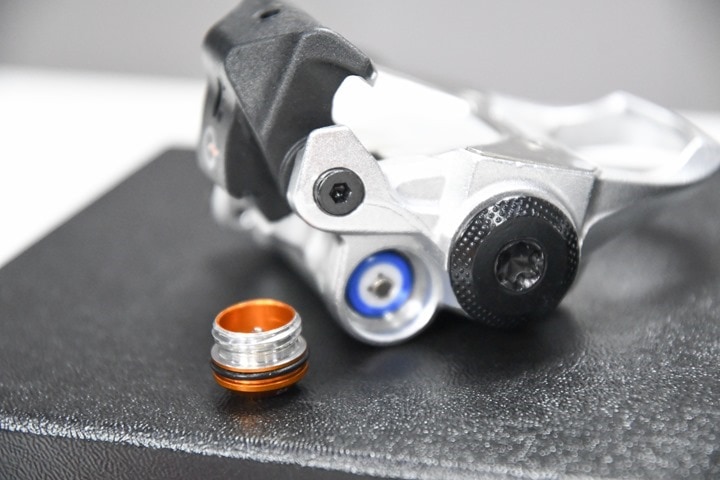 There's also two sets of cleats. Keep in mind that these are sorta Look KEO cleats, but not exact matches. I find that if I've got new cleats then they won't work well with standard Look KEO pedals. Whereas if my cleats are a bit more worn (due to time), then they work just fine.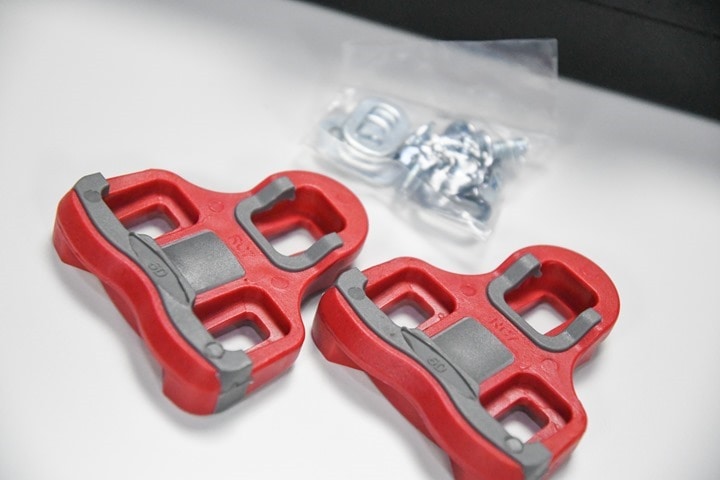 And that's the end of the unboxing section. It's quick and easy.
Oh, and in case you're curious about the differences between the P1 and P2 pedals, first, some imagery. The black one is the P1 pedals, and the silver one is the P2 pedal:
From an exterior standpoint, no changes except coloring were made (now silver instead of black). Instead, everything is internal. Here's the complete list of changes.
Weight: Reduction of total pedal mass, down below 400g now (previously was 437g). This reduction was done mostly internally inside the pedal body by cutting away inside. However, there is now a small cutout from under the skid plate as well. Externally there's no visible differences in size.
Battery life: The company says the units will now get 80 hours of battery life per battery (still AAA), however with more steady-state and longer rides, you could see up to 100hrs of battery life. They noted that this was done by tweaking some of the electronics inside to gain back some battery life.
Improved sealing: The company says they learned a lot from the PowerTap P1, and specifically had a lot of "why are people using it like that" moments when troubleshooting issues. They say that the new unit improves various sealing points more than before. They did note that the PowerTap P1 did see a lot of changes in-line though over the years (for example we saw the new battery caps pretty quickly after introduction).
It got a paint job: It's now silver, which, PowerTap admits is…'polarizing' (their words, not mine). I probably would have selected other words, but given the majority of this post (outside the PowerTap P2 section) is mostly ranting, I'm running low on creative ways to phrase this one.
Got all that? Good.
Installation and Config: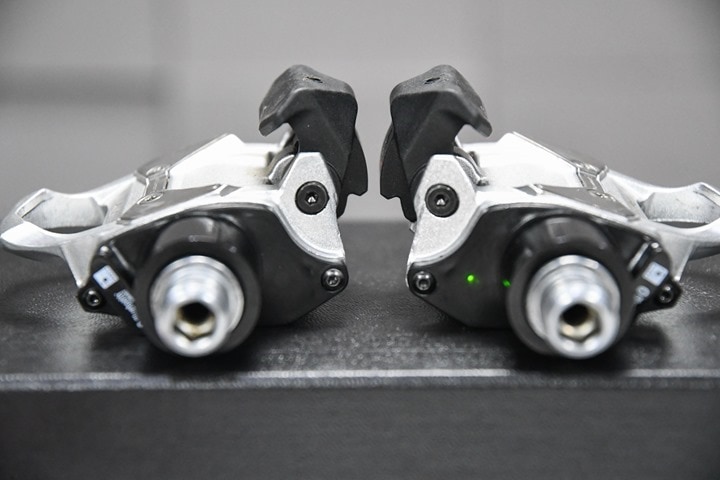 When I'm writing posts, I enjoy sections I can write quickly. For example, when writing this same section for the SRM EXAKT power meter pedals, my keyboard and camera nearly ran out of battery due to all the steps and quirks needed to get it installed.
Whereas with the PowerTap P2 pedals, it takes about 28 seconds, or maybe 54 seconds if you're slow (and 98 seconds if you somehow put the wrong pedal on the wrong side).  Here, take the pedals and find yourself a 8mm hex wrench: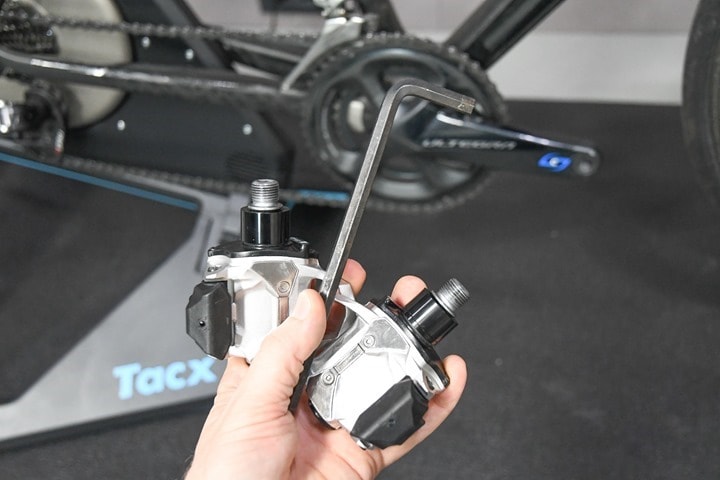 Now, put the left pedal on the left side using that little wrench. The way this particularly advanced wrench works is you spin it. When it stops spinning, it's done. Actually, give it a nice little tug to get them good and snug.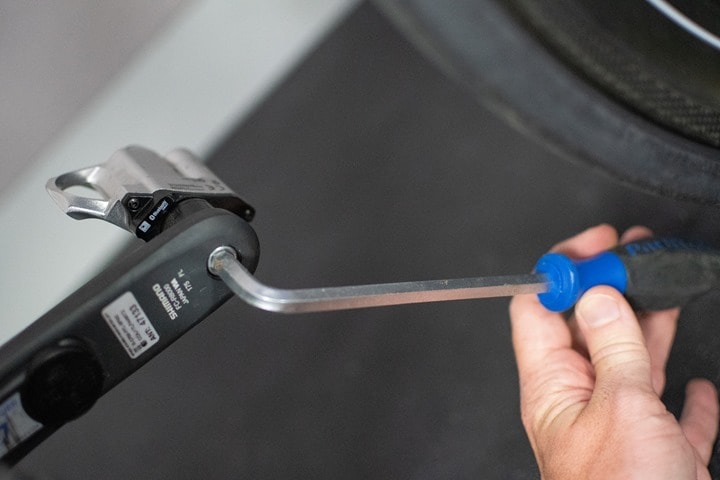 Then repeat for the other side.
Ok, you're done. They're installed.
Actually, three minor notes for seriousness. The pedals come with spacers (washers) that can be used to ensure that the unit portion doesn't press directly up against the crank arm, particularly carbon arms. If it does, add a spacer so there's a tiny gap there.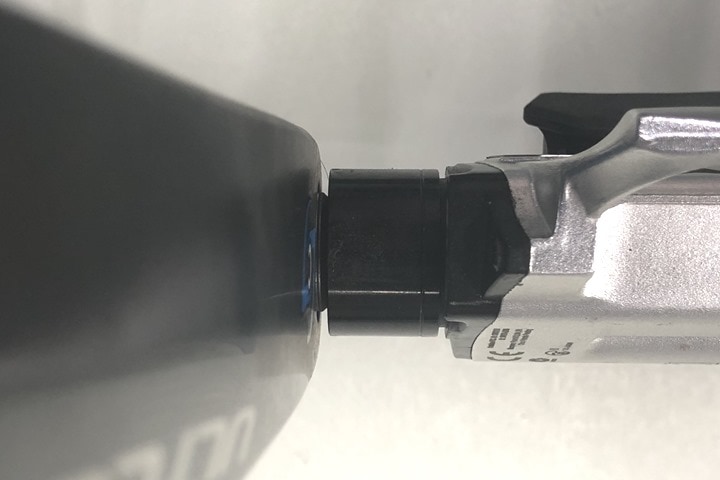 And the second note is that if you've got a crank length that's not 172mm (such as 175mm like me), then you'll need to set the crank length. You can do that via the PowerTap Mobile app, or a head unit like a Garmin.  More on that later.
And the third note is that after I install pedals I like to do a couple of quick sprints to ensure the pedals are nice and set. I prefer to do this indoors, in the event something catastrophic happens with new gear I don't end up face-planting myself into the pavement.  Do this before you do the zero-offset though.  I recommend 2-3 sprints of about 4-8 seconds long. I recommend this for all power meters (as do most manufacturers).  Alternatively, if you just go for a normal ride it'll take care of itself by the end of it (but your power numbers may be a bit off till then).
Oh – and finally, like all power meters, you'll want to do a zero off-set to get it properly calibrated. I'll cover that too in a moment.  You can do that from the app or your GPS bike computer.
General Use Overview: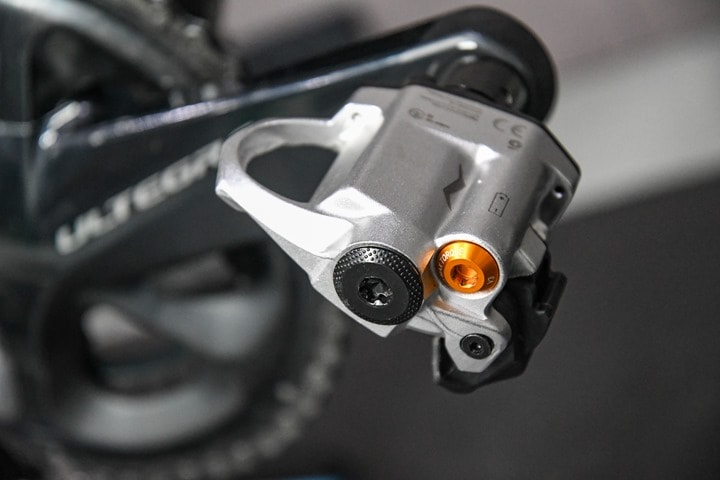 Once you've got the PowerTap P2 pedals installed, you're basically ready to rock and roll. It's got dual ANT+ & Bluetooth Smart broadcast functionality (albeit, on the Bluetooth Smart side with some catches I'll cover), as well as the ability to broadcast power, cadence and power balance. Note that if you buy the single-sided P2S pedal it won't do power balance since you have only one pedal.
The pedal body is IPX7 waterproofed (30 minutes at 1-meter deep), in the event you find yourself pedaling underwater. The official claimed weight is "under" 200g per pedal (they specify 199g on their site), however I pegged it as 200g on the mark – as did Shane Miller of GPLama. Either way, this is a drop of about 17g per pedal. These are battery-inclusive weights.
The weight savings come from internal weight reduction done inside the main pedal body. The weight savings isn't seen visually from the exterior in terms of a sleeker body.
The PowerTap P2 pedal uses the same AAA batteries that the P1 has. PowerTap specifically recommends Lithium batteries for a variety of reasons (including issues with alkaline batteries at low-voltage when the batteries start to die that can introduce accuracy problems). Though, if you find yourself in a pickle you can use any AAA battery you can find to get you through that weekend ride in a remote place. I've done that numerous times on the P1, and even just two weekends ago with the P2 pedals with no impacts.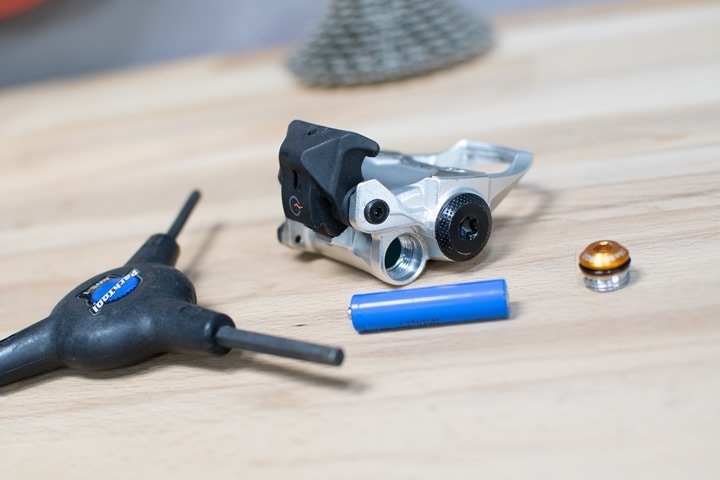 The batteries are accessed using a simple 5mm wrench, and the cap pops off. These caps should be stronger than earlier generation P1 caps. The P1 caps eventually got stronger over time, and these match that. Also, the seals are supposed to be slightly improved too, to minimize water ingest issues.
Once you're ready to ride you'll pair it up to your head unit via either ANT+ or Bluetooth Smart.  Both are supported concurrently.  I've paired it successfully to a COROS APEX GPS, Garmin Edge 520 Plus, Edge 1030, Edge 520, a Garmin Fenix 5S Plus, Forerunner 935, and Zwift. I'm sure I've paired it to other devices as well that don't immediately come to mind.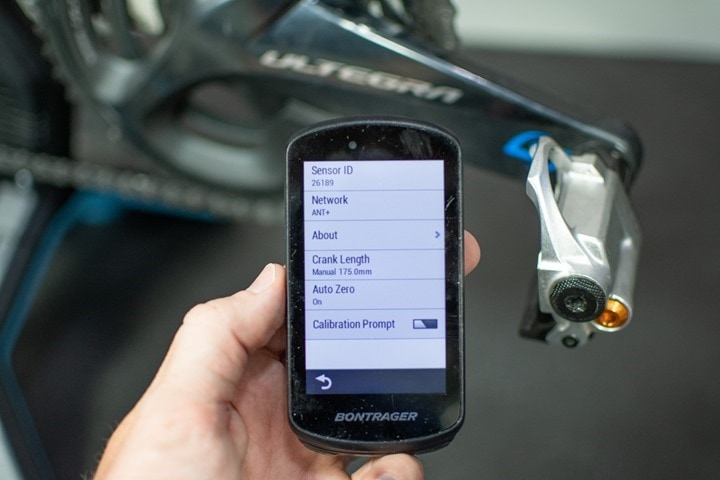 From an ANT+ standpoint, the unit also broadcasts power balance, ANT+ pedal balance, ANT+ pedal smoothness, and ANT+ torque effectiveness. Unfortunately on Bluetooth Smart for most devices you won't get power balance since PowerTap doesn't properly support sending that data over a single connection. Still, here's a link to a Garmin Connect activity recorded on an Edge 1030 (via ANT+) recently showing all the data you'd get during a ride: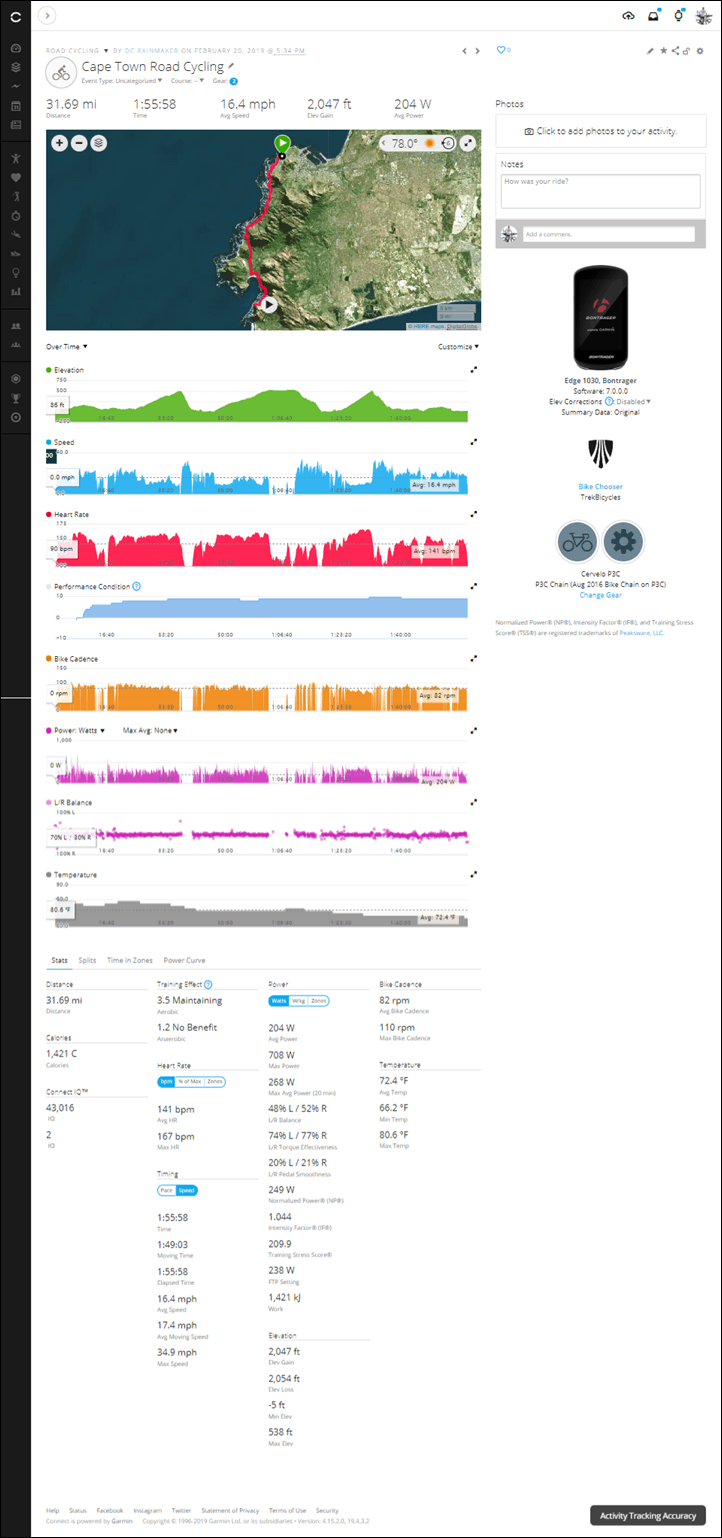 (Note: You won't get tire pressure, that's coming from the Quarq TyreWiz.)
The pedals also support standard zero-offset commands from head units like Garmin, Wahoo, and more. Given this pedal is essentially a P1 pedal from that standpoint, it does everything according to all the standards that we've seen the power meter industry rally around over the last 5-7 years.
You can perform both via ANT+ or via the smartphone app over Bluetooth Smart, using a compatible head unit to zero-offset your unit.  In general, I do this before every ride, as a quick validation that things are working as expected.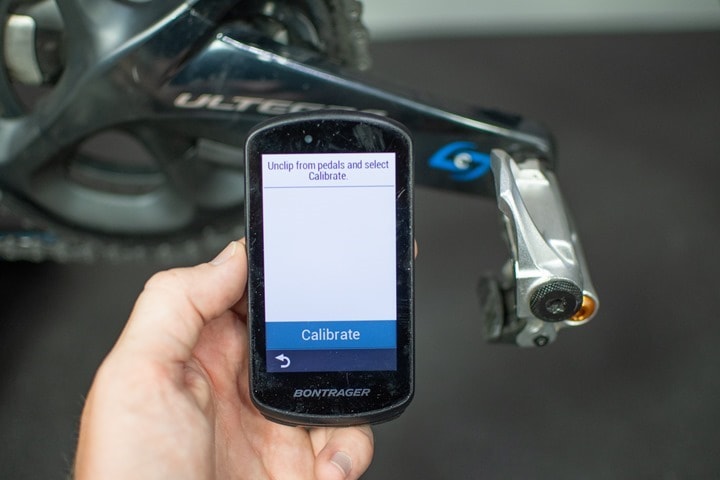 You'll trigger a calibration just like you would other power meters by going into the 'Calibration' comment on your head unit.
The PowerTap P2 pedals will then report back the offset as seen in the app or head unit.  This is a low single digit value, and will vary based on temperature. However, if you've got stable temperature (such as indoors) and are seeing wild swings each time you ride – then something is likely amiss. Still, I appreciate that PowerTap continues to show a variable offset. In an age where power meters seem to be drifting towards just 'Yes or no' type answers that don't really tell you whether the unit is seeing issues ride to ride, giving something is appreciated.
As noted, all of this can also be done via the PowerTap Mobile smartphone app, which will show you the zero offset at the bottom. You can do it per pedal there:
The app also has uses in terms of doing pedaling analysis. While PowerTap was among the first to introduce advanced pedaling analysis into their platform, they never really graduated that from something nifty to something useful.  Here's what it looks like in the app:
What do I mean by they never graduated it?  Well, the data is just in the app for display purposes only. It's like watching a demo, you can't do much with it as a consumer. They have partnered with one company doing bike fits using the data – but that's it.
So you can't record it to your head unit, or even export out that data in a file that any app can read.  Compare this to Garmin, and soon Favero, which support the industry standard ANT+ Cycling Dynamics metrics, which allows power meters to transmit these types of data in a way that 3rd party apps can read (such as WKO4).  As of today you can only see the PowerTap metrics in the smartphone app – and again, there's no way to show them afterwards.
When talking to PowerTap about this, they noted that they don't have any plans to pursue the more open avenue. This to me seems like a mistake. After all, they did all the hard work in calculating these metrics, might as well transmit to head units and apps that can make use of them. Otherwise it's just hot air.
Finally, I want to note an interesting quirk I stumbled upon just yesterday: Zwift and the PowerTap P2 pedals. I generally use smart trainers connected to Zwift (often via Apple TV), but rarely bother to directly connect power meters to Zwift, since the smart trainer transmits power.  But yesterday for the heck of it I decided to connect Zwift to the PowerTap P2 pedal. In doing so you get two pedals enumerated over Bluetooth Smart (since Apple doesn't natively support ANT+), like below. You'll see that's roughly half the wattage of the Tacx Flux 2 showing total power.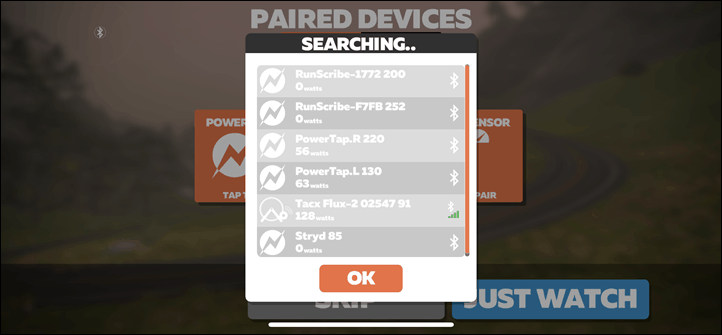 As such, you have to choose only one of them. Typically the way companies handle this is that when an app connects to a single side (left or right), it still gives the proper total power (i.e. 300w). However, that's not what happened here. Instead, Zwift only showed half my power (i.e. 150w). That's less than ideal, obviously.
In talking to PowerTap about this, this is a limitation of their design – and in order to get proper total power (well, a single leg doubled) you need to remove the battery in the other pedal. So that's a pretty big Debbie-downer compared to Garmin, SRM, and Favero – which all have proper modes to handle this via dual-sided pedal design over Bluetooth Smart.
With that, let's dig into the most awaited section – the accuracy pieces.
Power Meter Accuracy Results: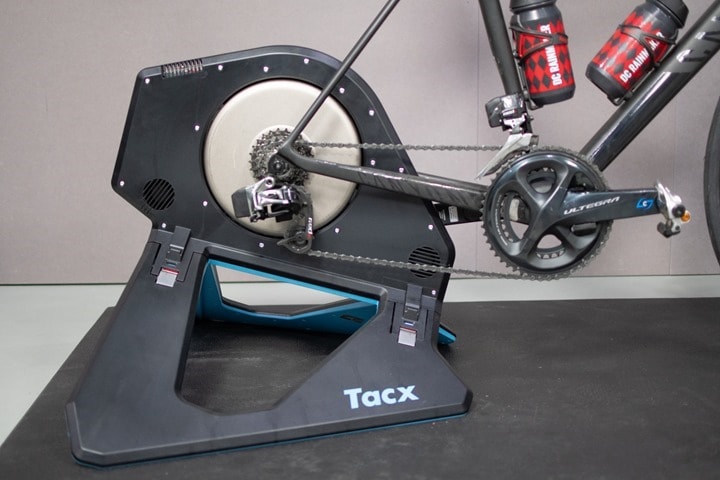 I've long said that if your power meter isn't accurate, then there's no point in spending money on one.  Strava can give you estimated power that's 'close enough' for free, so if you're gonna spend money on something it shouldn't be a random number generator.  Yet there are certain scenarios/products where a power meter may be less accurate than others, or perhaps it's got known edge cases that don't work.  Neither product type is bad – but you just need to know what those use/edge cases are and whether it fits your budget or requirements.
As always, I set out to find that out.  In power meters today, one of the biggest challenges is outdoor conditions.  Generally speaking, indoor conditions are pretty easy to handle, but I still start there nonetheless.  It allows me to dig into areas like low and high cadence, as well as just how clean numbers are at steady-state power outputs.  Whereas outdoors allows me to look into water ingest concerns, temperature and humidity variations, and the all-important road surface aspects (e.g. vibrations).  For reference, PowerTap has a claimed accuracy rate of +/- 1.5 for the P2 pedals (the same as the P1 pedals).
In my testing, I generally use between 2-4 other power meters on the bike at once.  I find this is the best way to validate power meters in real-world conditions.  In the case of most of these tests with the PowerTap P2 units (dual) I was using these other power meters or trainers concurrently over the course of the last 6 months:
Stages LR (dual-sided crankset)
PowerTap G3 (hub)
Tacx Flux 2 Trainer
Tacx NEO 2 Trainer
Wahoo KICKR 2018 Trainer
Said differently – I have a crapton of data and comparative products that are well trusted to compare against. Plus, there's undoubtedly other units I'm forgetting
In general, my use of other products is most often tied to other things I'm testing.  Also, when it comes to data collection, I use a blend of the NPE WASP data collection devices, and a fleet of Garmin head units for consistency in data recording (mostly Garmin Edge 520 Plus, 820, and 1030 units for P2 pedals – though a couple rides with a FR935 and Fenix 5S Plus too). Note all of the data can be found in the links next to each review.
First, let's start indoors with a TrainerRoad session from yesterday. In this case I was controlling the trainer (Tacx NEO 2) using TrainerRoad for these intervals. I was recording the PowerTap P2 data on an Edge 1030:
We see two random dropouts/spikes from the Stages LR (early on and later on), but more interesting we actually see a bit of an odd offset from the Stages LR. It's funny, every once in a while I see quirky offsets like this on the Stages LR – almost always directly after travelling with my bike. It could be total coincidence, but that happened just last week.  Then it goes back to normal. In any case, another problem for another day.
Instead, let's focus on the PowerTap P2. That can be tough to follow – since it near perfectly tracks alongside the Tacx NEO 2 (Note: Power match features in TrainerRoad were not used here). Still, we see a bit of variance between the three units in the first 4 minutes:

I don't know why here we see this variance. All units had zero offsets performed prior to this ride. However, within four minutes all four units stabilized and were happy and close to each other. So, yeah.
Still, looking at the parts that matter here – the intervals – things are super close between the NEO and the PowerTap P2 pedals. And responsiveness is virtually instant.

Note that one can argue that in theory the PowerTap P2 pedals should be a few watts higher (more) than they are, due to drivetrain loss. That's a correct argument, though frankly it's hard to quantify the exact specifics on it on my bike on any given date. My drivetrain on this drive was fairly clean, but not bike-shop clean.
The mean-max graph is pretty consistent between the P2 and NEO, though the Stages LR is both offset across the duration and out of whack at the sub-5-second marker due to the spike we saw.

Finally – a super quick look at cadence. We see one brief moment of a few seconds around the 4-minute marker where the PowerTap P2 pedals momentarily stumble on cadence – but beyond that, it's identical across the range.

With that, let's cook onto one more indoor trainer workout before heading outdoors – this one a Zwift session on Watopia:

That weird spike you see at the 22-minute marker is simply me doing a calibration roll-down on the Tacx Flux 2. When you do that, the trainer will transmit a funky value across to the Garmin's. So just ignore that. I calibrated all units at that time (hence the dip you see as well).
As you can see at a high level things look pretty darn good across all units. You see a bit of smoothing on the Tacx Flux 2, but that's another topic for another day. Note that this particular chart is 5-second smoothed above/below to make it easier to see what's going on.  Here's the first half of the ride:

You can see here things are very close – and near identical between the Stages LR and the PowerTap P2. Just what I like to see. In fact, let's dig into that a bit more closely by looking at the left/right balance splits of those two dual-capable units. In theory we want both left sides to align and both right sides to align. We don't want one over/under-compensating under the covers.
This graph below charts both sides concurrently from both sets (I've removed the Flux 2, since it doesn't report left/right power). I've also changed the smoothing to 10-seconds for your visual benefit, and zoomed in a bit more.

What you're looking at is how I've highlighted the steady-state-ish section where both left sides are tracking correctly aligned to each other, and both right sides the same. When I shift power quickly (on either side of this section), you see a bit of variety in that relationship. I suspect that's just the reality of transmission/recording rates being slightly different – thus why the steady-state is easier to pick out.
Looking at cadence meanwhile shows that both power meters were near identical at all times – whereas the estimated cadence on the Tacx Flux 2 trainer was a bit more wobbly. That's honestly pretty normal for smart trainers and estimated cadence (whereas in the previous set the Tacx NEO 2 actually measures cadence as each crank arm passes by it).

Finally, looking at the Mean-Max graph, things are super close between all units. I purposefully snipped out the sub-5 second value of the Flux 2, due to the spin-down captured mid-ride. So if we remove that it's incredibly close:

Ok, let's move onto some outdoor rides. First up, a nice jaunt up Signal Hill in Cape Town. This is basically a constant climb at grades varying from a few percent to 12%. I point that out because way back when in the first few months of the PowerTap P1 pedals there was a quirky bug that could manifest on sustained climbs. PowerTap fixed that pretty quickly, though some early P1 reviews still reflect that old news.
In any case, here's a look at the ride and the three main chunks (Up/Pics-Down/Flats to add mileage):

Frankly, things look effin awesome on this ride – no matter which portion we look at. For example, let's zoom into the climb a bit more as it gets nice and steady:

As you can see – all units are within a few watts – and more importantly, within the claimed accuracy specs of the units we're looking at.
I went ahead and reduced the smoothing for the next graph down to 3-seconds, and you can see this 900w sprint I did, all units were very close.

As usual, trying to get max 1-second power to match between multiple power meters on multiple head units is always tricky, and we see the Stages LR a tiny bit lower (or perhaps later), but overall very close.
Finally, here's the mean-max for this ride. I would say there's a tiny bit more separation than I'd prefer coming from the G3 hub having slightly higher wattage – maybe a percent or two higher than I wanted. Not sure why.
Lastly – one final ride to round things out – this a few hour coastal ride with more climbing down in Cape Town.  Here's the data set for it:

This ride of course has a bit more variability because the terrain meandered up and down a few times. So those long smoother (ok, kinda smooth) chunks are climbs, whereas everything else is either descents or flats. Traffic and the usual.
Here's a closer look at the first chunk:

You can see things are mostly close, but seeing a bit of lowness coming out of the Stages LR. This is where the left/right graph is useful, as we can see which side is the offender:

I highlighted a few examples above where you can see the left side of the Stages LR is about 10w lower than the left side of the PowerTap P2 pedals. The right side is only a watt or two.
As I started digging into this further, I noticed an interesting pattern in the cadence – there's a slight drop on the Stages LR occurring every 60 seconds. Well, exactly every 60 seconds:

Of course, above you don't see it because I had smoothing applied, so it doesn't extend all the way down. But once we remove all smoothing, it becomes super obvious:

What's super interesting here though is that the power reported never drops. That's frankly an impossibility. That means either the Garmin is committing a no-no (by having a drop, or by faking the power through the drop), or the Stages is doing a no-no (by doing the same as the Garmin). I only recorded each power meter on one head unit, so it's hard to know for sure. I haven't seen it on any other rides.
And of course – none of this impacts the PowerTap P2. I simply got distracted analyzing the data set. The PowerTap P2 did just perfect.
Ultimately – from what I've seen accuracy wise on the PowerTap P2, both indoors and outdoors I've had zero issues with it. It just does its thing just like the later model PowerTap P1 did. Accuracy was honestly rarely (if ever) the issue on the PowerTap P1. Rather, it was things like sealings/bearings/support.
(Note: All of the charts in these accuracy sections were created using the DCR Analyzer tool.  It allows you to compare power meters/trainers, heart rate, cadence, speed/pace, GPS tracks and plenty more. You can use it as well for your own gadget comparisons, more details here.)
Power Meter Pedal Comparison: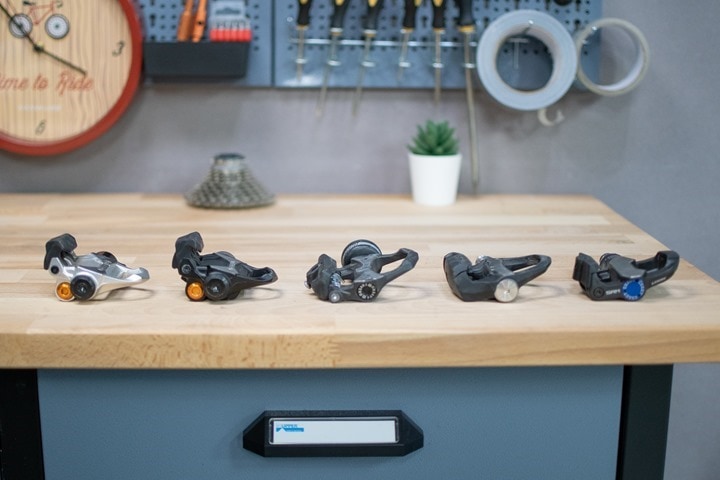 Last year upon the release of the Vector 3 and Assioma pedals, I stacked those two up against the existing PowerTap P1 pedals in a sprawling post with more details and specifics than I can throw a stick at.  Or a lot of sticks.  Seriously, it got out of control.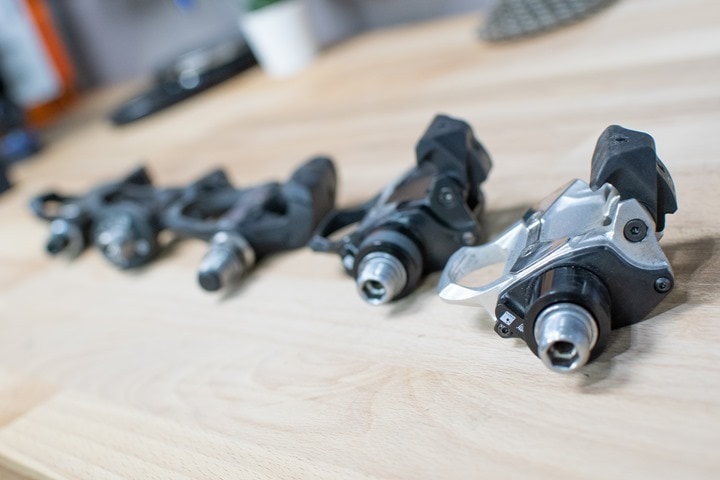 Since then the PowerTap P2 has been released, but aside from slightly decreased internal weight and slightly increased battery life there are no other changes to the units. So by and large everything in that post remains correct except you can add 20 hours to the battery and reduce the weight by 17-18g.
Toward the end of that crazy post I had a bit of simplified table that took all of the details of the umpteen sections and simplified it, which you'll find below.  Note that I haven't had a chance to re-determine cornering angle yet for the SRM EXAKT. I did that on a specific bike of mine with a specific crank length. Thus I need to re-compare all pedals on the same bike to ensure it's equal.
As for a non-data driven comparison, I'd probably guess you could summarize the downsides in the most distilled manner as possible:
Favero Assioma Downside: Pod design is not as aesthetically pleasing
Garmin Vector 3: Battery cap/pod fiasco of the past
PowerTap P1/P2: A bit of a chunker, needs a diet
SRM EXAKT: Expensive, super-clunky installation
There's no question the Garmin and SRM pedals take the cake in terms of beauty, but I'd say that the Favero Assioma pedals are probably the ones I'd trust the most out of the three in terms of just nailing accuracy every time with virtually no complications. Whereas the PowerTap pedals do have longevity on their side here.
Wrap-Up: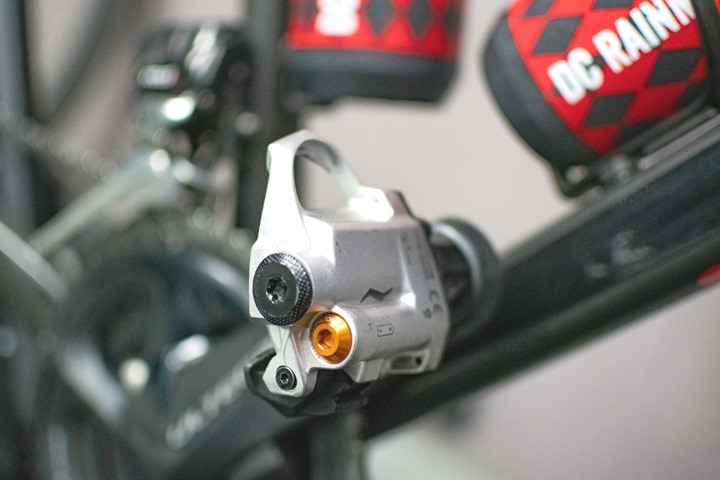 So here's the thing: There's nothing wrong with the PowerTap P2 pedals. When looked at in isolation they're a great and seemingly reliable pedal. Mostly because they're basically just a slightly tweaked PowerTap P1 pedal that's had some of its quirks addressed.  And price-wise, it's not too bad.
But that's sorta the challenge with it as well. There's no part of the P2 pedal that says 'PowerTap is hungry for your business'. The pedals just kinda say: Shrug.  With the Favero Assioma pedals, Favero is clearly hungry for your money and is seemingly doing everything it can via firmware updates or even lowering the price. And accuracy is as good, if not the best out there for pedals (since it also supports non-round chainrings too).  And on the other end you've got Garmin, which offers arguably the prettiest pedal that seems to have gotten over the turbulence of 2018's issues. Oh, I suppose SRM makes pedals too, in the event you wanted to throw money at something that's not competitive in any category I can think of.
So where does this leave us? Well essentially, I'd say that if you find a good deal on the PowerTap P2 pedals – you'll be happy with them. But just don't expect them to be doing anything new and innovative anytime soon. Where Favero is on the cusp of releasing their Cycling Dynamics update, PowerTap is going the opposite direction – saying they don't see the value.  Perhaps that's true, but I wouldn't want to die fighting that battle.
With that – thanks for reading!

Found This Post Useful? Support The Site!
Hopefully you found this review useful. At the end of the day, I'm an athlete just like you looking for the most detail possible on a new purchase – so my review is written from the standpoint of how I used the device. The reviews generally take a lot of hours to put together, so it's a fair bit of work (and labor of love). As you probably noticed by looking below, I also take time to answer all the questions posted in the comments – and there's quite a bit of detail in there as well.
If you're shopping for the PowerTap P2 Pedals or any other accessory items, please consider using the affiliate links below! As an Amazon Associate I earn from qualifying purchases. It doesn't cost you anything extra, but your purchases help support this website a lot. Even more, if you use Backcountry.com or Competitive Cyclist with coupon code DCRAINMAKER, first time users save 15% on applicable products!
And of course – you can always sign-up to be a DCR Supporter! That gets you an ad-free DCR, access to the DCR Quarantine Corner video series packed with behind the scenes tidbits...and it also makes you awesome. And being awesome is what it's all about!
Thanks for reading! And as always, feel free to post comments or questions in the comments section below, I'll be happy to try and answer them as quickly as possible. And lastly, if you felt this review was useful – I always appreciate feedback in the comments below. Thanks!