This was definitely a very busy weekend. It was jam-packed with sporting related goodness! Plus, each day I managed to walk over 10 miles (15KM) in steps, plus whatever other random activities I did. Well, I think I still get some steps from cycling on some of my watches. Anyway, off to the goodness!
1) Welcome to my Cape Town office:
Since I only had four interesting things this weekend, I figured I'd give you a small look at my temporary office in Cape Town. And by 'my office', I mean, the chair I occupy roughly three days a week. The other days I'm either working from the Airbnb or out and about on the road.
In any case, last year when we did our three-month Australia trip we specifically got an Airbnb that had an extra room I converted into an office. But this year in Cape Town we couldn't quite find a house that fit the budget and timelines that had all those things (renting a house for 4-5 weeks is somewhat tricky, since someone else grabbing even a single weekend before you kills that as an option).
So for an office space this year I'm just working out of a co-working space. There doesn't seem to be any of the big brands like WeWork or others down here, but rather some smaller local brands. No biggie, it actually works out better since it's super cheap comparatively and it's nice and quiet.  Most days we work from this desk. Here's The Girl working on accounting.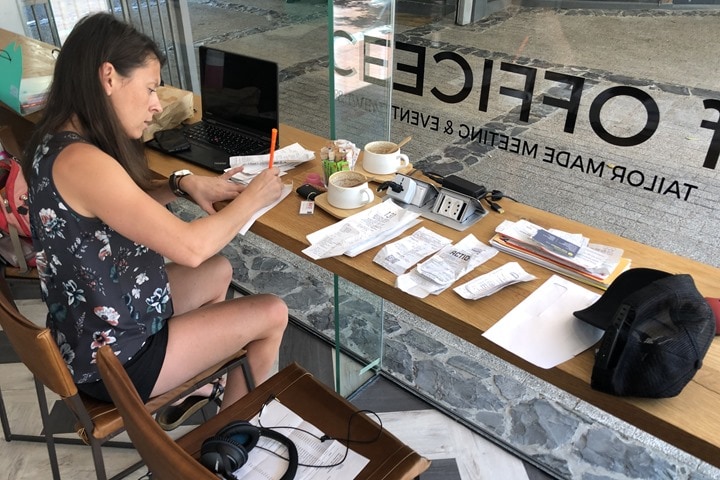 And then sometimes I get lucky and if the conference rooms are empty they'll 'upgrade me' to let me use the conference room for half a day or so: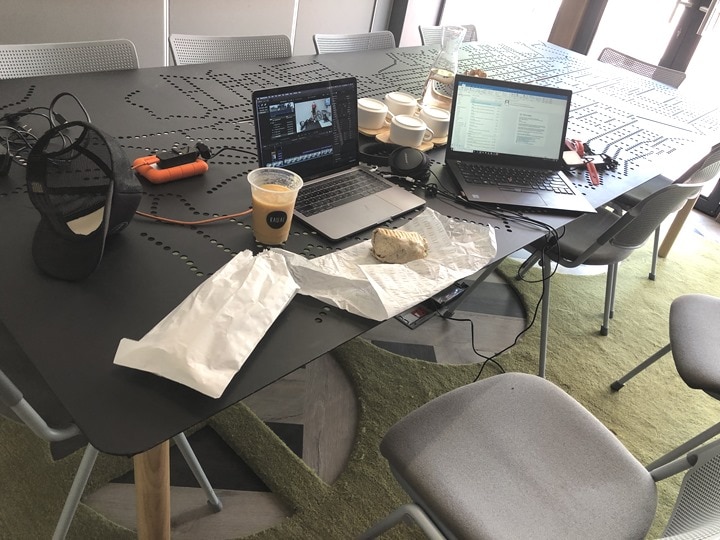 Essentially, it's like a first class upgrade except without the food or flat bed. Or alcohol. Actually, we do get free coffee from the coffee bar barista dude, so that's cool. As for the kids during this time? They hang out with family that came over.
Oh, and here's my trainer room: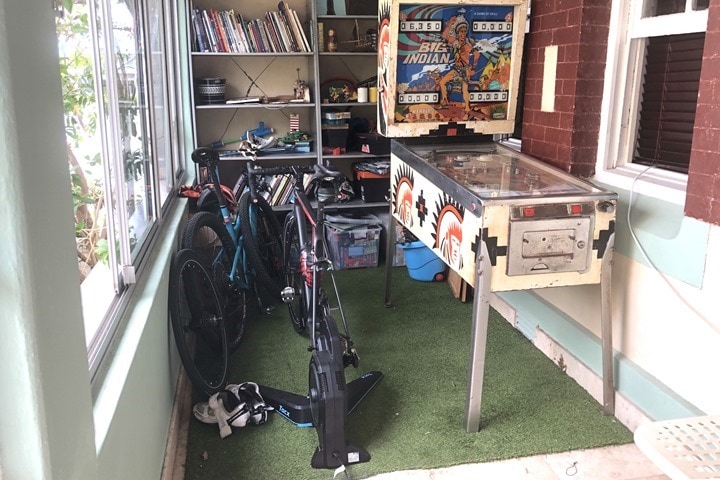 It's at the house on the porch. And now you've seen my entire portable setup (I brought the trainer with me).
Relo-ing to another city for a month or two works well for me this time of year, since for the most part the products I'm working on are small (watches, bike computers) and it's easier to test them in nicer weather, versus something like the middle of September or October would be impossible due to the size and quantity of trainers that typically consume my life that time of year.
2) Riding up Signal Hill:
Speaking of offices and riding, turns out that on Friday afternoons the co-working space closes at 3PM. So I took that opportunity to go riding up Signal Hill. This is the mountain/hill thing that sits in between the water/downtown Cape Town and the famed Table Mountain. It's also home to Lion's Head peak/mountain, which shoots up even higher (but lacks a road).
I left the waterfront and then started my ascent upwards. Most of the time it was between 8-11% in grade, with the vast majority of the first chunk being 10-11% on winding roads. While there was some car traffic, it wasn't too bad at all.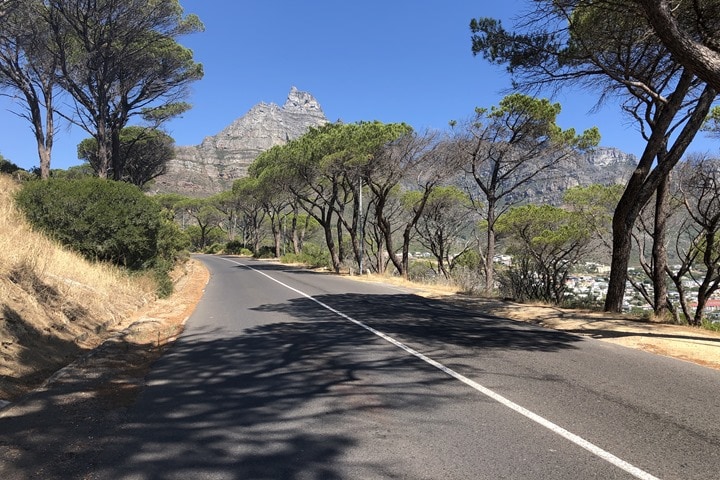 Then I turned off onto the national park road. The cars all but evaporated at that point, and in fact the climbing wasn't as steep anymore either.
It's here that I'd cut along the edge of the mountain, including through areas that were recently burned in a big fire two weeks ago: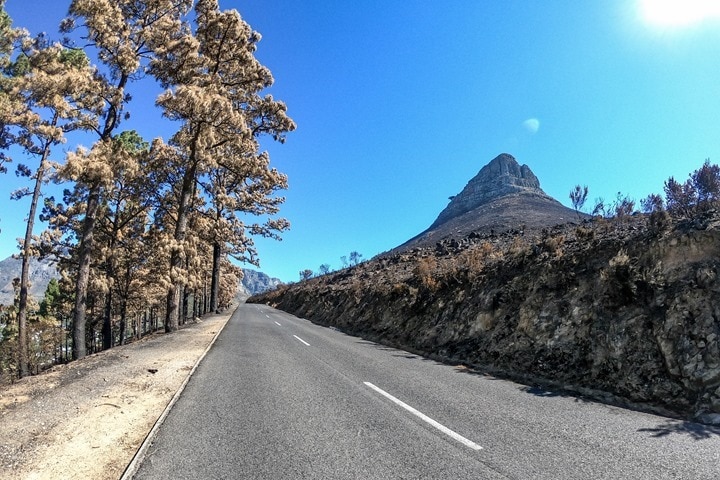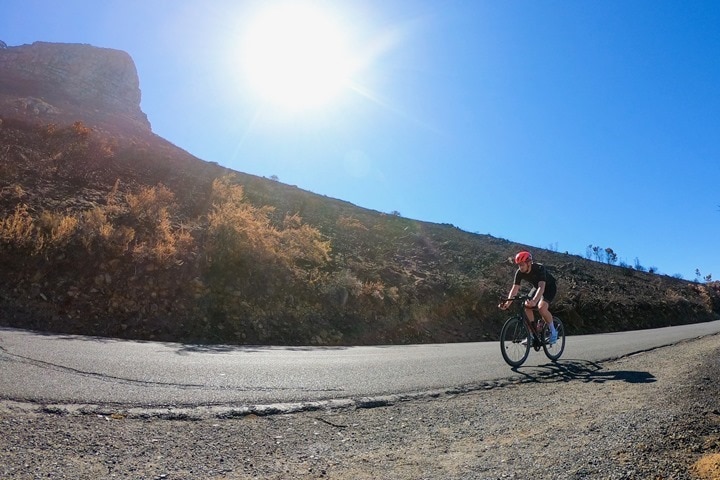 After which I'd hit up the summit for a quick look around:
You could easily make out the triathlon setup down below in blue: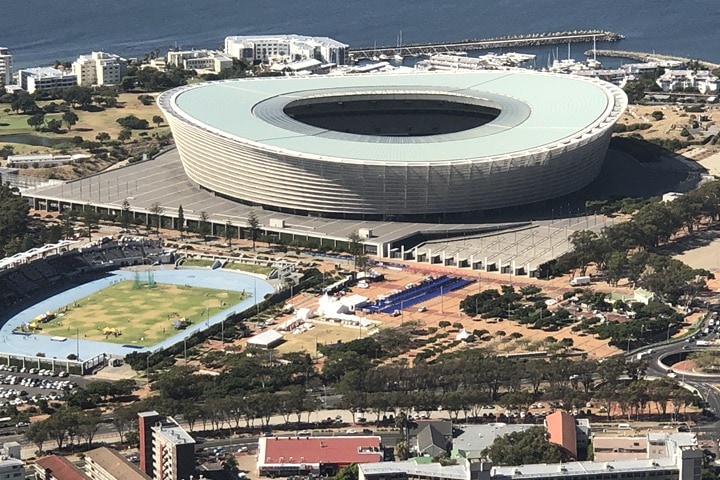 And then it was a brisk ride back down to the water for a quick pic or thirty: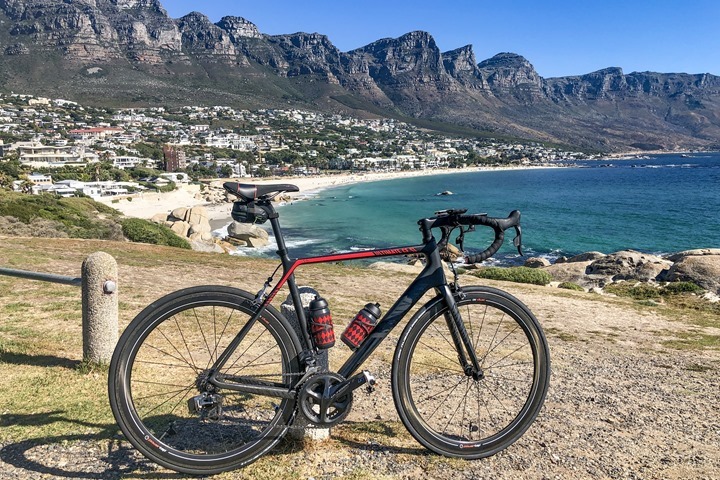 If I hadn't spent time taking photos, and was a bit more confident in descending that specific route, could probably do the whole thing round-trip in under an hour. Here's my Strava activity from it.
3) Racing a 5K with a Double Stroller: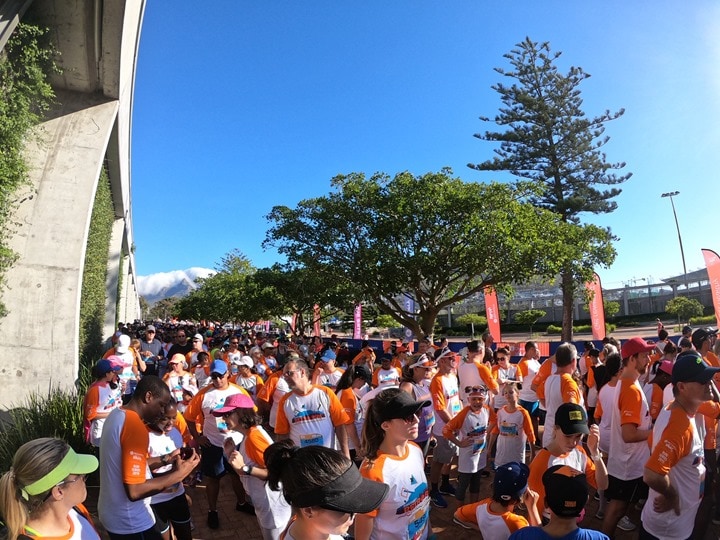 On late Saturday afternoon I ran a 5K race with a few thousand other people, plus two. And by that I mean I loaded the Peanuts up on the very much non-rolling stroller and threw down. And came in 10th.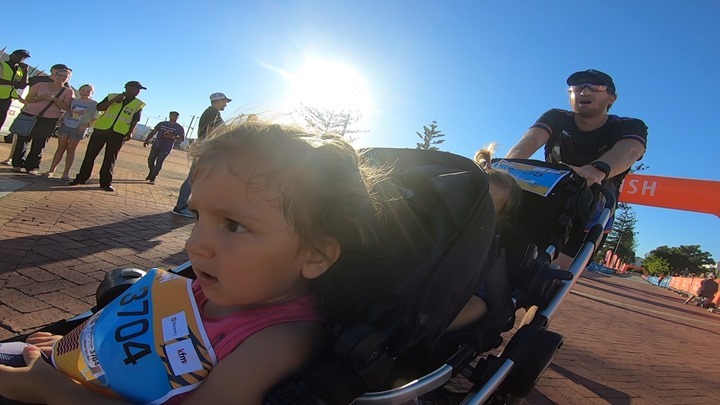 More on that in a maybe-race-report soon. It was hilarious. Including the off-roading.
4) Mountain biking up to see…nothing:
Early Sunday morning I drove about 40 minutes outside of Cape Town to meet up with a few guys and go mountain biking. The plan was to ride to the top of some peak/mountain and see all that there was to see. Mountains, valleys, aqua bays down below, beaches, lions, great white sharks. The works.
In reality, this is all I ever saw: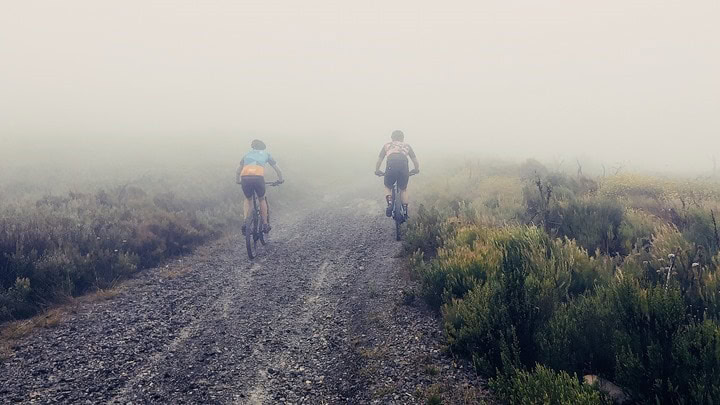 Fog. Just fog and lots of very windy and very wet fog.
Still, it was fun. It was a fairly relentless climb up in terms of grade, with my Garmin mostly between 10% and 14% grades. It was also my annual reminder on how to pedal a mountain bike up a hill on loose gravel at times.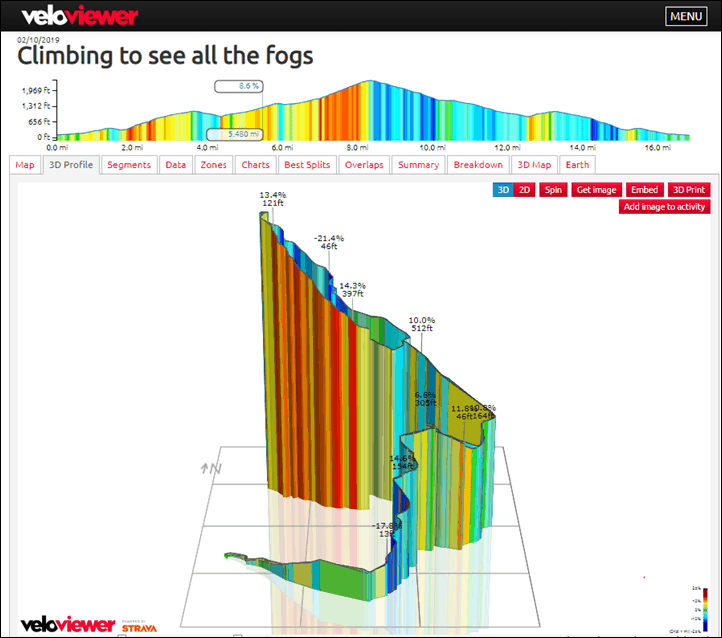 Oh, here's my bike. It's the front one: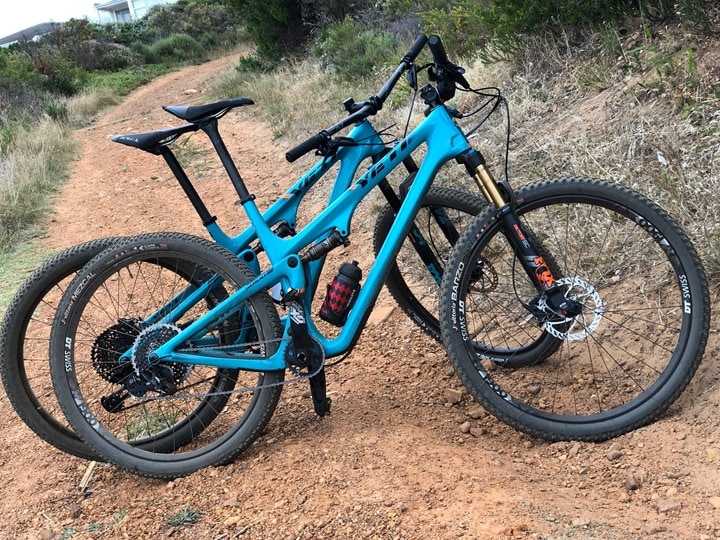 When riding most trails here in South Africa you've gotta ride with buddies, else bad things happen. So, buddies I had. Everyone else I saw out riding was in groups as well. Same goes for hiking.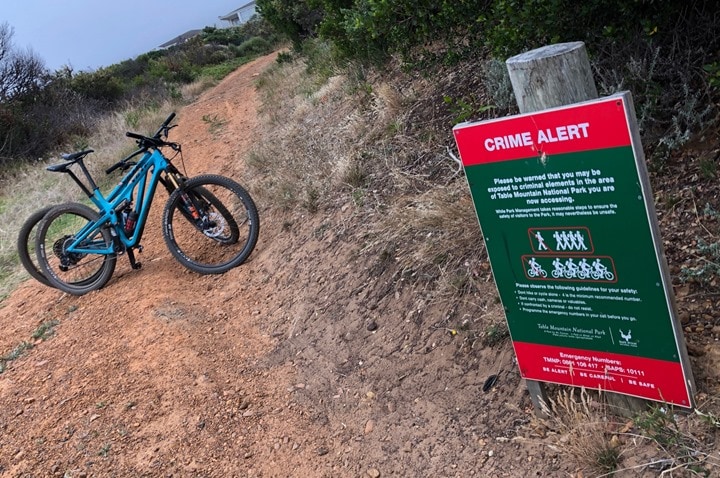 As an aside, I had brought with me the DJI OSMO Pocket on a chest mount in an attempt to do some comparison shots vs a GoPro while mountain biking.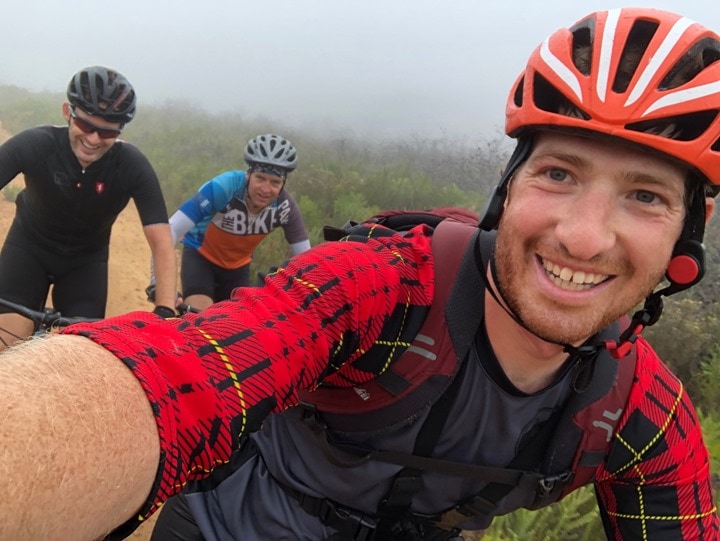 But the precipitation was so strong out of the fog that the lens would be covered in water droplets within 30 seconds or so of riding. Kinda crazy. After the ride we were drenched, not from sweat, but the fog. Thankfully it was warm fog-rain, so it wasn't much of a bother. Plus, the lack of visibility gave me an excuse as to why I descended slower than a slug.
5) Watched the ITU Triathlon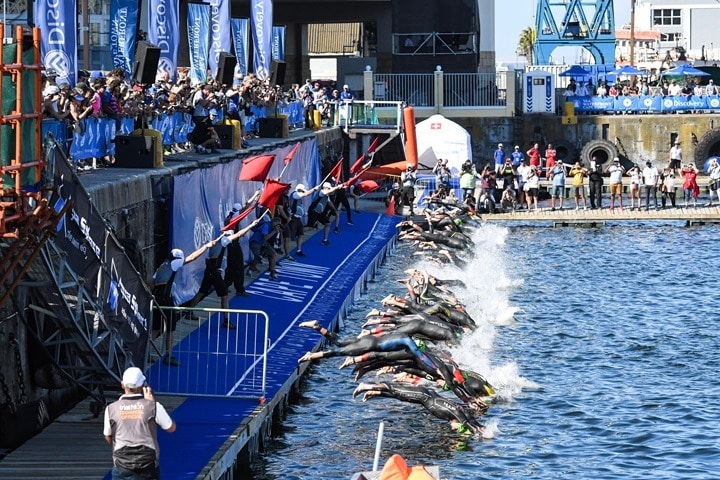 Finally, I wrapped up Sunday chasing a bunch of fit people in swimsuits that were swimming, cycling, and running around central Cape Town. The Cape Town ITU is the first event on the ITU calendar, and was actually a sprint. ITU is the short-course professional triathlon realm, and what ultimately ends up being what you see in the Olympics (except in that case it's the longer, 'Olympic distance' variant). In this case the athletes did a 750m swim, 20KM bike, and a 5KM run. Age groupers that competed earlier in the morning however could have done either the sprint or the Olympic distances (which is double the sprint).
In any case, the women went off at 2:15PM, and then the men at 4:30PM. The swim was held in the harbor, right in front of the V&A Waterfront, making it a great spectator spot. And then the bike course did four loops around the stadium area, before ultimately wrapping up with a two-looped run course inside the greener areas of the stadium.
We watched both the men's and women's, and you could pretty easily walk between the different parts. It wasn't quite like some of the ITU World Cup Olympic distance events where you could sit still and watch everything, but it was pretty easy to get around.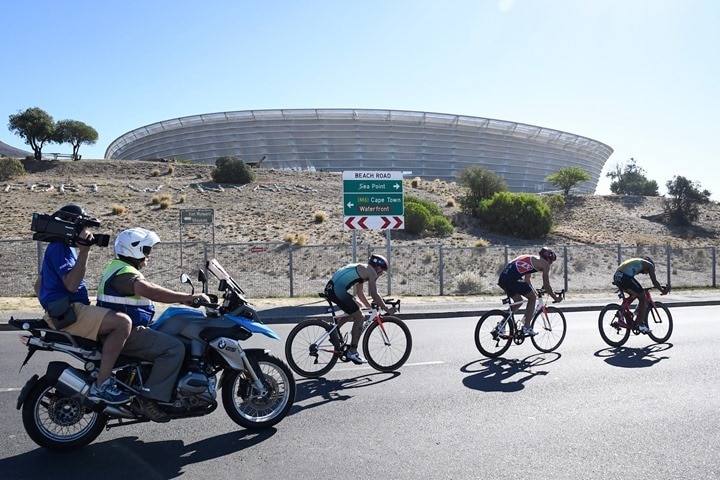 In an ITU event the athletes actually run and ride through the transition area itself, making for incredibly quick transitions. They also have specialized posts where their bikes park, and each athlete has a bucket for their stuff.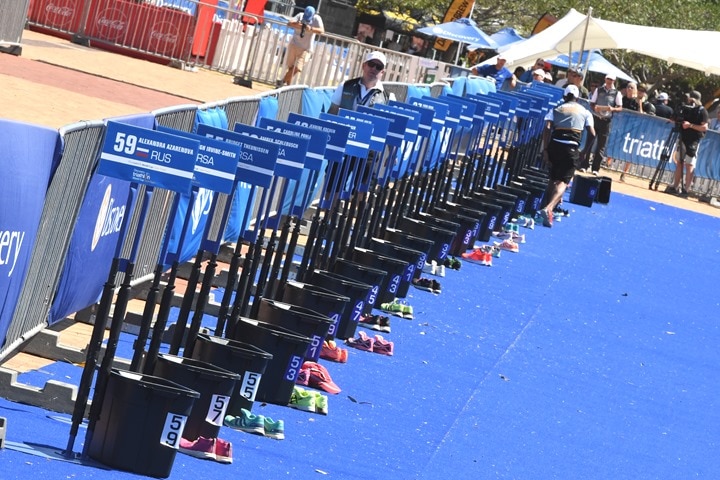 They were having some issues with a power outage at the start of the Men's race and actually had to delay the men's start by 15 minutes or so. In that small amount of time, the winds picked up actually causing athletes to have to do a gear check. Many had to re-collect all their things in T1 and get them back at the right athlete's post (at the swim area).
All in all good stuff, and the kiddos had a fun time cheering for the cyclists and runners too (tho, they did fall asleep at the swim portion).
With that – thanks for reading, and have a good week ahead!