And just like that, it was time to say goodbye to Australia.  After being here a bit under three months, we were ready to begin our trek home.  How time has flown by! I can't believe it's been that long, and we've loved every minute of it!
Here's a handful of the many things I did this weekend. It was crazy busy, albeit not in a touristy way. More in a 'holy crap we have an entire house to pack up' kinda way.
1) Packing up test gear
One of the reasons I was actually able to depart the DCR Cave for 3 months is that it wasn't the fall (or at least, the Northern Hemisphere fall).  Why does that matter? Because that's the major trainer season announcement/shipping time period.  And it's during that time period that I need access to boatloads of trainers in a single spot for testing.
Those trainers on average weighing about 50 pounds, and hardly ideal to bring half a dozen or more on an airplane.
Still, despite my best attempts, I had four different trainers or trainer products under evaluation during my time in Australia.  Companies shipped them to me in Perth, and then at the end of which I'd ship them all back.
So a bit of time was spent over the entire weekend packing all of these back up again.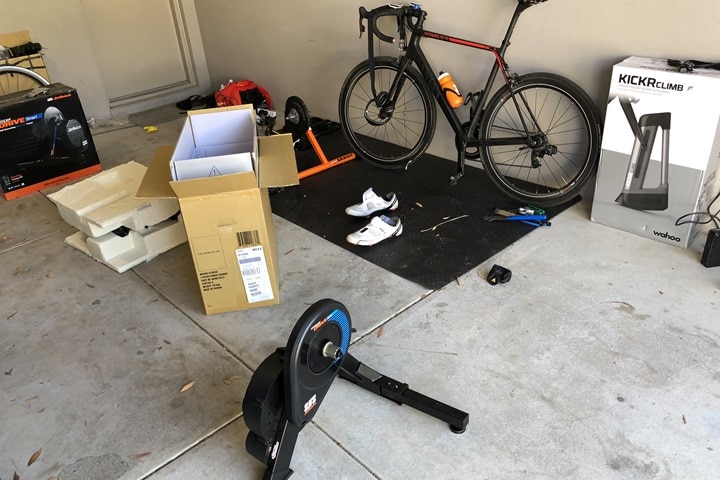 And even more time was spent Monday morning dropping them all off again.  As well as various other products.  On the way to the airport, The Peanut and I made stops at:
1) Australia Post: Shipment back to PowerTap (broken wheelset replacements)
2) Daycare: Box of all toys we bought gifted to them
3) TNT Transport: Shipment back to Magene (trainers)
4) UPS: Shipment back to Stages (power meters)
5) FedEx: Shipments back to DJI and Skydio (drones)
The Girl wisely took a taxi to the airport while I made all the stops.  The Peanut was less than impressed with the entire situation.  In case you're wondering, I also made an errand to drop-off a loaner Wahoo KICKR at a bike shop across town, and JetBlack actually picked up the trainer at the house.  Oh, and the KICKR CLIMB? That's making the trek back to Europe with me, since I'm waiting for them to start shipping before releasing my final in-depth review.
Otherwise, all of the products sent back will have a review drop over the next week or two (or already had reviews post).  And yes, Shimano review is up next. Ensuring I had everything I could possibly ever need for half a dozen products somewhat skewered my week last week.  Though the amount of stuff I shot and wrote is actually impressive.
2) Perth Night Noodle Markets
Saturday evening after dropping off the Wahoo KICKR at a bike shop, we headed to pick up a triathlon suit for me.  Somehow in my packing plans for Australia, I forgot to do so.  But that worked out great – 2XU has an outlet store here, making it quite inexpensive.  Even better is the outlet store had most stuff 30% or more off for end of season.  Combine that with an effective 25% or so 'international currency discount', and basically we got it for pennies.
After that though we headed downtown to find dinner, and the Perth Night Noodle Markets were calling our name!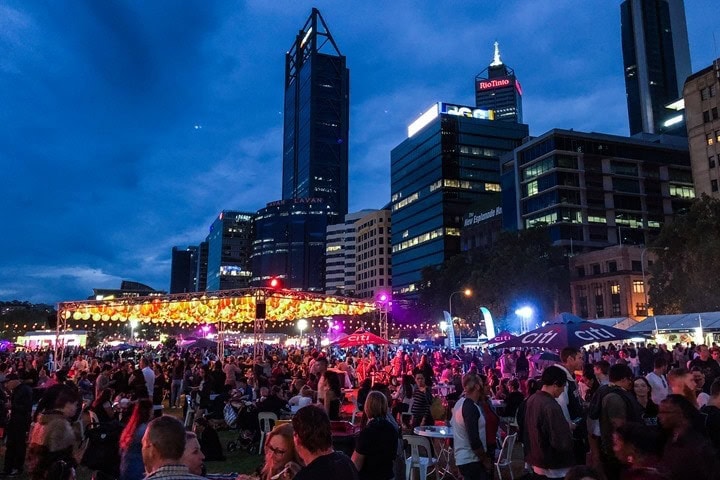 This worked out mostly well…up until the point it started pouring out.  Which was then supplemented by both Peanuts having their own meltdowns.  It seems like once one goes, the other likes to do so as well. I think they are under the mistaken assumption it's a team event. Sigh.
3) Racing the Fremantle Triathlon
Sunday morning I got up nice and early to race the Fremantle Triathlon. I selected it mainly because my 'commute' to it would be like 5 minutes by bike.  And while there were many other great triathlons in Western Australia this day, some of them were multiple hour drives.  Given all the packing and such we had to do, combined with the little ones – traveling all that way was deferred for the next few days of airplane flights.
Thus, the triathlon: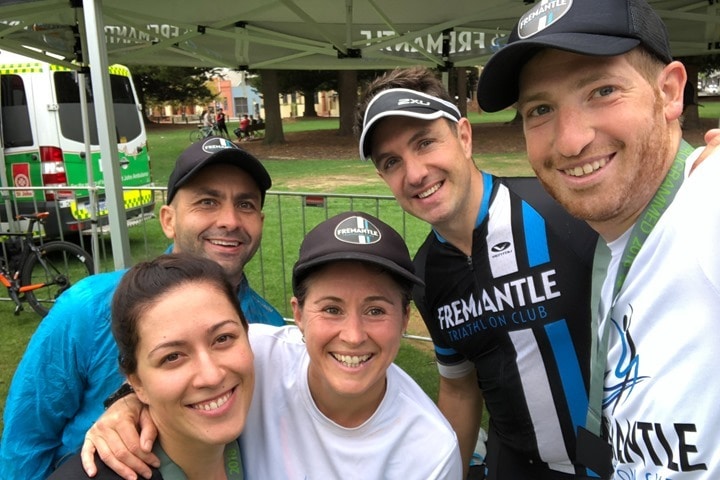 Fear not, I'll have my full race report up later this week. Good times for sure!
4) Fitbit Versa Review Photos
I spent a bit of time Sunday afternoon getting the majority of the shots I'll need for my Fitbit Versa In-Depth Review.  Most of these shots were static shots that I'll use outside of exercise bits within the review: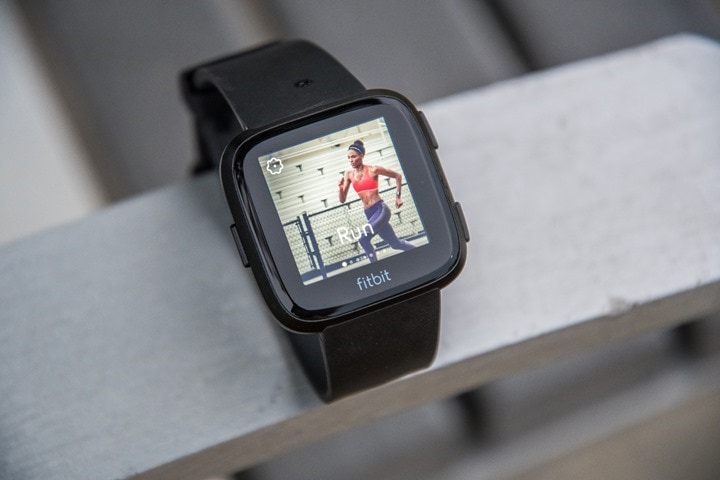 Whereas the various mid-run/bike/etc shots I've taken during those activities.  Albeit I tend to find that shots showing actual data fields during workouts rarely come out as well as I hope. It's all a case of getting the perfect light (not too dark, but also not too bright, or things get washed out depending on the screen type).
In any event, you'll see this review later this week, as I'm working through some issues with Fitbit that I want a few more days of workouts on. At this point it's not so much a case of Fitbit finding a fix (they've found it a fix, it just won't be here soon), rather, me deciding exactly how big a deal this is.  Thus, more soon.
5) Off to Singapore!
And with that, it was off to Singapore we went.  Of course, it wasn't quite that simple as noted earlier. First were those five stops for package drop-offs.  Then it was getting all our crap to the airport and subsequently the front desk.  Don't worry, it was only 150KG worth – 330lbs.  Eeks! Thank goodness for airline status!
Though, in order to stay below the limits, we had to throw away about 3KG worth of stuff.  So regrettably a few random tools got left behind at the airline desk. But then it was off to board the plane:
And with that – Singapore bound for a few days.
I'm not quite sure if I'll be able to fit in any group rides or runs.  Both the littles are a bit under the weather, so the nights are kinda messy (day-time isn't too bad), thus it's tough to plan a 5AM workout if you're up every hour.  Still, I'll probably sneak an afternoon or evening run or ride in if given the chance.
And then, soon – back home by the weekend!  Looking forward to that…and some big things coming next week.
But for now – a pile of reviews are on the way till then.  After all, what I didn't cover in this post that I did over the weekend includes:
A) Photographing all the Magene Gravat2 trainer goodness
B) Photographing all the JetBlack Whisper Drive 2 trainer pieces, plus writing post
C) Photographing Shimano Dura-Ace Power Meter review
D) Compiling half a dozen cycling data sets
E) Four trainer rides (yes, really) mixed in the weekend collecting test data
F) Unboxing three watches, photographs
G) Unboxing two power meters, photographs
H) 4 Hours of Kite Surfing (I drank so much sea water….)
I) Going to the park and beach four times with The Peanut. The best part!
I guess that explains where the weekend went. Huh.
Thanks for reading, and have a good week!