After a busy week up in Banff at the ANT+ Symposium I traded a foot of snow for steaming hot…weather…with The Girl. We'd long been looking forward to this trip, as it'd be the first week away from the kiddos since they were born a few years back. The Girl dropped them off at Grandma and Grampa's house in Canada, and we met up in Mexico.  We've had a weekend away I think twice before, and a few sprinkled days here and there – but never a full week far away to sit on a beach and do…nothing.
Except of course, we're not good at doing nothing. So, here's what we were up to.
1) Stormy Runs
While we relaxed the first day/evening we got there (and slept 15 hours straight!), by the next day the precursor to Hurricane Michael was in town. At that point it was merely a tropical depression, though things escalated very quickly from that to tropical storm and ultimately hurricane.
Nonetheless, when things were mostly just comparatively light wind and rain, I went out and got a sunset run in. Fear not – the only thing flying through the air was light rain off of the passing buses.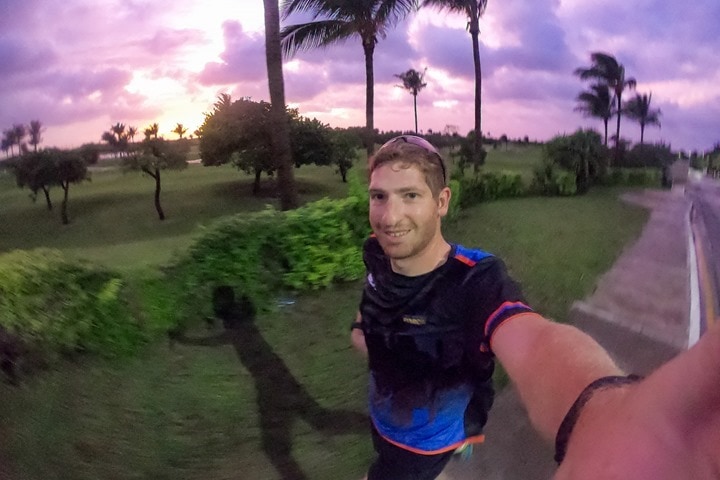 The next day The Girl and I went out again for another run. We'd follow that two days later with a nice interval run as well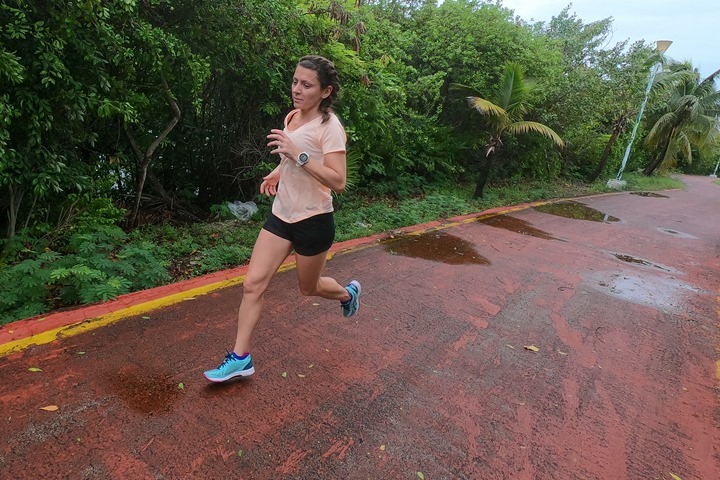 The interval run was solid. Also, at the end of one of our runs we saw this croc off to the side of our hotel.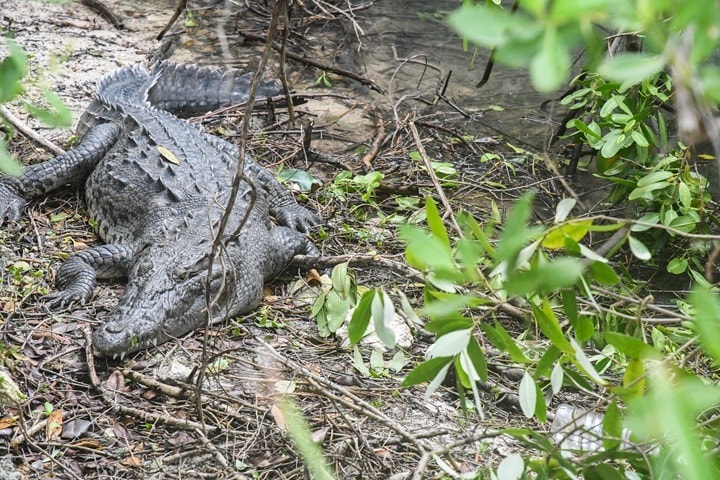 There were also some signs at some point closer to our hotel letting folks on the running path know to be aware of such creatures. Noted.
2) Getting in lots of swims
As you might imagine, the tropical storm remnants meant that swimming wasn't really advised the first few days. Sure, the water was definitely pretty wave and wind filled, but that wasn't so much the issue. Rather, visibility was limited. I'm generally not a fan of swimming in water that I can't see my hand in – especially ocean water nearish marsh lands. Never ends well.
So I waited till mid-week and then made up for it with four different openwater swims. I was testing out a slew of watches in openwater swims – including the Polar Vantage V, Apple Watch Series 4, COROS Pace, and more. Here's the lineup: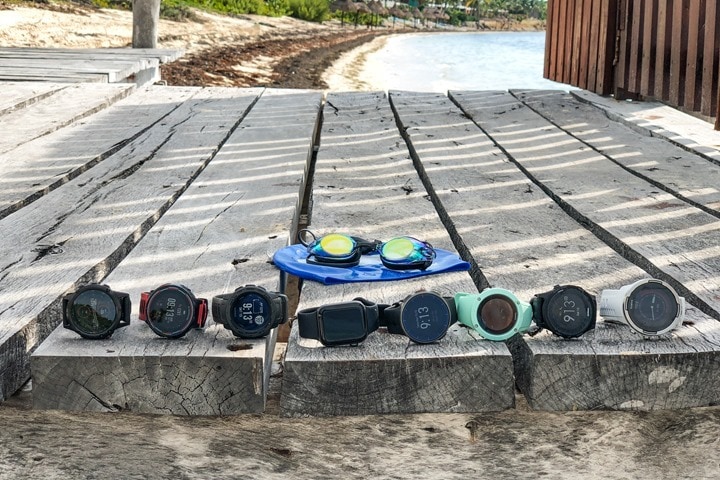 Fear not, I wasn't testing them all at once, but rather on a bit of a rotating schedule – one per wrist.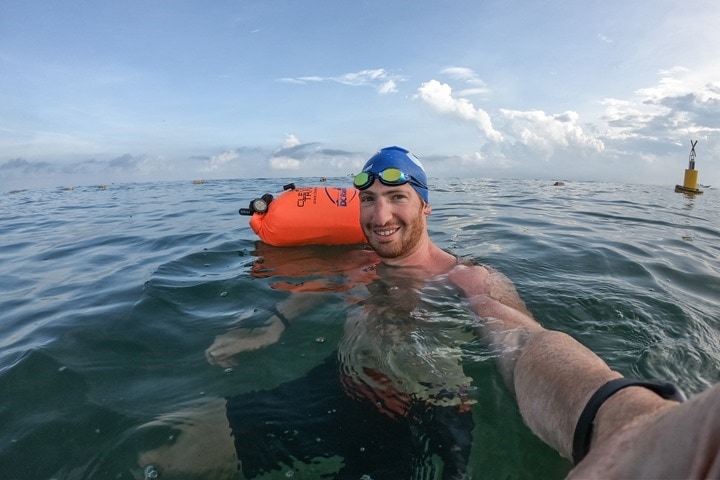 Me and The Girl too!
Though, she's still displeased at me and my stingray issues. As if it's somehow my fault that I step towards the ocean to go for a swim and there's always stingrays lying in wait:
What's that, you can't easily spot it? Amateur. Here, let me help you: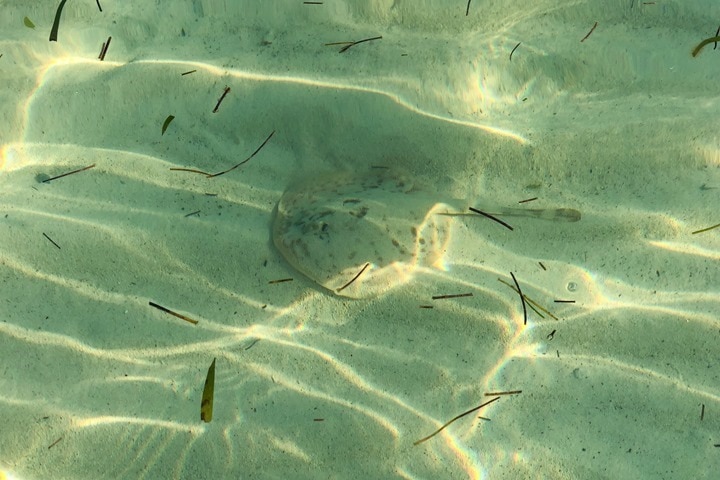 All good now?
As a stingray connoisseur, I've gotten pretty good at spotting the creatures since The Incident. And I don't know if it's like a general thing or if perhaps they just like me – but I seem to be able to spot a lot of them. And oddly, they're always right at my feet waiting for me. Even this past summer we had one that seemed to be circling me until I finally gave up and got out of the water.
Good news though, neither stingrays nor crocs decided to sample me this trip.
3) Just relaxin'
Of course, we did just relax poolside quite a bit. After all, that seemed slightly safer given my ability to attract sea life.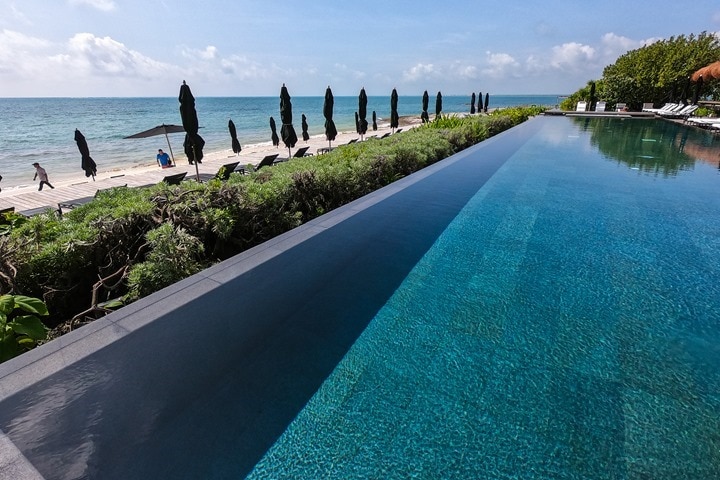 And sometimes wine was involved. The entire bottle…in less time than it would take the sun to set. Living in France immensely helped our wine consumption game.
It happens.
4) A bit of food
We also ate a bit of food, though we actually didn't go crazy on food here. We only went into town once, and otherwise with the exception of run/swims we stayed at the property. This trip was about relaxing, not really partying at the club or going out on the town every night. Effectively, we wanted to be homebodies.
Note that we often had visitors anytime food was served nearish the pool.
Kinda like Lucy our dog – they just sat there quietly waiting, hoping. Persistent – but not aggressive. But ultimately, we weren't about to let any nacho chips be left behind.
5) One Last Swim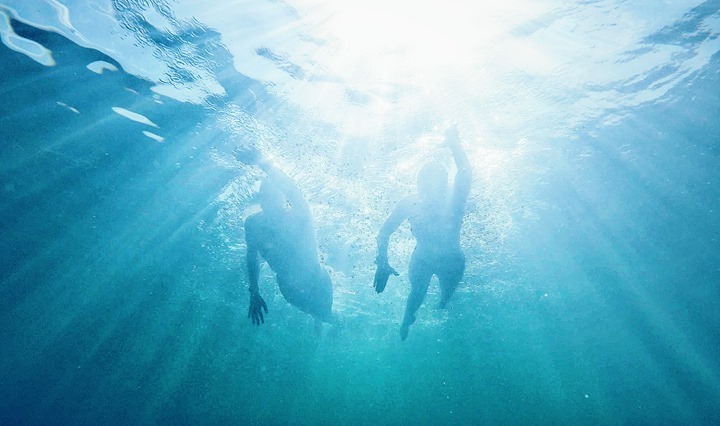 Early Saturday morning The Girl had to depart for the airport, but I had a couple extra hours to enjoy the beach before my flight back to Europe around lunchtime. So I put that time to good use and got in one last openwater swim.
I also grabbed my camera and ended up shooting a video about all the swim testing I did over the course of the week. I go through the results of the 14 swim files, including ones swam by The Girl, and analyze all of the swim tracks.
In total this covered the Polar Vantage V, Garmin Fenix 5 Plus, Apple Watch Series 4, COROS Pace, Suunto 9, and Suunto Spartan Trainer Wrist HR. Plus a reference of the FR935 on the swim buoy. Check it all out on YouTube (or below):
With my video shot it was time to pack everything up and catch a quick shuttle over to the airport for my not-so-quick set of flights home. A few hours to Houston, and then about 10 hours to Amsterdam.  The Girl will swing back to Amsterdam later this week after picking up the kiddos up in Canada.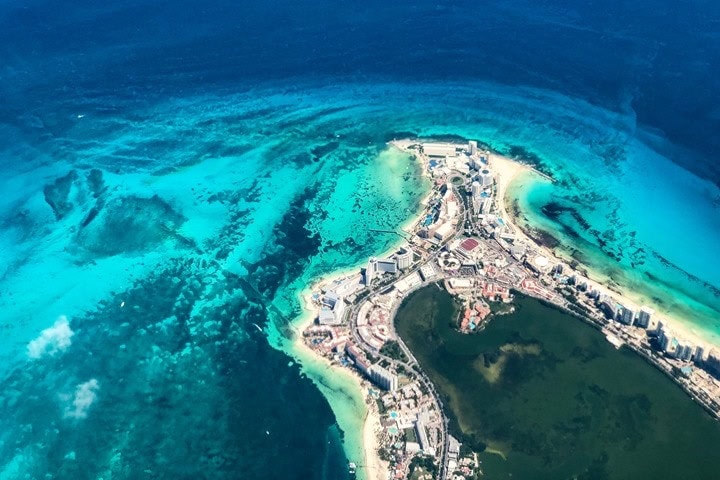 With that – thanks for reading, and also a huge thanks to The Girl's parents for watching the little ones (and Lucy) for the week. I'm sure they're ready for a vacation of their own now!