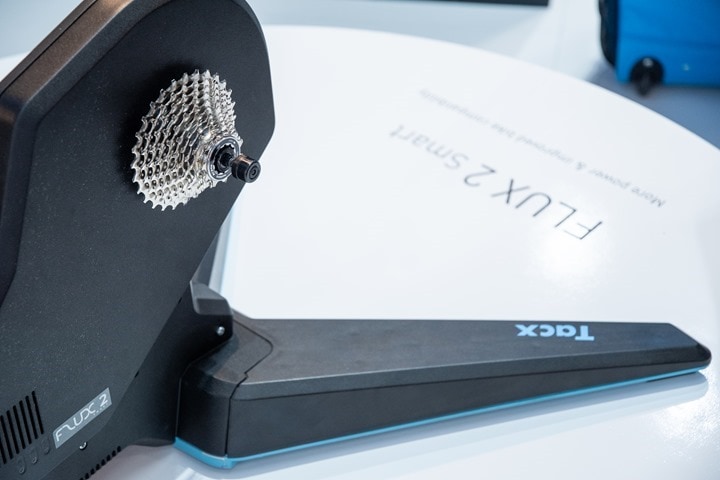 [Update – June 2019: At this point I do not recommend this trainer. While the feel is good and mostly it's fine, it is inaccurate in ERG mode (structured workout mode). It is fine in simulation mode, which is what Zwift uses when not in a structured workout. But for any structured workout in Zwift, TrainerRoad, Sufferfest, or other apps, it will be inaccurate by upwards of 10%+. Tacx is aware of this issue, but does not have a timeframe for a fix.]
While much of the attention in the Tacx booth today at Eurobike was on the soon to ship Tacx Neo Smart Bike, there was also a lonely trainer swirling around quietly in the corner – the new Tacx Flux 2 Smart.  This unit squeaked just in time to the show to be able to be put up on a pedestal (literally) – but wasn't yet in riding condition.
Still, it's worthwhile taking a look at the specs and seeing where they stand compared to the other mid-range entrants that are on the scene.  After all, it was just a few weeks ago that Tacx reduced the price of the original Tacx Flux from $899 down to $799.  Meanwhile, this new Flux slots right in place price-wise where the original unit left off – resuming the $899 spot.  A spot that is mirrored by Wahoo's latest entrant today, the KICKR CORE as well as Elite's Direto trainer – all of which are direct drive trainers.
The Tech

Details: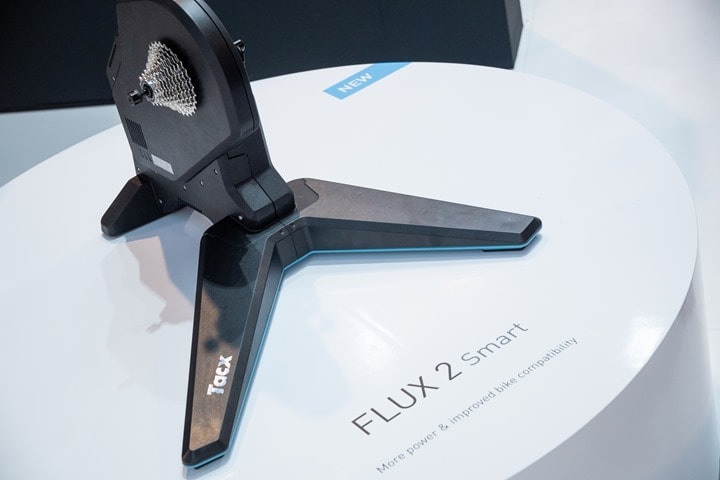 As I said up above, there wasn't an opportunity to ride the unit yet – so the jury is still out on that.  And even that aside, the reality is this is a very minor evolutionary update of the Tacx Flux trainer, rather than some huge shift.  And that makes sense given how deep the Tacx lineup is in terms of numerous models (I'd argue, probably too many models – almost like Elite was years ago).  They're having to be careful to not step on the toes of other units.
In any event, the changes here are actually pretty good – even if they are small in number.  The following items have been changed from the original Flux Smart:
– Dramatically decreased speed you can maintain 15% grade at from 50KPH down to 10KPH (more on this in a second)
– Changed simulated flywheel mass from 24.7KG to 32.1KG (this impacts road like feel)
– Lowered the trainer resistance floor (ideal for smaller folks trying to do intervals with lower wattages)
– Increased sprint support up to 2,000w vs the 1,500w
– Now including thru-axle adapters in the box (versus separate as accessory)
– Increased long cage derailleur support
– Pile of internal improvements like tweaking tension roller which slightly impacts feel and accuracy during sprints
Some of these aren't necessarily box-listed stats like change to accuracy (+/- less than 3% still the same), nor crazy things like 24% incline.  But in reality, the changes made here are actually probably more important.
Take for example the speed change for maintaining 15% grade. That's actually much bigger than folks realize.  See, the deep dark secret with trainers is twofold.  Part of it is that Zwift by default halves the trainer difficulty level.  So when you see 8% grade, its actually only giving you 4% grade and then virtually slowing your speed down.
Why does it do this?  That's the second part: Most trainers aren't really designed to handle very low speeds at high gradients.  So the mid-range trainers and lower end trainers especially suffer here, and can't hold the inclines they say at the lower speeds.  For example, the Flux 1 can technically hold 15% grade…but only if you were going 50KPH. Which of course nobody is doing.
So bringing that entire range down to 10KPH is a massive shift. That's a realistic value, and thus you can realistically make that work at 100% trainer difficulty (versus the default halved value on Zwift).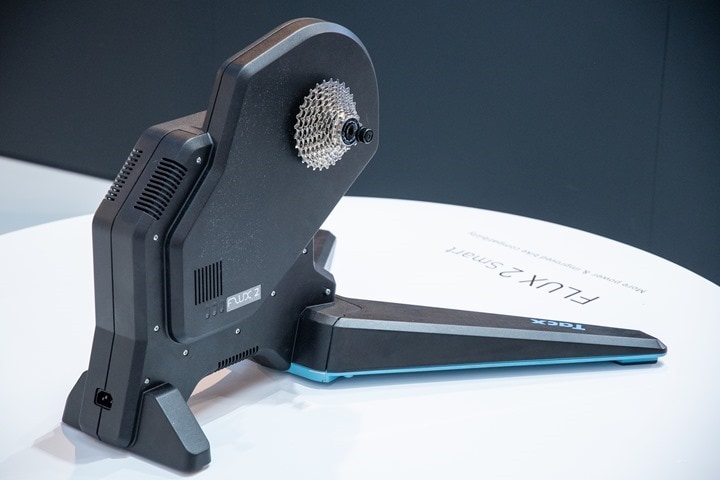 Likewise, the shift to the trainer resistance floor is useful for smaller athletes that may have lower FTP values.  Meaning, they're putting out less wattages.  Previously they'd have to find a gearing combination that allowed them to go to lower watts during the recovery portion of intervals.  But sometimes doing that meant that the trainers didn't react as fast.  So it was a double-edged sword.  This lowers that 'resistance floor' as it's known significantly.
In talking with Tacx they showed charts of how they're starting to re-architect their trainers a bit to focus more on the specific zones people are actually riding in, rather than going for mythical 24% at 50KPH type specs.  I'll be digging into this a bit more, as they've produced some pretty interesting data sets and assumptions about where people are actually training.  But stay tuned for that more down the road as I'd like to make it more about industry trends than just what Tacx is doing.
Oh – and before I forget, the trainer supports all the usual stuff you've come to expect:
– Dual ANT+/Bluetooth Smart support, including FE-C and FTMS, plus power/speed/cadence broadcasting
– Axle Compatibility: Race 130mm, MTB 135mm, 142x12mm, 148x12mm
– Cassette compatibility of 8 through 11 speed cassettes (you do have to supply your own)
– Max 15% supported incline
– Max 2,000w supported resistance
– Requires power cable/be plugged in
– Requires calibration/spindown occasionally (unlike Tacx Neo)
Ultimately, as I said above, the changes here on the Flux 2 may appear minor (especially cause it looks almost identical), but are kinda like the shift from the KICKR 2017 to KICKR 2018 – behind the scenes impact of those changes is actually quite important.  In the case of Tacx with the Flux 2 it makes the trainer highly appealing to those focused on climbing, or in the case of Wahoo's KICKR changes it makes it appealing for those that appreciate their hearing. But that's a whole different topic.
Wrap Up: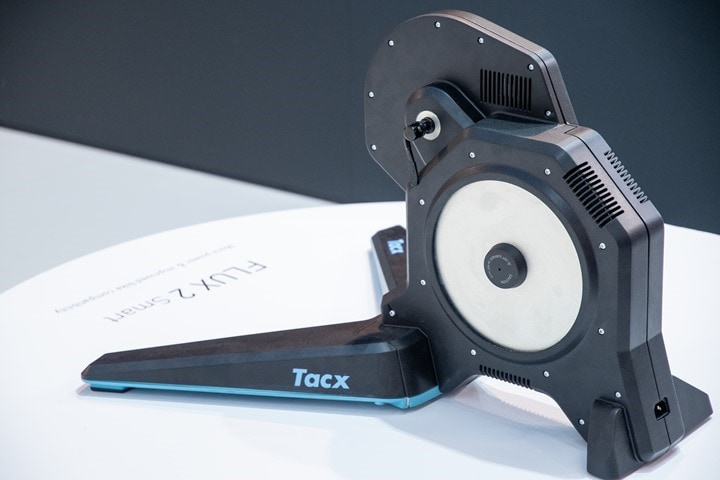 Of course, there's plenty of history with the Flux lineup. It got off to a very rough start with the first generation units for the first few months suffering all sorts of manufacturing QA problems. Tacx eventually sorted those issues out and since then the Flux has found smooth sailing and plenty of popularity.  Still, there's a pile of testing that I'll be looking forward to digging into once I get my hands on a rideable unit. At the show, the only thing rideable about the Flux 2 shown there was the turntable it sat on.
It sounds like Tacx will be releasing the Flux 2 in low volumes from September, and then at full volume from October.  That's a bit late in the trainer season curve, even assuming there's no delays or the like.  Hopefully they can keep things on the straight and narrow.
Either way – between the new KICKR CORE and the Tacx Flux 2, alongside the Elite Direto – it's shaping up to be a really strong year at the $899 price point. Let the battles begin!

Found This Post Useful? Support The Site!
Hopefully you found this review useful. At the end of the day, I'm an athlete just like you looking for the most detail possible on a new purchase – so my review is written from the standpoint of how I used the device. The reviews generally take a lot of hours to put together, so it's a fair bit of work (and labor of love). As you probably noticed by looking below, I also take time to answer all the questions posted in the comments – and there's quite a bit of detail in there as well.
If you're shopping for the Tacx Flux 2 or any other accessory items, please consider using the affiliate links below! As an Amazon Associate I earn from qualifying purchases. It doesn't cost you anything extra, but your purchases help support this website a lot. Even more, if you use Backcountry.com or Competitive Cyclist with coupon code DCRAINMAKER, first time users save 15% on applicable products!
And finally, here's a handy list of trainer accessories that most folks getting a smart trainer for the first time might not have already:
And of course – you can always sign-up to be a DCR Supporter! That gets you an ad-free DCR, access to the DCR Quarantine Corner video series packed with behind the scenes tidbits...and it also makes you awesome. And being awesome is what it's all about!
Thanks for reading! And as always, feel free to post comments or questions in the comments section below, I'll be happy to try and answer them as quickly as possible. And lastly, if you felt this review was useful – I always appreciate feedback in the comments below. Thanks!