Brrr…it got chilly here in the city this weekend, which I suppose only makes it appropriate for winterish things like holiday parties and Christmas trees.  Here's what I've been up to the last few days!
1) A lunch date:
The Girl and I made an excruciatingly long trip from the DCR Cave & Bertie's Cake Studio on Friday for lunch.  We walked about…30 meters…to a newish restaurant next door.  I guess technically like three doors down.
In any event, the place (Alliance) got their first Michelin star this past winter, making for three different Michelin star restaurants within one block of the DCR Cave.  Now, as any regular of my foodie adventures knows – the best deals for such restaurants are at lunch.  That's when it's far cheaper to go and you get virtually the same food.
Along the way we had sea urchin with a grapefruit and Campari (it's an herby liqueur) foam, below: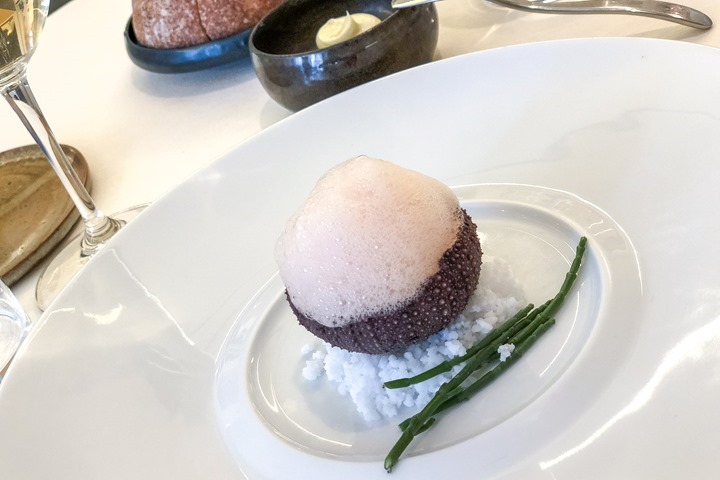 In this case, there's a four-course meal for 44EUR (but remember, in these types of restaurants, four official courses is really like 6-8 actual courses…including two dessert courses).  Below is beef from Normandy.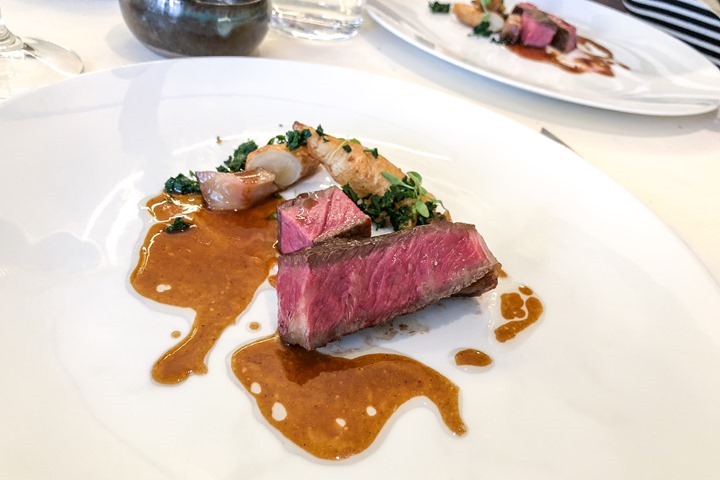 Also, remember a sit-down lunch in France at a place like this is a 2-3 hour experience, depending on the restaurant and your group size.  Anything less would be considered uncivilized here.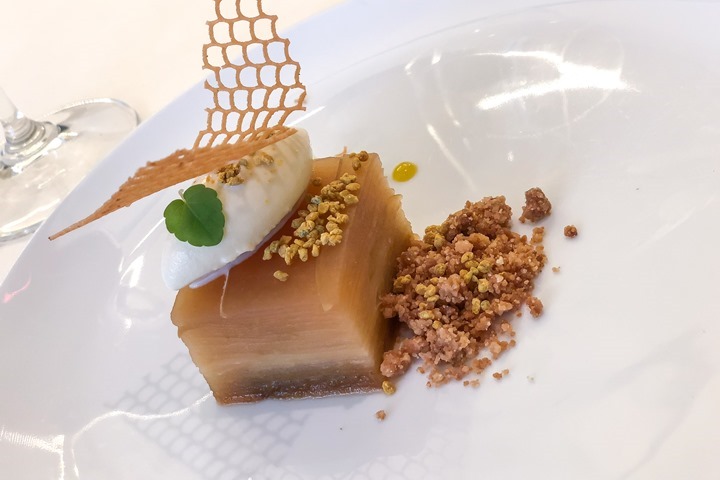 In the above photo, those are actually incredibly thinly sliced apples for each layer of that dessert.
The food was great, and we'd definitely recommend it.  It's always good to see startups like this do well, and it was fun watching them build out the space and then their evolution from opening Day 0 with an empty dining room to now being basically sold out daily for lunch and dinner.
Oh, and in case you're wondering, Peanut 2 simply slept next to us on the floor in her car seat bucket the entire time.
2) Preparing for the DCR Open House:
Unlike past years, I actually had been preparing for the DCR open house for the last 30 days.  And by preparing, I mean, making the Cave space half-way presentable.  This was partially because a major magazine was doing a photo shoot in there two weeks ago, and partially because I was getting inundated with stuff that I needed to organize a bit.  Either way, the actual organization/clean-up of the Cave was fairly minimal for this event.
Still, there were many other tasks to get done like going to get wine, cheese, meats, bread and so on.  It was totally normal that I ordered 30 pain au chocolates and croissants at the bakery (only to follow that up later with ordering a dozen baguettes).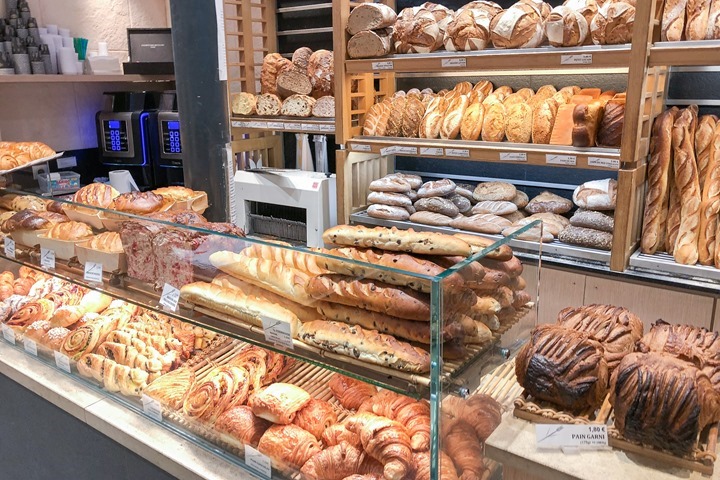 And then The Peanuts and The Girl and I went around the corner and picked out a mini Christmas tree for the Cave too.  But more on that in a minute.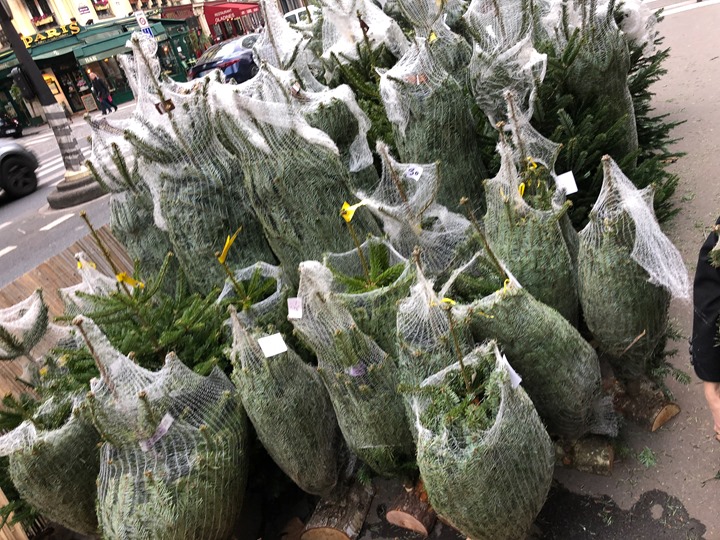 There were probably a bunch of other things I did, but thankfully this year was a little less hectic on the prep front.
3) The DCR Run & Open House
Now, I've got an entire post coming in just an hour or three, so I'm going to merely give you two photos as an appetizer of sorts.
But it was great!  Hang tight for all the details momentarily…after lunch (don't worry, not a three-hour lunch, don't got no time for that today!).
4) Paddling invaders!
No matter how late I was up at the DCR party, The Peanut didn't really care.  When the sun rose, she wanted to play.  Thankfully, the sun rises late these days.  In any case, as I was sleepily playing with her in the living room I heard some shouting/chants outside somewhere out of view from my spot on the floor.
This isn't unusual.  In general, noises outside our window fall into three camps:
1) Official scheduled events with road closures
2) Protestors (scheduled or otherwise)
3) Drunk people
Usually when it's drunk people, it's mostly not French drunk people that make the most noise. Not sure why.  Also, usually drunk people bang/beat up on the green boxes along the river (book seller boxes).  Seriously folks: You can't break those boxes.  We've watched you try every night for 5.5 years.  They should make armored tanks out of them.  You're going to break your arm first trying.
Anyways, back to the noises, the chanting of sorts.  It didn't really make sense for drunks that time of the morning.  And it was also a bit early for any church stuff.
Then I heard music being played.  It was too early though for party boats (or even tourist boats), so that didn't make sense either.
So I got off the floor to see what was up:
Woot!  It was the annual stand up paddle boarding event that goes down the river.  Each year this occurs, for some ungodly reason in the middle of winter.  And this morning they selected the very coldest day thus far this season (by a long shot).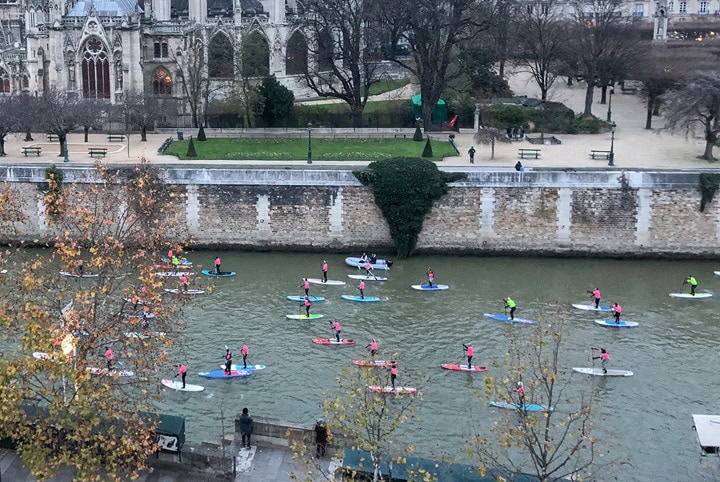 The event sells out super quick, and one of our friends is down there somewhere among the many hundreds of SUP'ers.  Had I known about the actual sign-up date I'd definitely had done it, super cool (…and cold).
Oh well, still fun to see them go by.
5) Let the Christmas Parties Begin!
Last but not least, on Sunday we headed across town to a friend's house for a kid-packed Christmas party.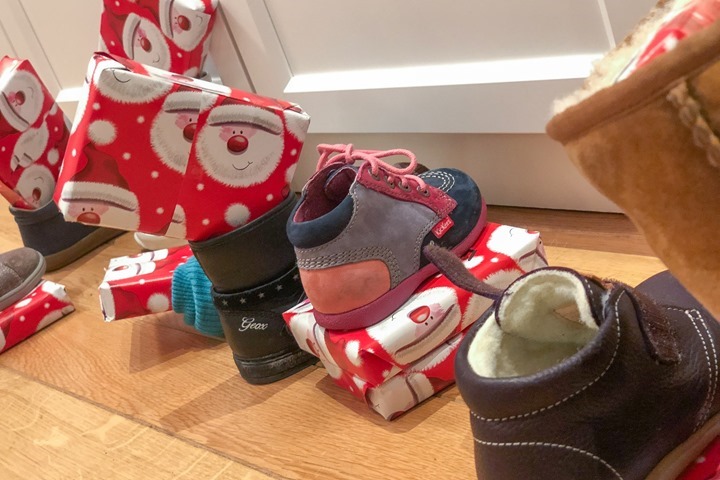 I believe I counted 12 tiny kids, with all but one under the age of three (and even then, almost all under the age of two).  It was like one giant daycare, which made it hilariously fun.
And the Dutch among you might recognize the tradition above, since the party was organized by a Dutch friend.
With that – thanks for reading – and stay tuned for a rather busy week of posts!