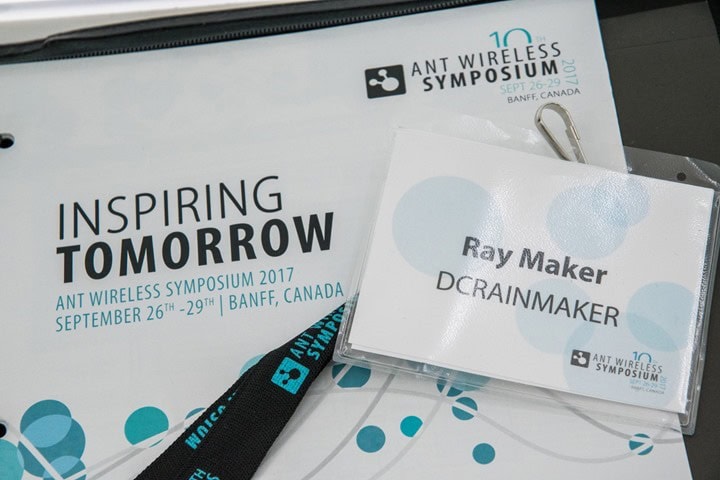 Each of the last 7 years I've gone to the ANT+ Symposium held in the mountains outside of Calgary.  As always, this annual event caps off the busy sports tech conference season (following Interbike & Eurobike).  But unlike those two events, this isn't a trade show.  Rather, it's a conference for companies that are largely in the sports technology realm to discuss products and standards.  And, it's hardly limited to ANT+ these days.  Just as much conversation is focused on the end-state product as the protocols used.  And of note?  This year sold out – the first year ever.  I know a bunch of companies that waited to the last minute and were unable to attend.  On the bright side – they still get to check out my keynote here!
While there are numerous technology and protocol sessions that happen, there are equally as many business/commercial focused sessions.  But more important than all of those is the discussions that happen outside the conference floor rooms.  They're the discussions occurring on nearby trails running, riding, or hiking.  It's these discussions that truly influence product direction, whether it be two companies discussing a partnership – or myself trying to convince a given company to implement your ideas.
In fact, that's really the secret agenda of the symposium for me.  It's effectively my hunting grounds to be able to convince companies to change products or platforms based on what I hear in thousands of comments each week from you.  Despite taking only a handful of product related photos there, almost every minute of my time from when I landed till when I took off was meeting with companies.  Some for near-term ideas, and some for things 1-2 years down the road.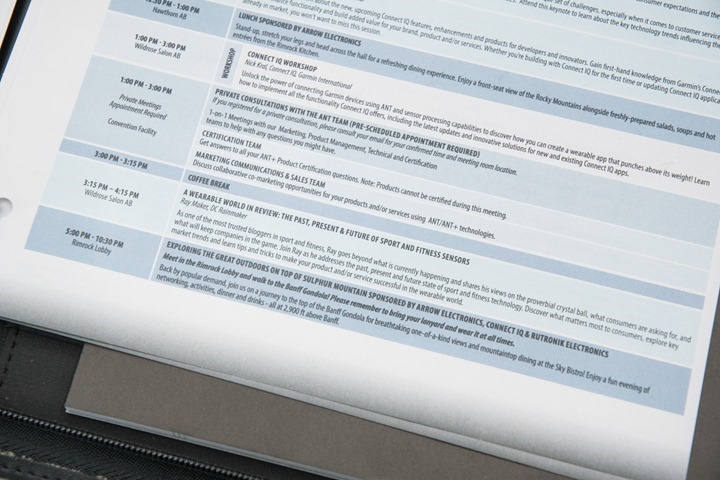 But of course – there's many ideas that I want to discuss more publically.  And no better way to do that than in front of everyone in attendance.  Thus, my annual keynote address.  So if all that interests you (or, if you just have 55 minutes to burn) – go forth and enjoy!
Additionally, if you'd like to download this year's keynote presentation (PDF), you can do so below (it's sorta big).  Further, I've also linked to the 2010-2017 presentation files and to the 2011-2017 video clips.
DC Rainmaker 2017 ANT+ Symposium PDF (Watch here)
DC Rainmaker 2016 ANT+ Symposium PDF (Watch here)
DC Rainmaker 2015 ANT+ Symposium PDF (Watch here)
DC Rainmaker 2014 ANT+ Symposium PDF (Watch here)
DC Rainmaker 2013 ANT+ Symposium PDF (Watch here)
DC Rainmaker 2012 ANT+ Symposium PDF (Watch here)
DC Rainmaker 2011 ANT+ Symposium PDF (Watch here)
DC Rainmaker 2010 ANT+ Symposium PDF
Boom!
Initial Note: You can go back and see all my past ANT+ Symposium posts from all the years, here with one handy link!  Yes, even including when I ran into a moose on a run.
Secondary note: I have ANT+/Dynastream donate my speaker fee to charity each year.  This year that went to KidSport.
Third Note: I'll be covering public things that came out of this symposium over the coming week or so.  Of course, you already saw one thing earlier this week with the Garmin Running Power post, and then the careful listeners will have picked up on at least 2-3 in my keynote session video as well.
Fourth note: That's it, have a great weekend all!