It was a hot one this weekend!  The temperatures were more like June and July than the beginning of April. Yikes!  Nonetheless, here's what I was up to!
1) Visitors to the cave
With the Paris Marathon and Paris-Roubaix both this weekend, there were a flurry of sports folks in town for both events.  I mean, like 40,000 or so for the Marathon…plus family and friends.  With that came both industry folks as well as readers like yourselves.
So I had a number of visitors over the last few days, which helped in keeping the DCR Cave nice and tidy.  Thankfully during spring-time it's pretty easy to keep clean.  It's the fall that becomes a disaster with trainer season (see this picture in an old newsletter for that!).  As a side note – you did know there was a weeklyish newsletter, right? Oh…and The Girl writes it.
However, for what I believe to be only the second time I actually remembered to take a darn photo of someone.  Folks always take photos of the cave or of me, but I seem to always forget to take one of them!  Mission accomplished: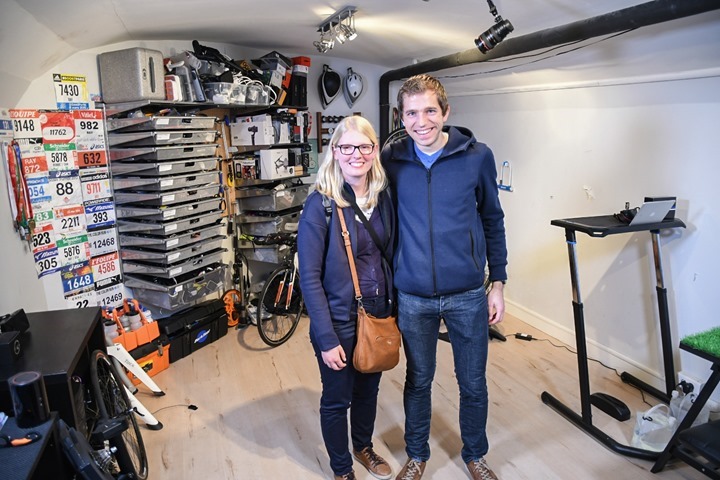 Nice to meet everyone that stopped by!
In general, as long as I'm in town I'm happy to give a tour of things.  You can use the little contact form in the upper right corner.  See ya around!
2) Running with T
he Peanut
Saturday mid-afternoon I plopped The Peanut in the running stroller and headed out for a wander.  With it being so nice out, it would have been impossible to run anywhere in the city center with a stroller.  So instead I headed out of the city on one of the river paths.  After the first 2-3 minutes of dodging people in the city center, it was clear sailing for miles.
Side note: I may have forgotten to mention that The Girl put together an entire page with all of the baby/child gear we use, including some tech stuff.  And non-tech stuff.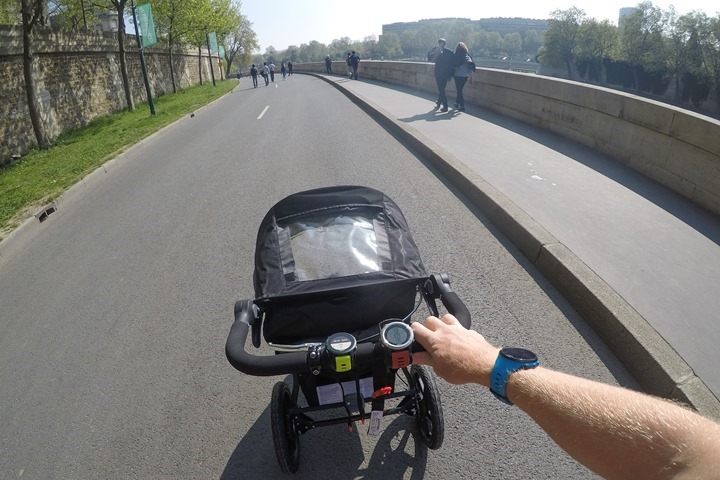 Ten miles to be exact.  Though, she lasted about 7 minutes before falling asleep.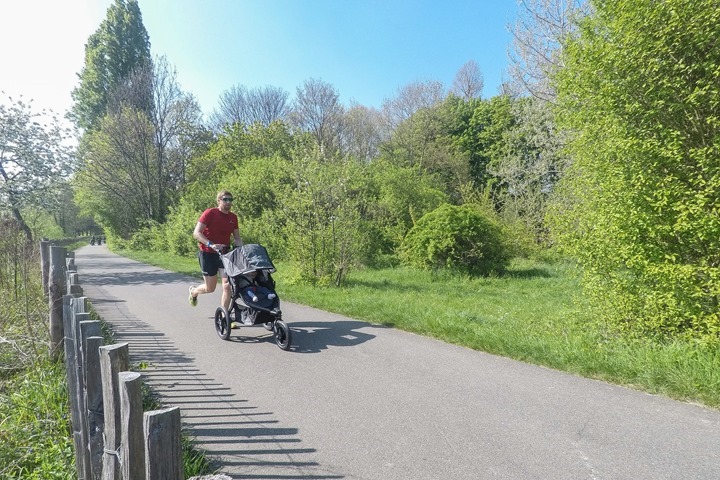 She woke up a few miles from home and enjoyed smiling at random strangers going by.  Oh, and she was wearing an Apple Watch Series 2.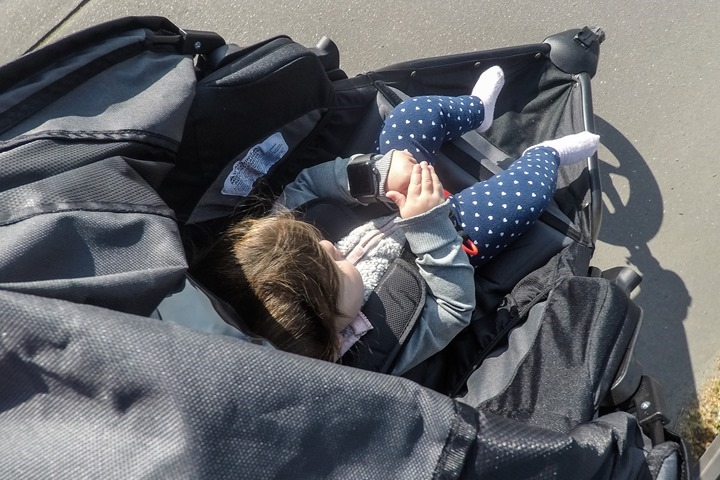 She had decided that the FR935 I had lying around (in neon green) was her new toy, and so I swapped it for the un-powered Apple Watch.  Astoundingly it actually fit her wrist on the last hole.  She kept on checking it, along with an occasional lick.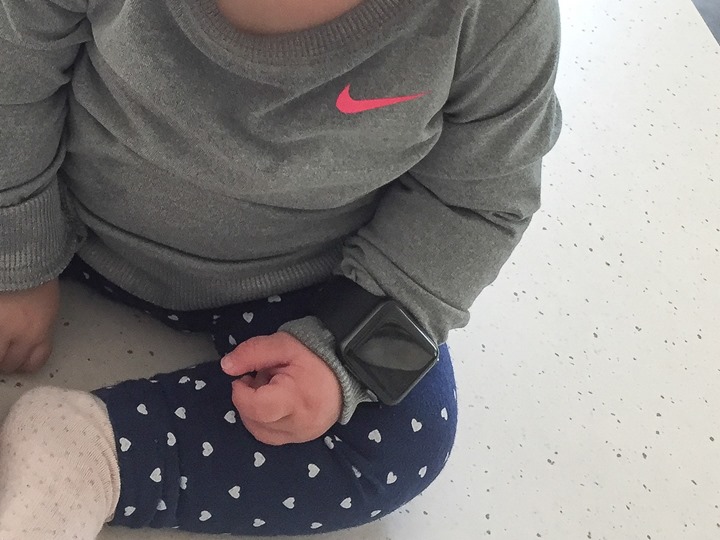 Oh – and in case you were wondering, I put two little rubber blocks on the stroller to hold watches.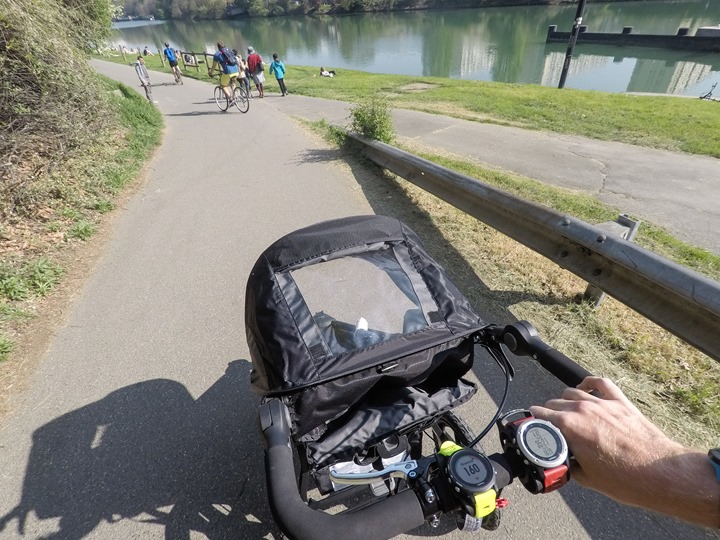 These two watches were just being used as data collectors for heart rate data (from a chest strap and Scosche arm-band).  That data, in turn, was being compared against other watches on the wrist (optical HR).
3) Prepping for a party
On Saturday The Girl and friends spent most of the afternoon prepping cakes, cupcakes and related goods for a party on Sunday.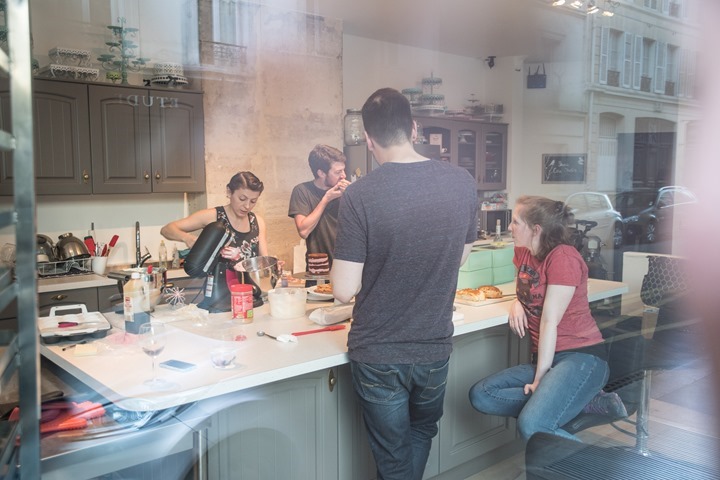 There was also a bunch of wine floating around.  And cheese.  And meat.  And other baked goods from nearby bakeries.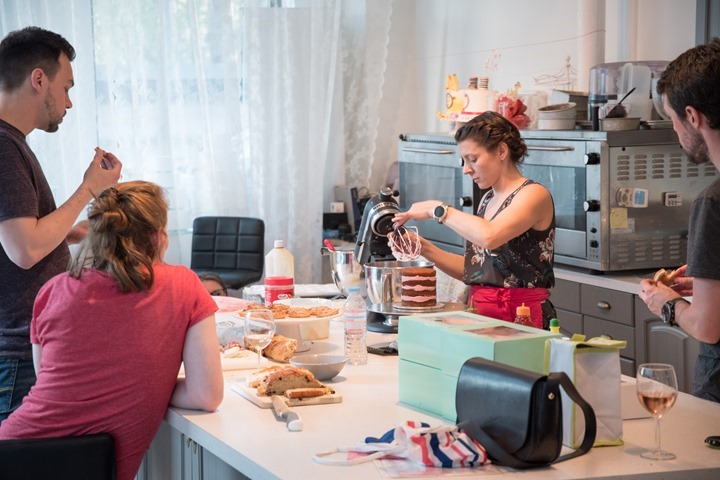 The ratio of food to people was most certainly out of whack (in favor of food), but no worries, it was a great way to spend the remainder of the afternoon and early evening.
4) Riding past the marathon
Sunday morning I got up early by Parisian standards and headed out for a ride.  It's nice that at 9AM the roads in the city are largely empty (slightly aided by the Paris Marathon shutting down the other half of the city).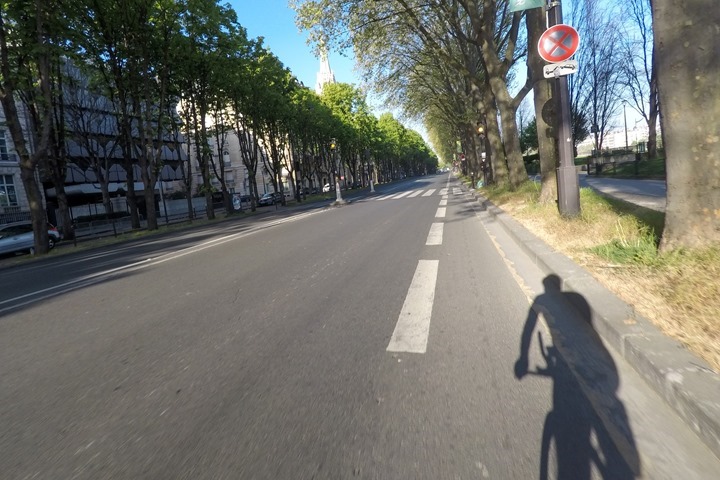 I had what I believe was the very first person to recognize me during a ride in all my years here.  Oddly enough, I had just passed over a wonky speed-bump on a road mostly only used for cyclists/pedestrians along the river.  In doing so I ejected one of my water bottles (the first time ever).  As I circled back one of the two runners grabbed it for me, addressed me by name and said to have a good day.
Crazy!
So to whomever it was – thanks for saying Hi, and thanks for grabbing the bottle!
I made pretty solid time out to Versailles, where I turned back around and came back a slightly different direction. I've been altering my return routes lately, just for the heck of it.
As I got into the city I detoured a few blocks closer to swing by the Paris Marathon (a trip down memory lane for when The Girl and I last ran it together).  I snapped a few photos as I made my way home:
For marathon running weather, it was pretty miserable actually.  Temps up to 77°F (25*C), all in direct sun, with not a lot of shade on the course.  Eeks.  It's one thing to have those temps in the summer and expect them, but in early April? Not so good.
Congrats to all those out running! I'd have stopped and gotten ice cream instead, so props to you!
5) Sticking some watches on the roof
I wrapped up the weekend at sunset on Sunday by kerplunking about $2,097 worth of watches on the roof, all held on by a single 10-cent lanyard.  Don't worry, they weren't mine.  It would be the last act of their loan from Garmin before they head back on Wednesday.  I use the lanyard because the seagulls and pigeons like to try and take them.
Oh, as for why I was putting them on the roof, that's simple: Battery tests.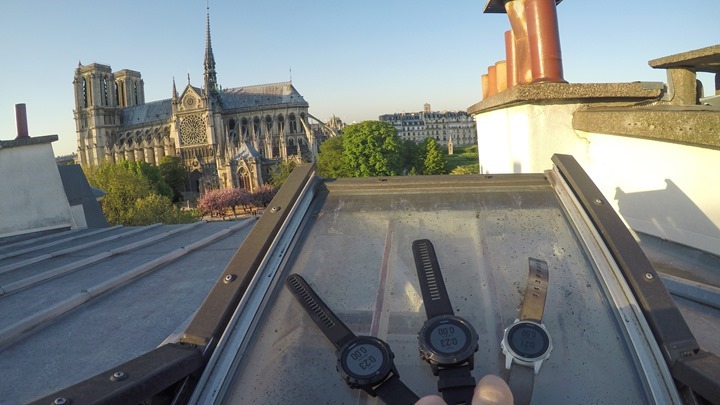 Now, these battery tests aren't perfect.  There are many flaws in this setup, but they do establish a best case scenario.  For example, they don't take into account movement, so while I set them at 1-second record, there are aspects of movement that can impact GPS accuracy and/or power consumption.  And since it has a clear view of the sky, the GPS has to work less – so it burns less battery than in a forested scenario.  Same goes for optical HR, which while enabled (on), isn't measuring anything.
Still, it's useful for determining if the claims are anywhere near the ballpark as established by a manufacturer (in this case, Garmin).
The piece I was worried about?  My GoPro Hero5 Black (very much not on loan).  I already broke one of them a few months ago and haven't gotten around to calling support, so I don't really want to kill another (P.S. – I'm pretty sure it's not my fault the other one is broke).
As for the reason for my worry: I had put it on this nifty 360° rotating egg-timer thingy, as I might put together a short video on the battery tests.  I thought this would make for an interesting rotating shot at sunset.
Except I couldn't come up with a good way to attach the whole kit to the roof, aside from some packing tape.  I can't attach the top of the camera to the roof as it rotates.  Plus, I had attached a small USB battery pack to ensure it'd finish the job (it did).  It was windless, so I was mostly worried the pigeons would peck at it and then it'd slide off the roof into the gutter.
Thankfully, that didn't happen, so after it was dark I retrieved the camera. The pigeons are most active at sunrise, so I didn't want to chance it.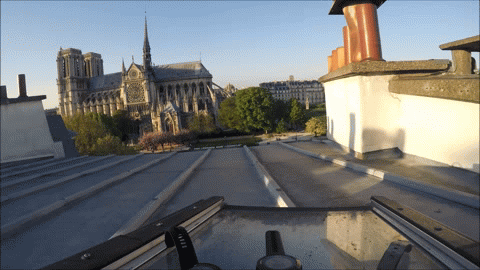 And with that, I leave the watches on the roof, and you for tomorrow.  To say it's going to be a busy week would be an understatement.
Thanks for reading!