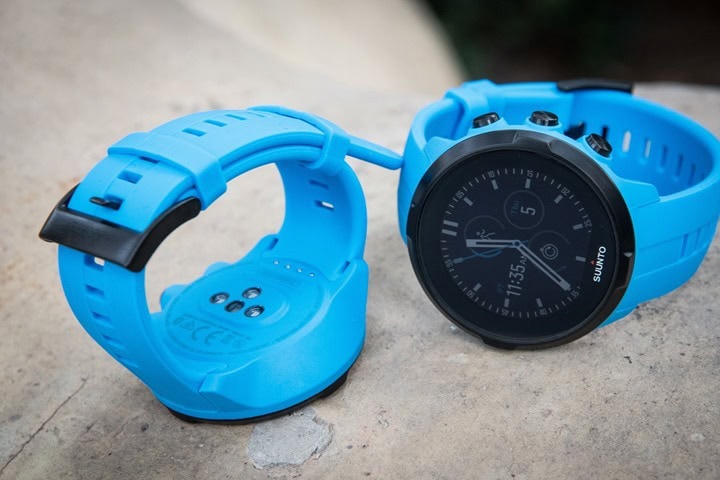 This week at CES, Suunto has officially unveiled their first optical heart rate capable watch – the Suunto Spartan Sport Wrist HR.  You may remember back this past summer, when news first came out about Suunto's plans for an optical HR variant of the Suunto Spartan series.  What was most notable about that announcement at the time was Suunto's decision to go with an optical HR sensor from Valencell.
Valencell is well known as one of the best optical HR sensors on the market, thus raising hopes one might get one of the most accurate multisport GPS watches out there, by way of a combined Suunto/Valencell project.  That project has now arrived here at CES in Las Vegas, and I got a chance for some brief hands-on time to dig into it a bit.
What's inside and different: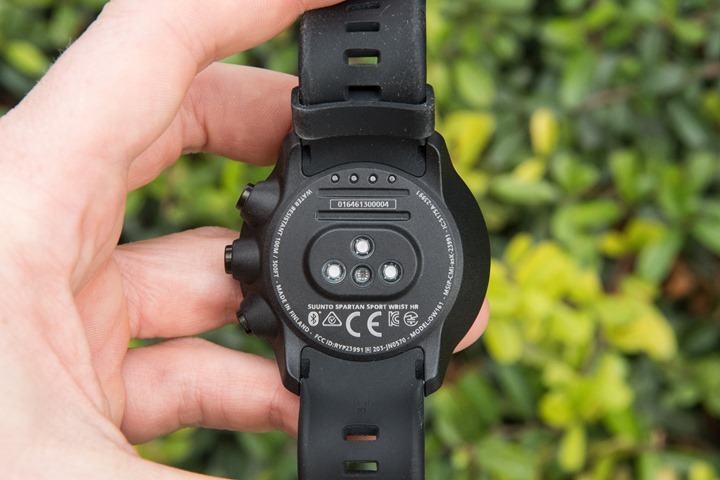 First up is understanding that Suunto has two major lines of the Suunto Spartan series: The Sport and the Ultra.  The main difference is simply that the Ultra has a barometric altimeter and a bit more battery, while the Sport uses a GPS based altimeter.  As you might expect, Sport is cheaper than Ultra.  This level difference has long been the pattern for Suunto GPS watches – all the way back to the Ambit1 series.  In fact, we often then find a third edition (usually branded as 'Run'), which takes the 'Sport' edition and reduces the features to just running.  But that hasn't happened here yet.
In any case, the 'Wrist HR' that we're talking about here, is only for the Sport series (sans-barometric altimeter).  Suunto says that they're certainly watching for whether there is demand for the unit in the Ultra series, but there aren't any plans for it on the table today.  One concern that both Suunto and Valencell noted with a potential Ultra series is ensuring the optical HR sensor accuracy remains high, despite the higher weight of the Ultra.  Specifically because the increased weight can cause increased bouncing on the wrist, reducing accuracy of the optical HR sensor.
Within the 'Wrist HR' series, there are three different colors – blue, black, and pink.
But what matters here isn't the color of the case, but what's on the inside.  It's here you'll find the Valencell optical HR sensor, using two green LED's and one yellow LED.  That helps it get better accuracy across a broader range of skin tones.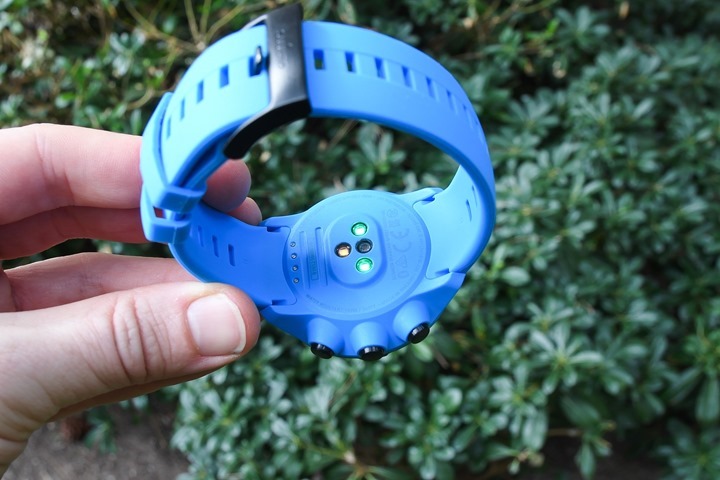 This sensor is part of Valencell's 'Benchmark' lineup (seen below), which means that they essentially take the entire reference design as-is from Valencell.  That's good, as it generally increases accuracy when companies leave it as-is.  Whereas when companies only take portions, or try and do their own thing, it may not lead to the best results.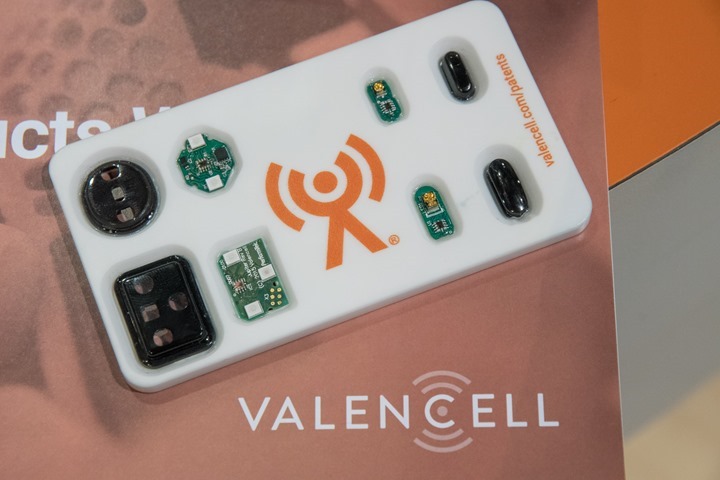 As a bit of backstory, when Valencell licenses their technology, there are differing levels of involvement that the company may assist with. Some companies may just want some of the hardware pieces, while other companies want hardware plus integration assistance, and others yet want all that plus testing/validating assistance.  In the case of Suunto – they're working very closely with Valencell, more so than most brands.  So hopefully this ends up with a more accurate end-state product.  Yesterday Valencell published some initial data on the Spartan Sport Wrist HR.  But of course any time a company is publishing their own data – you should take it with a grain or box of salt.  That said, I'm largely good with the specific testing protocol they laid out (for running anyway, it omits the more difficult outdoor cycling).
Now it's important to point out that while the Sport HR measures your heart rate optically, that optical effort is largely focused on workouts.  For example, running, cycling, skiing, etc… It enables the sensor once you enter the workout mode, and disables it afterwards.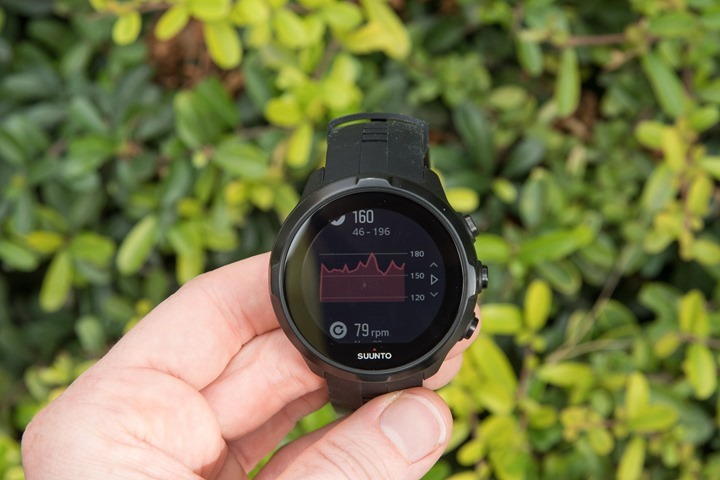 Upon completing a workout (above/below), you'll get many of the same stats as before, including a HR graph as well.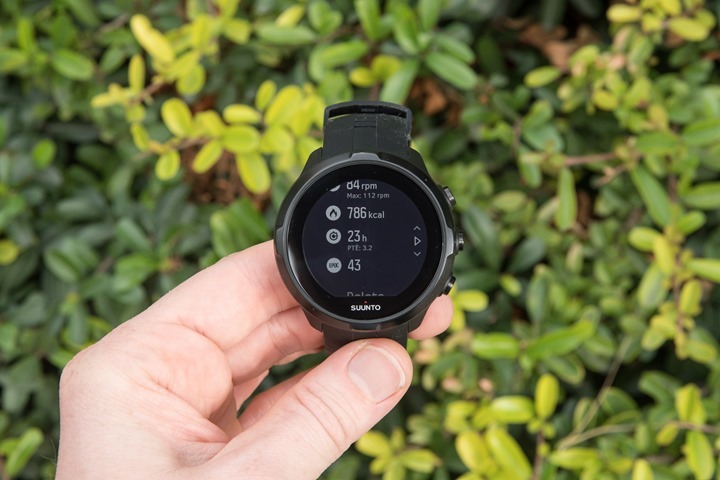 Suunto hasn't implemented a 24×7 HR mode within the unit, meaning that it's not recording your HR 24×7 like many other wearables do.  Instead, you'll be able to enter a temporary heart rate screen, that shows your HR and the last 5-minute trend: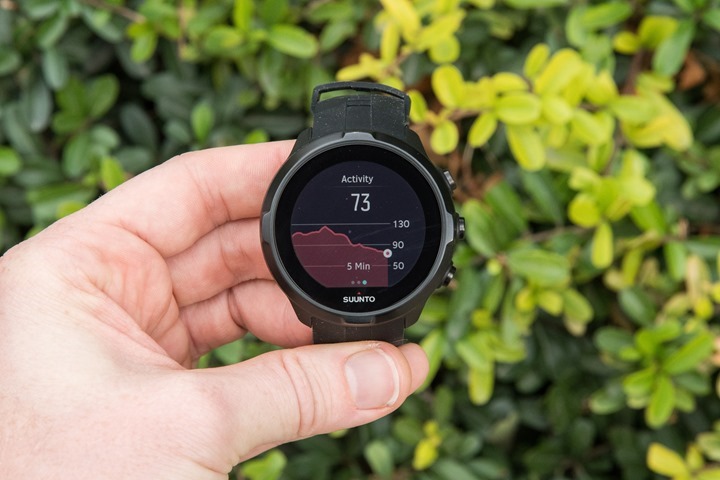 As of present this transient data isn't saved to Movescount, though coming later this spring they plan to start looking at turning on that optical sensor occasionally throughout the day to look at your HR and then use that data to increase daily calorie burn accuracy.  Meaning, rather than just focusing on displaying your HR graph 24×7, they're going to leverage the data for better calorie accuracy outside of workouts.  Still, lacking 24×7 HR recording (and thus the value of resting HR), is a fairly big gap compared to virtually every other unit on the market.  Hopefully, they can find some middle-ground by the time they come to market this spring.
Beyond this functionality, the Spartan Sport Wrist HR software is virtually identical to that of the Sport edition.  On the hardware front, you'll find about a millimeter thicker body, plus another millimeter thicker for the optical HR sensor bump.  Also, the easy way to tell them apart from a distance is the bezel on the regular Sport edition is silver, versus Black on the Wrist HR version.  Of course, that could change down the road with new models.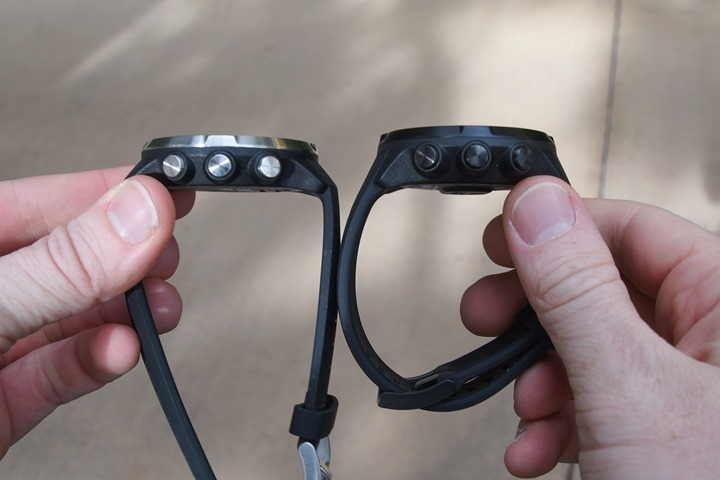 Last but not least, the watch will set you back $649USD when it starts shipping later this spring (no exact date specified).
A quick video overview:
Want to see the optical HR sensor actually working live? No problem, here's a quick video I put together talking about the unit and showing a bit of how the HR sensor works:
Don't forget to subscribe to the channel, as there's plenty more coming here from CES!
One other Suunto tidbit: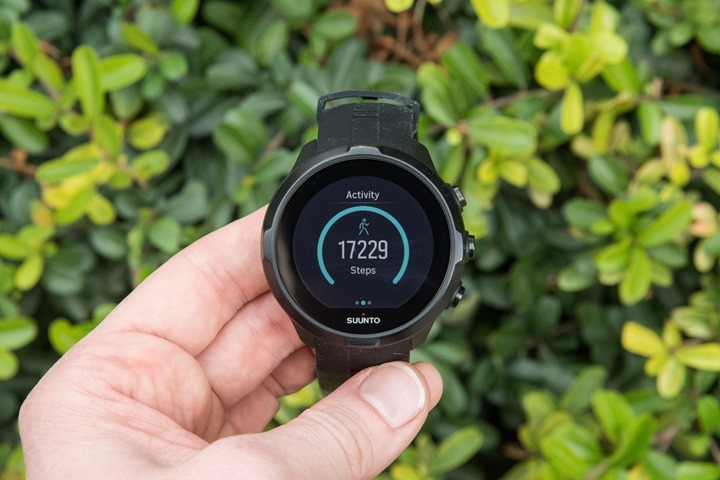 Finally, eagle-eyed spotters probably noticed the daily steps page shown in the video, right after showing the current HR.  That isn't new.  But what is new is that starting this spring, that data along with daily calorie data will actually be saved to Movescount online.
See up until this point Suunto hasn't saved any daily step/calorie data.  It sits on your watch, and then eventually disappears.  This put them at a pretty big disadvantage to competitors who are not only saving that data daily, but also then offering software based recommendations on training, recovery, or life.  In Suunto's case, they had to do those directly through the device, rather than via the app or websites.  That limited the guidance they could give.
But this spring they'll roll out an update for both the Suunto Spartan Ultra and Sport series that'll change that.  It sounds like that'll be the start of using the Movescount platform for a bit more user guidance and recommendations beyond just scheduling and reviewing workouts.  And that would definitely be good news indeed.
—
With that – thanks for reading!
Don't forget to check out all the CES 2017 coverage, as well as continual updates throughout the day on Twitter.  It's gonna be a crazy busy week.