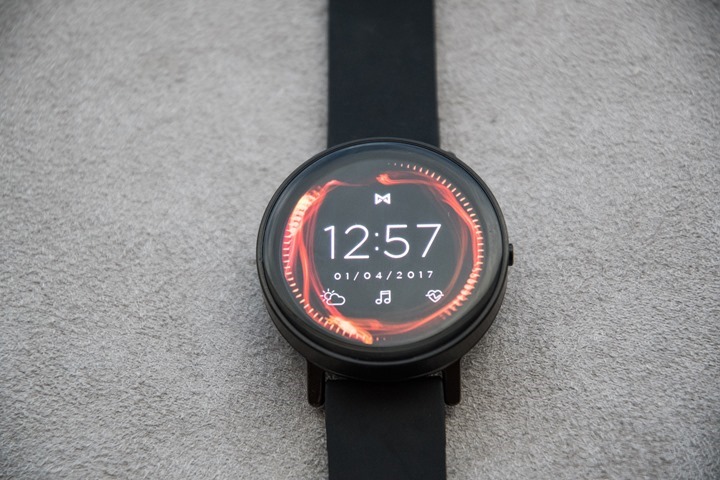 Here at CES, Misfit has significantly upped their activity tracker game by diving into the GPS watch realm.  The company, known for their lightweight and fashionable wearables, announced a new $200 GPS sport watch set to release later this year.
I got a bit of hands-on time earlier this week, getting the chance to poke at the watch and see where it stands – so let's dive right into it.  Just to be super-clear though first, this isn't a review.  Nor anything like it.  It's just an early and brief look at the unit in very beta form.
The Tech Details: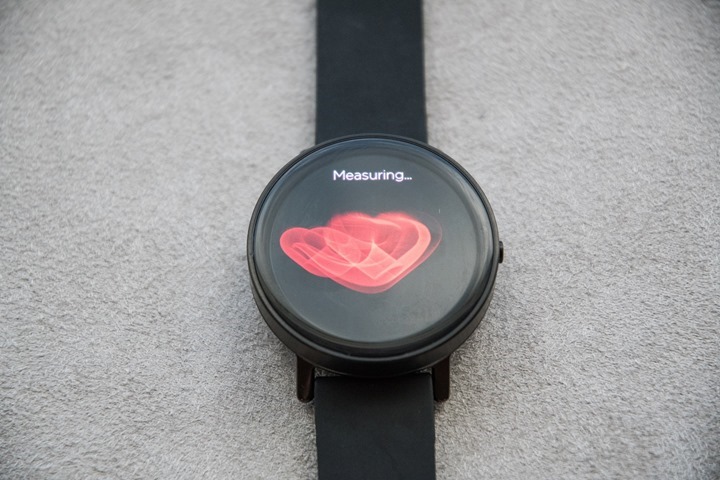 The first thing you'll notice about the Vapor is the stunning display on it.  It has the visual appeal and color vividness that you see on an Apple Watch.  It really is impressive.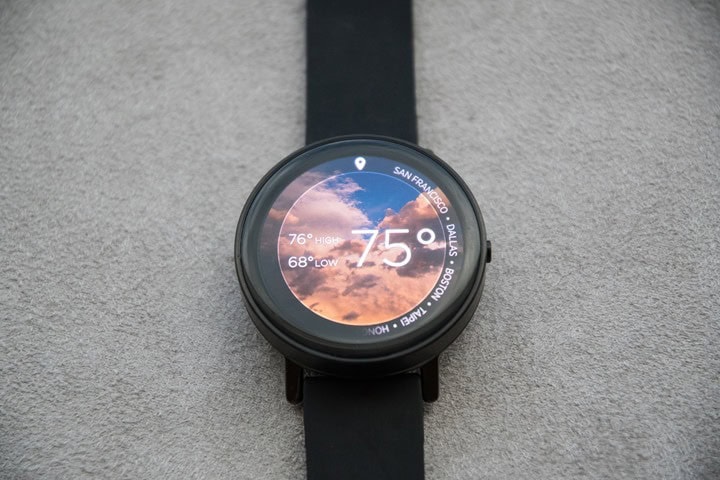 The 1.4" AMOLED touchscreen displays apps within the watch, which are arranged on a rotating menu along the top.  The watch, which is based on Android (but not Android Wear), doesn't support 3rd party apps within the menu at this time.  Misfit says they're focused on the core watch experience for now, inclusive of fitness and non-fitness apps.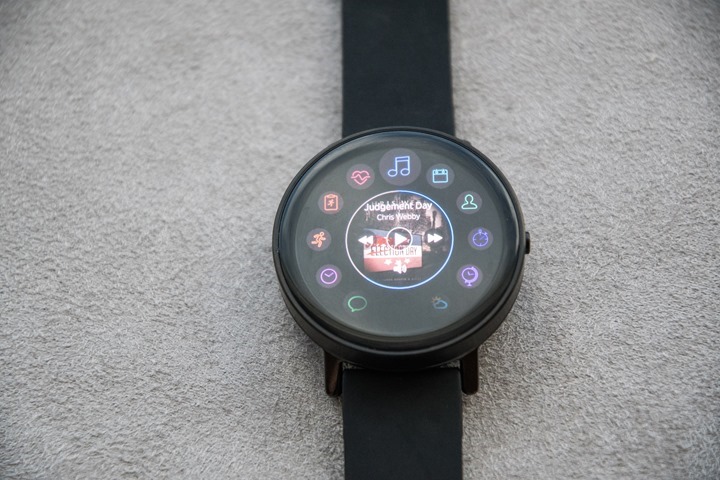 For example, the unit has a workout app (i.e. for running), as well as apps for music, contacts, calendar, messages, and weather.  The running app, like a number of apps, wasn't complete/functional yet on the unit I tried.  So there wasn't any method to dive into the GPS any deeper.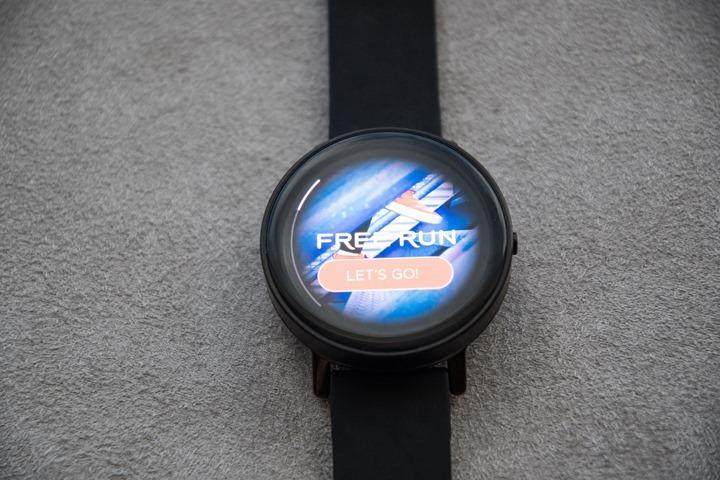 In the case of music, the unit has 4GB of internal storage, of which about 2GB is usable for music (roughly a few hundred songs).  Vapor doesn't contain a speaker, but instead connects to Bluetooth devices such as headphones or speakers.  They were able to demo this part to a nearby portable Bluetooth speaker and it worked pretty well.
The watch has a microphone on the side, enabling you to take voice notes.  You can't however use it for completing calls (à la Apple Watch).  Like other activity trackers, you'll receive smartphone notifications – though it's just for reading.  There won't be a method to respond natively on the watch to them.
Of course, with such a stunning display you're going to take a solid whack on battery life.  The watch comes in at 2 days of battery life, which is basically in the same ballpark in real-world usage as many Android Wear watches, or the Apple Watch Series 2 units (+/- 8 hours).  With Vapor, the company is aiming for 5 hours of GPS-on time.  Their goal there was to allow a user to complete a marathon, and 5 hours will cover most folks.
You may remember Misfit's integration and partnerships with Speedo on some of their past devices, both in terms of software as well as branded models.  Whether that integration will occur for Vapor hasn't yet been decided upon by either company.  Though it sounds like one way or another Misfit will ensure indoor swim support is covered within the software functionality, similar to how it was previous to Speedo's involvement.
Wrapping up the sports piece, the Vapor does include an optical HR sensor on the back which will primarily be used for sports/workouts.  The degree to which it might be used for 24×7 mode is up in the air still.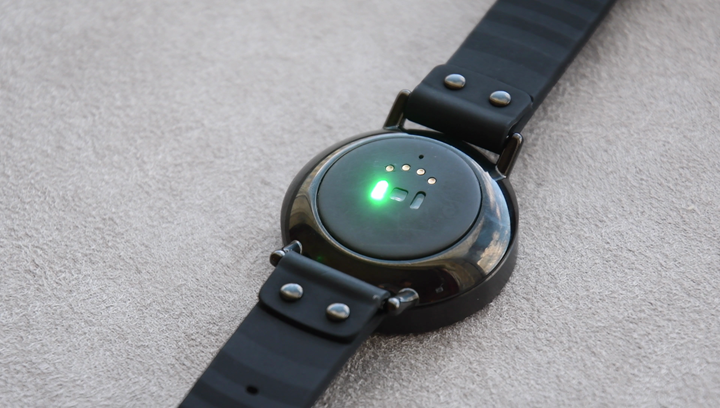 At the planned $200 price point, it would be one of the lowest priced mainstream options inclusive of music, GPS, and optical HR.  Right now that feature-set puts you in the $250-$300 range for brands like TomTom (Spark 3) and Polar (M600 – Android Wear), as well as some of the other Android Wear players.
Of course, 'later 2017' is a heck of a long ways off, and there are numerous companies that have announced products recently or here at CES (such as New Balance) that are going to be competing for those same dollars, but doing so a whole lot sooner.
Hands-on Video:
Wanna check out that pretty display in full 4K glory?  No problem – I've got you covered.  Below you'll find how I spent some of my hands-on time with the unit, as well as a look at a portion of the 200+ other watch models that the Fossil group is releasing this year.  You know, in case you need more variety in your life.
Don't forget to subscribe to the channel, ensuring you get all the latest video goodness as soon as it hits!
Going Forward: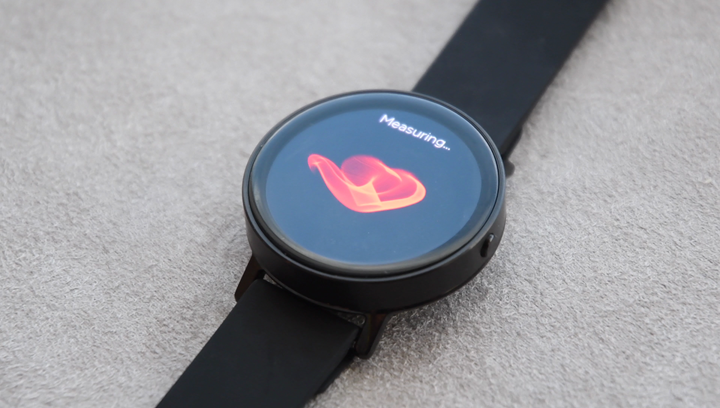 It'll be interesting to see if and how Misfit's able to move this device from beta to shipping.  There are certainly a number of skeptics, and some for good reason.  Making a sport GPS watch isn't as easy as it sounds, and getting traction in the crowded wearables market is even harder.  Having a product launch 'later 2017', is a heck of a long time away.  And having the name Vapor doesn't help (given the common term vaporware for unreleased products that never make it to fruition).
Still, with Misfit being owned by Fossil now, they certainly have the financial resources to make this happen.  It's whether or not they have the engineering resources that's more the question.  Fossil Group's wearable experience for smartphone connected devices is strong, but they simply don't have anything in this same ballpark when it comes to complexity.  Building their own user interface instead of just leveraging Android Wear 2.0 seems like a risky move.
But more competition in this marketplace is good – especially well priced competition like this.  If they can succeed and introduce a stable product later this year in time for the holidays, that could do quite well – especially given Misfit's broad reach in distribution, including big box stores like Best Buy.
—
With that – thanks for reading!
Don't forget to check out all the CES 2017 coverage, as well as continual updates throughout the day on Twitter.  It's gonna be a crazy busy week!