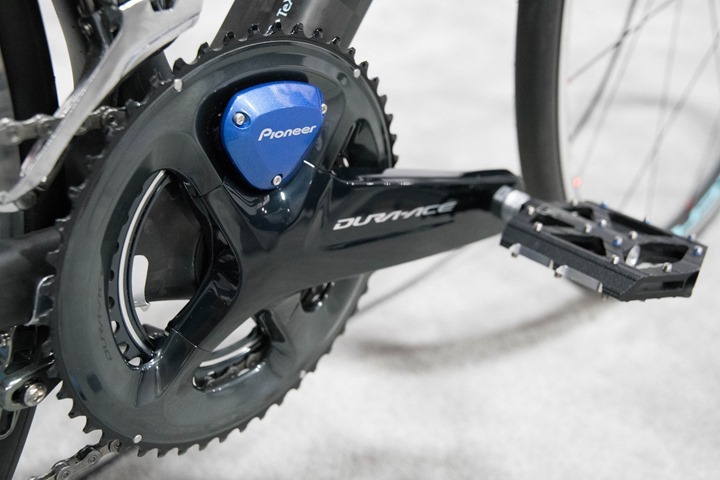 Pioneer has been both a relative newcomer to the power meter party, but also the stable and steady entrant in terms of new products.  Each fall they've announced new offerings, and each spring we tend to see further updates and price adjustments.  Such has been the case for nearly three years now.
While they're still building out consumer awareness of the brand, they're actually putting out very solid power meter products, even used by pro teams in the Tour de France.  You'll remember my review last summer on their 2nd generation units, which was then followed by price cuts last fall and this past spring to match others in the marketplace.  At this point, they've got a fairly competitive offering if you're looking to eventually upgrade to a dual-sided platform or want more data metrics from your power meter.
Today at Interbike they've expanded their crank offerings with new models, as well as added new features to their head unit.  Also, they've demo'd a pretty cool consolidated sensor platform with rider modeling.  But, let's not get ahead of ourselves!
The New Crank Options: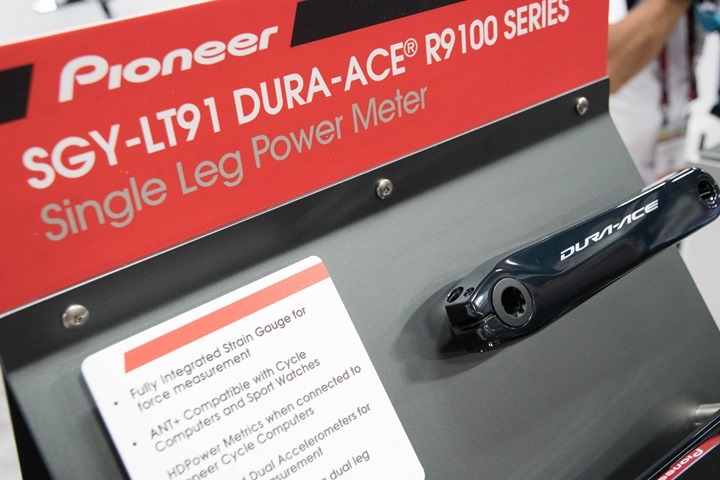 First up are the new crank models.  Remember that Pioneer works in one of two ways: You can either send in your existing crank arms to get a power meter added to them, or you can buy one of their ready-made units.  For the options where you send in your crank arms, Pioneer has it such that for the majority of the country if you send in your crank arms on Monday, they'll have them back to you by Thursday with the power meter attached.
So the new models refers to either expanded compatibility options, or units they're selling straight up with the power meter already attached.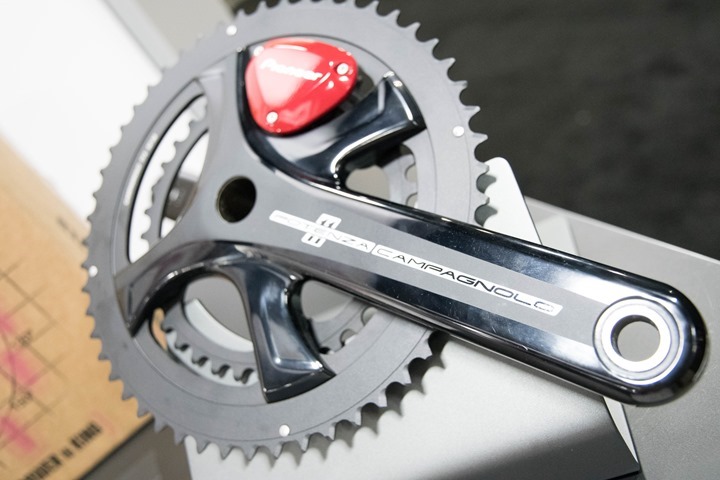 Here's what's new on tap:
Adding Shimano Dura-Ace R9100 offerings: The R9100 is the new Dura-Ace Series that Shimano announced this past summer. Pioneer will be shipping these later this fall (November) and will offer both a R9100 left-only kit for $629 (including crank arm), or the full left/right crankset for $1,499USD.  They'll have three crank lengths on this.  What's notable is that there is no higher cost for the R9100 compared to the previous 9000 cranks. Kinda nice.
Adding Shimano XTR, XT offerings: These will be offered as a 'send in your own crankarm' option, with the prices being: $999 for dual, $579 for right-only, or $499 for left-only.  Again, you supply your crank arms here.
Adding Campagnolo Potenza offerings: The company will now offer the ability for you to send in your Potenza crank arms and get a pioneer power meter installed on it.  This will mark the first power meter company to offer a Campy dual-leg option (an area many power meter companies have struggled with).  The prices will be the standard Pioneer prices for sending in your crank arms: $999 for dual, $579 for right-only, or $499 for left-only.  Again, you supply your crank arms here.
Adding Cannondale Si, Si-SL2 offerings: Just like with the Potenza above, they'll be offering these Cannondale crankset options too.  Same prices again: $999 for dual, $579 for right-only, or $499 for left-only.  Again, you supply your crank arms here.
Adding FSA SL-K: Another carbon offering in the works by Pioneer where you send in your own arms. By now you know the drill on pricing: $999 for dual, $579 for right-only, or $499 for left-only.  Again, you supply your crank arms here.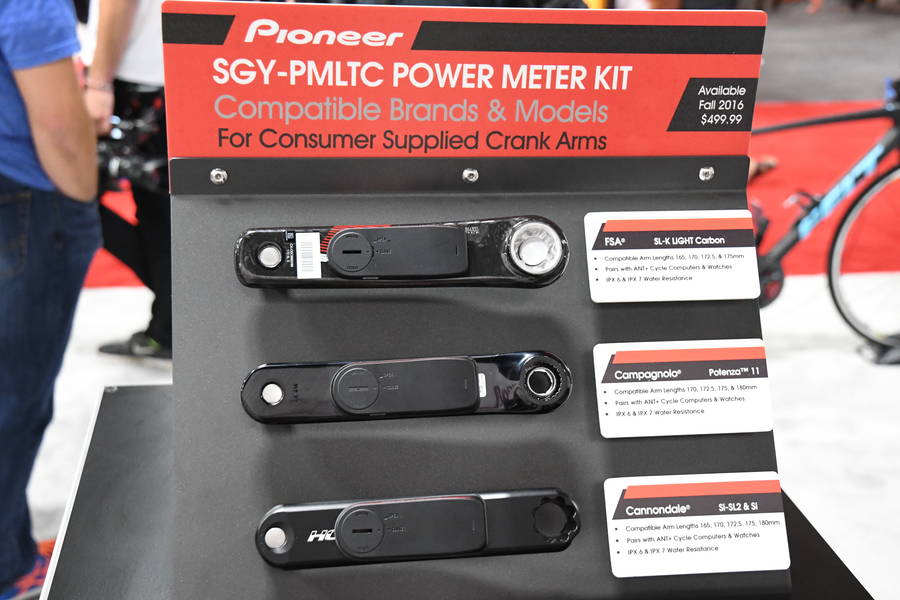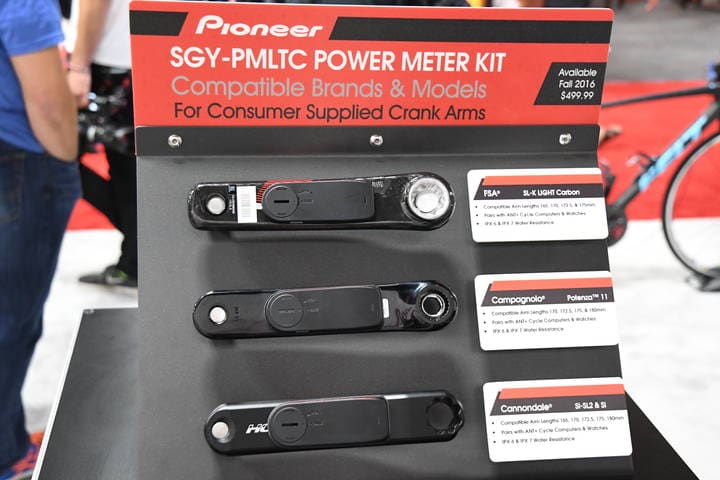 All of these new models will ship starting in November, or rather I suppose, they'll allow you to ship your cranks to them for November. As is probably obvious by now – the real goal of Pioneer is to get local bike shops to up-sell power meters on new bikes.  Pioneer is basically selling an empty box to bike shops for their shelves.  Thus inventory requirements are easy to handle: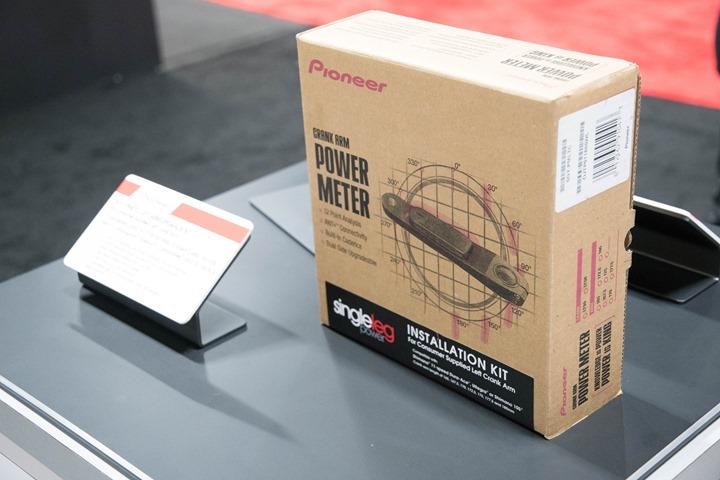 But sometimes the easiest consumer awareness solution is a tiny piece of paper.  Pioneer has made these bike hang-tags that go on frames out on the show floor.  That's an incredibly compelling piece of paper when you sit back and think about it.  Sure, there are other left-only offerings for less money, but they may not be compatible with all the different crank arm options (i.e. FSA, Cannondale, Campy).  So this is something bike shops can put on many bikes on their floors and get immediate traction on.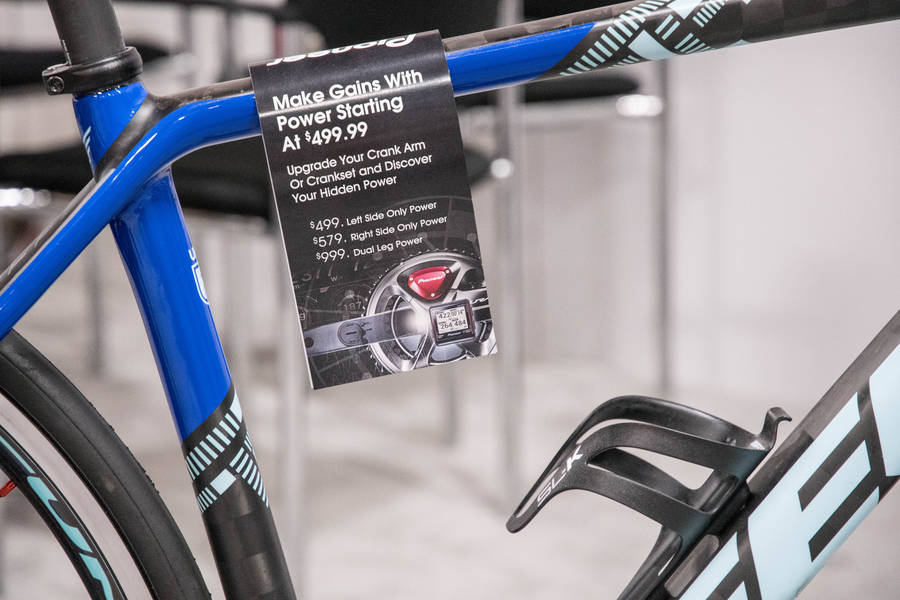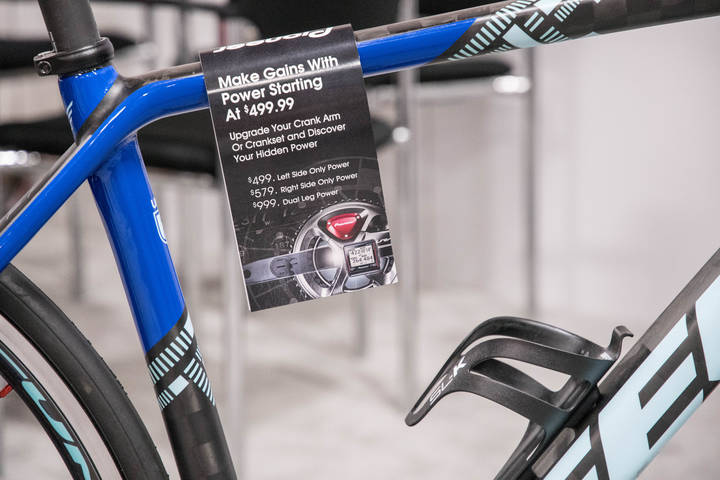 So why is Pioneer even offering a power meter on the new Dura-Ace R9100, considering you can get one from Shimano directly?  Well, Pioneer believes they can offer a better product.  And honestly, they're likely right.
For example, Shimano has a wired connection between left and right sides, whereas Pioneer is wireless.  Pioneer has a higher water resistance rating (IPX6 & IPX7), which means you can even use a pressure washer on the bike. Pioneer doesn't require a magnet, whereas Shimano does.  Pioneer also gives you more data on pedaling analysis, that Shimano doesn't.  But the biggest?  Pioneer is shipping in November, whereas Shimano is looking like April 2017 or so.
On the flip-side, Shimano does support BLE for firmware updates (but not power broadcasting), and Shimano has a higher claimed battery life (300hrs vs 180hrs).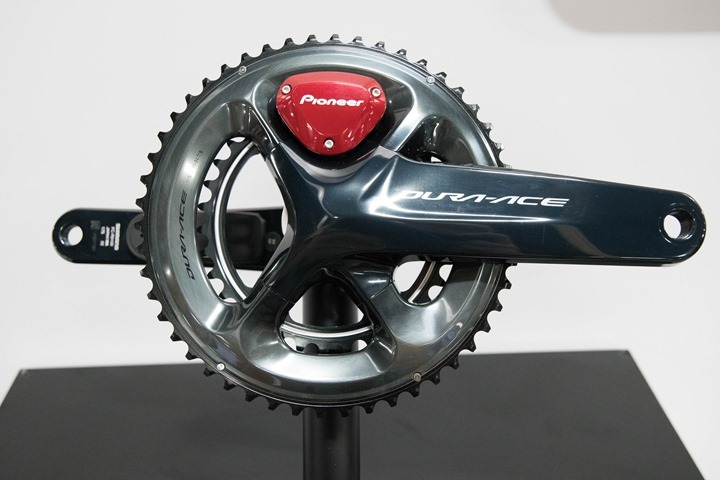 And just to recap the rest of the lineup, here's things that remain the same in the Pioneer line-up.
Shimano Dura-Ace 9000 left Only: This stays the same at $629 as before, with 7 different crank lengths.
Shimano Ultegra 6800 Left Only: This stays at $559 (including crank), and has 4 different crank length
Shimano Dura-Ace 9000 complete set: This stays at $1,499 inclusive of crank arms
Shimano Ultegra 6800 complete set: This stays at $1,299 inclusive of crank arms
Send in your own crank arm: $999 for dual sided, $579 for the right-side kit, and $499 for the left side kit
Phew! Tons of options!  Ok, let's talk software.
New Bike Computer Features: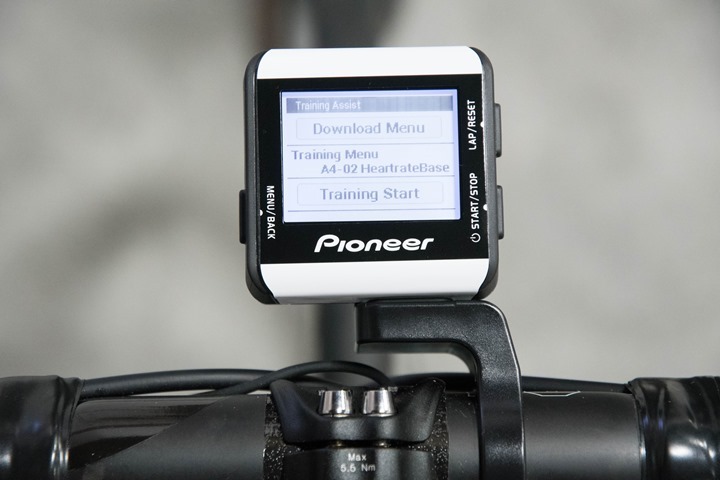 In addition to all these new cranks floating around, they're also making some updates to their bike head unit, which they're calling 'Training Assist'.  These offerings are aimed at offering training plan primers, as well as workout modules.  They fall into three different categories:
Training Primer: 7 Modules
Power Training Primer: 11 modules
Pedaling Training Primer: 10 modules
The idea behind this is to introduce people to the concept of training with power.  So it goes through step by step by step in a combination of taking your existing ride data on their training platform, and then dynamically merging that into a training plan for your head unit.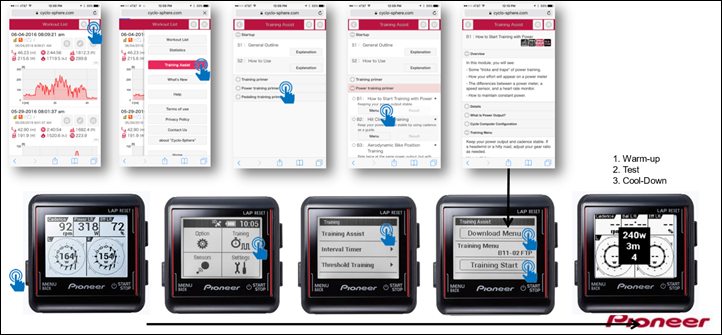 As you dive into the platform, it'll automatically keep your workout targets in sync with your uploaded history.  So effectively, it's coaching you.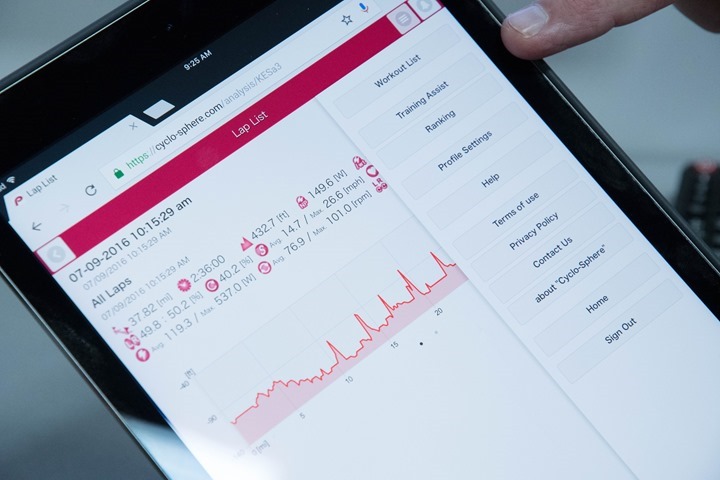 This actually makes a lot of sense – and is something I've discussed for a few years now.  Most of the power meter companies basically offload the problem of training with power to the bike head unit companies.  Those bike head unit companies in turn do nothing about it.  Sure, some might offer random training plans you can download – but that's actually quite different than teaching a consumer how to train with power and use power for training/racing.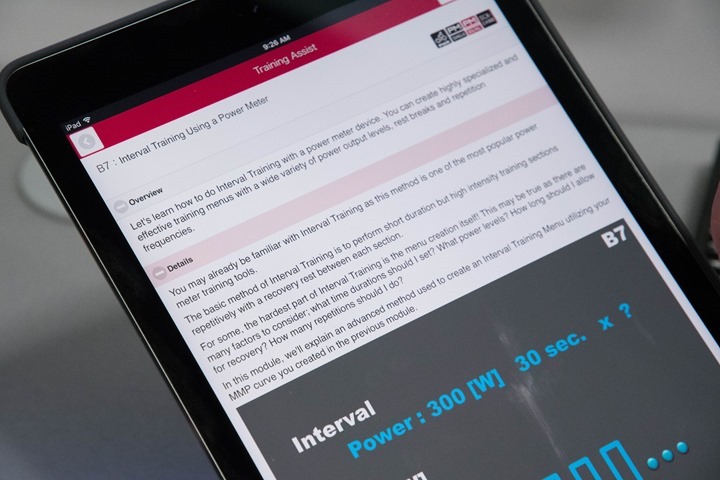 Once you've gotten a given module setup and understand the basics, it'll walk you through each workout in a pretty standard fashion to other head unit companies: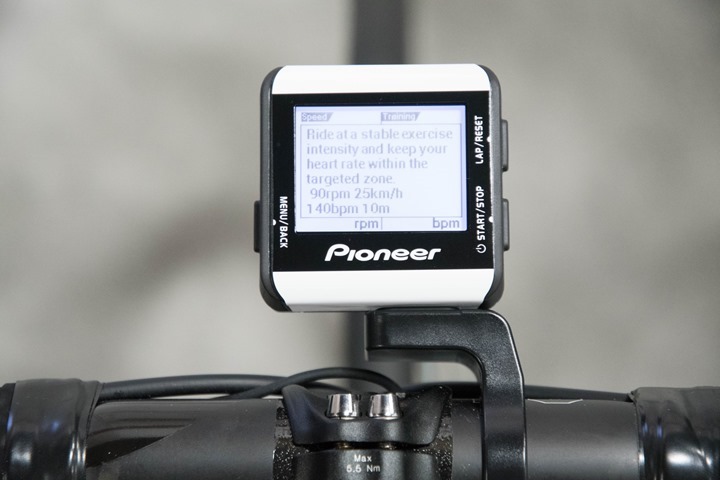 They've also introduced the ability to setup custom intervals, as well as a new 'MMP Test' option, which aims to test your Mean Maximal Power.  MMP is essentially how much power you can hold for a given duration, and is often displayed in a graph like below (this one from Strava):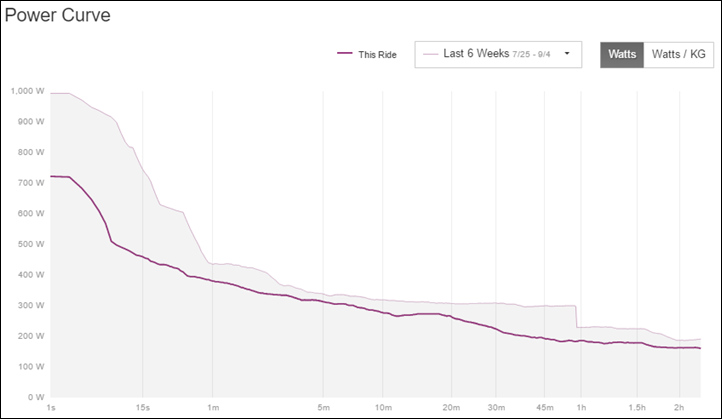 The MMP values are pulled from their cloud platform, so they know your existing target values for any given MMP timeframe.
Oh, and finally – on that manual interval option, you can specify a warm-up period, a work interval configuration, and a cool-down period.  All on the unit itself: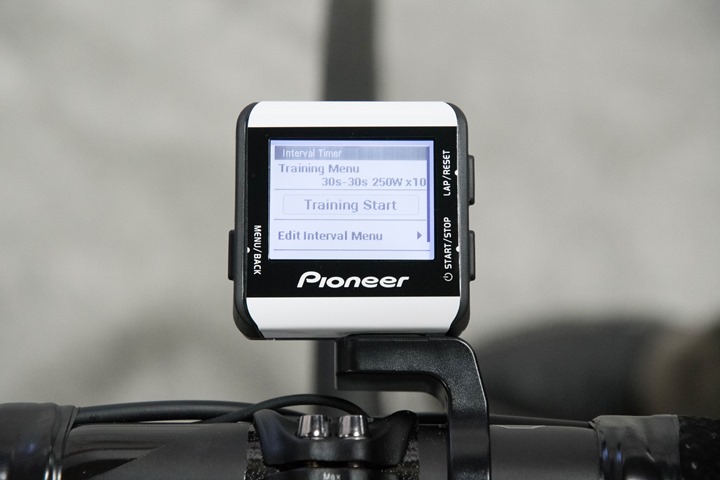 All of these new options are available now, and have been in various pieces over the summer.  But they've continued to add new functionality, even as recently as the last few weeks.
Extended Sensor Network: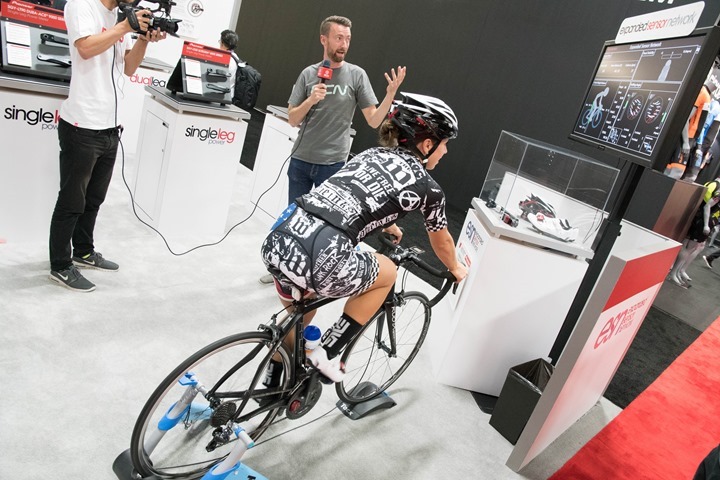 Last but not least, Pioneer was demonstrating a proof of concept sensor system that uses numerous sensors placed on the rider and the bike to measure various data metrics.  These metrics are then fed into a computer in real time, ideally targeted at fit studios.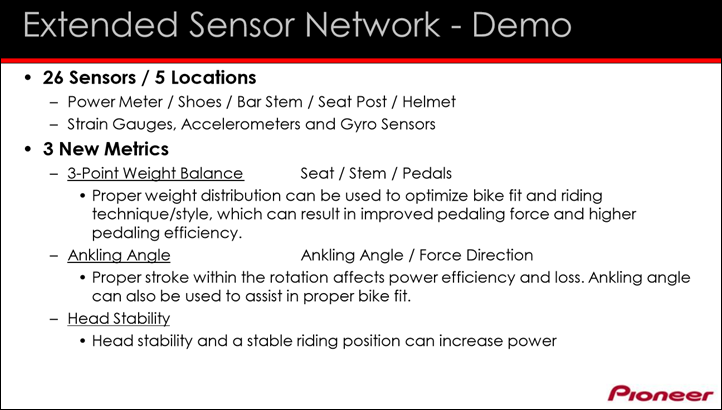 There are five different sensor locations, each with different types of sensors within them:
Saddle/Seat Post: Strain gauge based (four gauges per pod)
Helmet: Gyro based
Bar Stem: Strain gauge based (four gauges per pod
Shoes: Gyro and accelerometer based
Power Meter: Strain gauge and accelerometer based
The sensors are still a bit prototype looking of course, but this gives you an idea of how they are placed around the bike or on the person.  With the person in this case being Lisa Leonard, a local Pro XTerra and mountain biker.
As she's riding, all of this data is shown in real-time on the screen, though slightly smoothed so it's not too sensitive.  At this point, it's not yet recorded.  You can see how it's combining in multiple pieces of data into certain plots – such as the ankling angle combines power meter position data with the shoe sensor data.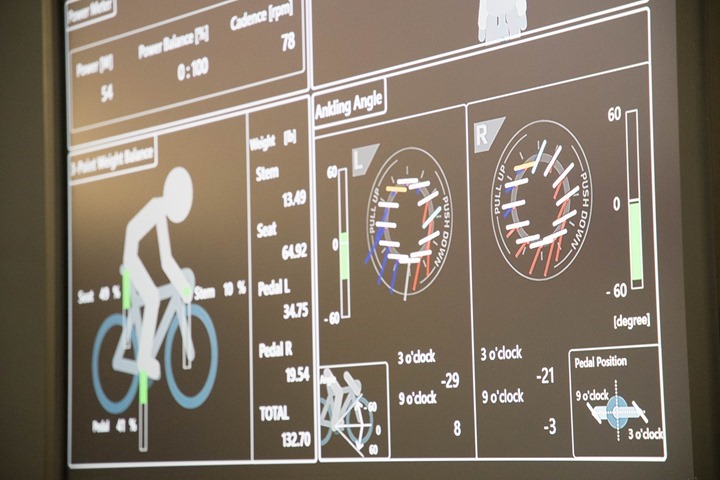 Now at this point Pioneer doesn't have a specific timeframe or even price for the system.  Their goal here at Interbike this year is more to introduce the concept and get feedback on it, as well as to understand what the marketplace looks like for such technology.  I suspect by next Eurobike/Interbike, we'll have a better look at what a saleable solution might be. Still, it's cool to see companies experiment in this area
—
With that – thanks for reading!  Stay tuned to Twitter for all the latest news, analysis and sarcastic observations from Interbike this week!  Fear not – there's plenty more!