Here's my thoughts on two noteworthy news pieces that just hit the interwebs.
Basis firms recall, shuts down services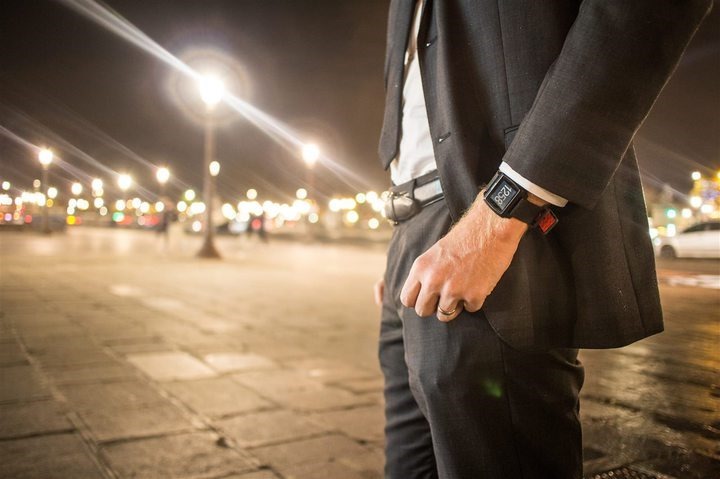 You may remember earlier this summer when device maker Basis announced that users should cease using their Basis Peak devices due to overheating issues that could cause burns.  Well yesterday that transitioned that into a formal and full recall of the devices:
"On June 13 we shared reports of overheating in Basis Peak watches, and we recommended that you stop wearing your Basis Peak watch right away. We had hoped to update the software on your watch to address the problem. Unfortunately, despite our best efforts, we aren't able to develop such a solution without completely compromising the user experience. As a result, we are asking that you return your Basis Peak watch and authorized accessories for a full refund at your earliest convenience. This was a tough decision, but your safety is our top priority."
This wasn't really a surprise per se, despite 'only' impacting 0.2% of purchases.  While earlier statements had noted they wanted to solve it via software, I think most people probably knew that wasn't realistically going to happen.  All roads were likely leading to a hardware change/recall, and not something software could solve with 100.0% certainty (as opposed to 99.8% certainty).
However, what came next in the announcement e-mail was definitely out of left field: They'd be shutting down the service altogether:
"Although we are stopping support for Basis Peak immediately, you can access your data until December 31, 2016. After that date, the Basis Peak services will be turned off. Once we shut down the services, your watch will no longer be able to sync, which will cause it to stop working."
Yes, for real. They're actually shutting down services entirely.  This is an unfortunate end for a device (and a company) that really pioneered advanced data collection.  You'll remember about 5 years ago when they first showed off what they could do in terms of optical HR sensors, skin temperature and perspiration sensors.  No other consumer device has come close to that on the market.
And this impacts more than just the Basis Peak, but also the 7 people still left using the Basis B1 watch (the original watch).  You can see that on the refunds page: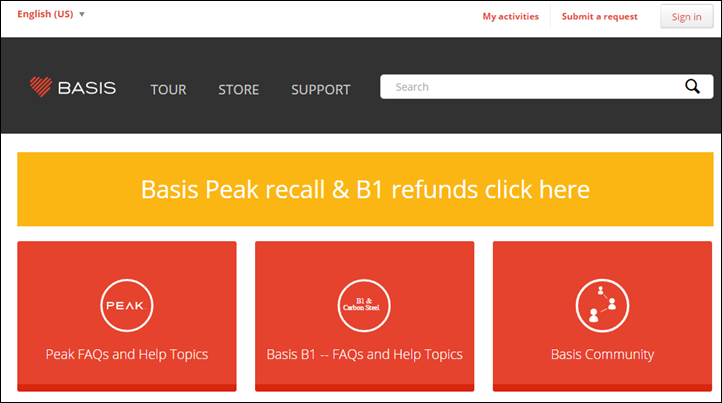 Officially Basis hasn't said what will happen after this for the company, but it seems pretty clear that things are wrapping up.  There's no rising from these ashes (unless Intel sells it off).  Once the clock hits midnight on December 31st, Basis is basically gone forever.  I'd never trust the company again with another device.  It'd be one thing if they recalled the device while they sorted things out (like Fitbit did with the Force a year or two ago), but kept the platform running otherwise.  But shutting the platform down is shutting down the company in the tech world.
Of course, it was a bit over 2 years ago when Intel acquired Basis in March 2014.  You'll remember I've been concerned about the acquisition, because Intel generally sucks when it comes to consumer focused goods.  One only has to go to the spectacular Intel booth at CES every year and see all these media-eye catching consumer prototypes each year, but none of them actually make it to market under Intel branding.  They're great at OEM related transactions, and providing components for other companies.  They rock at that.  But trying to be a consumer focused entity? Nope.
Now Basis notes that you can (and should) export your data, they even note it'll be in CSV format:
"If you wish to export your fitness data, open the Basis Peak app on your mobile device, navigate to the 'Settings' section, and select 'Export Data'. Data is exported in .csv format, which can be manipulated in programs such as Excel. You can access your data until December 31, 2016. After that date, the Basis Peak services will be turned off. Once we shut down the services, your watch will no longer be able to sync, which will cause it to stop working."
Except here's the dirty truth about CSV data for fitness: It sucks.
A bunch of open-data people just gasped.
Yet everyone in the sports tech industry just nodded their head.
Why does it suck?
Well, every company does it (CSV) differently.  So yes, I can export all my data from Basis.  But then I dump it into Excel and have to massage the crap out of data to make sense of it.  I can't move that data to another platform to actually make it shine like Basis does below.  Other platforms don't know how to make sense of it, because it's in what is effectively a proprietary Basis format/style.  While it may be open CSV, that doesn't mean anyone can actually use it in other platforms without doing a bunch of work.  Further yet, nobody even supports the data types that Basis has generated.  It's not like Garmin or Polar or whomever even has an option for skin temperature.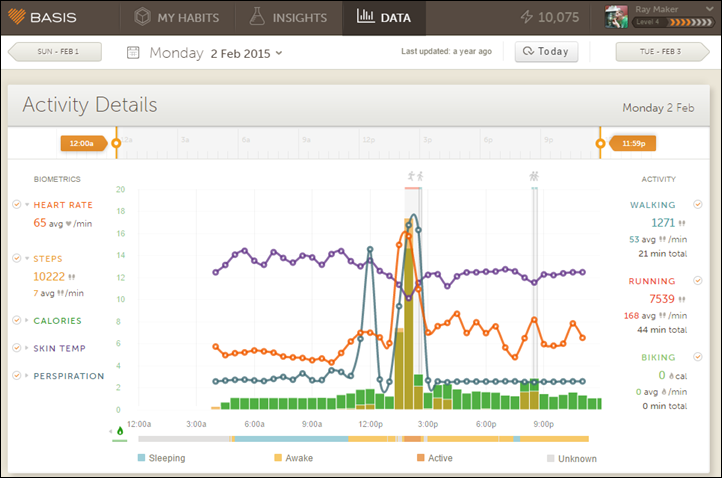 Of course, the real problem with Basis was twofold.  First, their lack of innovation in a market moving at screaming fast paces.  I suspect that the Intel acquisition, despite all its money, caused too much disturbance to keep things focused on new hardware product development.  The second issue was that Basis was unable to transform a niche product into something with wider appeal.  While a smaller pre-Intel company probably could have made the niche data of the Basis units work from a revenue standpoint, once you look at the revenues of a company like Intel, then the numbers by Basis were likely less than the annual employee consumption of M&M's by vending machines in their buildings.
Which brings all eyes focused on Recon Instruments, who was acquired by Intel last summer and makes the Recon Jet and various ski/snowboard goggles.  In talking with numerous Recon employees since the acquisition, all have seemed happy there with the support they're getting from Intel (especially financially).  But at the same time, the product still hasn't seen a hardware refresh.  Despite them being the leader in the sports heads up display arena, there are numerous competitors coming on the scene with slimmer and sleeker options.  Market realities will eventually catch up: Ship new stuff or die. Simple as that.
Strava announces Beacon tracking service: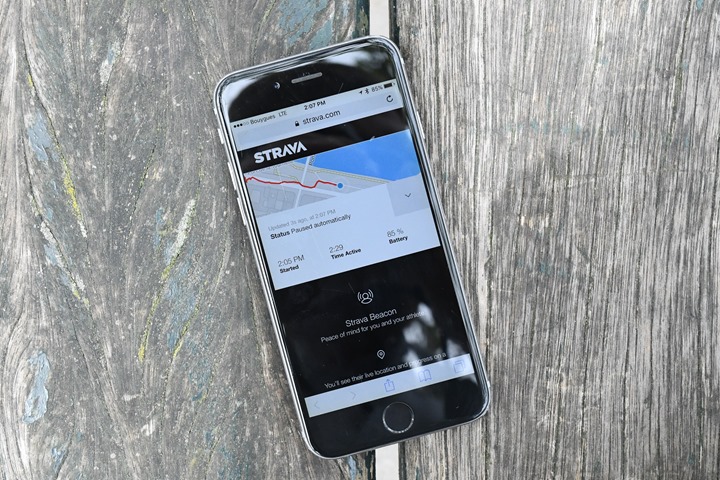 Strava today rolled out their Beacon tracking service, which will transmit your location to a pre-defined list of contacts automatically when you use their app for running or riding.  The app will then send the contacts a text message showing the location of the person.
To access it, ensure your app is on the most recent version (the current app versions do include it already).  Then, hit the 'Record' button at the bottom of the app as if you were starting a new session.  Next, hit the little button to the right that shows a human head with radio waves enumerating out from it.  I assume it means that person is radioactive.
That takes you to the next screen which lets you add contacts (seen below).  When you enable Beacon, it'll give you a warning.  The warning basically says that if it doesn't work and you end up lost and not found forever, it's still not Strava's fault.  Once enabled, it'll allow you to customize the message.  I added the important part about ice cream, just to minimize any concerns from The Girl.
Next, you can add up to three contacts:
Once done, you'll be brought back to your main page, where you can see the 'Send Text' button'.  If you just click the 'Send Text' button it'll send a message without starting yet.  If you tap the Record button without touching 'Send Text' first, then it'll actually ask you if you meant to send a message.  In either case, it'll enumerate up the text message screen:
Which…is just too many steps.  There's no logical reason to show the text message screen at all.  Just send the darn thing, even if I press record without pressing text (since that's why it's shown directly above the button anyway).  Simplify, simplify, simplify.
In any event, once the message is sent, then the recipient will receive a text message from you (not a tracking service) with a link to the activity:
If they go ahead and click on that link, they'll see a map of where you are, and where you've been.  They'll also see your paused state.  It seems to have three categories: Auto paused, manual paused, and activity completed.
I like the three state differences, though I'm not sure The Girl would otherwise know what automatically paused really means.  Does it mean I'm at a stop-light just waiting?  Or does it mean I was hit by a car at that intersection?  Obviously, I could disable auto-pause…but food for thought.  But manually stopped is actually useful to her, since she'd know I pressed the button to stop it and am likely just fine.
Also, I like the transmission of battery state.  That's also useful to her, since if it showed something like 5%, then she wouldn't likely worry when the battery died.  Oh, and obviously this depends on your phone for cellular coverage and data transmission.
Note that the Strava Beacon does require a Strava Premium membership (that's the paid one), which is reasonable enough.  Of course, if you have a Garmin device, then this basically duplicates that functionality when used with the Garmin Connect Mobile app.  The Garmin functionality also sends over additional sport metric data.  But on the flip-side it doesn't send pieces like battery state data (of the phone or the device).
From the sounds of things however, Strava and Garmin are looking to work together to see how and if they can integrate the capability more closely between the two platforms.  In some ways there's already so much overlap on this feature that it might be difficult to really bring much user value out of doing so.  Whatever it would be would have to be pretty much no-touch, and all done transparently.  But, happy to see what the two companies can cook up!  Plus, it may be more useful for companies like Polar, Suunto and others that don't have their own live tracking platforms, to leverage Strava's.
—
With that – thanks for reading!