Woot!  For a brief moment on Saturday, it was both sorta sunny, and sorta warm.  Which, by my definition means it's spring.
This weekend was crazy busy, but also a nice segue into a semi-normalized triathlon-focused training schedule for me.  While I've been doing lots of running, and a fair bit of unstructured cycling, I'm now switching over to a more structured schedule for the next 3-4 months.  The plan was the Paris Triathlon in the first week of July, but that's been cancelled due to some river permit issues.  So I'm poking around at a few options in that same timeframe for Olympic distance (I don't have the time in my work travel schedule right now to adequately train for a Half-Iron or Ironman event).
So with that, let's dive into the weekend.
Friday:
Friday evening started off with a solid 75 minute trainer workout.  I think I went into it thinking it would be only about 45-50 minutes.  That'll teach me to actually read the workout instructions fully ahead of time.  On the bright side, the workout went by pretty quickly, probably because I didn't realize how long it actually was.

It was officially 3 x 6 minutes at 310w (+ warm-up/cool-down/etc…), but in reality, it was more like 4x6m @ 310w, as there was a pre-interval that was the same value as the main set intervals.  Then it finished up with some 20s sprints.  My first few of the sprints were too low, but by the final one I was where I should have started.  Will start at that final value next time.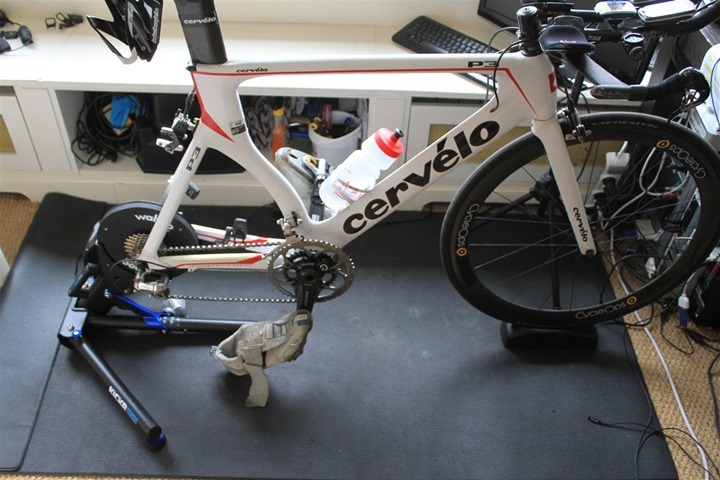 This is one area I really wish the Wahoo KICKR had a button in the default app that's like a TV 'Go back/Return' button.  To be able to go from no-resistance (well, about 70w worth) to 775w without a bunch of tapping.  Right now I've gotta hit a bunch of buttons to make it happen.  And yes, I could program the workout in, but that doesn't really fit my style as much.  I like to be able to control it on the fly.  The CompuTrainer has this if you just use calibration mode (it removes all resistance) to swap back and forth.
Post-workout I very quickly showered and headed out the door.  Since I was now about 25-30 minutes beyond what I thought I'd be, I was running a touch bit late.  The Girl was hosting a magazine event at the CupCakery that was somehow tied to wedding planners at the top.  The details are slightly unclear to me.  All I know is cupcakes were being custom decorated by the folks involved.  And since cupcakes are always good, then the event was in turn all good.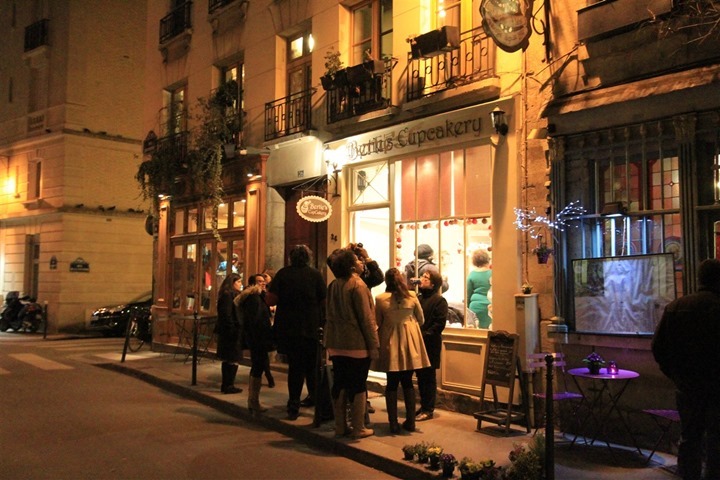 Hers' a picture that one of the folks involved in the group took: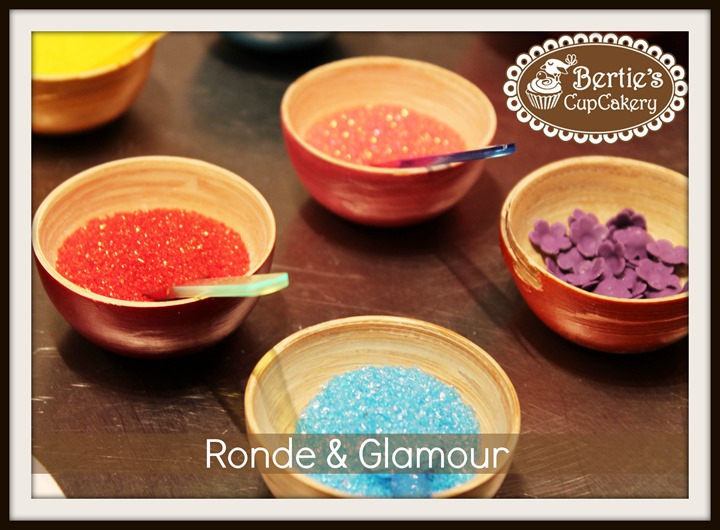 Each person decorated their own cupcakes, and in addition, The Girl had some also available as well.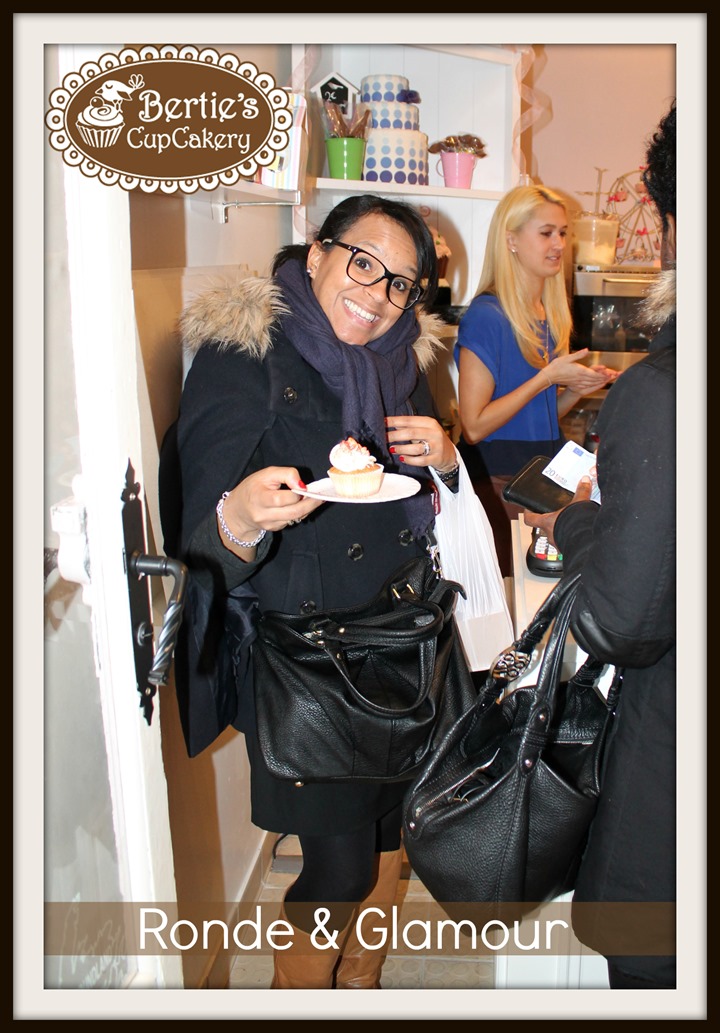 However, I couldn't stay long – I had to execute on our Friday Night Date Night…solo-style.  As you may remember, Friday nights are normally reserved for heading to the restaurant supply store.  With her tied up, I headed on out.
I tried not to get too distracted in the wrong aisles, but somehow I always end up back at the cheese aisles.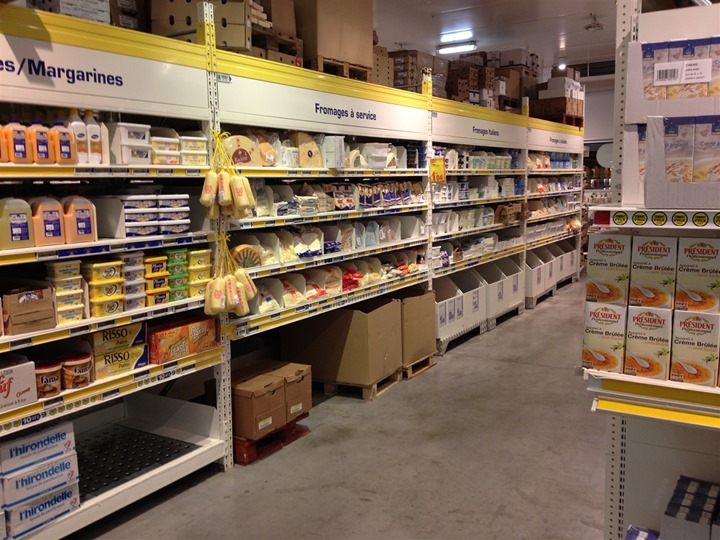 Regrettably, there's no cheese utilized in the CupCakery today.  So, mostly I just lugged around a lot of sugar, eggs, butter and flour.  Oh, and pink napkins.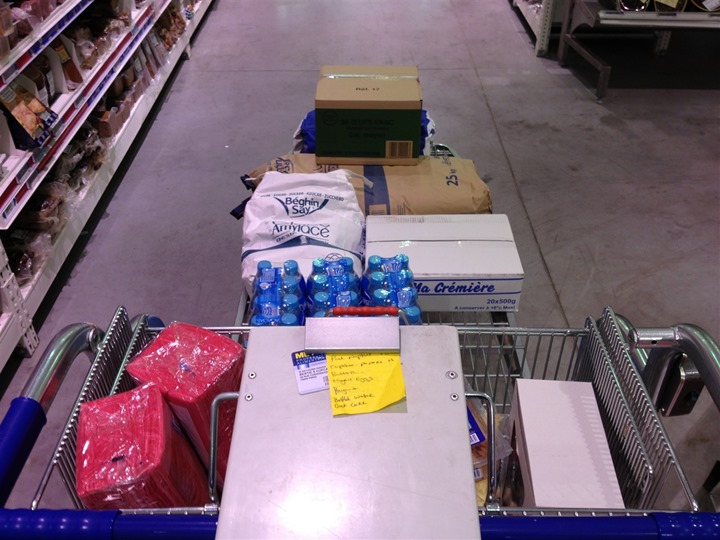 Soon I was done and headed back to the shop for unloading.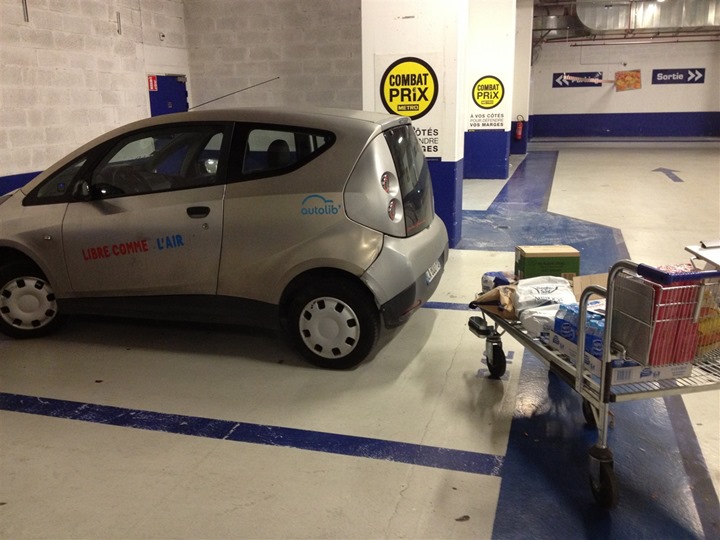 With my shopping complete, it was onto Saturday I went.
Saturday:
As I mentioned last week, we began the process of hiring a new employee (or two) at the CupCakery.  We did this for a few reasons, first was that with tourist season heating up – The Girl realistically wouldn't be able to meet demand any longer just by herself.  Secondly (and most importantly), we really want to be able to take advantage of our time over here in Europe (and my travels elsewhere), so being able to have employees makes that easier.
Last Friday/Saturday/Sunday we had the first of two selected applicants do a trial run.  It was cool to watch.  On Saturday afternoon, The Girl was feeling good, so she gave the prospective employee a few hours to hold down the fort by herself (the cupcakes had been made in the morning, so this was just selling at this point).  Which in turn gave us the first opportunity for a weekend run in Paris together since about October.
We had 6×1-mile intervals on the calendar, and thus took off to the gardens to run them.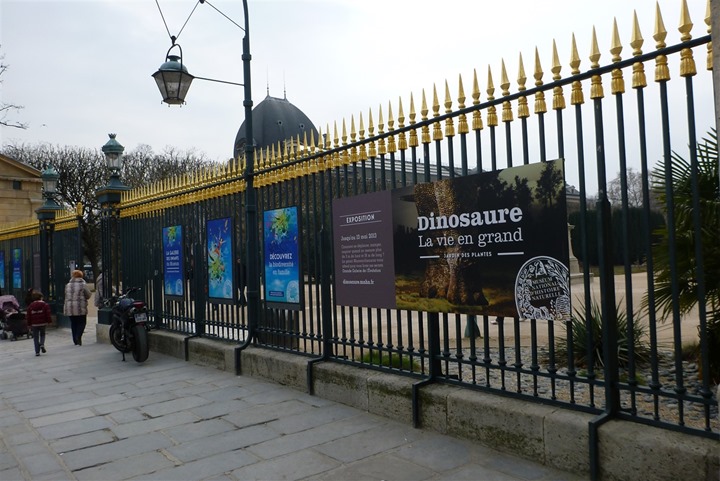 Being somewhat warm (mid-50's *F), and somewhat sunny (ok, barely sunny, but less grey than normal), the park had a fair number of folks in it.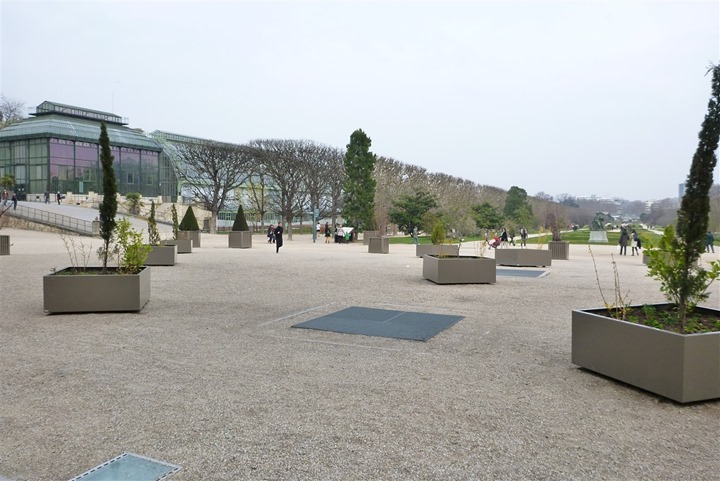 Even some of the animals in the zoo attached to the park came out.  That's an owl up there.  I know, kinda hard to see, but I do what I can in between my work intervals.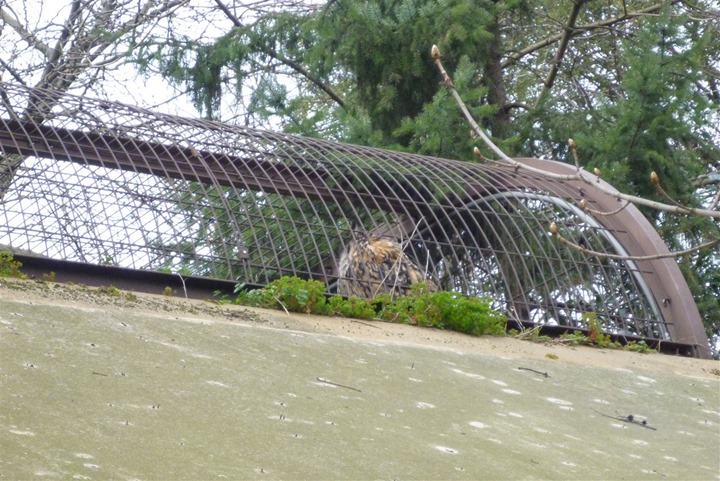 And the little red panda even came out too!  Unfortunately, our rest interval spot never quite lined up to his cage, so I had to take the photo on the run, so you can't quite see him well in this photo (but he was just hanging out on the wooden thing in the lower left corner).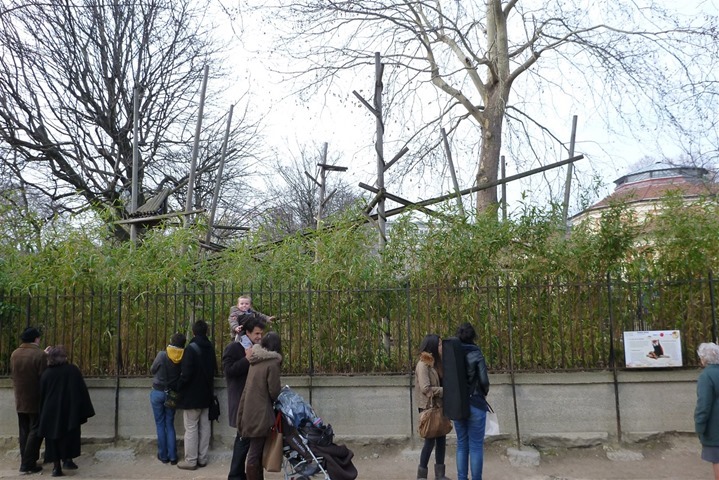 Oh, here's us.
And here's proof of the sun: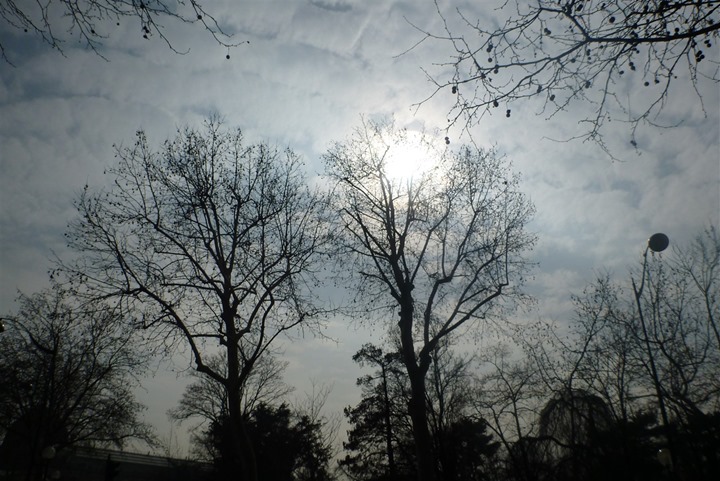 On the way back the sun was even creating shadows!  Crazy!  And, the boats were all full.  About the first time since September I've seen more than one boat in succession full.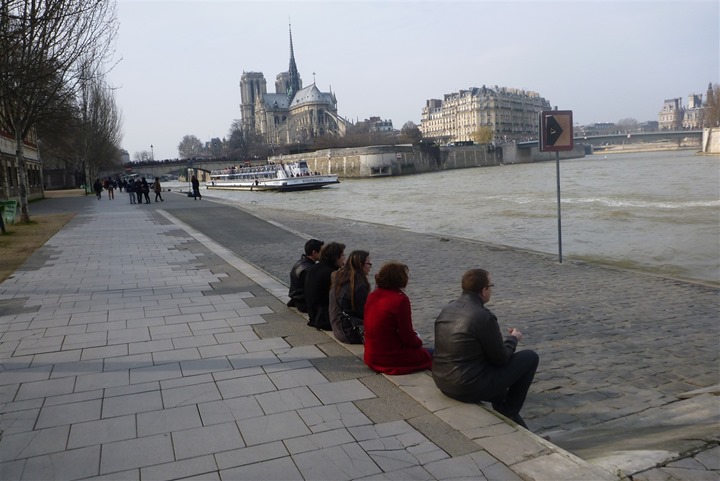 Of course, like a mom having babysitters for the first time, The Girl wanted to swing by the shop on the way home just to ensure everything was good.  And indeed, it was perfectly fine!  She was easily working through the crowd inside and out.  Good deal.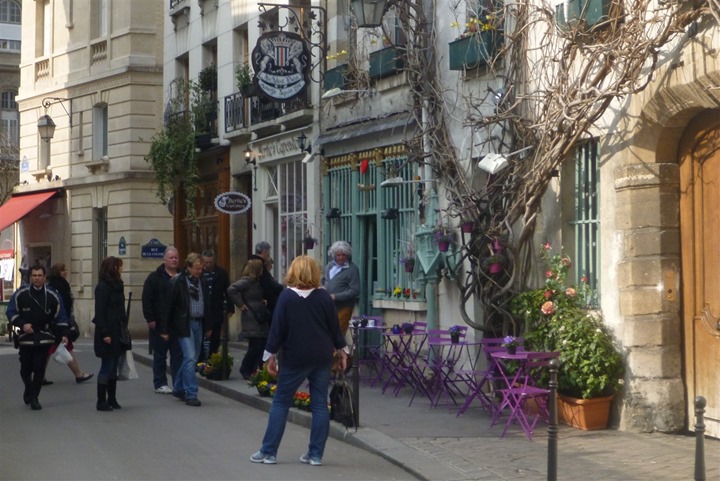 With our run complete, she headed back to the shop a short bit later – and I headed over to check out the bell ceremony that I wrote about in our Paris Blog post.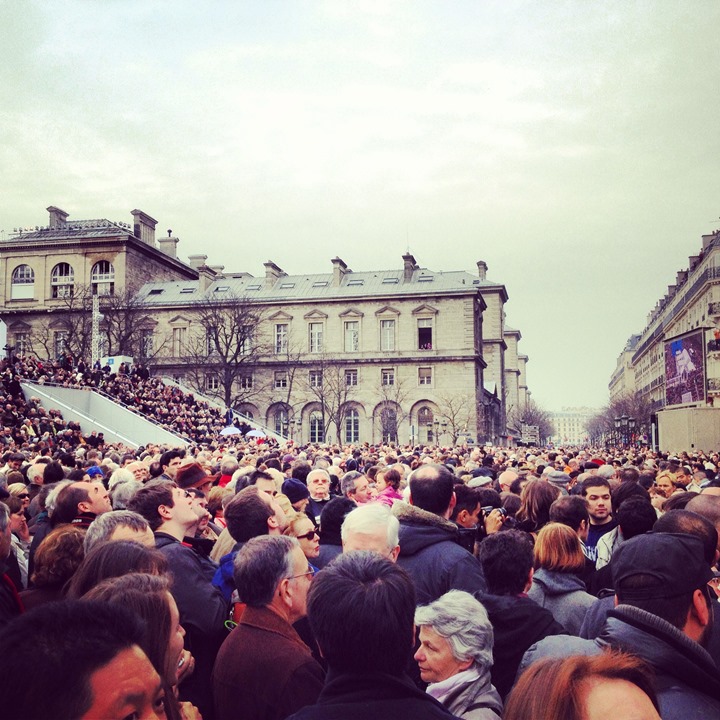 Sunday:
My ride for Sunday morning was scheduled as 1hr 30 mins at Z2 HR, plus some sprints.  I decided to simply start the timer when I left the house, and then I'd complete 1hr 30mins over at Longchamp doing circles.  When done with that, I'd just call whatever was after that on the way home as 'leftover'.  Worked for me.
I was also testing out the O-Synce device.  I've been using it a lot indoors, but less outside.  I think it'll probably be my next cycling device to hit the reviews.  I may put out some other reviews prior, but my goal is for this to go out in the next few weeks.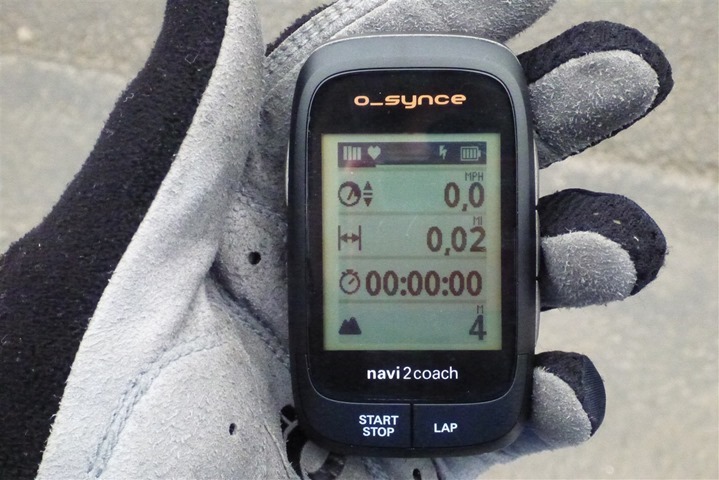 As usual, my route  takes me across the city.  Though, I still end up adding a bit more distance than required on the outbound segment.  Gotta perfect that more.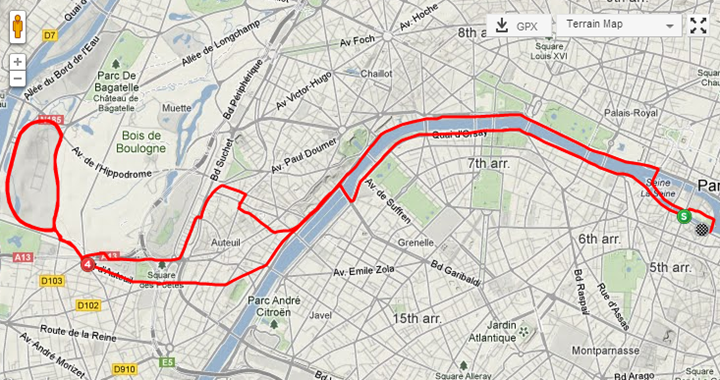 This means I hit all the major monuments, as well as some of the less-famous typical Parisian neighborhoods.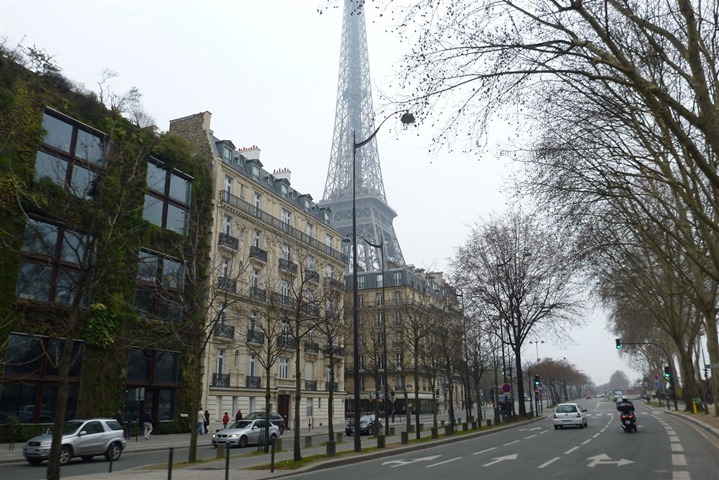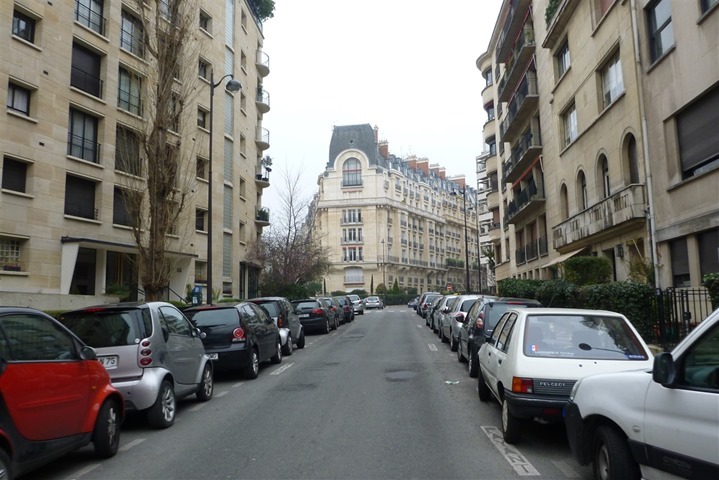 Once there, you're swallowed up by never-ending looping cyclists.  As usual, there were some big groups, and then small groups – and everyone in between.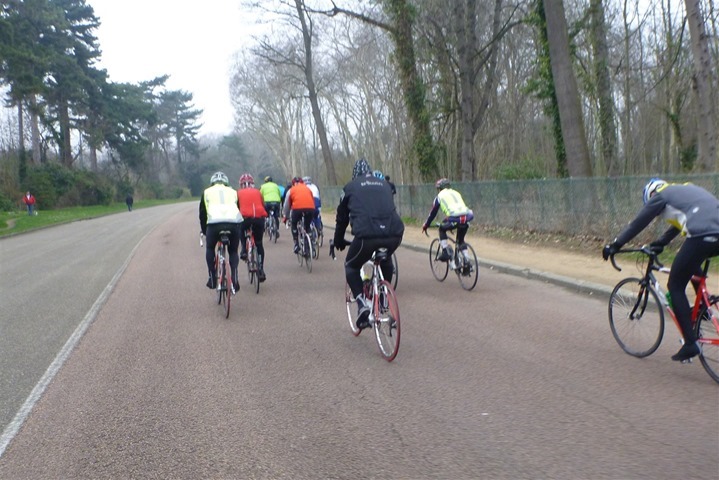 The trick to riding here from a steady-state workout standpoint is really to just as best as possible ignore everyone else.  It's not always super-easy because some of the groups take up the whole road, and aren't always terribly fast.  So there are small surges from time to time as I try and get around them.  Which in many ways is pretty similar to larger triathlon races where draft-packs occur and you need to get around them.
As usual, I'm continuing to test and gather data from power meters.  I moved the Edge 800's down slightly so this way I could actually use my aerobars just fine.  I think I might slide everything back perhaps half an inch or so, and then it'd be perfect.  Your arms actually normally sit to the outside of the bars, so the inside of the bars and the top of the bars tends to be dead-space (which is why water bottles are commonly mounted there these days).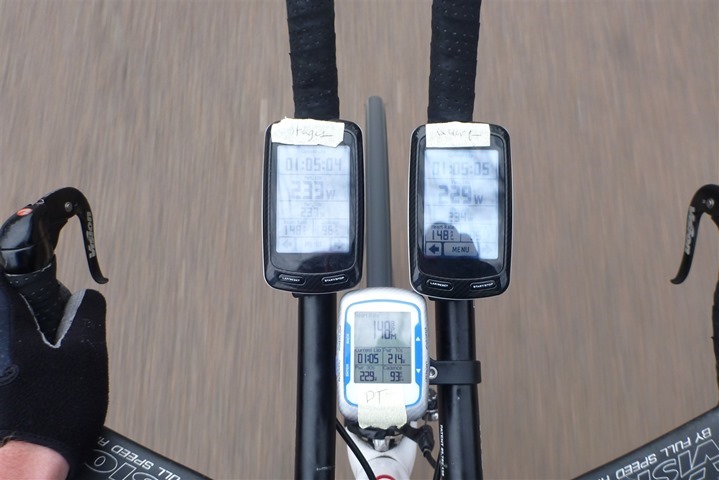 The ride went quite well actually, fairly solid wattage (223w for this segment), especially on the 1hr segment of doing loops that I was most interested in.  And my HR stayed fairly consistent in Z2, save for the little sprints you see at the end.

On the way back I noticed they had freshly painted the kilometer markings on the ground for the Paris Marathon in two weeks (which we're running).  There were also mile markings as well, though not quite every mile, just major markings.  We can use either, though I appreciate the mile markings.  And, for those Europeans who will say I should forget mile markers, I'll note that most major American races do actually have both mile and kilometer markers.   So this is pretty similar, just inverted.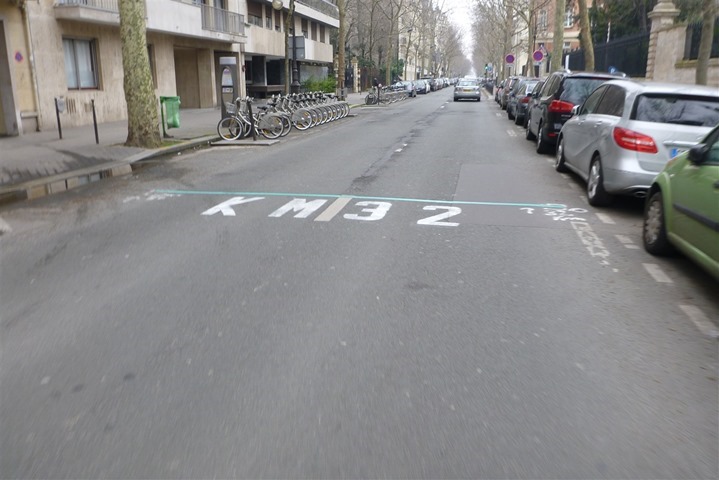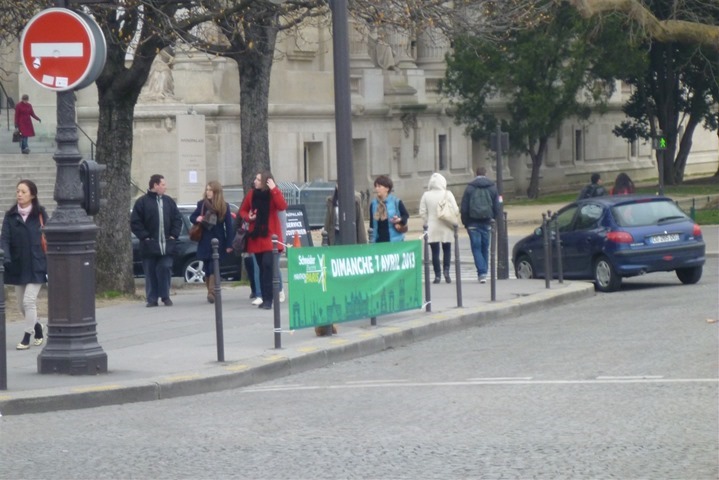 As I had tweeted on Sunday, I got back with about 2 minutes to spare prior to a 12:30PM conference call I had.  No time to change, just stick on the headset and go!  For those wondering why a conference call on a Sunday, well, most Middle Eastern countries don't have the same 'weekend' days as we do.  In my case, talking to folks in Saudi Arabia meant that it was already the equivalent of their Tuesday.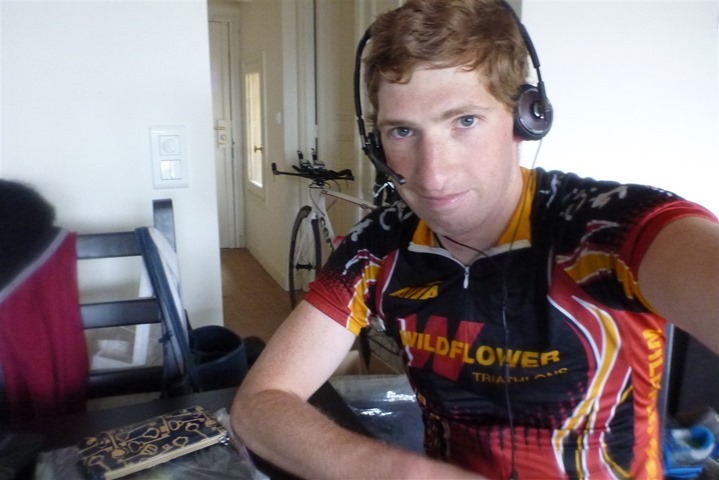 Finally, post-ride, I was able to spend a bit more time analyzing data from the Basis B1 watch.  It's pretty fascinating actually.  First and foremost, the biggest thing I've gotten clarity on is the purpose of the unit.  And it's definitely not performance athletic data.  In other words, it's great for monitoring data for the 22-23 hours of the day you aren't working out.  But it totally sucks for the 1-2 hours you are working out.  Let's start with the good.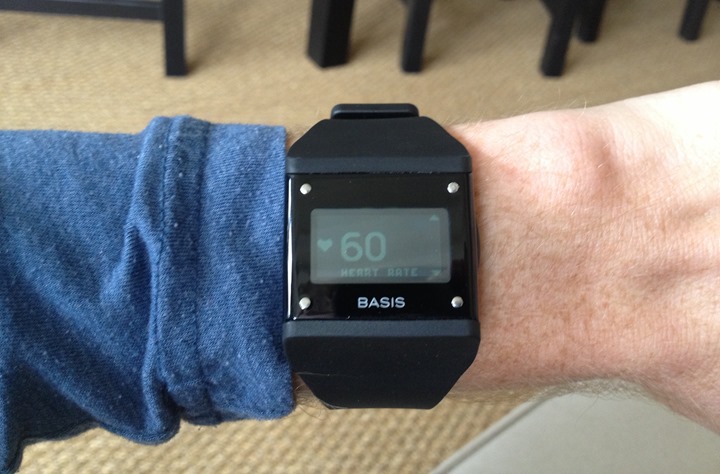 Below is a look at my Friday, showing steps overlaid with HR.  Around 3PM you see a small peak, this is when I was biking home from the office.  Then around 6PM you see a pretty big spike – this is when I was doing a trainer workout.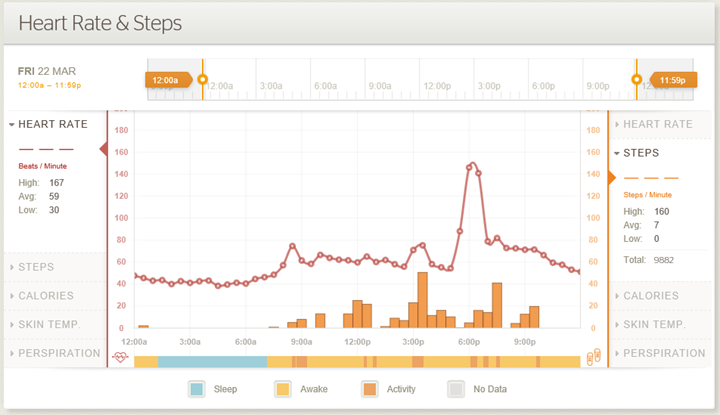 Now, you can do patterns as well – and here's the patterns for the last few days from a HR standpoint.  Note that the coloring on the scale is somewhat limiting, and that dark red at 90BPM (for example, a brisk walk) is the same color as a hard interval workout at 170BPM.

Looking at the flipside – sleep – this is perhaps even more interesting.  Here's Friday's sleep (went to bed around 12:40AM, and woke up around 8AM):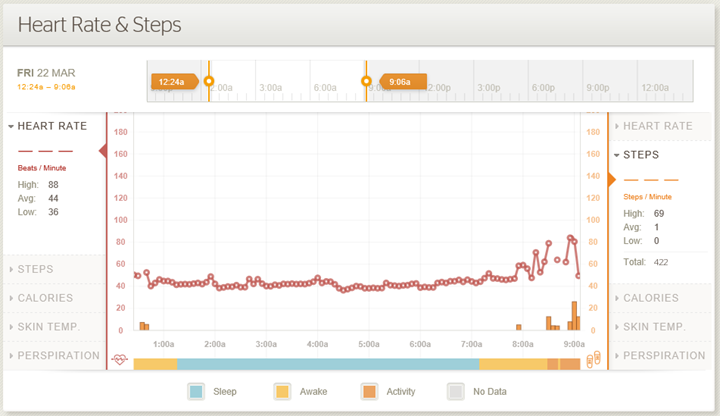 It's cool in that the resting heart rate data will be interesting to truly track day after day.  Previously, to gather resting HR (RHR) data I would have to take a moment out of my day and actually spend time to calm down enough to get consistent data.  Over the last few years of taking RHR data, I can pretty accurately predict how good my runs and rides will be based on that data.  I can tell when I'm getting close to getting sick, or when I need more sleep.  It's pretty interesting once you start understanding yourself.
Now, a look at athletic data.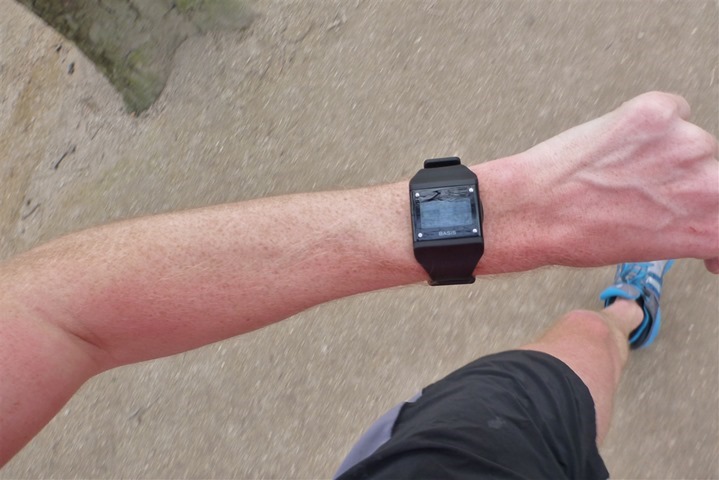 The below is during the run I did on Saturday.  What you're looking at in orange is step-rate.  In this case it was an interval workout, so you can very clearly see those intervals.  The red dotted line is my heart rate.  You'll see that before and after the run it was capturing data just fine.  But during the run I only got two data points, well, maybe three.  Either way, for 1hr and 15m of running, that's not ideal.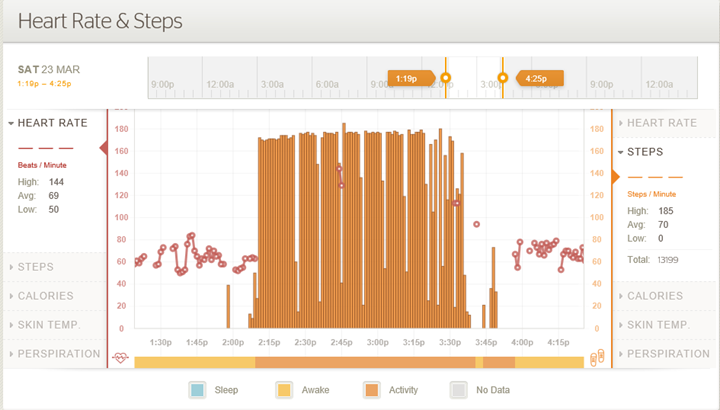 Cycling had a few more data points, but certainly not enough within the HR realm to be useful: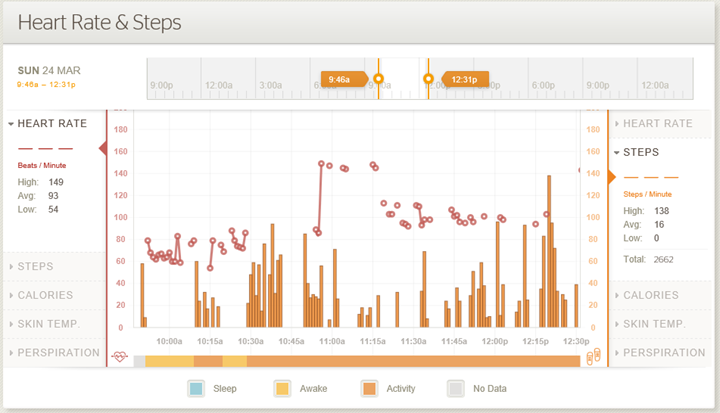 On the bright side, perspiration did track well: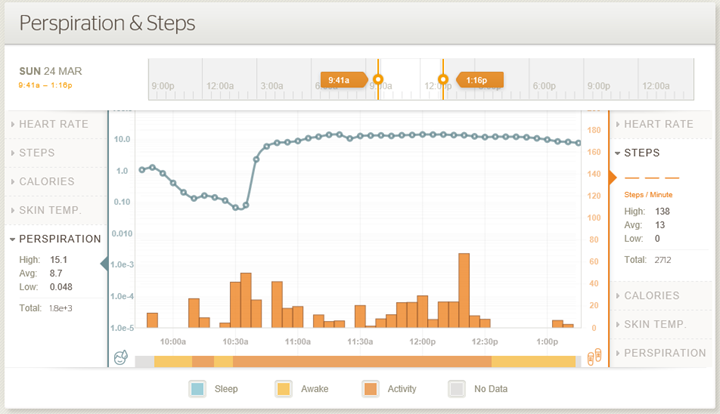 As I noted during the Mio Alpha review, the two optical HR watches have different focuses.  The Alpha watch is very clearly for athletic purposes, and since it lacks any recording capability it's not good for 24×7 monitoring.  Whereas the Basis is clearly for 24×7 (err…23×7) monitoring.  Different goals, different purposes, different audiences.  Neither is right or wrong, just different.  I think there's some really interesting value in the Basis watch for monitoring the rest of your data, à la FitBit/Nike FuelBand, etc…
I'll dive into it in far more detail in my review.  I want to collect about a month's worth of data before writing it up.
With that, thanks for reading!