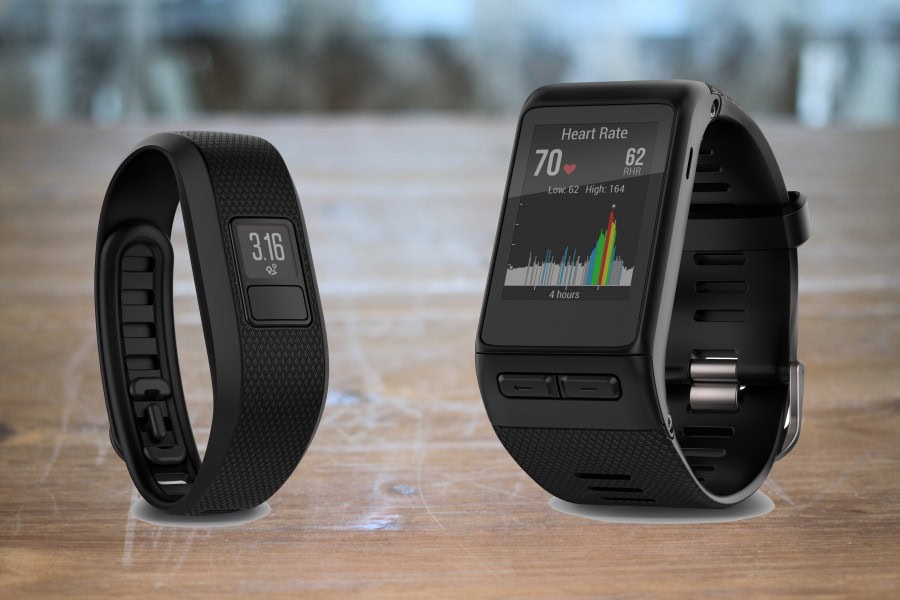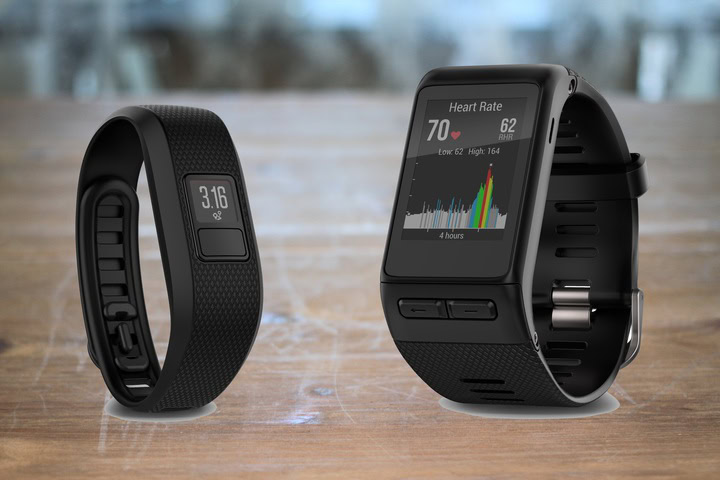 !!!Update! I've since posted a full hands-on and first run look at the Vivoactive HR!  Swing on over to that post for all the hands-on details and videos!!!!
Today Garmin announced two new products – the Vivoactive HR, and the Vivofit 3.  Both of which build on existing products they've had in the market previously.  The Vivoactive HR takes the now 13 month old Vivoactive and adds in Garmin's Elevate optical HR sensor.  While the Vivofit 3 makes some very minor tweaks to the Vivofit 2 that launched at the same time as the original Vivoactive at CES last year.
Now this post is really just a placeholder.  Or said differently, it's merely a post to keep my inbox and Twitter from exploding with people asking why I don't have a post about the new units.  The reason is simple: I don't have the units, nor yet hands-on time with them.  The only real Vivoactive HR & Vivofit 3 units out there are currently with their Garmin handlers working their way from Olathe, Kansas to Barcelona, Spain – for Mobile World Congress that begins next week.  For better or worse, I'm neither in Kansas, nor on that plane.  I will however shortly be in Barcelona and meeting with them there.
So, you'll have to hang out a bit longer till Sunday sometime for my full write-up with pretty pictures and more of my thoughts on the products after some hands-on time.  However, to make it easy on you – I've summarized a list of changes that compares the two products to their older siblings from the same mother:
Vivoactive HR:
Comparison of features versus the existing Vivoactive:
– Added Garmin Elevate optical HR sensor for workouts & 24/7 HR monitoring
– Added ability to re-broadcast the optical HR over ANT+ (so a Garmin Edge can see it)
– Added in floors climbed metric
– Added in Intensity Minutes
– Added in skiing/snowboard, paddle-board, and rowing apps
– Added in Auto Activity Detection (Running, Swimming, Cycling, Elliptical)
– Added support for basic swim HR recording via HRM-SWIM & HRM-TRI straps
– Does NOT support HR using internal optical sensor while swimming (with no plans to enable)
– Increases GPS battery life up to 13hrs from 8hrs in original Vivoactive
– But decreased to 8 days always-on 24×7 mode battery (with HR though) from 3 weeks (no HR previously)
– Different display, however same overall resolution (may be better in sun)
– Slight increase in chubbiness compared to Vivoactive (more depth than original Vivoactive)
– Support of Varia Radar & Varia lights, and Varia Vision
Vivofit 3:
Comparison of features versus the existing Vivofit 2:
– Added in Auto Activity Detection (Running, Swimming, Cycling, Elliptical)
– Added in Intensity Minutes metric
– For swimming, does NOT count stokes/laps/etc, just the act of swimming
– Can still connect to ANT+ HR strap for non-swim activities
– Can still manually create a standalone workout activity
– New square screen, includes new analog clock face, different UI designs
– Not compatible with Vivofit1/Vivofit2 accessory bands
– Is compatible with Vivofit 3 new/styled accessory bands
Got all that?
In many ways, I see the Vivoactive HR as a continued assault on the Fitbit Surge.  Garmin already had the upper hand against that product if you compare feature to feature, but some might have felt the screen on the Fitbit Surge was cleaner/clearer.  In theory, the Vivoactive HR's newly changed screen should carry much more contrast than the original Vivoactive – which some folks found a bit dull/dim.  But I'll have to see it in person to validate that.
Both the Vivoactive HR & the Vivofit 3 are officially listed to ship within "Q2 2016", which is the broad date range between April 1st and June 30th.  However, it appears they are telling retailers more like the April 2016 time-frame for the $249 Vivoactive HR, and March for the $99 Vivofit 3.
So hang tight for my hands-on preview on Sunday! You can either refresh the page umpteen million times between now and then, or, you can follow me on The Twitter.  As I'll tweet it out as soon as I've got some actual hands-on time.
Update: Video! Fast forward a few days and here's a video I've shot with the Vivoactive HR, following my first run with it.
Thanks for reading (and waiting)!
(Note: Imagery at the top is simply their stock shots of each unit combined with my table, whereby I worked on it for approximately 12 seconds.)