I figured I'd share a brief runaround from this past Thursday, if for no other reason than a bit of entertainment.
We were working our way back home from St. John's (Newfoundland, Canada) to Paris when we found ourselves with an approximately 7 hour layover at Newark airport.  While we could have gone into the city for some portion of that time, it'd have been a bit more complex since we had Lucy with us (our little dog).  Plus, with the variables of traffic to/from the city – that can easily burn a lot of time (especially on NYE in NYC).  Not to mention dealing with holding onto carry-on bags too.
So instead, we just hung out at the airport and got work done.  Oh, and going for a run straight from the baggage claim and then eventually back to the departures check-in area. Cause…why not?
I did a quick look in Strava for nearby Segments upon landing, figuring that it might offer options that are runner friendly.  Then I created a route using my favorite planning app – Easy Route – it just allows you to quickly plot out a course in a few taps.  Nothing fancy, it just works.
The route I created was more of rough outline, not the exact route I'd take.  I was hoping to be able to take a short-cut between the #1 and #7 mile markers on the below map, to allow more mileage at the lake.
Now, I decided to go freestyle and not download/transfer this route to my Garmin or Traverse…which, was clearly a mistake.  I figured things would be relatively straight forward: Get out of the airport and go east until I hit the park.  Run around the park, and then aim back for the airport.  After all, getting back to an airport is always easy – just look for big planes in the sky.
In order to make this whole run idea work, The Girl hung out in the United lounge with Lucy and my bags while I followed the signs to exit via baggage claim: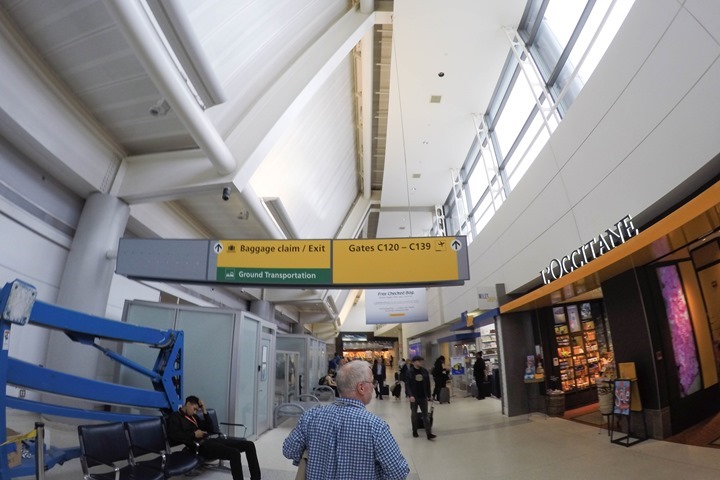 From there, I got GPS signal and optical HR settled on an assortment of devices while Uber's picked up passengers nearby.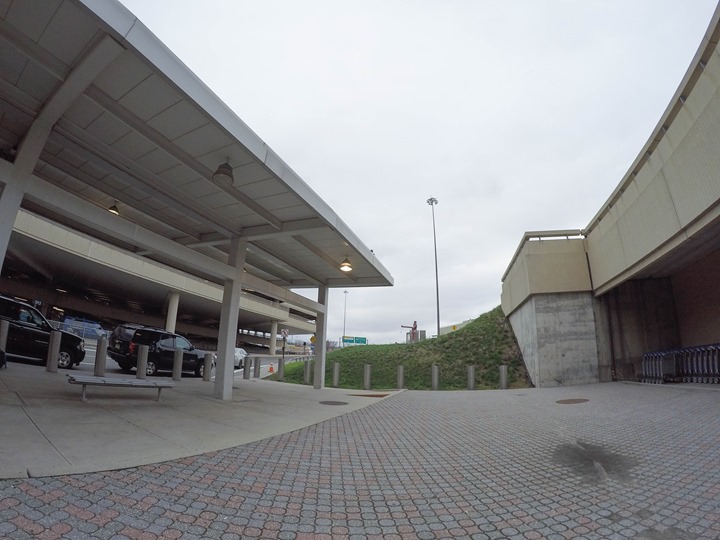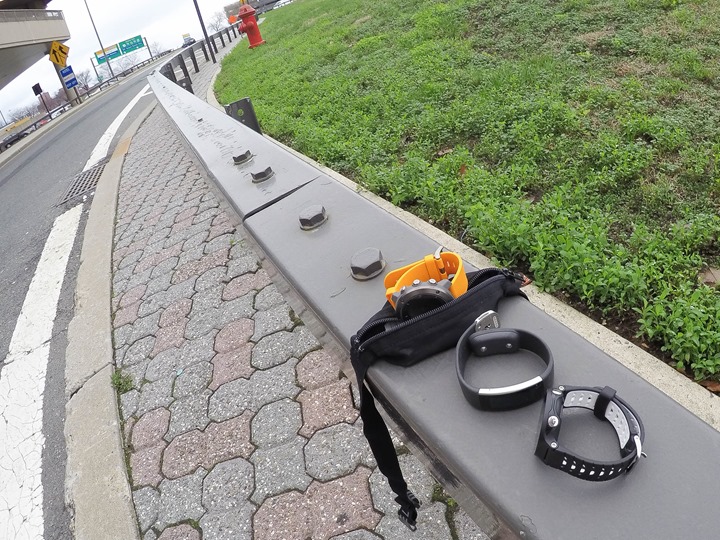 Then it was time to try and get out of the airport.  A feat that turned out far more difficult than I anticipated. I've often run out of or around airports, and usually it's pretty straight forward.  In most cities there are routes which connect directly to highways, but also ones that connect to local roads (often perimeter roads).  Usually there's clear signage on how to accomplish these tasks, along with sidewalks to the local roads.  Newark?  Not so much – mostly just highways.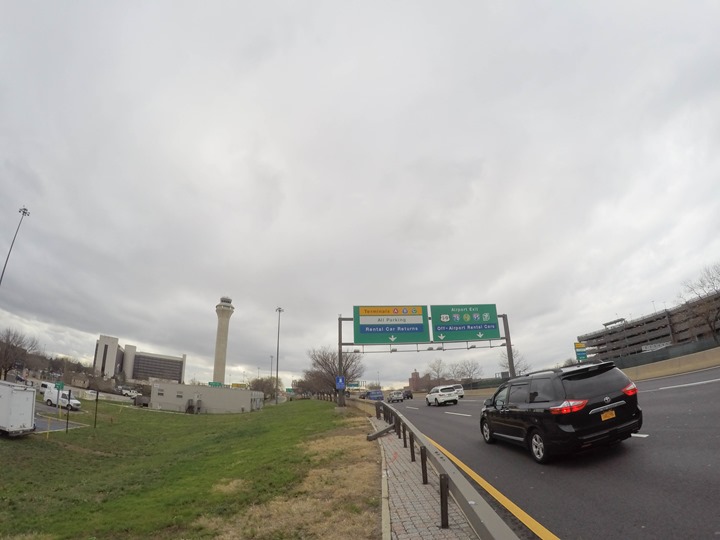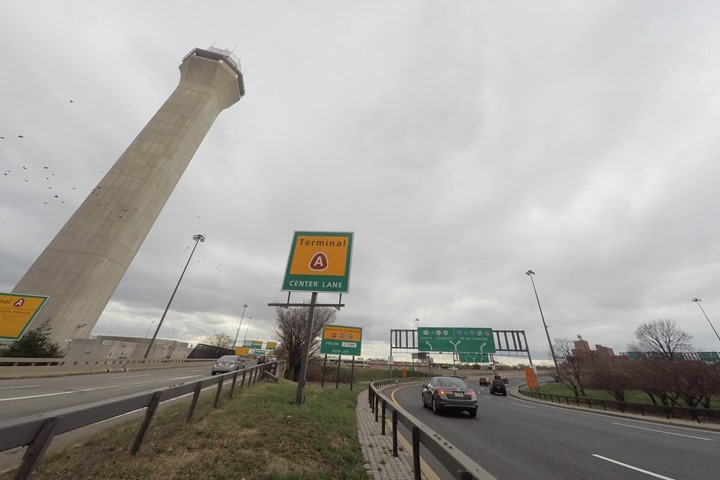 After a few miles, I finally managed to get out of the darn airport grounds.  Landing myself…well…somewhere: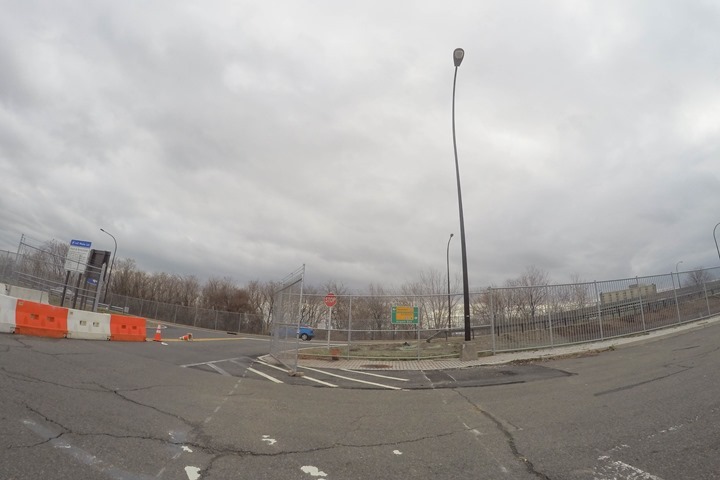 So, east I ran.  Or at least, I presumed it was east.  It was in the opposite direction of the airport, so I just ran for a while figuring that was east.  The scenery: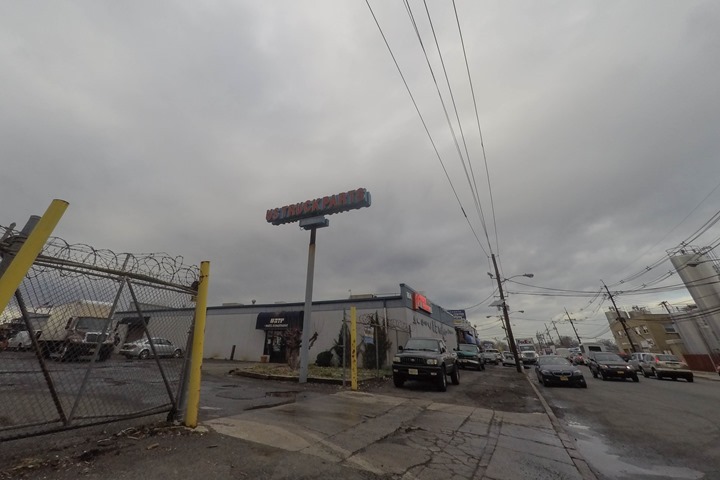 I had assumed I'd eventually run into the park, but what I didn't take into account is just how far south I had run before I turned away from the airport.  Thus, I totally missed the park.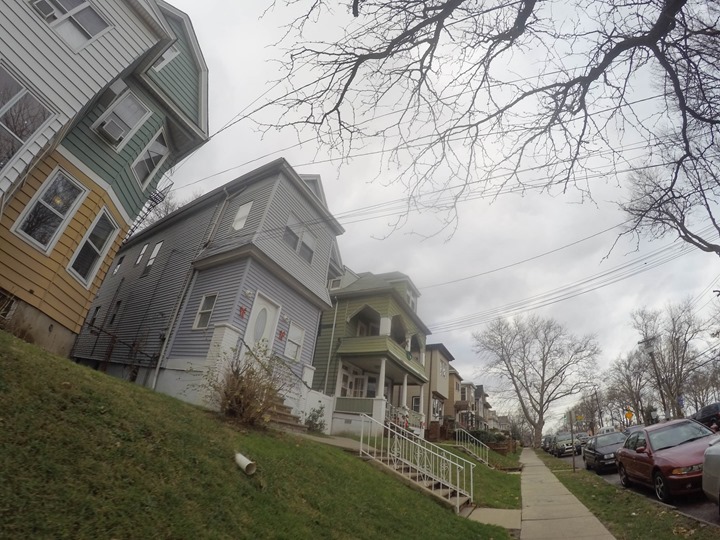 I did find this sign, which didn't even show the park on it at all – a clue to me that I was nowhere near where I wanted to be.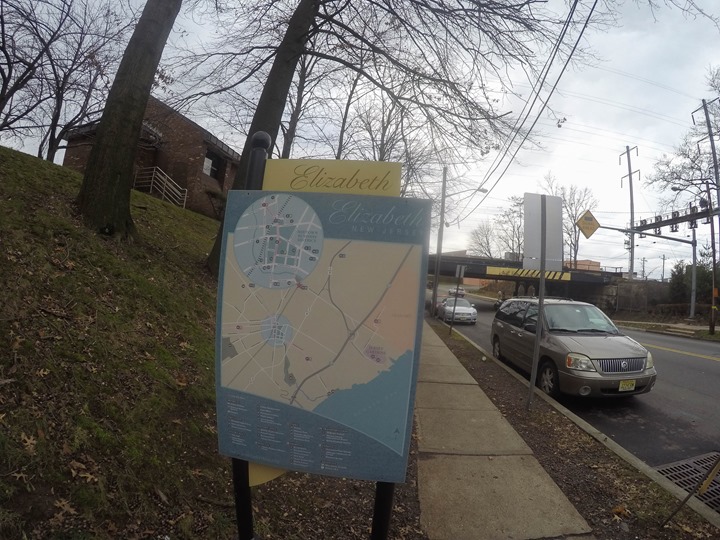 So, I turned from there and make a bit of a square thingy, figuring that I'd eventually get back to the airport property.  My actual route, below: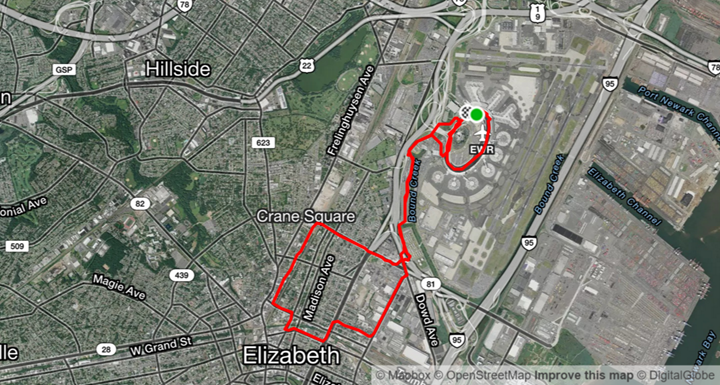 More scenery below.  To be fair, the fried chicken did smell pretty awesome.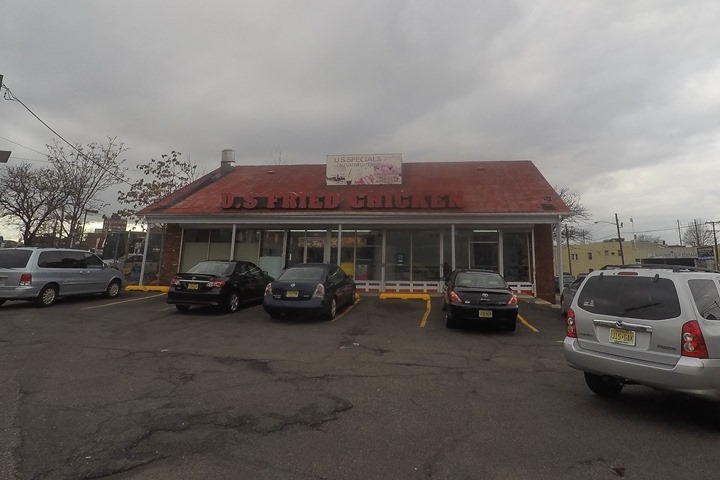 Eventually, I found the airport again and worked my way through more arrivals/departures signs than I could ever count: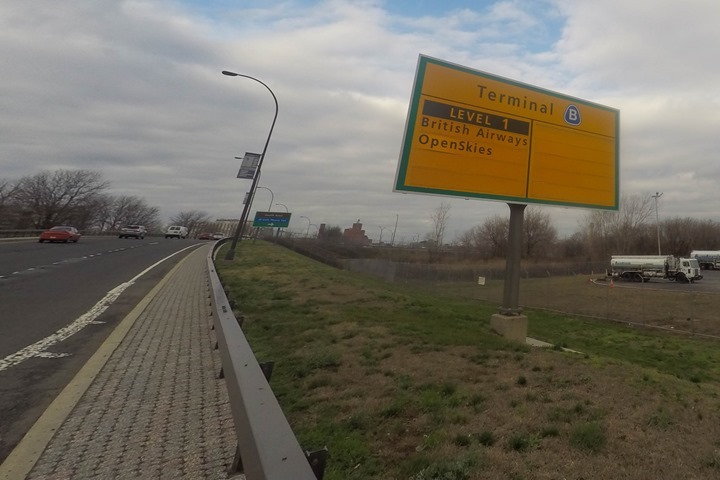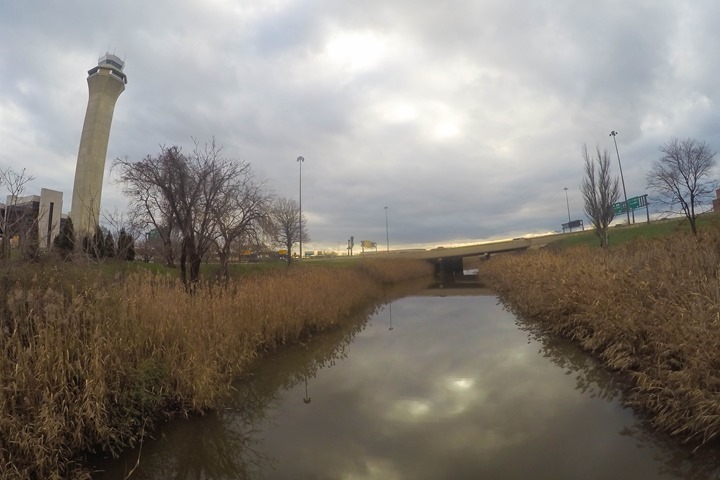 A few miles later, I found myself at the ramp for the ticket counters for Terminal C, where United was: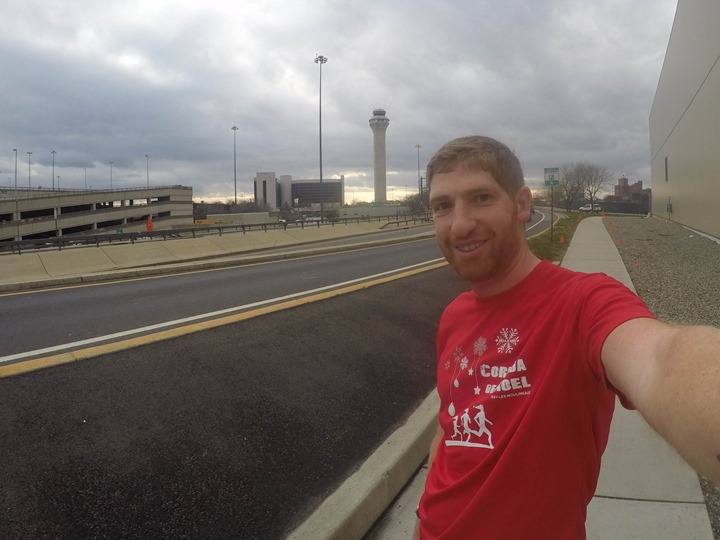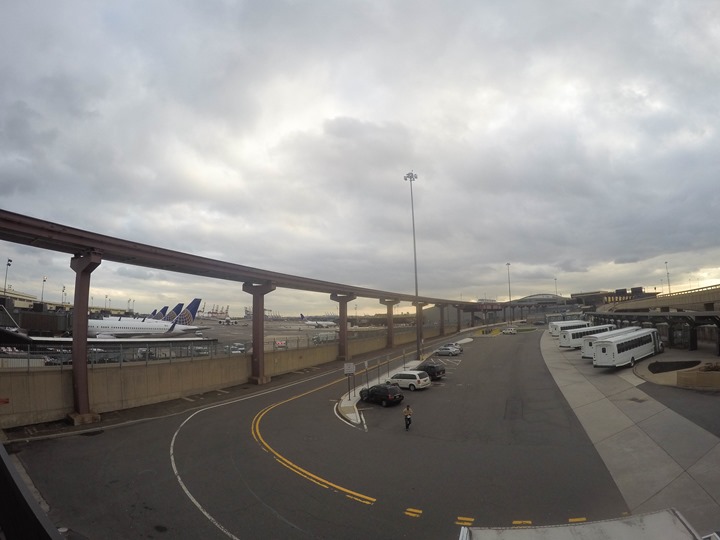 After stopping my watches and heading inside I noticed my boarding pass (I had taken it and ID) was a bit…wet.  So I went to the check-in machine and got it to spit out a new one.  Figured the TSA officer would appreciate that.  Regrettably, the check-in machine photo came out horrible, but this one of the departures board was acceptable.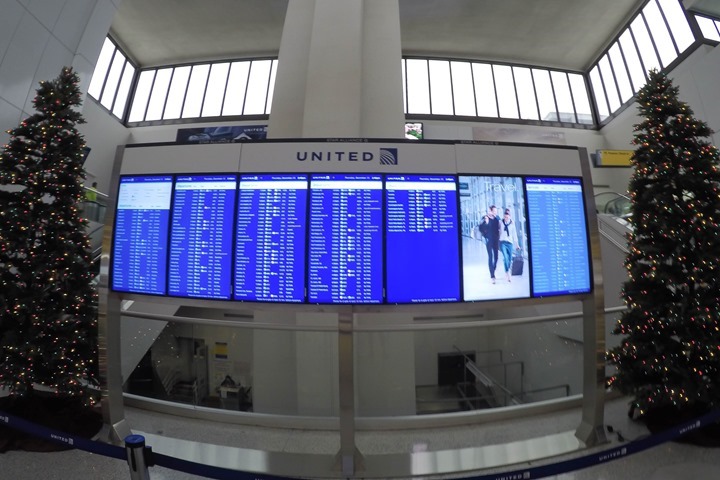 Then it was into the TSA Pre-Check line.  This would be the second time I'd seen this officer today, and third time in the past few weeks.  I only remembered him because he was wearing a Fitbit Surge, and had oddly enough asked about a watch I was wearing a few weeks prior.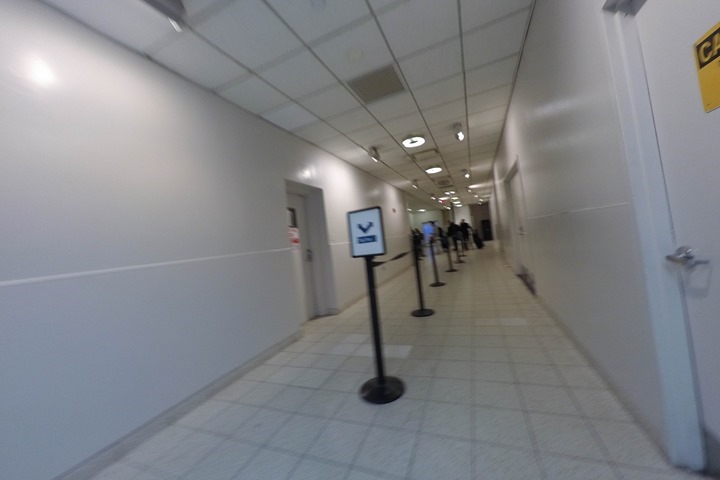 Obviously, the fact that I was just in running stuff (most of my watches were tossed into my Spibelt at this point) was probably a bit unusual.  However, Pre-Check was mostly empty at this time, with only 2-3 people nearby.  So it was quick and easy.
Then it was into the United lounge for a shower.  2 out of 3 United lounges at Newark have showers, and since we were flying international, I got access to it despite being in economy.  One of the very few benefits of flying hundreds of thousands of miles in 2015 (and every year since around 2002ish).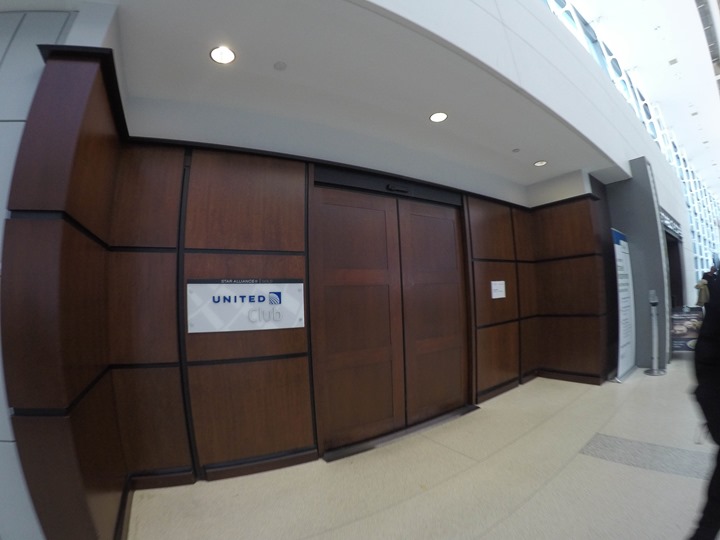 For those unfamiliar with how lounge showers work, you basically put your name on a waiting list and then wait a short period for what is essentially a small private bathroom.  In my case, I just had to wait about 10 minutes before it was ready.  There's perhaps 5-8 shower rooms at this lounge.  Some lounges have more, some less.  Just depends on the airport/airline.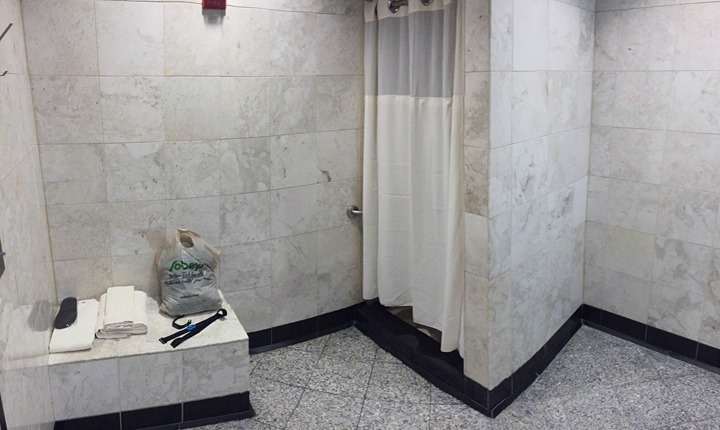 I had brought an extra plastic bag to seal up my running stuff and tossed it into an extra carry-on bag I had, as well as my running shoes. Easy-peasy!
And there ya have it – how to fit in a run from the airport during a layover!
Thanks for reading!