There happens to be a few weekends each year that we know will be crazy busy…and this is one of them.  It's just a bit of a stars aligning sorta of things, where every possible event is on one weekend – primarily due to the holidays.  Here's what we were up to!
1) Friday Night: Christmas Party at our house
We kicked off the weekend with a bit of a cookie exchange and Christmas party at our apartment.  Everyone bought some type of cookies they made, and then we also went with a more down to earth simple dinner (nothing fancy).  Oh, here's our tree all decorated (the one we carried via Velib).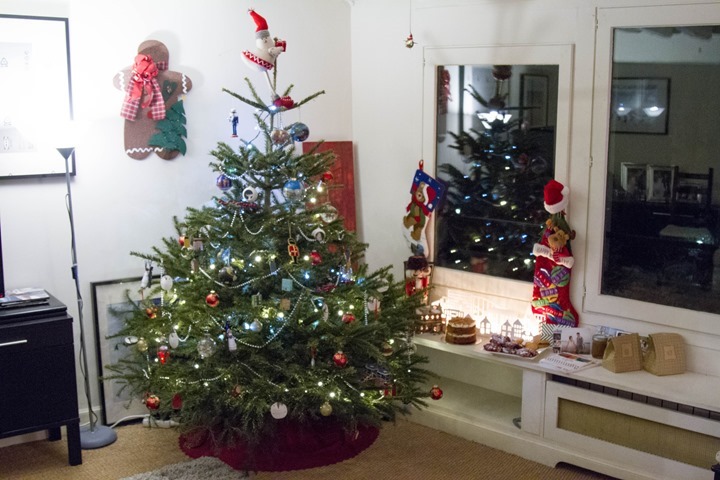 In addition – we did a crazy chocolate painting thing.  Our chef friend has been recently doing these chocolate painting events where folks paint in the colors on a chocolate painting that sits atop glass: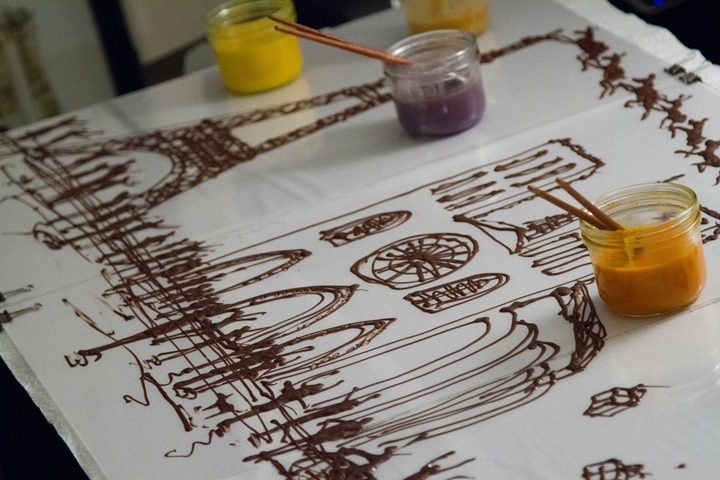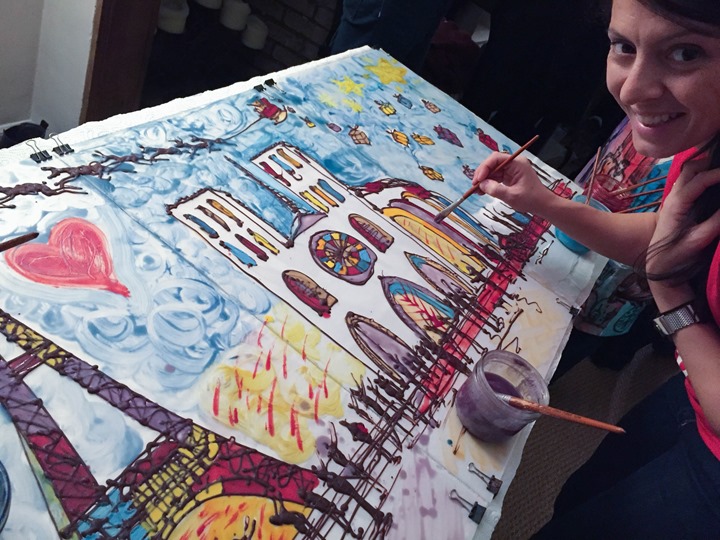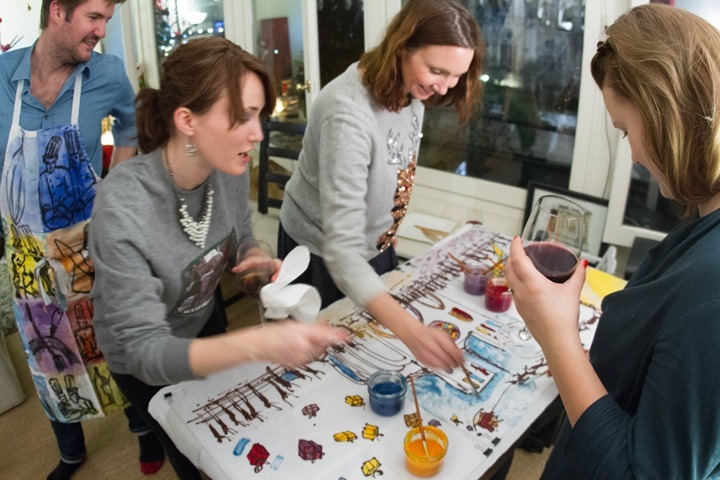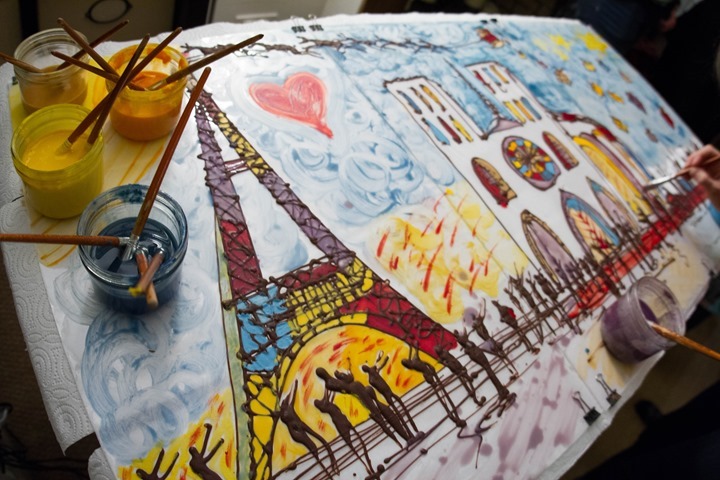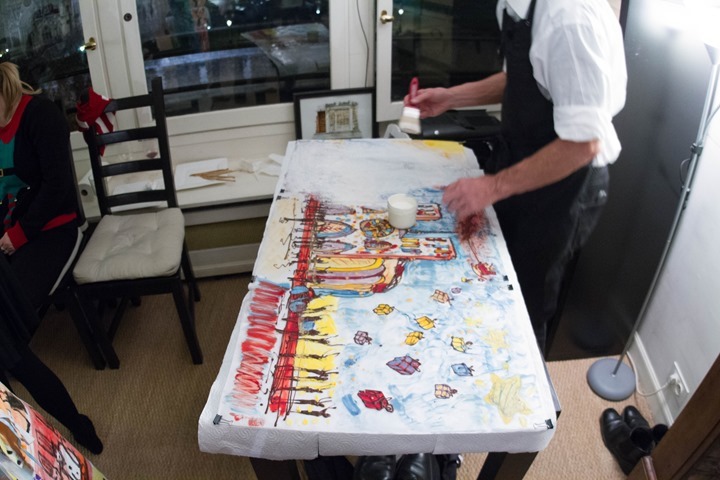 Then afterwards, the entire thing is flipped over to see an incredible edible painting.  Afterwards you break it apart and take the pieces home: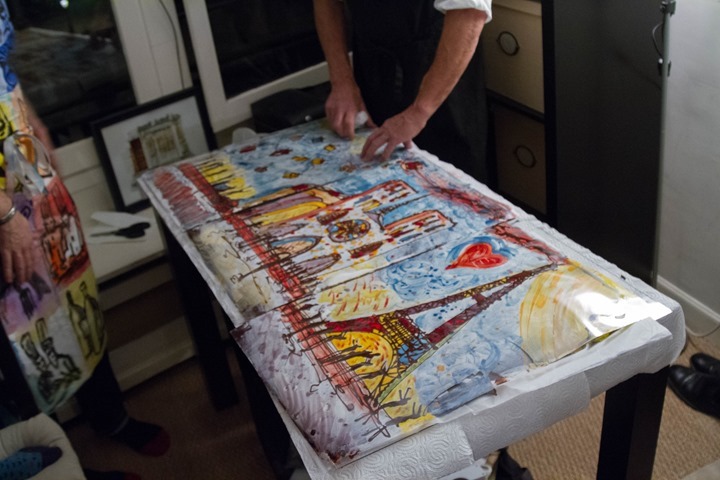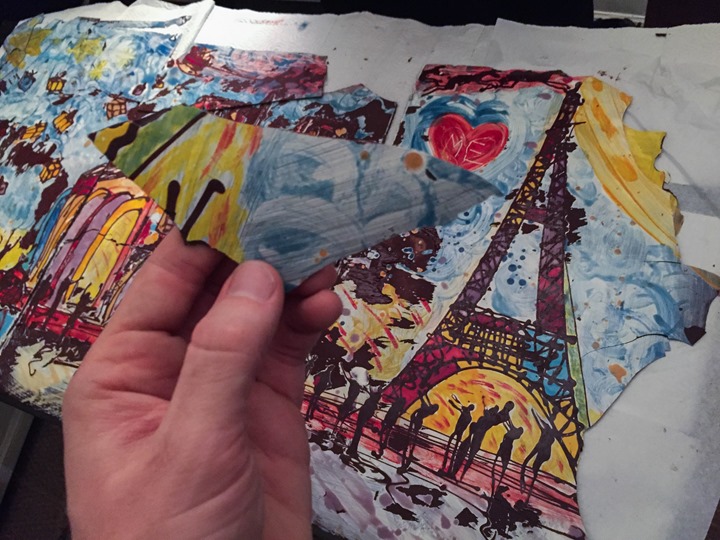 Super cool stuff.
After that it was white-elephant gift exchange time.  I managed to score a pair of leopard print suspenders.  Others got equally 'awesome' gifts.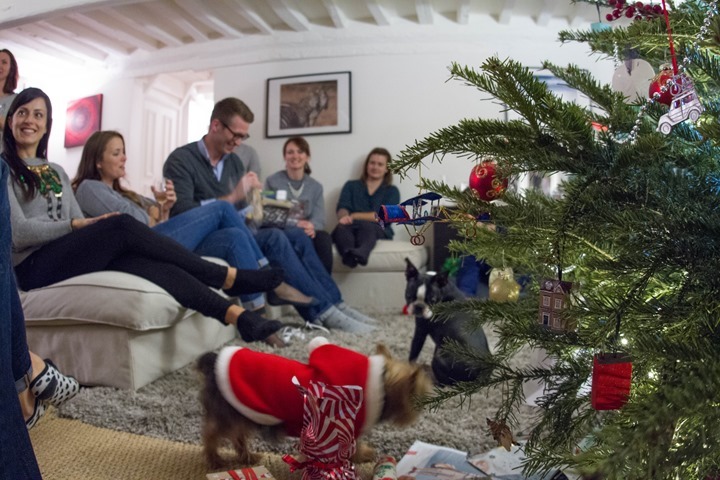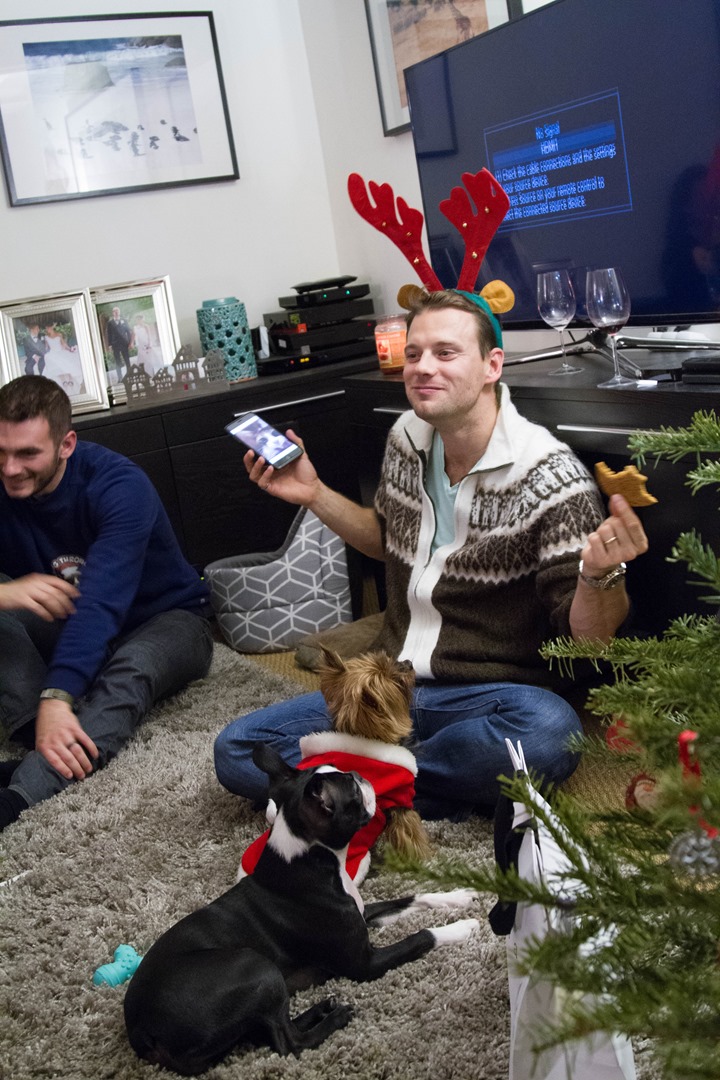 Obviously, that will be the highlight of my holiday gifts.
2) Saturday Morning: DCR Group Run!
Well, this one is easy!  A bunch of people arrived at the studio and we ran!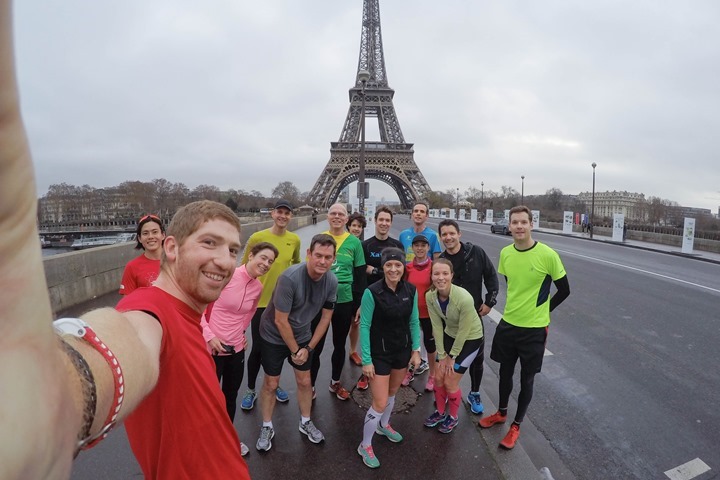 Read this part of my DCR Open House post from earlier this morning for all the details!
Random Tidbit: Generally speaking we (The Girl and I, and our CupCakery staff) refer to the entire combined DCR Cave & Bertie's Cake Studio as 'The Studio'.  When we talk about my DCR space, it's 'the Cave'.  And our combined office (desk) space area is simply 'the office'.  If it's her cake design area, we'll say 'the Cake Studio'.  If it's the CupCakery location, then it's 'the shop' or 'the CupCakery'.  More than you ever wanted to know, but might help as to why we use the terms interchangeably.
To use in a sentence: We met in the Cake Studio, and ran around Paris. The Girl's group swung by the shop on the way back, but the door to both the cave and the office were locked till later.

3) Saturday Evening: DCR Open House Time!
Like the previous bullet, I've posted a gazillion photos of this within the Open House section of the post from earlier this morning.  Enjoy!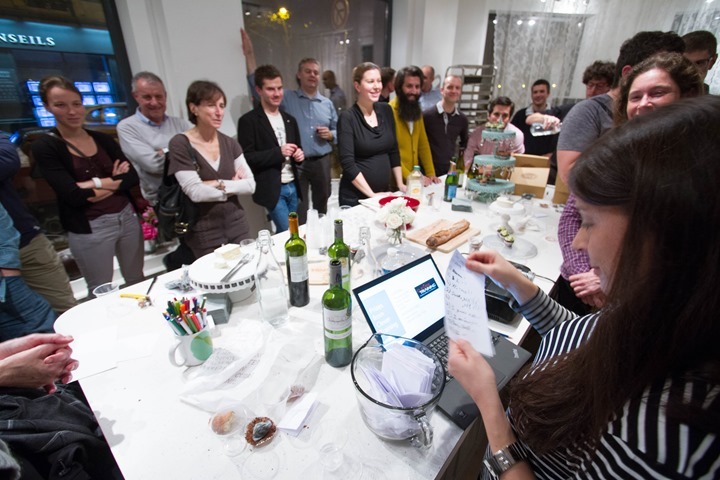 Oh, and to use the terms in a sentence: We opened the cave door to see all the gadgets, while the Cake Studio was packed with people and food.  The office meanwhile, remained closed as it was a complete and total mess.
4) Sunday Morning: A Simple Semi-Versailles Ride
Early Sunday morning (by Parisian standards anyway), I headed down to the cave to get a few reviewed products back in the hands of companies that were in town, thus freeing up space in the cave.  Woot to more space!
Afterwards, I loaded up my bike and headed out onto the quiet streets towards Versailles.  I didn't have a particular plan, but would have preferred to go longer.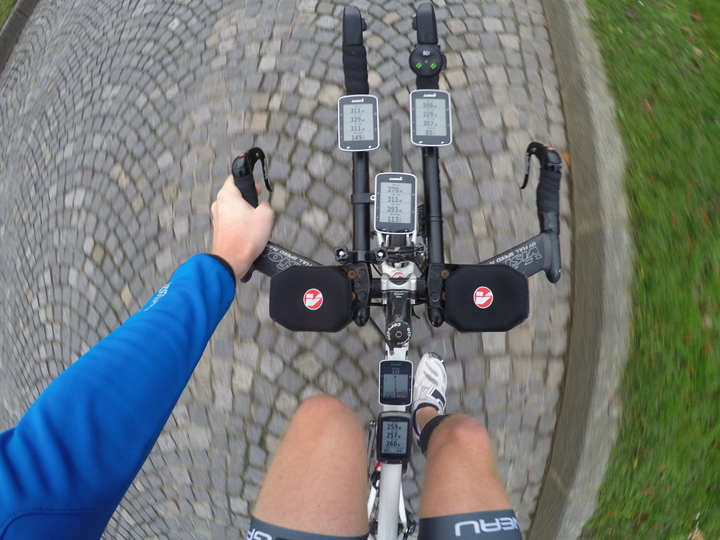 But with a catering delivery later on, I was time-blocked on length.  Primary devices I was testing today would include the PowerPod and the Vivosmart HR:
With the PowerPod, it's not really the ideal bike to test it due to lack of ideal TT-bike miount, so I'll switch over to using a road bike after I get back from Christmas.  But right now my road bikes are all taken apart while I prepare them for new power meter testing after the holidays.
For those curious: With the Verve Infocrank removed, I'm going to replace the crank system with a combination of crank sets and bottom brackets that will be flexible enough to accommodate systems like the 4iiii Precision dual system down the road, as well as others like a Stages dual system – all while also running some sort of crank spider PM (i.e. Quarq, PowerTap C1, Power2Max).  While this may sound trivial, one factor one has to consider is ensuring all systems are non-carbon, so I could also layer in not just the 4iiii system (currently non-carbon) but also WatTeam (also non-carbon).  My current thinking is going with a Power2Max combined with a lower end SRAM crank-set, so I can attach either the 4iiii left-only unit I have, or the Stages left-only unit I have.  Both of which would also be WatTeam friendly.  While the RIKEN AL would be tempting in place of the Power2Max, the crank arm wouldn't be compatible for a pod-system like 4iiii, due to the non-flat surface.  Phew!
5) Sunday Afternoon: A CupCakery Catering Journey
You know when you watch Top Chef or those other chef reality contest shows where the chefs have to move a bunch of food to prepare elsewhere, how they always wrap it up with plastic wrap?
Well, that's real life.  Here's The Girl and one of our staff wrapping up hundreds of half-made cupcakes.
Back a few months ago when we catered another event I cut a crap-ton of PVC pipe pieces so that the cupcakes wouldn't get squished by sheet pans placed together.  That time we were delivering a few thousand cupcakes, so there was a lot of PVC pipes.  Each of those empty spots is where a short 2-3″ section of pipe would go.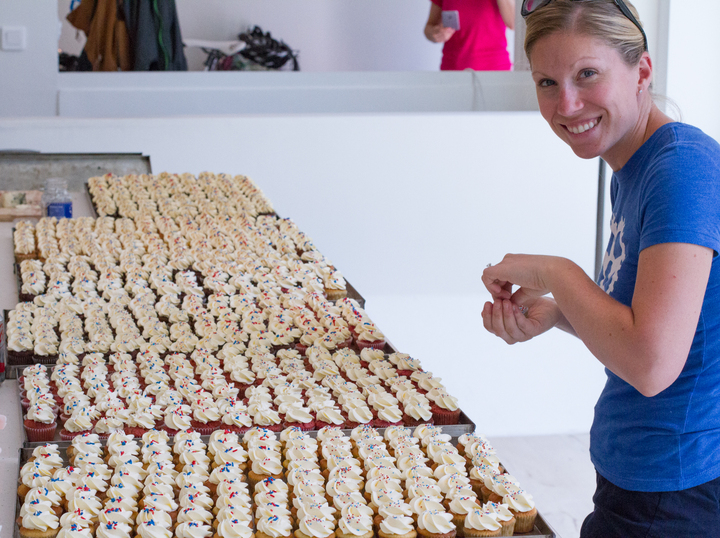 Speaking of which, I made the mistake of cutting those PVC pipes with a power saw down in the DCR Cave.  This past weekend while cleaning up the cave for the open house…I was still cleaning out tiny fragments of PVC pipe.  It's like the pine needles from your Christmas tree that you find in August.
In any case, this was for a kids holiday party, so the kids basically decorate the tops of the cupcakes with frosting and sprinkles, to create their own little masterpieces.  Observation: Many kids created some incredibly crunchy cupcakes.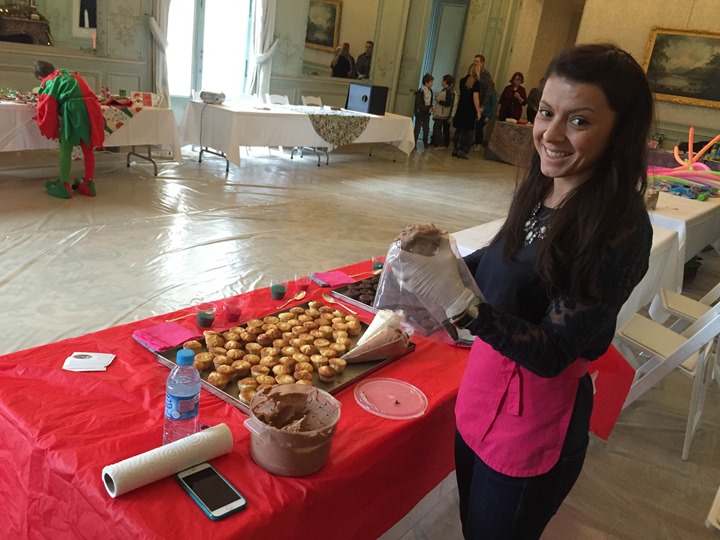 Once we returned back from the event we spent the majority of the evening catching up on work, with a few episodes of Top Chef tossed in to break up the 7 hours of couch-sitting.  Oh, and we made pizza: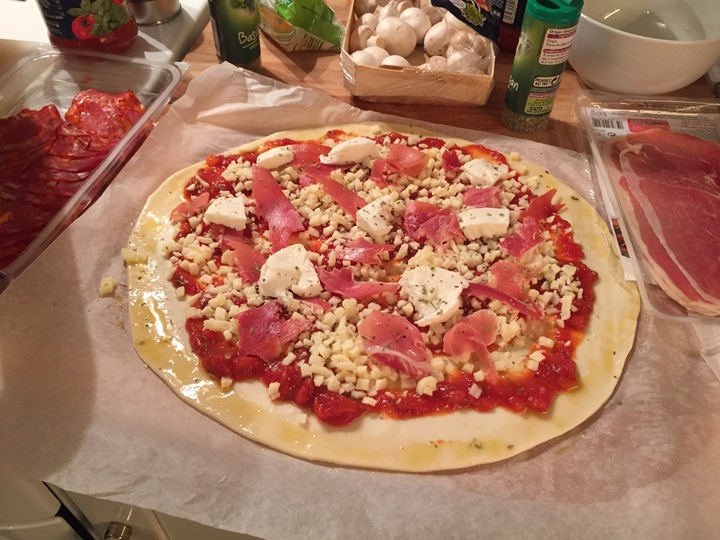 And that's a wrap!