Wahoo KICKR's Sale: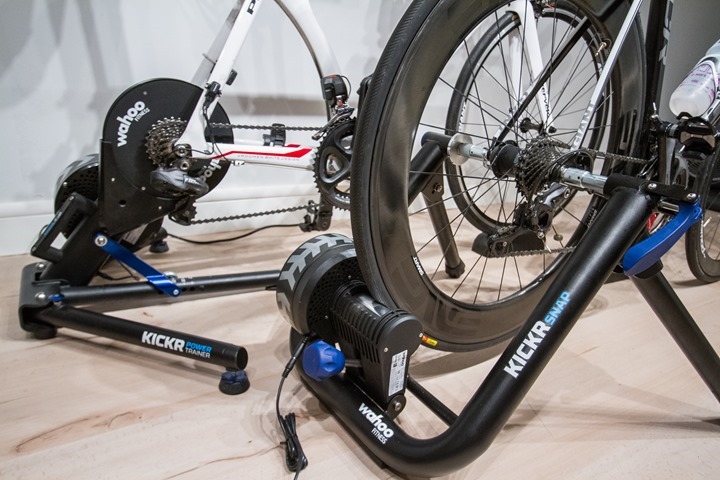 Some readers have brought to my attention the reality that my initial deal post two weeks ago didn't actually include the Wahoo KICKR or KICKR SNAP 20% off sale, and as such, a large portion of readers probably don't realize it yet.  So this will serve as the briefest of brief FYI's, since these two trainers have never been cheaper.
Wahoo KICKR Trainer – $959 (normally $1,199): With member coupon code 15FALLMEM. Ends Nov 23rd.
Wahoo KICKR SNAP Trainer – $680 (normally $850): With member coupon code 15FALLMEM. Ends Nov 23rd.
For both of the above, you'll need to be an REI member (if not, it's $20 more).  You can get free shipping on the KICKR by simply selecting to do a pickup at your REI store a few days later (option on checkout).  Also, a few of you have asked what happened to the KICKR 10-speed version (only 11-speed now offered).  In short, Wahoo ran out of inventory globally on it.  They're working on getting another production run for 10-speed versions, but it's not a 'next week' type of thing.  Of course, you can always just swap out for your own 10-speed cassette, which typically cost about $50-$60 for a Shimano Ultegra version. Both of the above deals disappear at the end of Monday.
Some of you have asked whether or not I'd go with the usual recommendation of the Tacx Vortex at $529, or the KICKR SNAP at $680.  In general you'll have wider Bluetooth app compatibility with the KICKR SNAP, and you get slightly more resistance (incline specifically) on the KICKR SNAP.  But both trainers are already supported by Zwift, TrainerRoad, and others. I don't find any real noise differences there, nor road-like feel differences.  There are some minor other differences, but those are the main ones.  Simply comes down to how much you value $135.
FR920XT Sale
Next, a totally different reminder that the FR920XT sale that's on right now ends tomorrow night too.  There's two options on this, one with the heart rate strap (HRM-RUN), and one without.  This is the cheapest this product has ever been:
Garmin FR920XT for $329 (normally $449) – Deal ends Nov 23rd.
Garmin FR920XT with HRM-RUN for $369 (normally $499) – Deal ends Nov 23rd.
Note that the newly introduced FR920XT triathlon bundle is not on sale (Garmin decides these things, not retailers).
Also note that interestingly, Garmin just introduced Running Dynamics Gen2 metrics to the Fenix3 over the weekend (via a beta firmware update), using existing HRM-RUN straps that simply get a software update to give them new capabilities.  These were the ones that were announced for the FR630.  It's unclear whether or not the FR920XT will get these metrics, but usually the FR920XT/Fenix3/Epix products stay in lock-step (give or take a few weeks) on these things.  The obvious exceptions being something that's specific to a higher end product line like mapping or advanced navigation.  Of course, most return policies would more than encompass that few week lag between products updates should this not come true.
Next Black Friday Deals Post:
I'll be posting all of the other Black Friday sales on Thursday (for announced deals), I'll do a brief reminder/FYI post at that time pointing to my main BF deals page located here.  In general, I don't expect to see any manufacturers undercut existing sales on the same products, because that's a nightmare for retailers (customers would simply request refunds and/or returns).  So you usually see adjacent products get sales, or just extensions of existing sales (what's old is new again).  And as with before, in general don't expect any products released in the last few months to be put on sale – companies simply don't do that since they're already selling well enough.
Finally, between now and then you'll get the Winter 2015-2016 Gadget Recommendations Guide, and the Garmin FR230/235 In-Depth Review.  Plus 1-2 other in-depth reviews this week.  It's gonna be crazy pants.
Thanks for the quick read and the support!