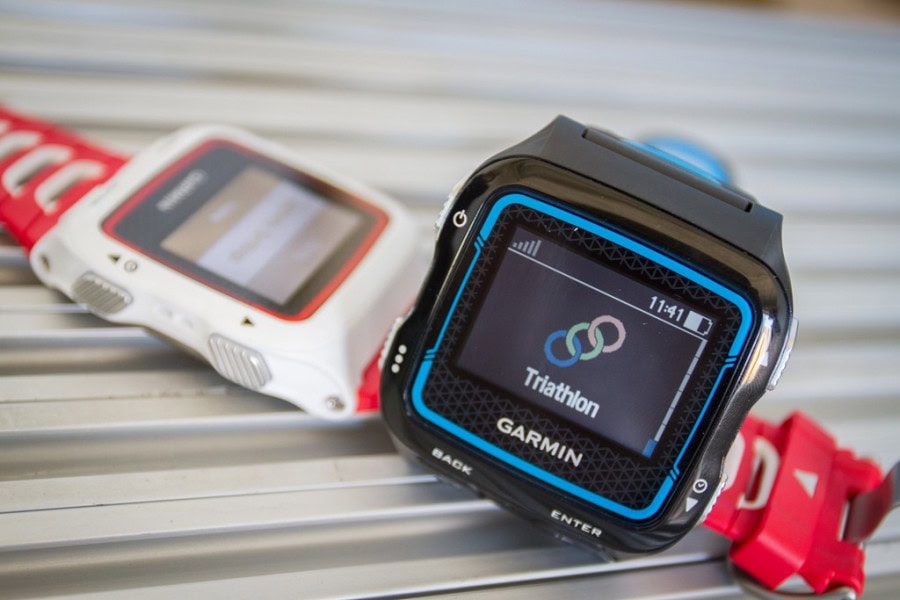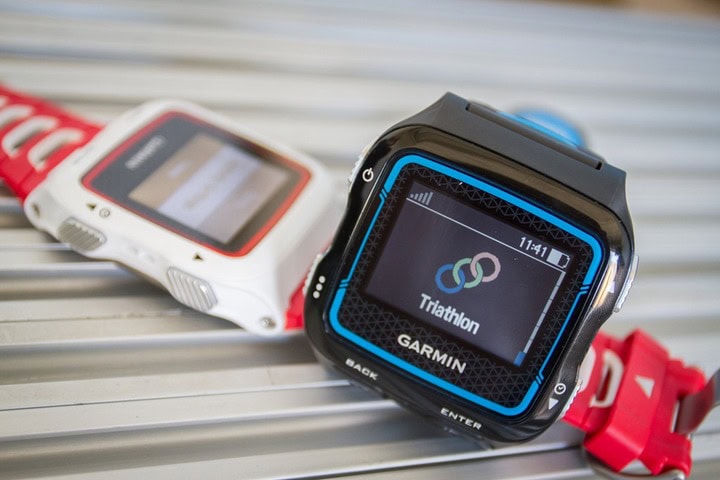 I must confess something on behalf of the entire sports tech industry: Someone thought that Friday the 13th meant Black Friday.  And thus instead of Black Friday deals starting two weeks from now as normal, they're actually starting now.  Yes, it's confusing – but in a totally good way.
This year you're going to see four phases of 'deals', as retailers & companies battle for your bucks (or Euros, or whatever other currency you prefer):
Pre-Thanksgiving deals: These are everything ahead of the US Thanksgiving, on November 26th. These are and will be more pronounced this year than in past years.
Black Friday deals: These are tied to Black Friday (BF), on November 27th. Some span that weekend.  Generally speaking most retailers have access to the same major deals (i.e. Garmin, Fitbit, etc…).
Cyber Monday deals: These are on Monday, November 30th. Occasionally they spill into that Tuesday as well.
General December deals: We tend to see 'repeats' of some deals in the mid-December time-frame (usually around the 10th-15th). These are rarely better than BF deals, but usually quite good.
So with that, we're currently in the pre-Thanksgiving phase.  Since November 1st there's actually been a bunch of deals already, including:
Vivofit1 for $49 (normally $79)
Vivoactive for $199 (normally $249)
Buy a Pioneer Power Meter, get a free head unit (normally $299)
Plus a few variants of those deals.  But today the can of worms really cracks open, with the following deals now going live:
Garmin FR920XT for $329 (normally $449) – Deal ends Nov 23rd.
Garmin FR920XT with HRM-RUN for $369 (normally $499) – Deal ends Nov 23rd.
Garmin FR620 for $199 (normally $349)
Garmin FR620 with HRM-RUN for $239 (normally $399)
Garmin FR220 for $159 (normally $199)
Garmin FR220 with HRM for $199 (normally $249)
Garmin FR225 with optical HR sensor for $249 (normally $299)
Wahoo KICKR Trainer – $959 (normally $1,199): With member coupon code 15FALLMEM. Ends Nov 23rd.
Wahoo KICKR SNAP Trainer – $680 (normally $850): With member coupon code 15FALLMEM. Ends Nov 23rd.
Phew!  Note that for almost all of these, you can't use a DCR discount code on it (the Pioneer you can though), but you will get free US shipping though through Clever Training.
In-Depth Reviews:
Garmin FR920XT In-Depth Review
Garmin FR220 In-Depth Review
Garmin FR225 In-Depth Review
Garmin FR620 In-Depth Review
Garmin Vivoactive In-Depth Review
Garmin Vivofit (1) In-Depth Review
Pioneer Power Meter System In-Depth Review
Wahoo KICKR Trainer In-Depth Review
Wahoo KICKR SNAP Hands-On Overview
So my thoughts on this initial crop of deals?
Well the FR920XT is definitely the best deal right now in terms of being the newest of the products for a 27% discount, pretty solid.  It's also got Connect IQ onboard, and I don't expect a new FR920XT anytime soon since typically Garmin has been on a two years cycle (it's only been a year).
The FR220/FR225/FR620 are all good GPS watches, no doubt, but just don't expect future updates with new features on any of them.  They also don't support Connect IQ.  But the optical HR on the FR225 is solid and accurate.  Whereas for the FR220, if you're a pure runner at that price I'd give the slight edge to the FR220, but if you bike as well – then I'd go Polar M400.
As for the Vivoactive – that's a great deal if you're a runner who also swims indoors and cycles.  But it's not a great watch for a triathlete, because it doesn't have a multisport mode – nor does it support recording openwater swims.
Finally – just as a general note – do not expect any holiday deals on any of the recently announced Garmin stuff (i.e. FR25/230/235/630 or Edge 20/25/520, etc…).  Basically there's no reason Garmin needs to discount that stuff since it sells just fine right now.  Historically they've never put anything on holiday sales that's been less than 9-10 months old.
Future Deals Updates!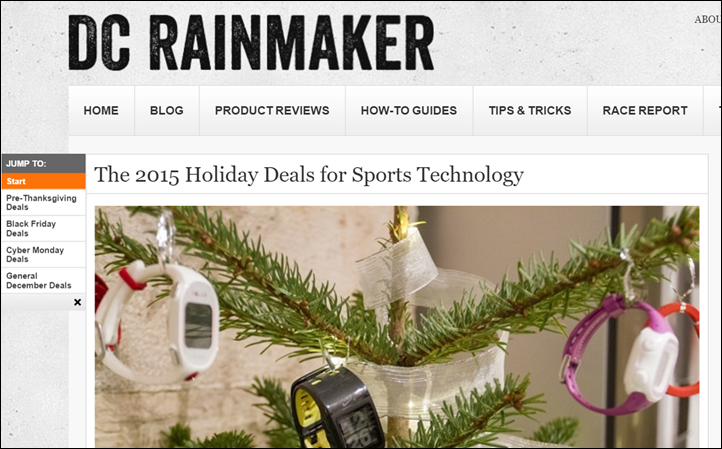 As with years past, I'll be doing pretty frequent updates of sports technology deals.  But I've got an entire page already up and dedicated to that! It's simply here with an easy URL to remember: https://www.dcrainmaker.com/Holidays2015
Hold on, I'll make a gigantic textually linked button for it:
Oh, and I even put a little picture on the sidebar too!  Just look over… —-> There.
In years past this was often updated once per day, and more around the US Thanksgiving weekend.  That'll be the case this year as well.  I'm just doing it on that dedicated page.  Plus, almost everything you click on that page helps the blog if you purchase using the links.  With Clever Training for things not on sale you can still save 10% using the VIP club, more details here.
Even if you don't want to purchase a new sport tech device, you can always support by just clicking the gigantic Amazon logo on the right side of the page before you make a purchase.  It could be books, socks, power tools, lingerie, diamonds – whatever you want that Amazon stocks.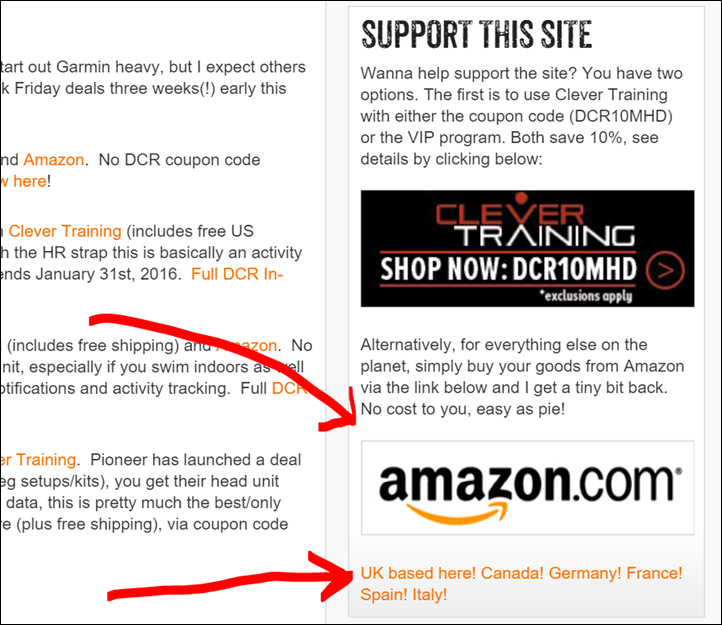 And if you're in another Amazon country? Just click the text below it!
Once you click that text it'll whirl you off to Amazon where you'll shop just like normal.  It won't look any different, but simply tags me as a referrer.  Doesn't cost you a penny – but helps support the site!
Finally, for my Winter 2015-2016 Gadget Recommendations, I've been sorta hoping that Garmin would start shipping the FR230/FR235/FR630 so I could make some decisions on whether that shifts any recommendations.  It'd be tough to pretend those don't exist, yet at the same time to recommend them if they end up being duds.  So hang tight – I'm hoping by Nov 23rd to have recommendations there.  Note those would largely impact the Running GPS watches, not triathlon watches.
With that – thanks for reading!