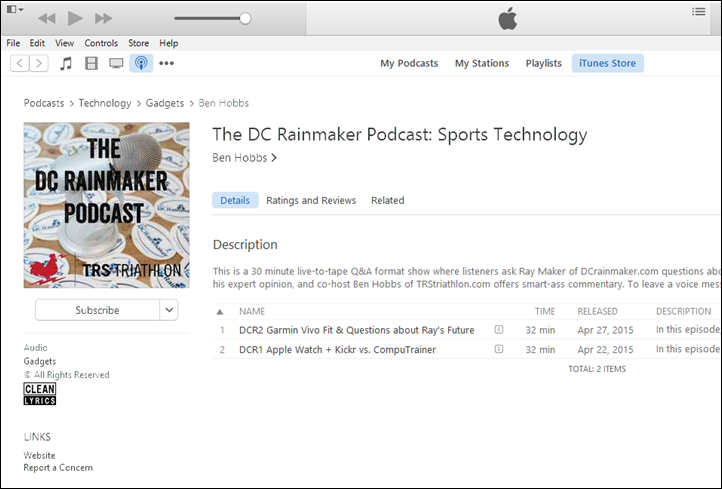 Just a super-quick update that earlier this week the DC Rainmaker Podcast got approved by Apple for iTunes. That means you can subscribe to it right there from within your Apple device (or iTunes), as well as do something even more important: Rate it.
See, according to the podcast powers that be, ratings significantly impact visibility of podcasts within the iTunes realm. So, if you've listed to the show and enjoyed it – providing a rating is much appreciated!
If you haven't yet listened, then perhaps the newly posted Episode 2 is a good place to start. Here's what on the plate this time around:
– My plans for building my own GPS watch
– How the media takes paid trips, and conflict of interest
– How do I plan to grow the site
– Time management, and will I keep my day job
– Testing methodologies and buggy products (aka people that don't like how I test)
– How I manage travelling and training
– Using the Vivoactive without a smartphone
Plus lots of randomness like thoughts on my stay in Austin, as well as other companies I was visiting on my road trip (you'll see those posts coming out starting next week), and much more.
Finally, in addition to iTunes, we got the RSS feed all squared away as well – so you can subscribe that way should you have another player of choice. And what if you don't have a player? Well, you can always listen to it on nifty player within the podcast page here.
Phew – so many options!
Oh – and before I forget. If you want to see different questions answered, then it's up to you to ask them. Simply leave a voice mail using the widget thingy below. I don't hear the question until it's live on the air, which makes things a bit more entertaining. So if you've got some super-technical question, or if you have something very much non-tech – go forth!
Thanks for listening!