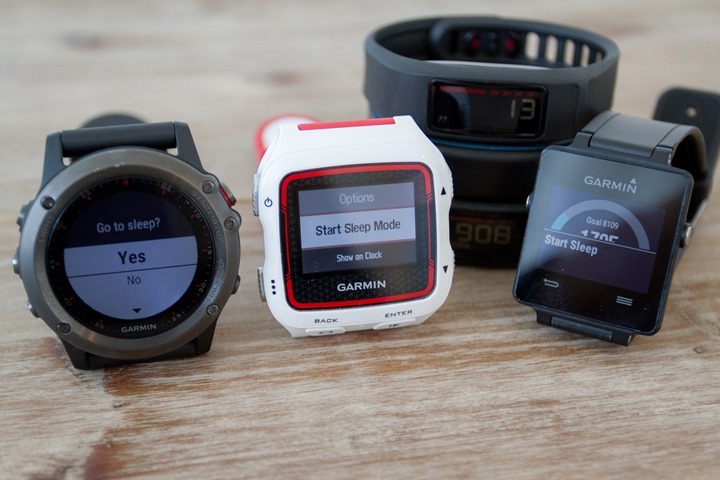 Over the last few days Garmin has enabled automatic sleep tracking on all of their sleep capable activity tracker devices.  They did so not as part of any firmware update that you have to install, but rather on their backend platform that automatically recognizes when you went to sleep and how many hours of sleep you got.
For example, last night I used the Garmin Vivoactive with the new functionality.  Normally, I'd have to tap this fancy little button: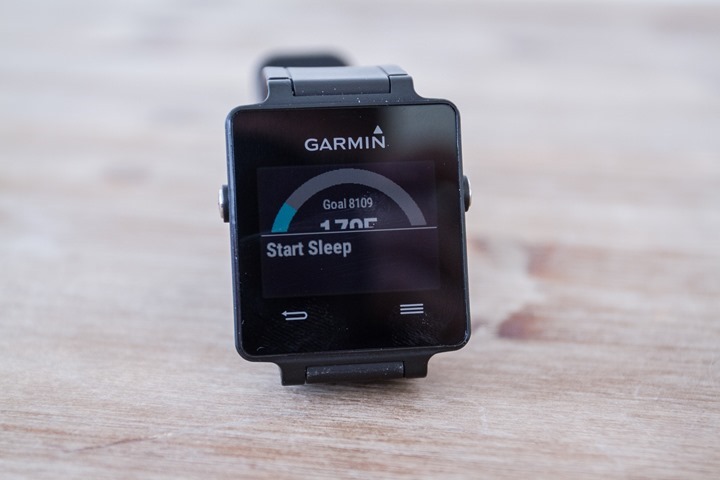 Except last night (like most nights), I don't bother to.  Instead, I just fall asleep once I'd declared e-mail bankruptcy for the night.  And according to Garmin, that was about 2:05AM: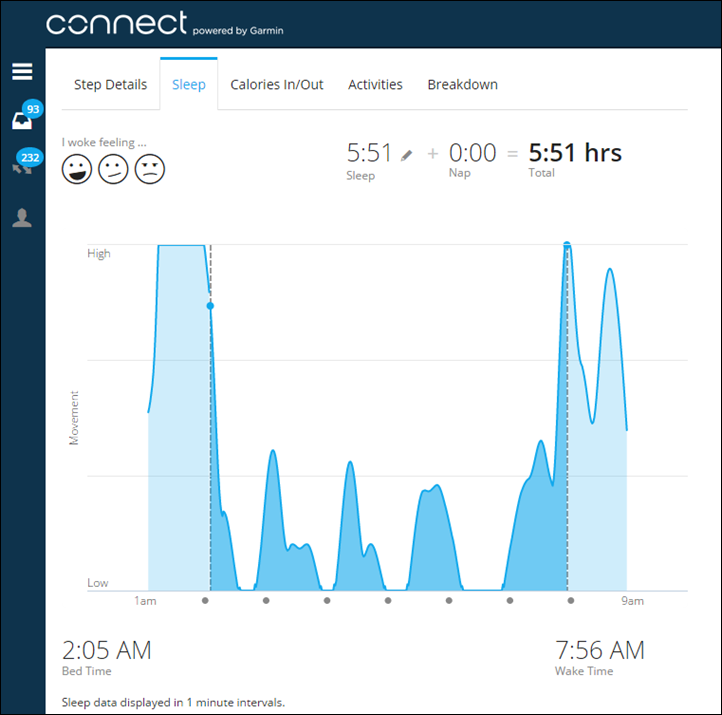 Which, based on my rough recollection of the evening (err…morning?), is pretty much correct. Then, 5 hours and 51 minutes later, at 7:56AM I woke up according to Garmin Connect.  That's about right, I had whacked the snooze alarm starting about 10 or so minutes earlier, before heading to my laptop to start presenting to people in Asia on a conference call at precisely 8:00AM.
Now you won't notice much else different in terms of the graph itself.  It's still what I'd classify as kinda-not-useful, mostly just looking like waves in the middle of the ocean – and having about as much bearing on my life as waves 2,000 miles off the coast of Nouakchott, Mauritania: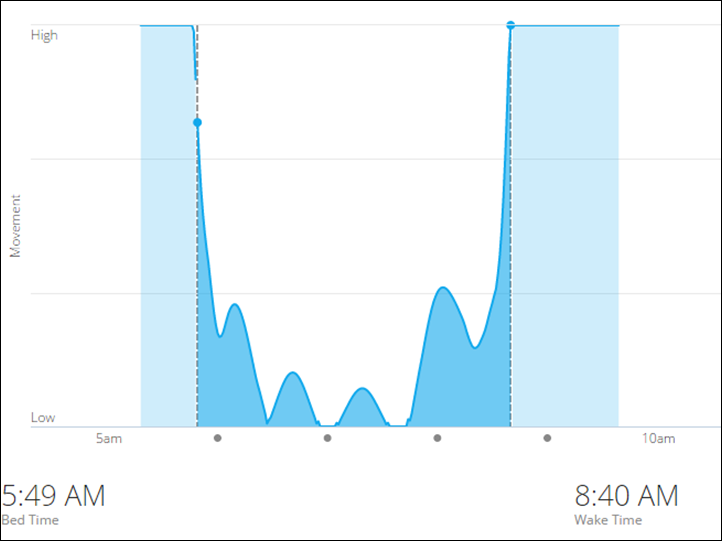 Still, it's much appreciated and I'm hoping though that this is the first step towards a more complete sleep picture from Garmin.  If you look at competitive offerings, such as Fitbit, you'll see Fitbit has not only automatic sleep detection, but quite a bit of information about the night – such as times awake, restlessness, and how long I was awake.  You can see that below from their app:
It's more actionable, and tells me a bit more about how good of a night's sleep I got.  Of course even that's still a far cry from brainwave measuring units like the now defunct Zeo sleep system.  But there are other sleep sensors, like the Withings Aura that I use as well that do a fairly good job of gathering aspects such as heart rate as well (below from my Withings Aura data):
In any event, as far as Garmin goes the update should now be present for existing Garmin activity trackers.  This encompasses the Garmin FR920XT, FR15, Fenix3, Vivofit, Vivofit2, Vivoactive, Vivosmart, and the upcoming Epix.  If you sleep with your Garmin Edge device, you will get no sleep credit though you might unlock street cred.
Note that it appears from my logs that the automatic detection goes back as far as about March 25th, though perhaps they're working out a plan to automatically determine sleep prior to that.  In checking with them, they noted that the processing is done upon upload, so it will only show sleep from when they enabled it on March 26th.  Also note that naps are not automatically captured.
With that, thanks for reading!
(Random Updated Tip: Some folks have seen issues with not having a regular sleep time set in their Garmin Connect profile.  While it doesn't seem to leverage this in any way, for some people to get automatic sleep it seems to need to be entered.  Just put anything at all in there, it might help unblock the automatic aspect.)
(Oh, in semi-related news, Garmin also revamped their workout creator online this week.  And for those asking about the Vivoactive, my in-depth review will be published next Tuesday at 12:01AM US Eastern time).