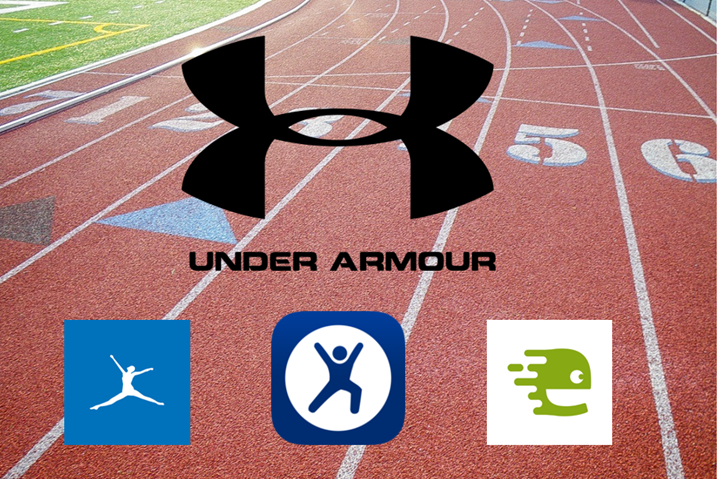 A bit of background:
Apparently someone at Under Armour had a bit of spare cash lying around today, and decided to go on a bit of a pre-Valentine's Day spending spree.  Today, they bought not just MyFitnessPal, but also Endomondo.  This follows on last year's purchase of MapMyFitness (home of MapMyRun, MapMyRide, etc…).
Giant MyFitnessPal was the pricier of the two, at a mind-boggling $475M (USD), while Endomondo 'only' cost $85M (USD).  In talking with Chris Glodé this afternoon, General Manager of MapMyFitness, they see the move as a way to further cement Under Armour's position in the market.
To begin he noted that Kevin Plank, the CEO of Under Armour has a vision to "turn Under Armour into a technology company".  He went on to say that the seeds for acquiring these companies were really planted before Under Armour even bought MapMyFitness.  That initial acquisition cost the company $150M back in November of 2013.  Thus bringing the entire acquisition total to $710M (USD).  A number quickly closing in on a billion dollars.
What's really astounding is that none of the companies acquired make actual devices.  Instead, everything is about platform and data.  And – more importantly, users.
Endomondo is the smaller of the two, clocking in at 20 million registered users.  While MyFitnessPal dwarfs that at 80 million users.  That is added to the previous Under Armour (effectively MapMyFitness) user base of 30 million.  Total users: 130 million.
Just doing some back of the napkin math, if you were/are a user of those acquired platforms, here's what you were worth:
MyFitnessPal: $5.94
MapMyFitness: $7.50 (at purchase there were 20M users)
Endomondo: $4.25
Now it's a bit tough to compare the purchase price of MyFitnessPal with that of MapMyFitness.  It's been 16 months since that acquisition and a lot has changed in the market.  It's much more interesting to compare Endomondo with MyFitnessPal.  Or said differently: Endomondo users aren't worth as much.
Now, this doesn't surprise me – but I'll get into that in a moment.
Their strategy going forward: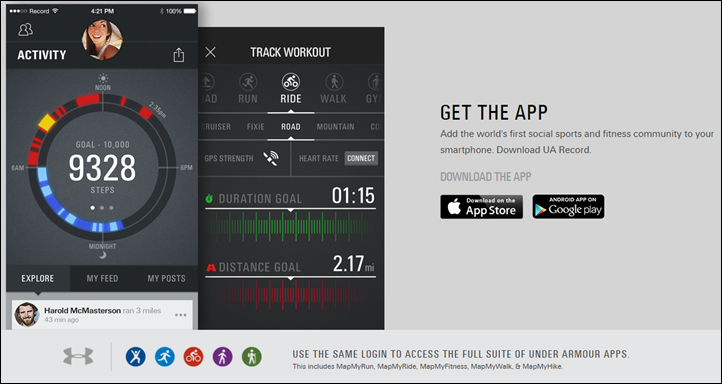 My first question was whether or not we'd see these apps be combined into one mega app.  That isn't in the cards however (probably a good thing).  Instead, they see each platform operating largely by itself, with a focus on illuminating integration scenarios behind the scenes.
"Think of it as a constellation mode", Chris said, with each of the properties as "satellites in that constellation".  He went on to explain that the "plan is definitely to keep all of the existing brands intact", but that you'd over time see aspects of the Under Armour Connected Fitness branding permeate into them.  This would likely be similar to how back in November (a year after the acquisition), we saw MapMyFitness apps get a small Under Armour logo.
The reasoning behind buying each of the apps was different.  In the case of MyFitnessPal, it was all about nutrition.  There's no question that MyFitnessPal is the leader in that area (in pretty much every way you could possibly categorize it).  So they went for the 'go big or go home' strategy there.
Meanwhile, with Endomondo, the focus is on European expansion.  Chris noted that roughly 92% of revenue in 2014 was within the US, meaning that Under Armour doesn't do much business internationally.  Their goal is to have half of their revenue come from international sources.  With Endomondo being much stronger in Europe, they see that as a way to catapult into the market.  They did note that Endomondo is/was actually a profitable business.
Today, Endomondo and its 33 employees are largely based in Copenhagen (Denmark).  They have a handful of country managers throughout Europe as well.  While MyFitnessPal is largely in San Francisco, with its 92 employees.
While Chris declined to detail the exact organization structure going forward, he did note that all the entities will be part of Under Armour's Connected Fitness group, which is the internal and external name for the digital division within the company.  Assuming they follow a similar model to MapMyFitness, you'll likely see those employees stay within those locations – and then grow those locations further.
Ultimately though, the end goal from their perspective is to "support as many devices as we possibly can", while getting to the point of having backend integrations between the companies.
A few of my thoughts: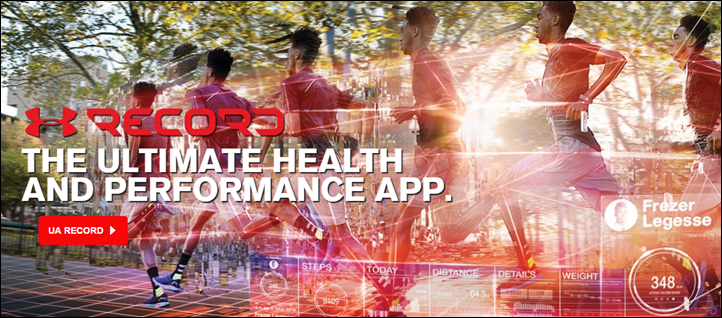 It's probably best to break this down into two different areas.  First, is the acquisition of MyFitnessPal.  This was a smart move.  MFP is the undisputed king in this particular area (nutrition tracking), and their expansion and integration with partners across the health sphere is massive.  For example, they integrate with major brands like Garmin, Fitbit, soon Polar, and many more.  I'm somewhat surprised one of those brands didn't pick up MyFitnessPal sooner, to be honest.
Endomondo however is a bit of an interesting duck.  While they started very strong in the space a number years back, primarily on the Android platform, I feel like the last year or two they lost their way a bit and have slowed down some.  Obviously Under Armour is looking to leverage them primarily to tap into the European audience – but I'm not necessarily certain that the pot at the end of this rainbow is as full of gold as the MyFitnessPal one.  On the flip side, they paid quite a bit less per user, so clearly Under Armour recognizes that a bit as well.
Ultimately, I expect to see more consolidation in the health platform space as companies try and maneuver to position themselves against the Googles and Apples of the world.  Even though some might argue that Apple Health isn't technically a platform (sorta true), it'd be incorrect to argue it's not a competitor.  It most certainly is – and the Apple Watch is the first tangible brick in that plan.  These moves by companies such as Under Armour are merely laying the groundwork for what will undoubtedly be a highly competitive space over the next few years.
Thanks for reading!