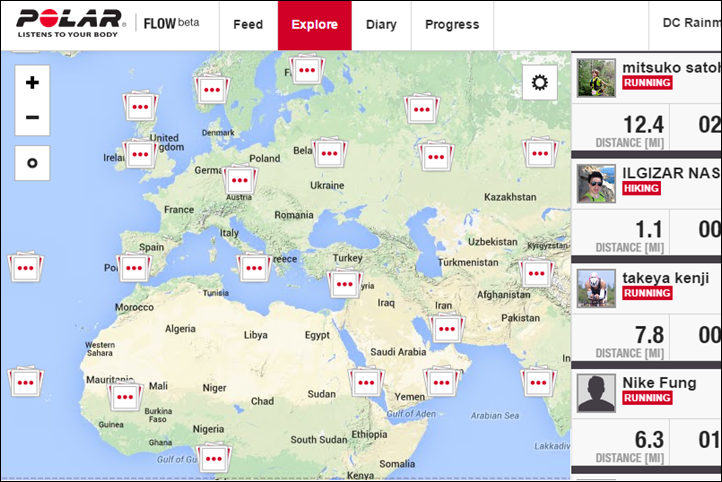 This week, Polar has announced the details of it's various 3rd party development integration efforts – which cover pretty much every way you can get data out of the platform to other services.
I'll dive briefly into the main methods, but here's the quick overview:
Polar AccessLink: This is how 3rd party developers get direct access to Polar Flow & PolarPersonalTrainer.com data, including workouts data and activity tracker data
Google Fit: Access to summary information from supported Bluetooth Smart connected devices
Apple Health: Access to both summary information from supported Bluetooth Smart devices, as well as step data
Polar Flow Export: An end-user focused method for exporting out your workout file data
Each of the four components has a bit of a different target audience and purpose.  For example, if you have an Apple device you'd leverage Apple Health, but not likely Google Fit (and the inverse is true).  While applications like Strava would leverage AccessLink.  Meanwhile, if you just want to export out your own workouts, you'd use Polar Flow Export.
Polar AccessLink:
Polar AccessLink allows 3rd party development companies to get full fidelity exports of your workout files, which they can then transfer to their own services.  It also enables companies (typically a different set of companies) to access activity tracker and health information from Polar services.  For the first group, this is where you'd see companies such as Strava, TrainingPeaks, and SportTracks jump in and setup synchronization.  Meanwhile, the second group of companies that would use this would be corporate health and wellness programs.
This first component is likely to be the most interesting to consumers, though, you won't quite be able to see the major benefits of it quite yet.  As that will require 3rd parties develop solutions against it – just as it did when Garmin announced their synchronization, and the same for Suunto and Strava.  Today, only MapMyFitness as a major consumer brand supports it.
AccessLink allows companies access to the full raw data produced from the unit.  This includes speed, cadence, heart rate, distance, time, and many other metrics recorded by the device.  This data is transferred to the 3rd party partner as a .GPX file and corresponding .HRM file – similar to past Polar export processes.  I asked why they just didn't hand the partners the .TCX file (as they do for consumers via Polar Flow exports).  I reasoned most development companies would rather deal with one file than two.  They interestingly noted:
"That's something we'd been thinking too. However, our current partners or the partner prospects haven't seen this as such a big deal. It's quite simple to create two data requests if there is route data included. And then there are users and partners who don't want to transfer routes, so they prefer separated GPX-files. Anyhow, we will keep listening our partners and I don't see why we couldn't have TCX-files in future."
You'll notice they said "current partners", that's because despite making the program more public – it's actually been there for a while, albeit previously connecting to other Polar web platforms.  For example, MapMyFitness has been using it for a few years, as have other corporate wellness services.  While Polar isn't quite ready to publicly share the list of upcoming partners – I suspect most folks will be pleased with the planned options seen there once announced on both the workout side, and the activity tracker side.
One company that was ready to confirm support is SportTracks, who has stated they plan to integrate with Polar AccessLink by the end of the year, as well as hope to wrap up integration with Suunto Movescount too.
Now there will be some minor kinks over the next few months with AccessLink.  For example, while the CS600X and CS500 support power, it won't yet support power exports to AccessLink on the newer V800/V650 until Q1 2015.  That said, it's not just limited to the newer products.  Ultimately, just about everything that can transfer data, does.  Here's the rundown from Polar:
Flow compatible products: V800, M400, V650, Loop, Beat iOS, Beat Android, Flow for Club
PolarPersonalTrainer.com compatible products: RC3 GPS, RCX5, RCX3, FT80, CS500, RS800, RS800CX, RS400
Partly compatible products: Polar S610, Polar S625X, Polar S720i, Polar S725X
Finally, Polar has confirmed that there is no fee/price for using these services – either for the consumer or the 3rd party companies.  This is in contrast to Garmin's $5,000 API fee, a fee that pretty much stands alone in the health/fitness industry where everyone is moving to establish as many partnerships as possible as quick as possible (for free).
Polar notes that they do have an approval process for AccessLink however, but expect that partnerships will be approved in no longer than two weeks.  At which point they'll be provided full documentation, a sandbox environment, and a full business to business helpdesk to complete the integration.  In the meantime, developers can get a feel for some of the high level flow diagrams here.
Apple Health & Google Fit:
In addition to bolstering visibility of their 3rd party access program, they've also rolled out connectivity to Apple Health and Google Fit.  These platforms will store slightly different data depending on the Polar device you have, your mobile phone OS, and which Polar phone app you use to get the data there.
From a device standpoint, you'll need either Polar M400, Polar V800, or Polar Loop.  Alternatively, you can just use the Polar Beat app to record activities as well.  Though, as you'll see in a moment, there's still some pieces being worked out here.
Apple Health: On the Apple side of the ecosystem, you'll be using the Polar Flow app to get data into Apple Health.  Thus means that you'll need to have one of the Polar devices noted above since Polar Beat to Apple Health is still being worked on.

Google Fit: Meanwhile, for Google you'll use Polar Beat and it won't yet support any devices.  This is because the Polar Flow support for Android for the V800 and M400 hasn't been released yet.  That app update is scheduled for release by the end of the year, bringing Android support for all of Polar's latest Bluetooth Smart connected fitness devices.  The exact timeframe for when the Polar Flow Android app will support Google Fit isn't yet available though.
Now the different platforms will in turn transfer different metrics.  Here's the rundown:
Apple Health: Sport ID, time, duration, distance, calories and HR samples from workouts, and steps from daily activity

Google Fit: Sport ID, time, duration, distance, calories and HR samples from workouts
Now the metrics are somewhat slim only supporting a few of the available platform categories.  Polar says you'll eventually see more alignment between the platforms and more metrics supported.  They noted that: "the activity based calories and sleep were not included in this first phase, as we aimed for fast integration with basic set of data. We are planning to add more data category support but to start we will make our apps compatible in this basic level."
Polar also produces this little chart that tries to clear things up as well:

For those unfamiliar with the week calendar system, Week 45 was last week, and Week 46 was this week.  So basically, they're both in place today.  The screenshots you see above are ones I took on my iPhone and Android phone using the publically available app store apps.
–
Overall, it's great to see Polar moving forward on these and more openness in the platform.  This is combined with the .TCX export for recent devices, which continues to improve to work out some of the initial teething items.
Thanks for reading!