With my brother still in town after our ski trip, we continued to explore the city a bit.  Of course, no better way than to get him into the kick of the Tuesday/Thursday/Saturday market near our place.  He now fully appreciates the Sausage Man (and the 1 Euro sausages we've come to love).  My understanding is that his stock of 1 Euro sausage links did not make it the full journey back to the US before being consumed (which is good, because otherwise CBP would have done away with them).  Below, is the fruit man.  Not as exciting as the Sausage Man.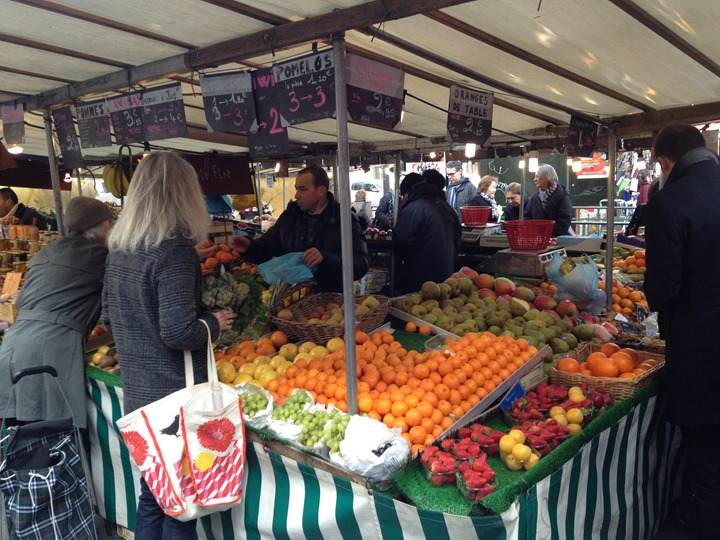 Though, the cheese folks are on par with the Sausage Man.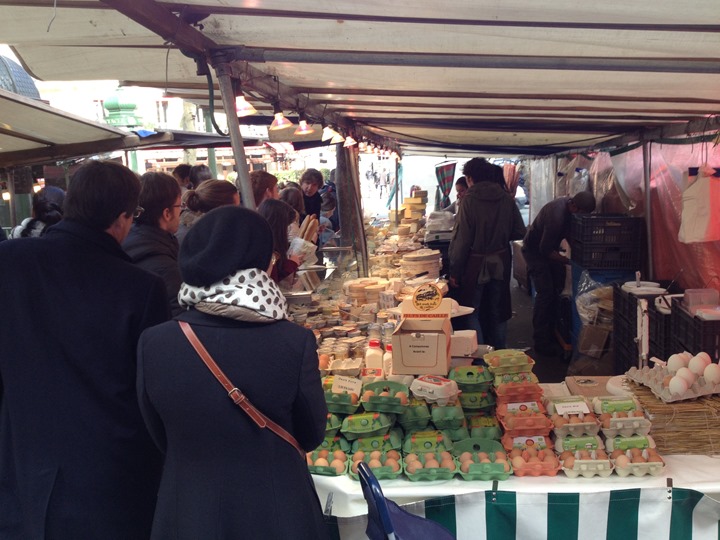 After grabbing lunch, we got on the Velib's and headed out.  The weekend had awesome weather, and no better way to wander around the city than via Velib.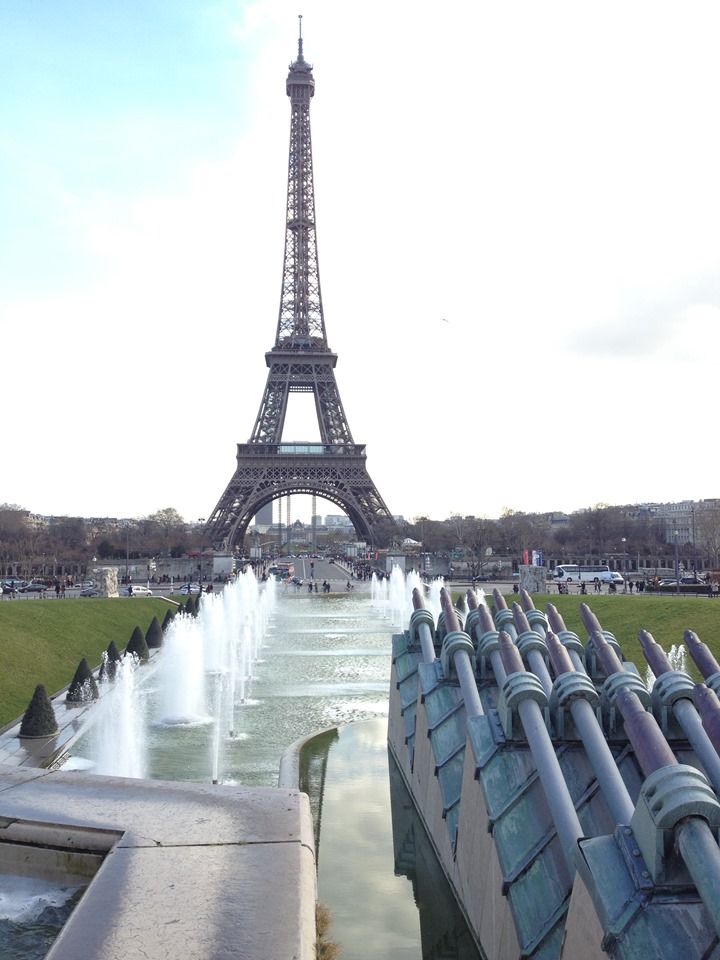 Here's him, happy to be going downhill.  Though, unhappy about the cobbles.  He declared it was absolutely nuts that people actually race skinny road bike tires on cobbled streets.  I agreed.
Speaking of which, I continue to wait for sign-up of the Paris Triathlon (in early July).  They appear to be pending administrative approvals for it, as sign-up was supposed to open back in early January.  Now I suppose this is positive in the sense that unlike certain WashDC triathlons, the Paris folks at least wait until they have permits before taking your money.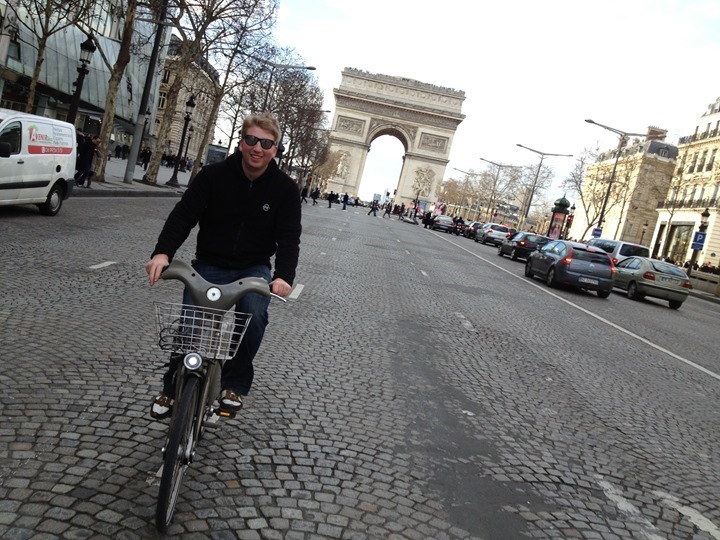 In addition to doing some cycling of our own, I was happy to see that one of our favorite street performers was doing his act this past weekend.  This one even involves a bike.  Well, two bikes.  And a fuzzy hat with a  red bulb nose.  And inverted riding.  It's awesome.
Unfortunately by Sunday morning I had dropped my brother onto a bus to the airport (the trains aren't running these days on  the weekends), headed back to Seattle.  He'll finally be landing about 10 minutes before this post publishes.  Eek!
After getting him on his way, and then helping out in the CupCakery in the morning, I headed out for a mid-afternoon ride.  No particular plan of action, other than collect some data and get in a sufficient ride before it got dark out.
As I noted on Twitter that I had three power meters, but was collecting data cross six bike computers (head units)…plus two heart rate straps (ANT+ and Bluetooth Smart).  Three bike computers attached to the bars, and three in my jersey pockets.  I haven't analyzed the data, as I'll do that sometime this week once I download, align data sets/etc…  Why double the number of head units?  Because quite frankly I trust no single head unit these days to not screw it up.  Plus, I'm interested in seeing what the variances truly look like across two head units collecting data from the same exact power meter.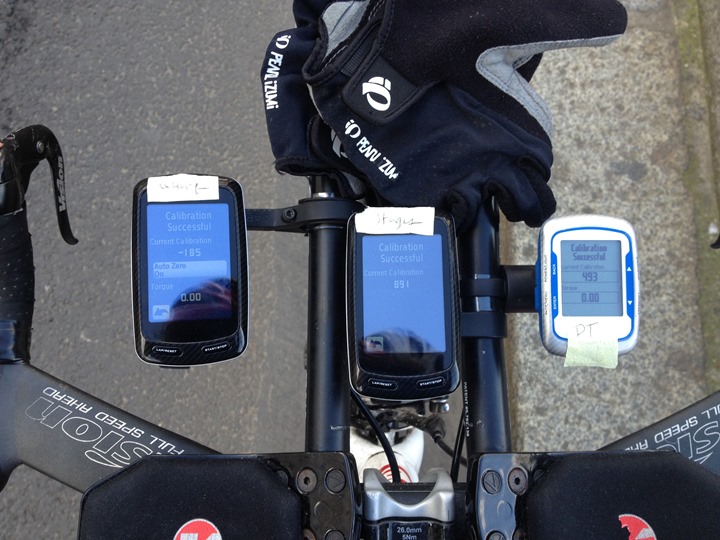 For my ride, I headed out towards the Longchamp area, which is a horse racing track with a nice loop around it for uninterrupted circling (and cycling).
Along the way though I rode on the now-permanently closed road along the banks of the Seine.  Over the coming months this multi-mile stretch of roadway will turn into a park of sorts, with the work having already begun.  It closed down about two weeks ago, but with my recent two weeks of travel I hadn't ridden it since.
Unfortunately though while it's still fine for running and Velib bikes, it's a bit wishy-washing for road bikes and triathlon bikes now, depending on the weather.  This is because large chunks of it have mud in them due to construction.  Plus there's a section you've gotta portage at the end for about 50 yards of wonky spikey concrete.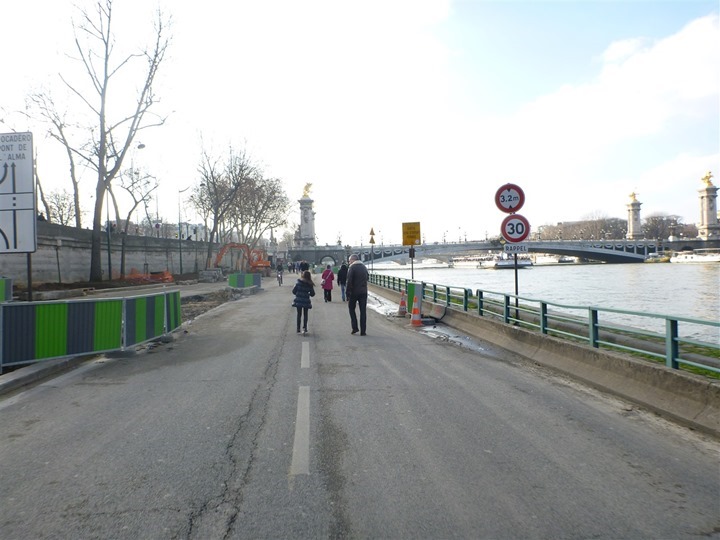 Once the river-road section ends, I usually pass the Eiffel tower and then cross over to the other side.  I don't use the GPS for any of this, but instead, just my internal compass.  Sometimes said compass doesn't exactly remember which roads are the most direct, as you can see below.  One of these days I'll figure out the most optimal route.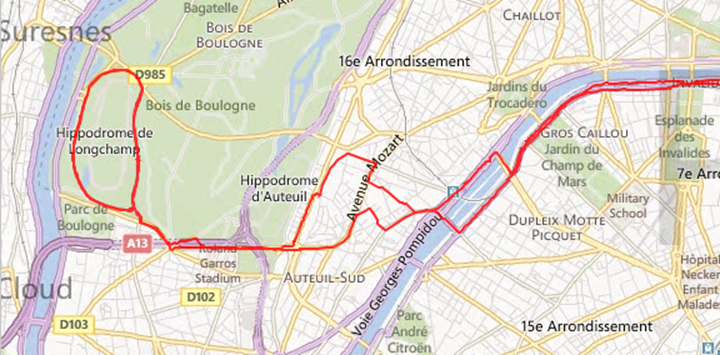 Once there I did a number of loops.  The first few were by myself, and then some folks latched on.  It's common there.  Despite some fairly solid wattage numbers, I wasn't dropping them easily.
Interestingly, at one point (after about 2-3 laps of them holding off the back), one guy jumped up front (ahead of me), and then proceeded to go aero position (he was a triathlete, the giveaway being his triathlon team jersey – along with his TT bike).  Rules of the pack generally state aero position (for any riders) is frowned upon.
On the flip side, I'll definitely give props to the kid off the back the held on for dear life for all those laps.  He was probably only 16 or 17, and at times sounded like he might die (I could see his shadow repeatedly standing up and pushing hard).  But, he never game up, just kept on ticking.  He's below, sporting the red pants as I let up prior to leaving the park.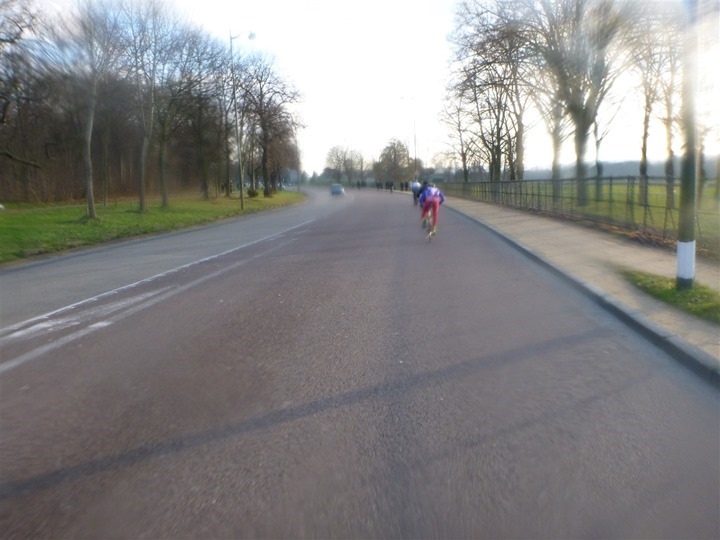 On my way home I passed the Statue of Liberty.  Or rather, the little liberty.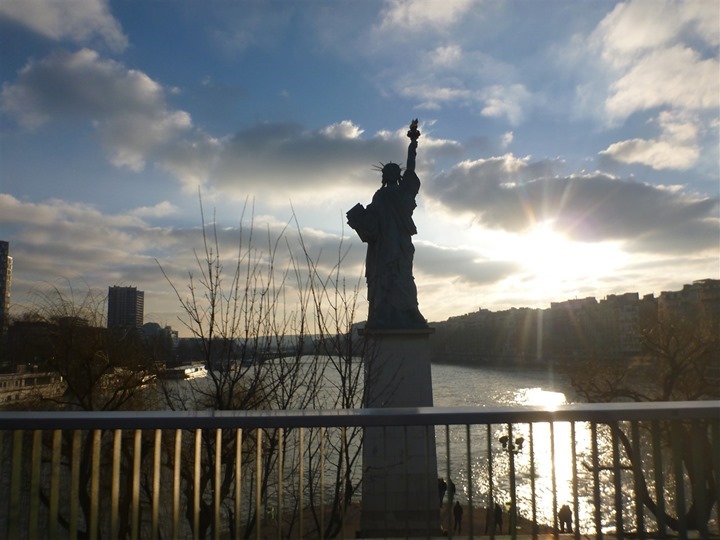 I ended my ride as I often do – back at the CupCakery.  Regrettably though there was only three lonely cupcakes left.  And while I could have reduced the count to two cupcakes (or, perhaps to zero cupcakes), I decided to let some other lucky ducks have them.  Speaking of which, we're super jazzed that this past weekend we were approved for Trip Advisor (did you know you have to apply to Trip Advisor?).  So, if you're one of the many  awesome readers who have stopped by the shop (thank you!), and are partial to Trip Advisor, a note is always appreciated it.  Or, you can just keep eating more cupcakes.  Either way is good with us. 🙂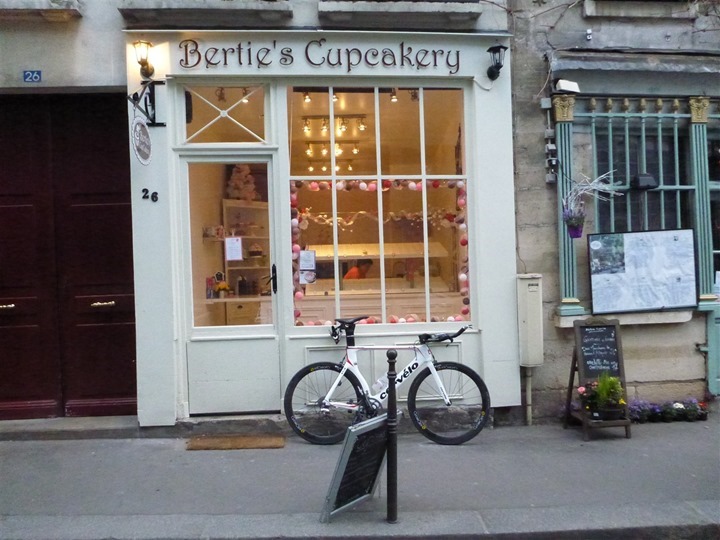 Finally, after I was done with our ride, we headed out for dinner a bit later.  It was a nice night (read: not raining, albeit cold) so we decided instead of just walking somewhere nearby, we'd take the Velib's all the way across town.  Quite a ways across town actually, just under 5 miles each way.  Including up, across, and through the Arc de Triomphe crazy traffic circle.
We took the Velib's instead of our own bikes so that if we wanted to walk around any later on, we could easily just drop them off and walk – versus having to chain up our bikes and circle back to them.
The Girl picked out an Italian place (Fame da Lupo), which is known for its risotto.  As you can see below, they have eight kinds on the menu!  Brilliant!  Oh, and it was delicious.  Though, we've established a rule that anytime we go there, we must bike there.  In an attempt to even out any caloric impediments.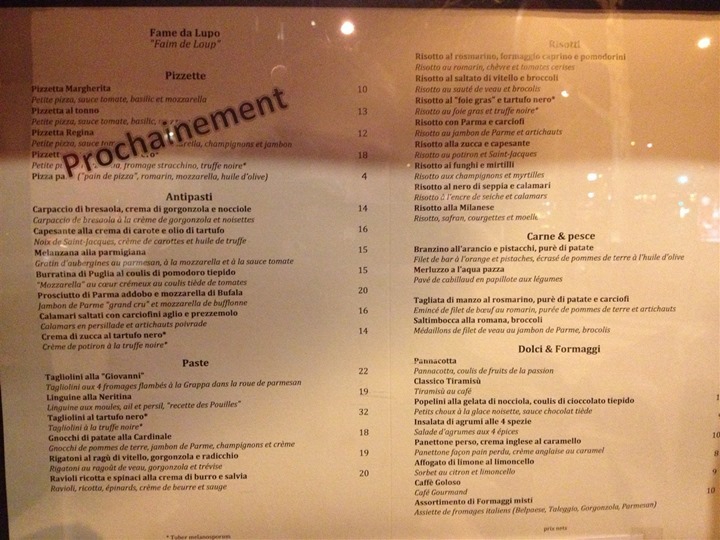 Though, given the upcoming Monday night long run at 3 hours…I think it'll even out.
With that, thanks for reading!  And have a great week ahead!