It seems to happen each year around early spring time.  Usually early spring because that's roughly when my workouts get long enough that I cross over the invisible barrier where I can get away with going low on nutrition.  Typically, during the winter my workouts are usually short enough that I don't need a lot of nutrition (water and calories).  This is partly because workouts are shorter, and partly because I can take a small amount of nutrition for those workouts that are longer.  With an early April marathon, that annual timeline gets slipped a bit earlier.
Where I always get into trouble though is when I cross pass the line of a medium-long workout, into a really long workout.  Now of course, in theory a 2hr long run is definitely a long-workout.  But, the dynamics significantly change when I go from 2hrs to 3hrs.  Not sure why (ok, I know why – it's 50% longer), but they really do.
So tonight I was running with The Girl (at her pace) for her long run.  Part of our lead up to the Paris Marathon in about 6 weeks.  My day was kinda wonky going into the run, sorta split a bit where I didn't have a chance to grab a proper lunch.  So my lunch was…uhhh…Parisian.  You know, a Nutella-Banana crepe.  And then my second lunch (like Taco Bell's Fourth Meal) was just some soup pre-run.  No breakfast (which is unusual) due to the wonkiness.
Thus going into the long run, I wasn't exactly in the best of positions.
But somehow in my little brain, I figured that since I was running at a slower pace than unusual I wouldn't need as much nutrition.
Of course, this isn't true at all.  Nutrition is generally based on time, rather than your distance (of course, intensity can vary that some).  And since I was now running a bit longer than before (by about 30-40 minutes), I'd definitively need more nutrition.  But, I didn't process that.
So, we headed outside and began our three-hour tour together (minus a tropical island and a boat).  It would also be my first run with the new Timex Run Trainer 2.0 , which is slated for March availability.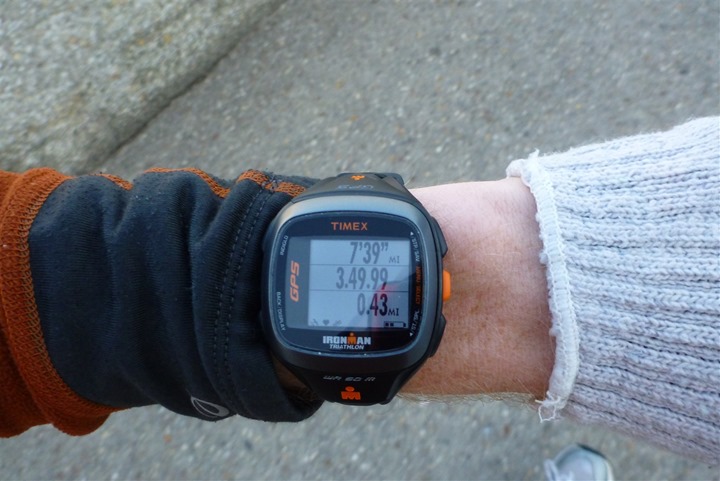 Our route was towards the Bois de Vincennes – the gigantic park to the east of us.  It was here that'd we'd be able to burn many, many miles.  Heck, as you can see below we only bumbled through about 2/3rds of the park, with plenty of ground left to cover.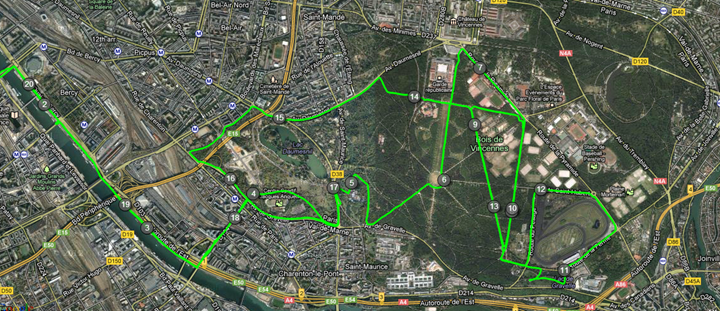 The Girl hadn't been over there yet, but I'm an old hat at wasting many miles wandering around the park, especially running (but also riding).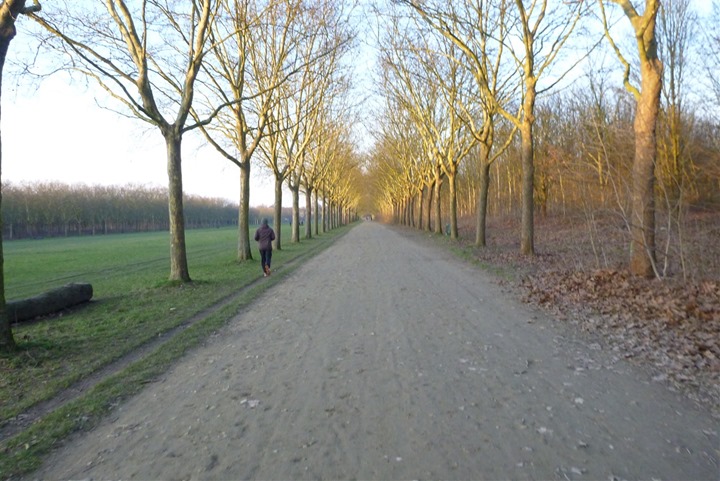 The first sign that I wasn't on a good nutrition plan was that I completely forgot I even had nutrition with me until about the 1hr marker.  Nor even thought to take any prior to that.  Given I'd normally be taking nutrition about every 20 minutes, I was also behind quite a bit.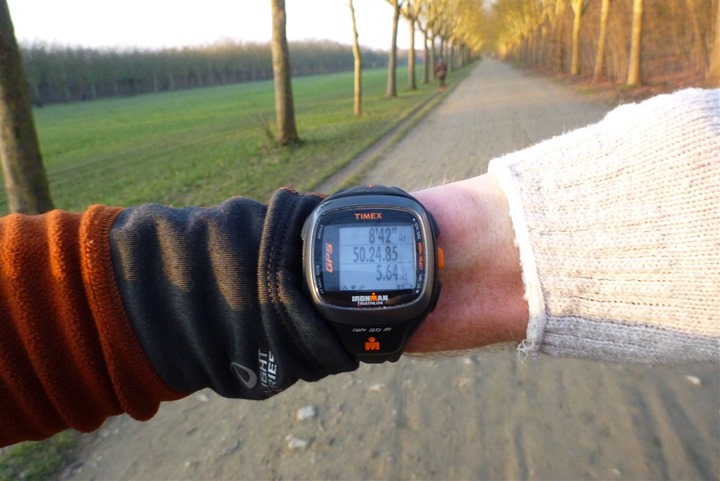 But being behind was really the least of my concerns.  I didn't have enough nutrition with me for even 40-60 minutes, let alone 180 minutes.  I had taken exactly one pack of gel thingies.
Typically, I'd take 2-3 gel gummy bear wannabes every 20 minutes, which puts it at roughly one per hour (bags).  I had one for three hours (180 calories for three hours).  And that's ignoring the deficit due to low-nutrition going into the run (I did have good hydration however pre-run).
On the hydration side during the run, I was also derelict there.  The Girl had brought her CamelBak, but I hadn't done my annual deep-cleaning of it yet, and it looked downright sketchy.  I had been running with a small water bottle recently, and refilling it as required (there's places in the park here and there).
Luckily, since she had her CamelBak in an operational state, I could get some water via hers, and then refill.
Now the core item I had going for me was intensity.  Or rather, lack thereof.  Given I was at a Z1 effort (mid 130's HR wise), I can more or less go quite a long time without feeling the impacts of it.  But I could tell around the 1hr 45min marker that I was downright hungry.  As in, throw me a cheeseburger and I'll keep running and eating hungry.  Which is incredibly rare for me.  Regrettably, neither of us had cash on us (also rare).  So, no burgers for me.
At the 2hr marker, our pace picked up per the plan to run the last hour at a higher intensity, which brought me into my standard long-run intensity (Z2, low-mid 150's).  Now that I was in this intensity, the bonk clock probably started ticking a bit faster at this point.
But with the newfound pace I actually had more energy.  I was back in a more natural stride and things felt better form a pure running mechanics standpoint. Plus – most importantly –  we were slowly shifting directions back towards home.  And home had food (and warmth), and food….and food.
And all was good until about 2:49.  Or, as I came to find out, 2:44.  See, that's when The Girl casually called out the time remaining left in the run.  On my watch, I had it listed at 2:49 – or 11 minutes.  Yet hers was pushing 16 minutes left.  It turns out I was just looking at the elapsed time (versus running time), so it didn't account for our stoppage time at stop lights/etc…  My legs were hurting due to lack of nutrition/hydration, and after hearing 16 minutes instead of 11 minutes, I pretty much lost all motivation in the span of a 100 yards.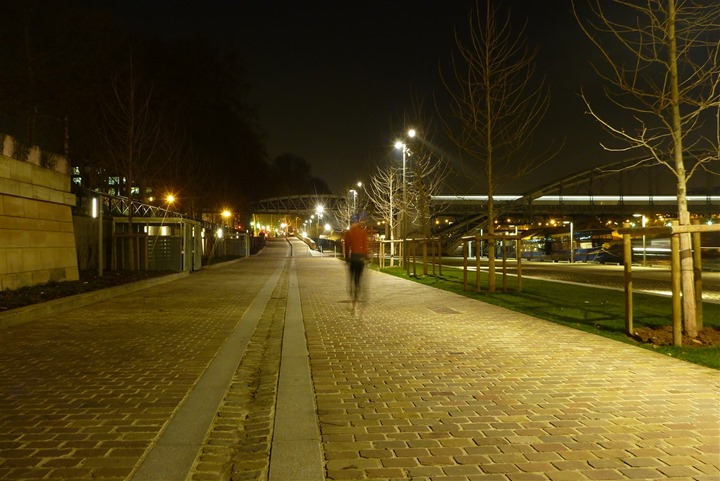 It's funny, there's often debate about bonking – and whether it's real or not.  Meaning, is it a provable nutrition wall, or rather, a mental wall.  In this case, it was clearly a mental wall, triggered by a low-nutrition situation.  Had she said 11 minutes instead of 16, I would have had no problems.  I was mentally good (even if my legs weren't).
That extra 5 minutes though meant that I'd have to run past the house, and into some sort of loop pattern for five minutes.  In the grand scheme of things, five minutes is tiny – about 2.8% of the entire run time.
But at that point I hit the mental wall.  I walked for about 4 minutes (The Girl went ahead) and I stretched out the legs.  But then I kicked into a solid little finishing run for the remaining ~1.2 miles home.  In fact, I had quite a nice sub-7 pace for that period.  Since I didn't consume any additional nutrition, it was clearly more a mental blocker and needing a moment to regroup, than a true physical one.
Ironically, while on my first run with the new TRT 2.0, I negated to use the single new feature that probably could have saved it: Nutrition Alerts.
On the TRT you can specify both drink and eat alerts, specified by time.  So, you can have a repeating 15 minute alerts for drinking (in the hot summer weather, I'd actually go 10 minutes), and then a separate eating alert (I'd go with 20 minutes).  You can specify to use vibration alert.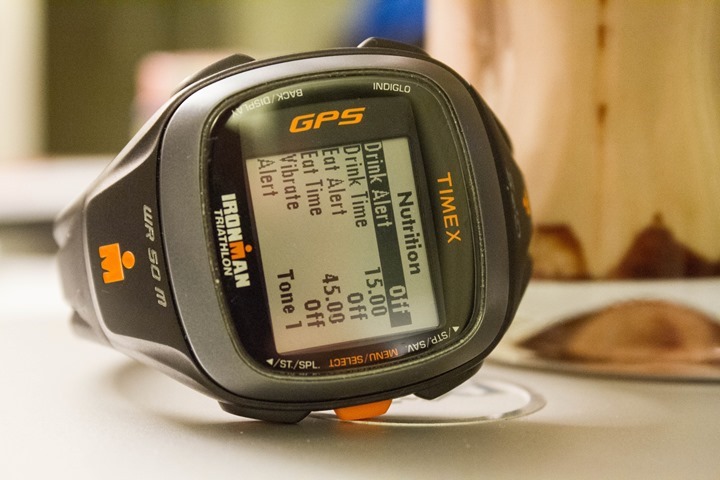 Of course, technology only does so much good when you simply don't have enough nutrition with you in your CamelBak.  On the bright side, since my pace was driven by The Girl (it was her run), the only impact to my workout was really the minor four-minute breakdown at the end (which she just carried on).  Pace-wise I was otherwise fine the rest of the workout.
On the bright side, I did get our post-run nutrition off to a solid start, with immediate an chocolate milk recovery drink upon getting in the front door.
For those curious about a Timex Run Trainer 2.0 review – aiming for March sometime, once they finalize the software on the unit.  In the meantime, here's a quick gallery of 'unboxing' photos, plus some more photos from the run.
Thanks for reading!