It's been just over five months since we moved to Paris, and thus, it's been just over five months since The Girl last rode her bike.  Due to a issue with the frame near the rear derailleur hanger attachment point during shipping over here, she wasn't able to attach either the derailleur or the rear wheel.  Since then we've been playing international volleyball with Trek trying to get it resolved.
Thankfully, this past Tuesday the bike came in to the local Trek shop (Bikes in Paris, who are now officially rock stars), and we were able to pick it up later in the week after they swapped out all the components on our her old bike onto the new frame.
What followed this weekend, was our two bikes enjoyed some quality time together again:
While at the bike shop, they were able to assist me with a bigger vice.  No, not the kind of vice that involves ice cream or chocolate, but rather, an actual vise.  See, my little vice below has been unable to remove the older Power2Max unit from the crank, thus I've been unable to put on the new Power2Max which includes temperature compensation to address drift issues – as well as estimated left/right power.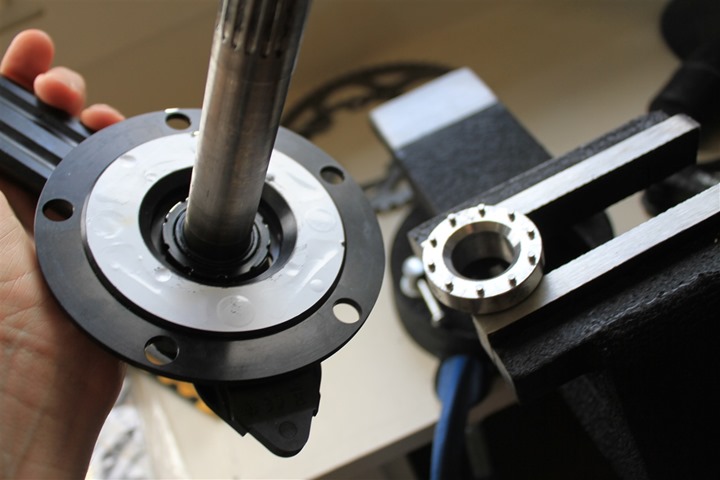 Because my vise couldn't be bolted into our apartment (and I lack any other surface to bolt to), it was so tightly coupled that when I applied pressure to remove the crank it would remove the whole vise.  Thankfully, the bike shop guys had a vise that was bolted to a massive bench, and with a wee bit of force (ok, a lot of force), they got the thing removed.  Happy dance time!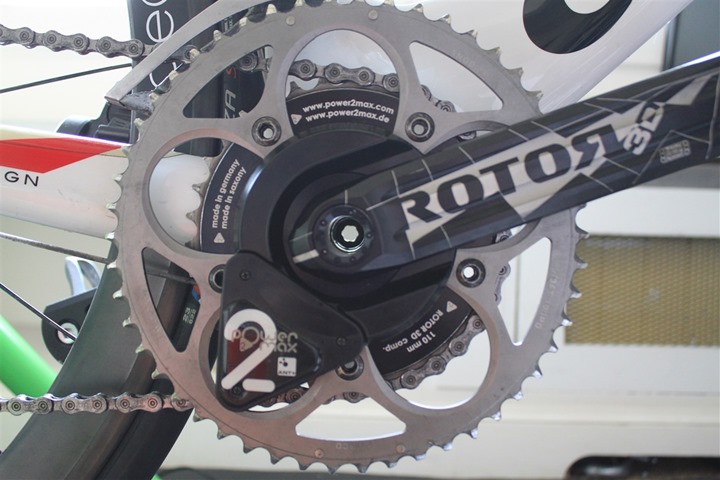 Since Thursday with the unit on the bike I've been riding and comparing constantly against both other power meters as well as trainers.  And of course, I've been looking at the estimated left/right numbers.  Numbers which albeit even the Power2Max guys to me at Eurobike admitted are highly susceptible to being skewed.  The left/right estimates are simply splitting your stroke in half and assuming that the upstroke is fully left powered, and the downstroke fully right powered.  In any case, it doesn't affect total power, which is what I'm interested in evaluating in this case (specifically, the drift aspect).  Because I'm very familiar with the unit already, I'm looking to gather the data I need over the next week and publish the review fairly soon.  In the meantime, here's The Queue gallery of it.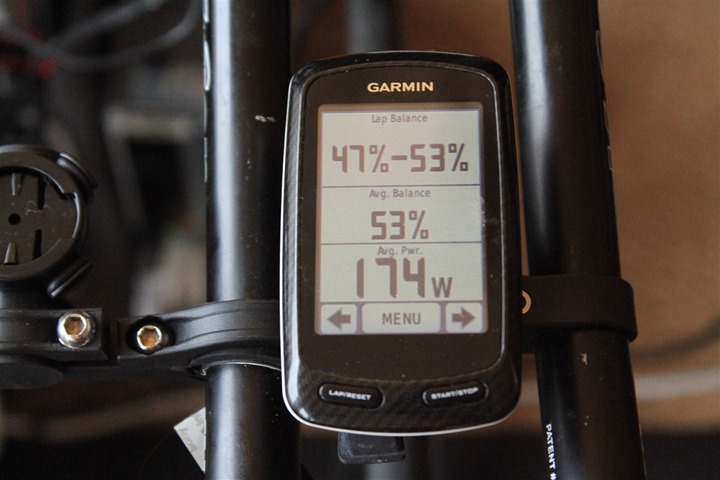 Moving on from power meters, we'll go to Friday morning and a bit of snow.  Our first snow in Paris.
Now, I actually set an alarm for 5AM, hoping to get some good photos of snow coming down.  Instead, I looked out into the darkness and saw nothing but rain from the sky, and puddles of water on the ground.  No snow in sight.
Giving up on it, I went back to bed.  When The Girl headed out for the day though, turns out – there was a little bit of snow.  Just enough to cover non-concrete surfaces, so my photo below is all I've got saw far of the white stuff.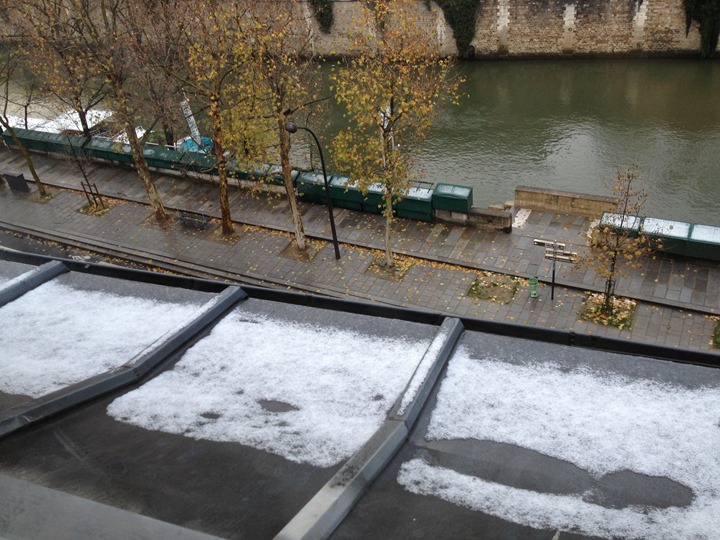 Regrettably, it didn't stay around long, and certainly not enough to make a snowman out of, or even so much of a snowball.
So, lacking my hope for spending a weekend in the snow, I spent Saturday working away on trainer reviews. Lots.of.trainer.reviews.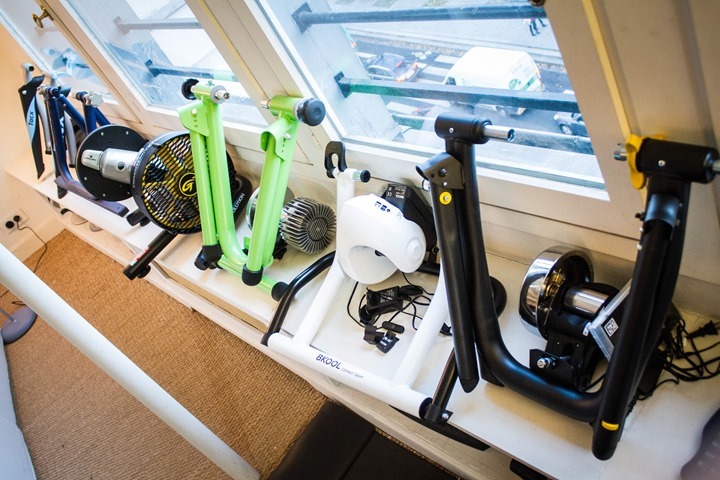 While doing that, I published up a bunch of photos into The Queue (which, btw, you can also get via RSS feed here – though, since it's gallery based you'll want to think of this more like a queue alert).
As part of my weekend fiesta I was working through as many scenarios as possible, trying to figure out where the gaps and stumbling blocks were of each product.  Even though many of these units are designed to be entertaining, sometimes I just need a bit of a distraction from it all while data collection occurs.
This time I had Mythbusters on, and ironically, it included a segment on whether or not you could bicycle underwater.  Anyway, I thought it made for a funny shot.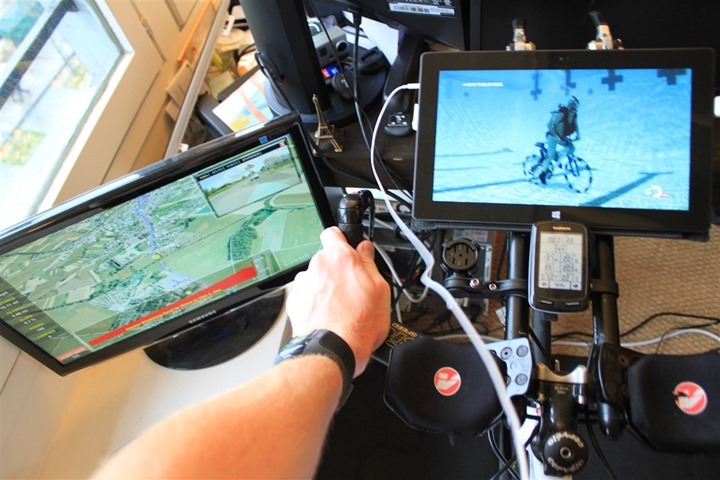 I also spent more time with the Tacx Genius VR trainer.  This is from the same company that has the Tacx Bushido unit already in the market, which I've previously reviewed.  From a software side, they share the same software suite – though when I last reviewed the Bushido it was on an older version of their TTS (Tacx Trainer Suite).  Now, I'm on version 4.4, which includes more polishing and a bunch of new functionality.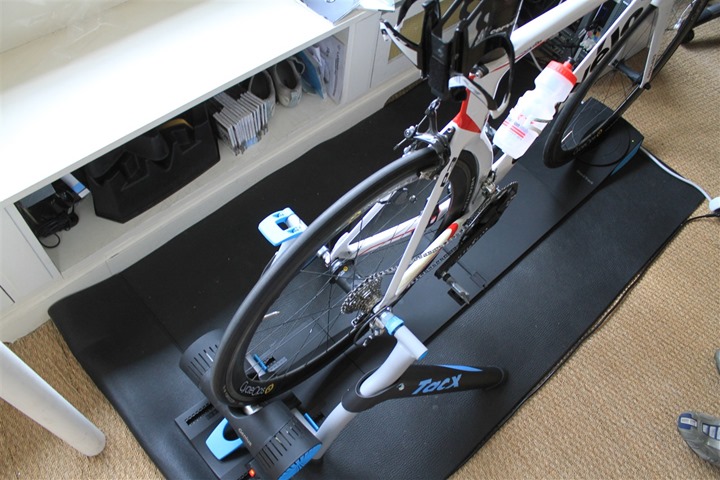 This trainer is unique in that it features a steering device.  You can see this in the photo below, it's the long plate that's sitting atop the trainer mat.  The front wheel sits on that little circle part you see below, and the back of the trainer is locked into a track at the rear.  That little circle communicates via ANT wirelessly to the computer, and when you turn your wheel, it in turn steers your bike.  Well, you're virtual bike anyway.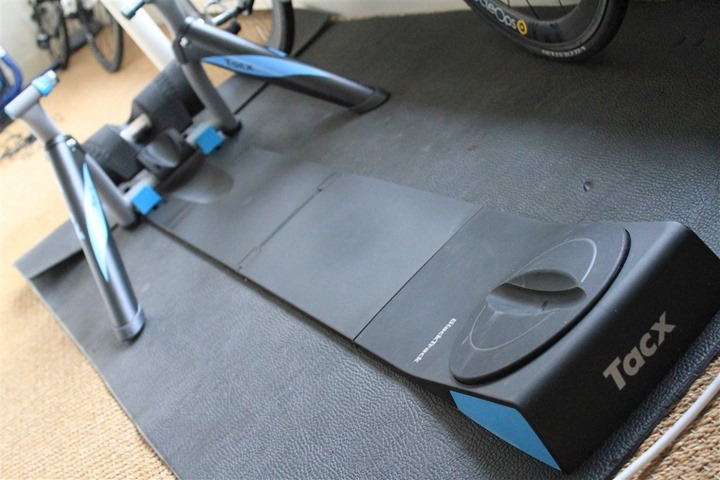 You can see this below while in the Virtual Reality mode, where I'm being prompted to control the direction of the rider.  When I turn left, the cyclist moves left.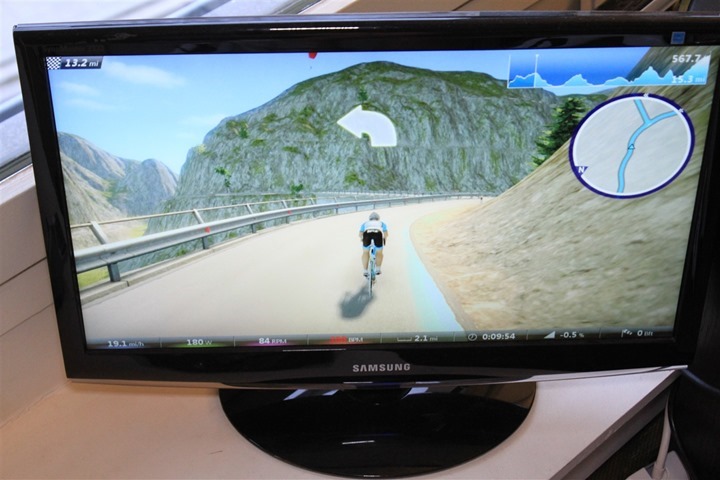 The only challenge I have with this, is that in the most current release if I do nothing (don't steer), I just keep on riding in the middle of the road.  It essentially takes care of the turns for me.  Thus, it devalues the purpose of the steering unit in favor of making it 'easier'.  Of course, in other modes it has more value, but I'm not sure I get the concept for VR mode.  You can see the full gallery of Tacx Genius photos in my Queue Gallery from Sunday.
Of course, not everything was on a trainer.  We ran as well.  After the CupCakery closed Sunday night we got in a nice hour long tempo run together.  The Girl got on her pig hat (that would be the one we got in Beijing, which in looking back, has some hilarious moments in that post – especially the sliding past the guards).  At any rate, below she then clarified as we went out the door that "This Piggy is gonna go see Paris tonight!".  I meanwhile, put on my ice cream sundae hat.  Regrettably, the photos of that came out blurry, so nothing this time.  Don't know how that might have happened…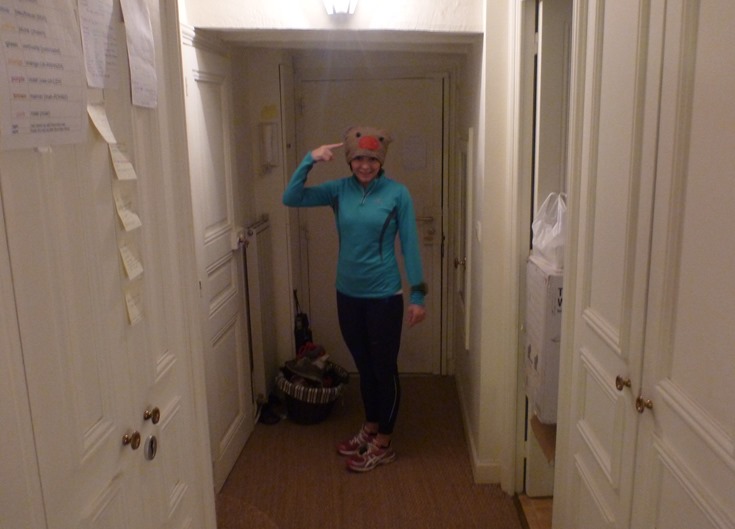 I had received the most recent near-final production unit of the Mio Alpha optical HR watch, with this particular variant being Bluetooth Smart enabled.  I ended up pairing it with the Wahoo Fitness app as a receiver (since, well, there's no other device-options).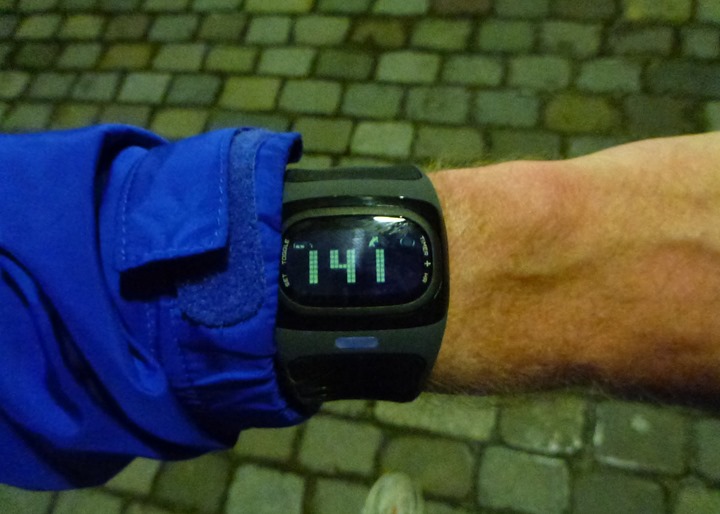 From there, off we went running along the banks of the river Seine.  Below, a passing boat – complete with the lights illuminating the shoreline.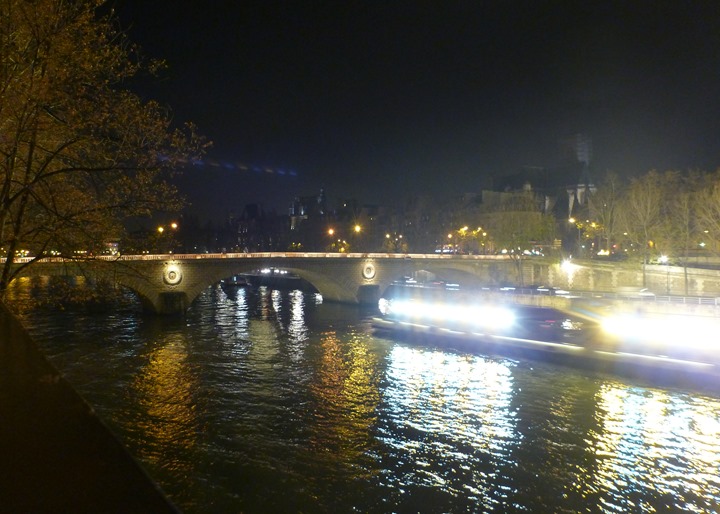 And of course we had to stop for a second and take a picture in front of the giant rubber ducky.  The rubber duck sits in front of the floating pool.  Yes, a pool that floats.  Indoors too.  I've yet to make it inside, though, it's on my list – especially given it's relatively close to me.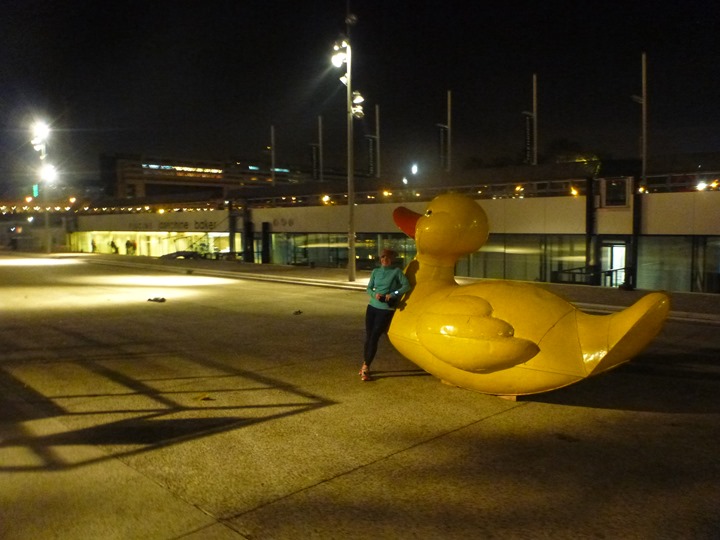 When we were done, we took a quick walk around our block to cool down.  They've dressed up the street with lights going down it (to the left), and then the trees have also been lit up.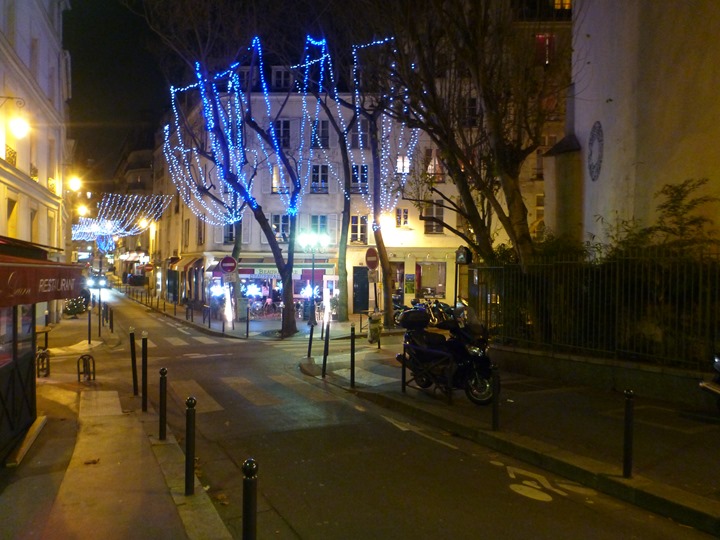 Finally, we wrapped our post-run activities with some dinner with newfound friends from Newfoundland (home of The Girl).
As for the food, I really do appreciate that many of the French dishes come in little pots.  It makes it a bit of a surprise every time I order something.  Well, that combined with the language piece.  Sometimes the little words in between the big words I know totally changes the meaning of what I'm ordering.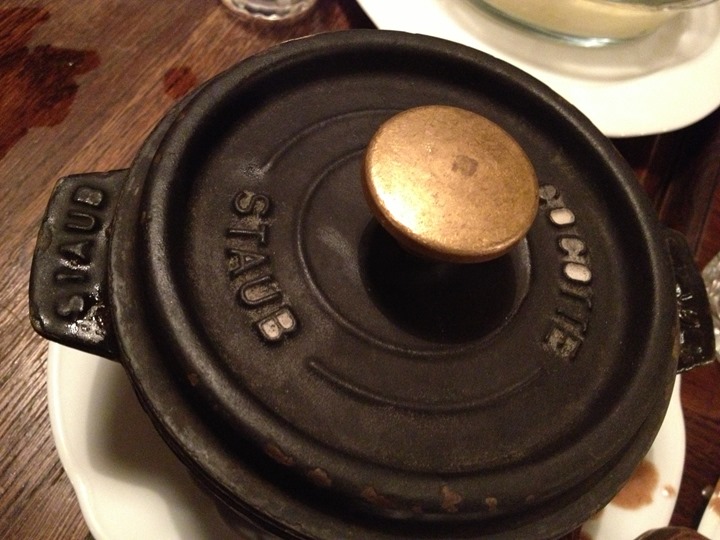 Thankfully, this came out roughly how I expected it to, and was great.  Chicken with mushrooms and little bits of pasta all cooked together in my mini-pot.
Lovin' French food, and especially how much of it is so good.
With that, hope everyone has a great week ahead!