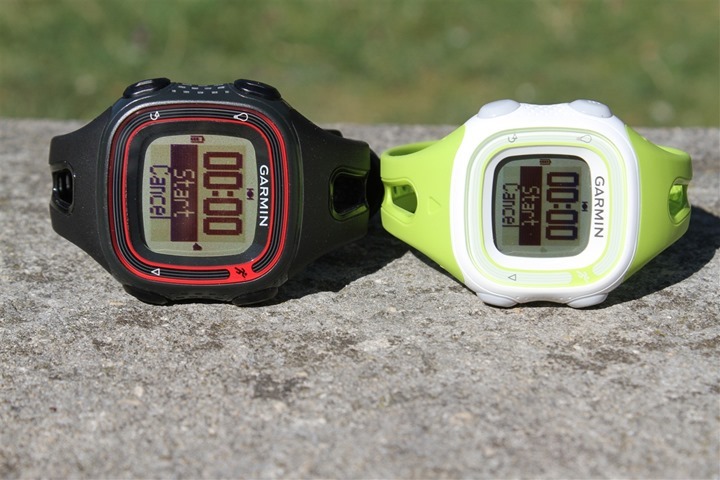 Perhaps you didn't score big last week on Black Friday, or Cyber Monday with a deal.  Perhaps you were focused on getting the big screen TV or deep fryer.  Maybe you were busy running a turkey trot. Or perhaps, you were just too busy eating the turkey.  All fair excuses.  I don't judge.
So for those folks, I'm giving you a chance to still score big.  I'm giving away a Garmin FR10.
Well, actually, I'm giving away two of them.  One for him, and one for her.  Or two for her, or two for him.  However you dole them out is up to you.
Except, that I decided giving away two wasn't enough, so I'm giving away four of them in total.
That's two sets of two Garmin FR10's.  That way you can be all matchy-matchy like a Christmas Sweater party.  Minus the reindeer sweaters. (Ok, I never expected finding a reindeer sweater on Amazon that awesome on my first result – that's award winning!).
So how do you win?  Simple, just answer the below question in the comments.  Only one comment per person.  Though, both people in the couple may enter.  If you're not a couple, then you can bestow the second Garmin on a friend.  In doing so, maybe you'll end up a couple.  That's not bad, right?
Anyway, the question…in question:
"With the 2013 season nearly upon us – what's going to be your first race of the year?"
Entries will be accepted through Sunday night, 11:59PM Eastern time (December 2nd, 2012).  I'll be giving away two sets, thus two two winners (with each winner really representing two winners).  One set will include a black FR10 + a  green FR10.  The other set will include the black FR10 + the pink FR10.  Winners will be chosen at random, and the first randomly chosen winner gets first pick.
This giveaway is sponsored by Clever Training, which I recently announced a partnership with.  As you probably remember, by picking up sports technology gadgets from Clever Training you support the site.  And on top of that, all DC Rainmaker readers get an exclusive 10% off all products they sell (basically every sports tech company) using coupon code DCR10BTF (along with the link above).  Regrettably, they don't sell that reindeer sweater, so no discount there. No, I still can't get over how awesome that artwork of a sweater is.
Note, if you're US Active Duty Military – you can submit your entry via e-mail instead.  Note that this is ONLY for Active Duty military.  No ice cream truck operators or elephant trainers allowed via this method.  Mmmkay?  Thanks all!